New And Exciting Interior Design Styles And Themes For 2, 3, 4, and 5 Bedroom HDB Homes
HDB homes are the most common and popular homes in Singapore. Depending on their size, you have a variety of themes and styles to choose from during designing. A smaller HDB home does not mean that it necessarily has to be boring and non-functional. By using the right styles and techniques, you can incorporate just about any of your requirements in your HDB home. With professional interior designers like us, your job of designing will become much easier since they will be able to guide you all steps of the way.
When designing an HDB home, you can choose from a variety of design styles. Once a particular style has been identified, you can choose all other elements and factors accordingly to get the home of your dreams. Here, we will describe some of the interior design themes which you can incorporate in your HDB home.
Minimalist Interior Design
Minimalist interior design is quite trending these days because of its simple yet elegant outlook. It is basically an even simpler manifestation of modern design. It features neutral and cool colour schemes along with such a design that the area appears spacious and airy. Furnishings are kept simple and not at all extravagant. The decor items and wall arts are also not flashy; rather they are kept to a minimum and as simple as possible.
A few popping colour items can be added to break the neutrals and bring everything together. This design also features clean and crisp lines that can be incorporated into furniture design, wall structures, and other elements. Another important feature of this design is to declutter. Stowaway all extra things in storage so the visual space is cleared to give a need and clean look.
We have designed a beautiful minimalist HDB home at Bukit Batok West, Singapore. The design features neutral palettes with sleek carpentry to create an exciting and beautiful abode.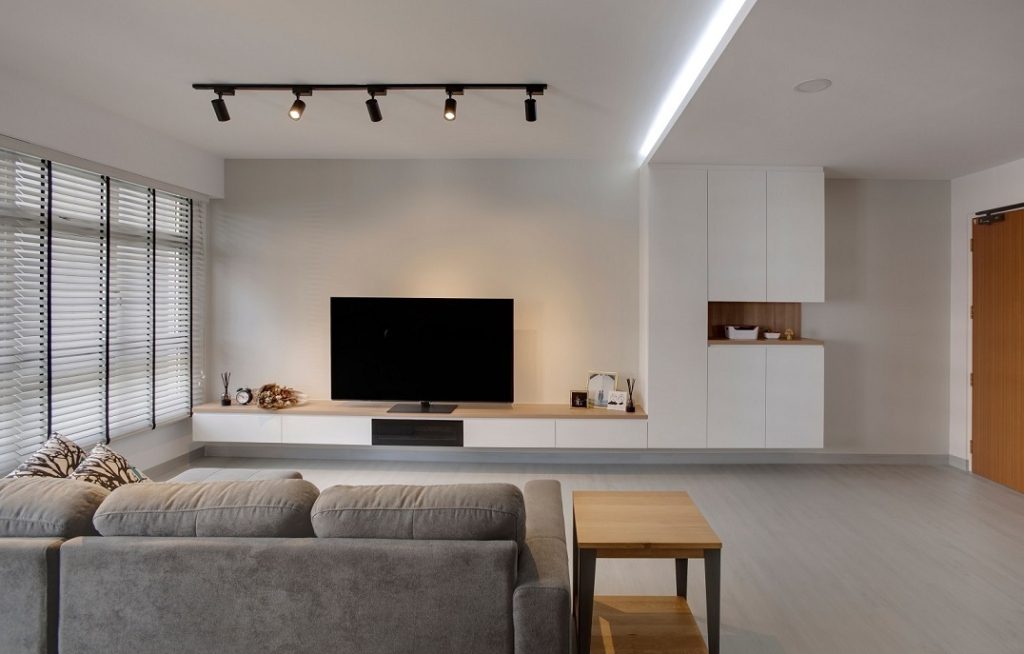 Modern Interior Design
Modern interior design is a broader term that is used to define a design that has cool and neutral palettes, clean and crisp lines, and in which glass, metal, or wooden elements are used. This design also features some iconic furniture from the first half of the 20th century such as the Mies van der Rohe's Barcelona chair and the butterfly chair. Furniture upholstery and other elements are kept plain and simple. The use of glass, mirrors, and steel adds to the artistic beauty of this design.
Usually, in modern interior design, white colour is used along with black contrasts to give a better visual appearance. Modern furniture that incorporates wooden and plain elements along with glass partitions and steel structures is the epitome of a modern interior design. This can be seen showcased in the following interior design project at Gangsa Rd, Singapore. Notice the glass partitions, neutral walls, and black and white rug all work together to create this beautiful modern design.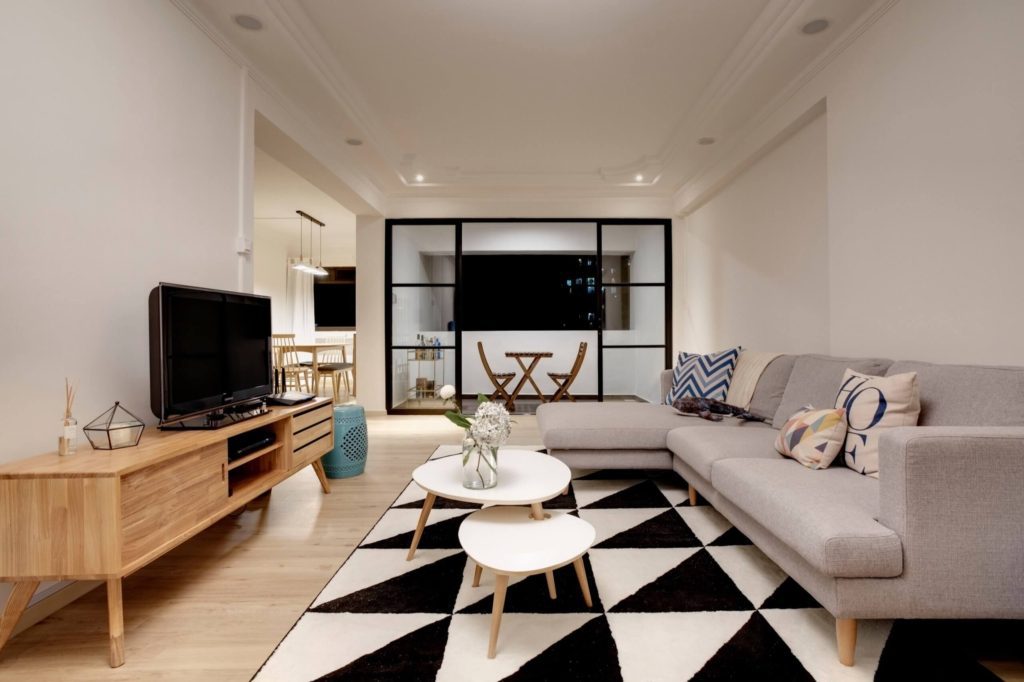 Scandinavian Chic Interior Design
Another design theme that you can incorporate in an HDB home is the Scandinavian Chic design. This hdb interior design project features functional elements that are laid out in bursts of colours to produce a natural and organic outlook. Clean, streamlined designs dominate this theme and the general idea is to keep things simple and elegant. Usually, the colour schemes are neutral and plain but there are elements of colour that are used by natural fibre, art, fur, and throws. The neutral tones give a very relaxing and soothing appeal while the colourful elements add a cheery tone to the overall outlook.
This Scandinavian chic design has been implemented in one of our projects at Yuan Ching Rd, Singapore. This design features an organic, spacious, minimalist approach that expresses the tranquillity and harmony of the Scandinavian style. The foundation of the design is an industrial theme, which together with the Scandinavian elements, creates a clear, innovative, and harmonious blend.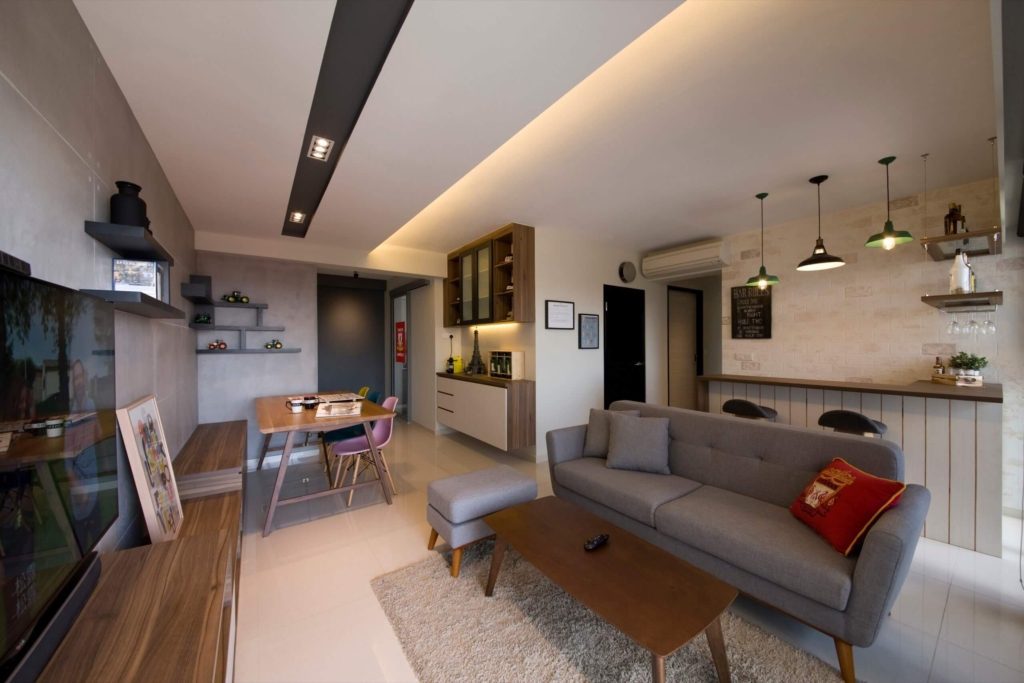 Traditional Chic Design
Another design style that you can incorporate into your HDB home is the traditional chic design. The traditional design is inspired by the 18th and 19th century and features classic art, antiques, and elements with some history. When this is combined with a few modern and chic elements, you get the traditional chic design that is trendy yet classical.
In a traditional design, consistency is key. Furniture usually matches and things are in symmetry. Dark and warm colour palettes are used including red, brown, green, and plenty of dark wood. To give a chic effect, art, textiles, and decor items can be used to create a pop in the room. Chandeliers and wood paneling are also significant features of the traditional design.
In the following project designed by us at Compassvale Crescent, Singapore, the traditional design is coupled with chic elements to create this beautiful and trendy HDB home. The cane furniture and classical chairs represent the traditional design whereas the chic coffee table and wooden blinds help to uplift the traditional design to make it more appealing and pleasing to the eye.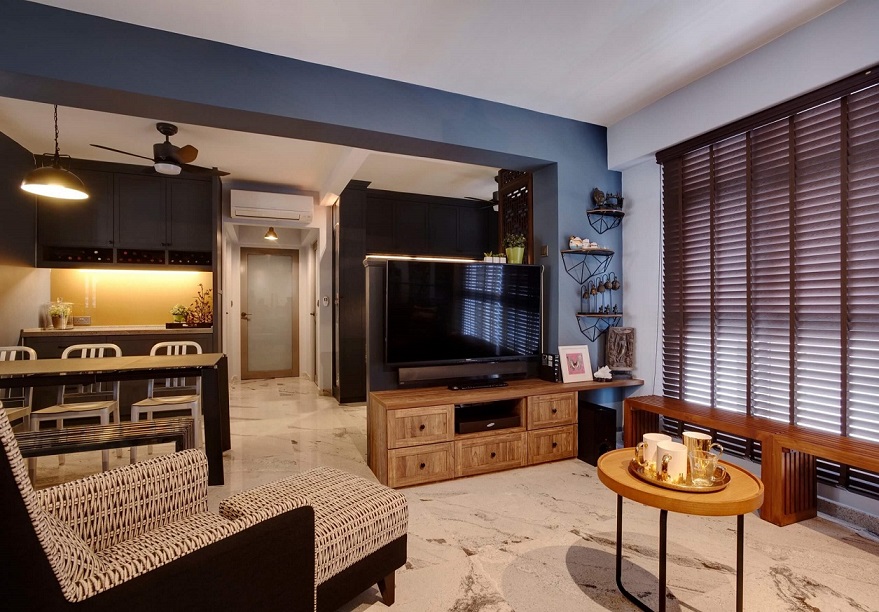 Industrial Interior Design
As the name suggests, industrial interior design is inspired by a warehouse or industrial estate outlook. It features rawness in most of its elements with exposed wood, brick, ductwork, and pipes visible throughout the design. An industrial style is a good option of choice for HDB homes as it adds a touch of uniqueness and excitement to an otherwise boring design. It is also commonly seen in landed house interior design projects.
In an industrial design, usually, the walls have higher ceilings and feature old timber and hanging metal structures which are usually utilized as light fixtures. The floor also gives a raw feel in the form of cemented or epoxy floors. These raw elements and ductwork can give a very dry and monotonous feel. So to counter that, abstract paintings, décor items, and a few colourful furniture pieces are placed to break the monotony.
Such an industrial design has been implemented by us in this project at Fernvale Link, Singapore. Notice the hanging metal structures and raw floor which constitute the industrial elements. The colourful chairs and spotlighting adds the touch of drama that such an industrial design needs to create an exciting and uplifting HDB home.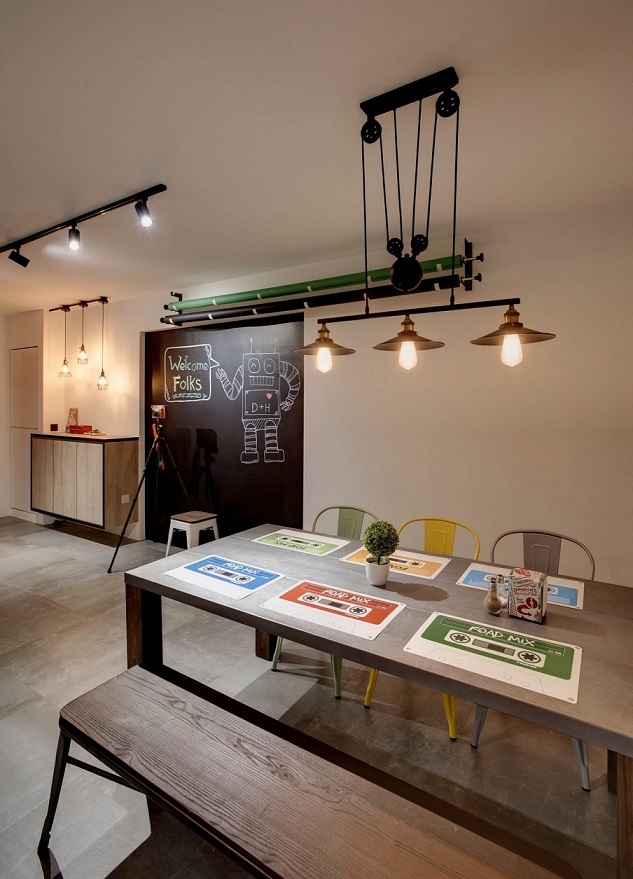 Resort Living Design
If you have a relatively bigger HDB apartment of 4 or 5 rooms, you can incorporate resort living interior design style in it. Since an HDB home still has relatively smaller-sized rooms, extra sensitivity is required to transform its appearance. Resort living style features earthly colour palettes and wooden elements. Wooden ceiling beams are also a significant feature of this design.
Lots of accent and recessed lighting helps to create a dramatic and cosy effect. The walls are usually kept neutral and white along with huge full-length windows or glass doors. This gives the effect of living in a resort with lots of sunlight flowing in. Certain blue and green elements are also incorporated in the design to give the effect of water and plants from a beach.
We designed a resort-style HDB at Punggol Walk, Singapore. Notice how the wooden ceiling beams, huge windows, wooden floors, and wood-effect walls all work together to give the feel of a resort.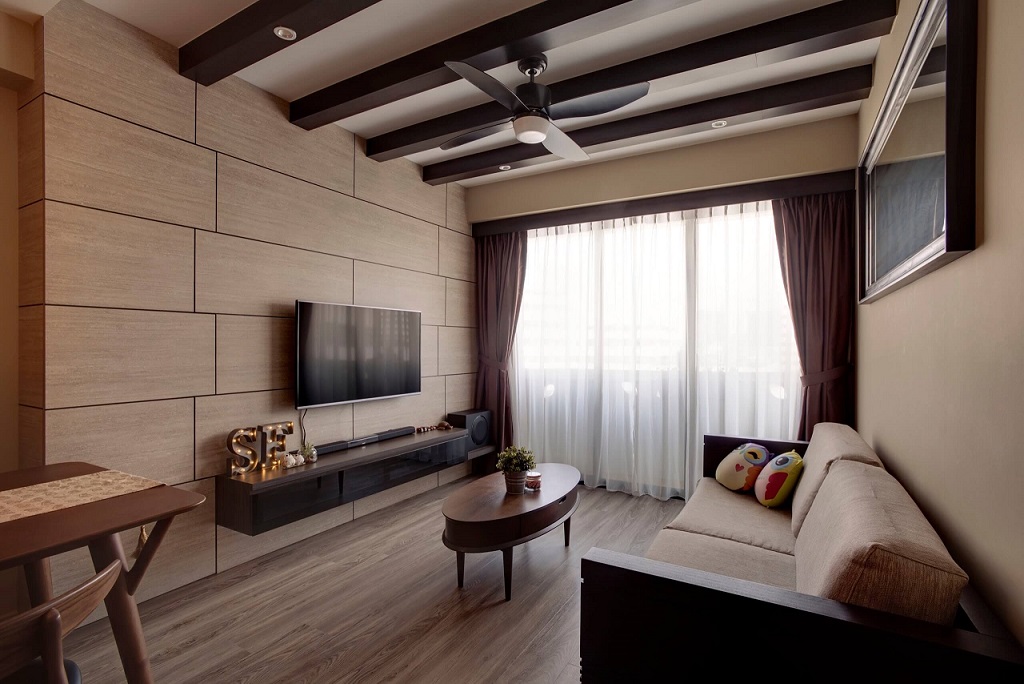 Japanese Modernism
This unique interior design is an amalgamation of the Japanese simplistic style and modern styles. The Japanese style is based on the Zen philosophy of simplicity and minimalism. It features lines, form, light, and white space. An open plan is incorporated so there could be an organic flow between the interior and exterior. Such materials and geometry is used that creates a relationship between the natural environment and the interior.
When these elements are combined with modern elements such as glass, Oakwood, and classy furniture, the result is a beautiful Japanese Modern design that is bound to impress anyone.
An example of this design is the HDB home designed by us at Cantonment Rd, Singapore. The design features simple white walls and an open design for the Japanese theme and incorporates glass and wood elements to create a beautiful Japanese modern style. You can find out more small condo interior design ideas in our portfolio.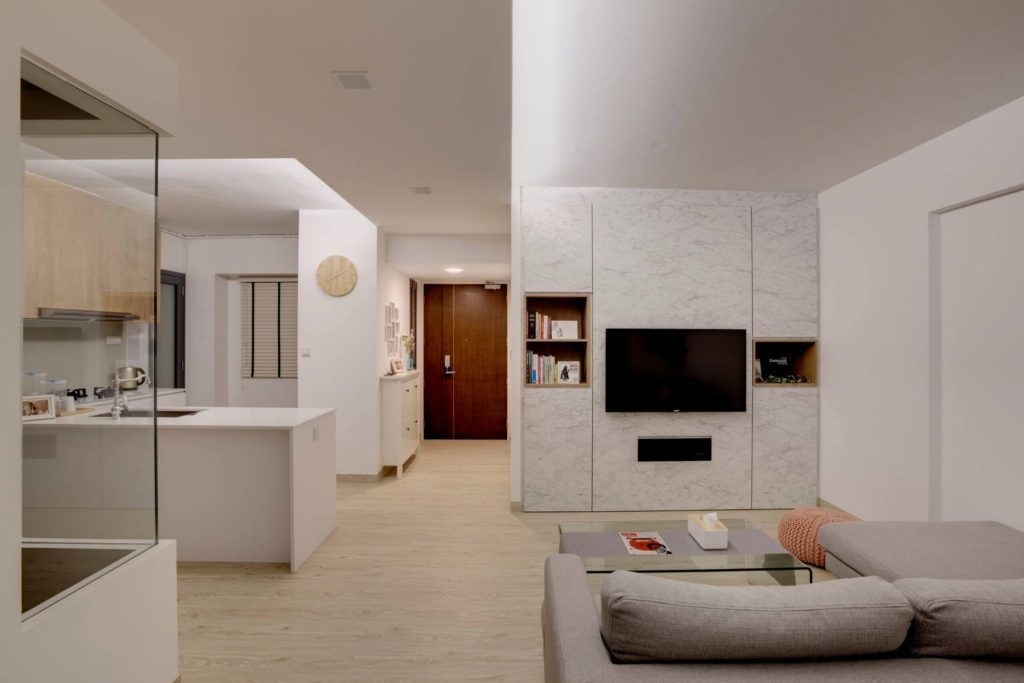 All these trendy and exciting interior design options for HDB homes can inspire you to transform your HDB into an exciting yet comfortable and functional abode. We excel in providing high-quality interior design in Singapore solutions based on your unique preferences and choices.