How to Incorporate Minimalism in Your Interior Design
HOW TO INCORPORATE MINIMALISM IN YOUR INTERIOR DESIGN
Oftentimes, there's a thin line between designing a truly minimalistic space and any other interior design style. In times of endless fashion and design trends, of the numerous interior designers and decorators willing to offer their services at any cost, the minimalistic look is more popular than ever.
The advantages of embracing a simple and monochromatic style are plenty and going for minimalism will most likely reduce the clutter. Consequently, creating a clear and simplified interior at home will reduce the levels of stress.
However, what you should bear in mind is that incorporating a minimalistic design into your home interior is not as easy as you may think and there are some prerequisites that you may have to take before you start your home renovation. 
The first and most important step is to understand the importance of taking everything one step at a time. Creating a peaceful and clutter-free sanctuary is surely something all of us strive for. Below, we have compiled a list of five essential tips on how to achieve it by choosing a minimalistic design for your home interior.
Read on to learn about incorporating minimalism in your interior design.
Tip #1: Declutter

If you find your home in a constant mess where there are piles of unnecessary documents, shoes, and clothes on the floor, empty cups and glasses as well as random objects on the table or any other flat surface – then it's high time you clear everything up.
The first and most important step to embracing the minimalistic design look and feel is to find each object its specific spot. To be even more efficient in making sure your surfaces stay clear, you should follow the rule of "one in, one out".
The main idea of minimalism as an interior design style is to provide a clear and practical space where the homeowners keep only the objects they need and use daily. With this in mind, all nonessentials and unused products that are collecting dust should be eliminated simply because they're cluttering the so valuable room in your home. The "one in, one out" philosophy allows you to preserve the balance, especially when you're replacing similar items.
Tip #2: Keep Things Neutral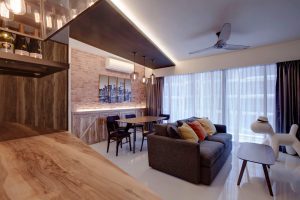 As you may already know, simplicity is in the very essence of minimalism and the same goes for minimalist interiors. If you plan on going for a minimalistic interior, remember that everything should be simple and clean, including the color palette of choice.
Typically, the best way to keep everything neutral is to follow the 60/30/10 rule. In other words, you choose a dominant base for each room, another to act as a secondary color and a third that'll add the accents.
Of course, choosing the base color is the most difficult part. Nevertheless, there are some quite successful color combinations for a neat-looking minimalistic design. For example, you can go for a biscuit, greige or even an ecru-inspired tone.
They provide a clean and calming look. Contrary to popular belief, minimalism isn't plain and bland. Just make sure you allow enough natural light into your rooms to make your home look warmer and cozier.
Tip #3: Minimalist Style Furniture or How to Choose Quality over Quantity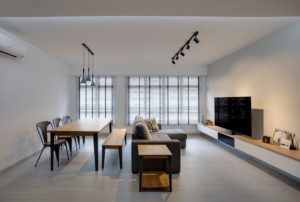 Creating a practical yet stylish minimalist interior may look as easy as pie. In actuality, it requires a great amount of thoughtful and careful consideration of the assortment of furnishings you wish to incorporate in each room.
This is surely a tough challenge but it's still fairly achievable if you consider each piece carefully before it enters your home. In the end, you should create a spacy and comfy minimalistic interior.
To ensure that you get the most out of your space, investing in quality furniture is key. Moreover, you can bet on the classics if you want to spend your money on something that will stand the test of time.
Avoid impulsive purchases of trendy items that'll quickly date. Essentially, you'll spend much more time on choosing the pieces that best suit your minimalist room décor but you'll be a lot more content with your choices in the long run.
Tip #4: Stick to Warm Textile Textures in Similar Tones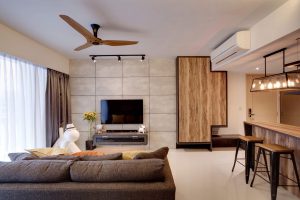 As mentioned above, there's that popular misconception about minimalism and how its neutral tones create a cold and bland feel. Warm color palette combined with stylish knitted throws, beaded pillows or sheepskin rugs.
Also, don't forget the velvet décor. Indeed, these examples may sound quite outlandish, considering we're talking about the minimalistic style where everything's expected to be sly and standard-looking.
On the contrary, you shouldn't shy away from picking unexpected textures, materials, and surfaces. Nevertheless, you should stick to the point and make sure you don't overdo the whole process. With this being said, you should incorporate these styles only as long as they blend the color base.
The textures in similar tones will serve as your secret weapon that'll add to the functional and aesthetic value of your furnishing and room as a whole. After all, what's better than having a plush rug or a couple of beautiful pillows to match your bed?
Tip #5: Minimalism is Storing Your Items Properly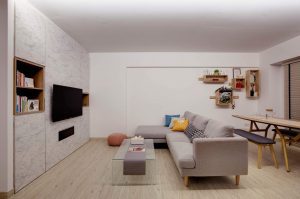 Last but not least, all steps mentioned above would mean nothing if you don't find a way to keep things as they are. In other words, investing in stylish and efficient storage will prevent any mess in your home while adding to its looks.
Of course, storing your items properly doesn't necessarily mean that you have to give up on your collector's mindset. However, bear in mind that you can't consider your home functional until you have plenty and enough storage.
In a true minimalistic spirit, going for hidden storage will be perfectly in line with your home's new interior design style. For instance, you can install additional drawers behind your doors or buy a storage bed where you can put your clothes.
Nowadays, foldable beds are increasingly popular and getting one can amplify the minimalistic look of your bedroom. One thing is sure, you shouldn't be afraid to add any pieces of organizational furniture where needed. Just make sure everything's properly stored.
Final Thoughts
To conclude, making things look as simple and clear as possible is certainly the essence of minimalism. But this is only on the outer side. Achieving a minimalist interior design isn't an easy task and there are some key steps for successful minimalist home décor.
Of course, there will always be critics but minimalism can be quite practical for day-to-day use if you manage to execute it the right way. The aesthetic appeal of pure simplicity, clean lines, and warm textures and tones will no doubt spruce up your home with a sly and calming minimalistic atmosphere. Who doesn't love a neat and clean minimalist space?
Space Factor is one of the interior design companies that'll make your renovation a truly enjoyable and refreshing experience. Based in Singapore, we offer expert interior design advice and services for everyone willing to try something new with their home interior.
In the end, your quest to the minimalist interior can only be created by following the above steps. To materialize it, you'll need the right interior designers and Space Factor has just what you need. We provide HDB interior design, landed interior design and condo interior design services.
You can take a look at our portfolio for the residential and commercial portfolios. Consult us today regarding your home renovation!