5 Spectacular Landed Property Interior Design Ideas for Your Dream Home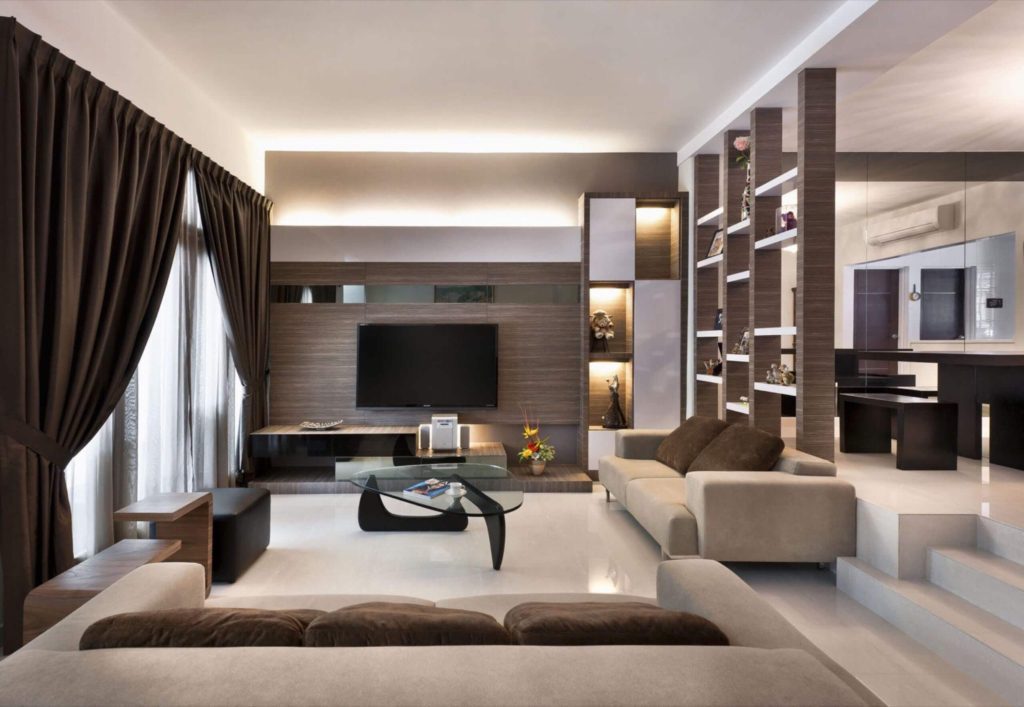 An Earthy Palette @ Joo Chiat Ave
If you live in a landed property, you are fortunate. Typically, the best thing about houses is that they have plenty of space for refurbishments. Owners can take their time and immerse themselves in the world of design.
Of course, the aim is to choose the perfect landed interior design. However, the abundance of options can make everything a bit daunting. Homeowners soon find out that they have to pick between tons of styles. Moreover, they have some ideas in their minds, too.
Therefore, planning your landed property design project is often a tough mission. As you can imagine, there's no place for mediocre results. You have to make up your mind and determine the direction of your interior style – is it going to be minimalistic, eclectic, or modern? What's the difference between modern and contemporary? Here's a list of 5 breathtaking landed property interior design insights. Hopefully, they'll give you some inspiration to work on your project.
Minimalistic
Firstly, we'll start with something space-friendly. The minimalistic style has been popular for quite some time. Typically, owners choose the simplicity of Wabi-Sabi or a more modern interior design look. Either way, the classic minimalism will make for an inviting and elegant landed home.
So far, you may know that minimalism evokes a philosophy of "less is more". In turn, this strategy is famous for its aesthetic and space-saving interior design properties. Usually, you'd see this type of design in HDB units in Singapore. Therefore, implementing minimalism into your landed property will make your space look even airier.
What's more, minimalism is for every owner who loves a more open and calm atmosphere. When you bring a minimalistic feel to a property, you leave ample free space for furnishing.
Most of all, you can do wonders without overcrowding the premises. Perhaps, you can create a "wow" effect with a simplistic large sofa or a chic piece of art. Usually, you can do all that without ruining the central theme. After all, you have ample floor space to enjoy. That's why the minimalistic style is perfect for a landed property design where bright space and mind are paramount.
Cozy Nordic Style
Similarly, the Scandinavian style puts priority on simplicity and functionality. It has Nordic origins, so it may look cold and distant. Contrary to what you believe, it's a warm and inviting solution for everyone who wants to bring nature closer. Probably that's why most Nordic interiors feature bright and airy rooms.
Moreover, a common property for every room is to have large windows that let in plenty of light. Usually, it would feature neutral or soft tones with lots of woody accents. The whole theme completes with draping soft fabrics – rugs, throws, pillows, and others.
In a Nordic-style landed property design, you'd enjoy the comfort and inviting feel of the clutter-free space. In your landed property, you'll have lots of windows to make your interior airy. Along with that, the warm textiles and style-specific wooden furniture will fill in your premises with Nordic coziness. All in all, it seems like this style will perfectly fit every landed property interior design.
Contemporary
When you go online, you'll see a lot of interior design styles that will catch your eye. Arguably, the contemporary style is one of them. However, not many people know the difference between the present and modern design. Well, it's simple – modern design exudes the fashion trends of the 20th century, while contemporary interiors follow the latest tendencies.
In other words, living in a landed home will allow you to keep up with the evolving trends. Moreover, you'll have enough room to move, mix, and match styles. You'll be able to play with scale, height, color, and other aspects of the interior.
All in all, you'll have the freedom to create a unique contemporary landed house design. You can start right off with some art deco furniture and darker, earthy tones. Ultimately, you'd want to keep the sophisticated feel of the old modern mid-century interior design.
Industrial Feel
While styles like the contemporary and Nordic look more traditional, industrial is the opposite. This unorthodox style has gained popularity in the past few years. As you can expect, it combines early 20th-century warehouse design styles with a pinch of sophisticated looks. That's why it will easily fit into any landed home design plans.
Perhaps, you were looking for something that'll make the interior look more active and lively. The industrial interior design theme focuses on high ceilings and a space filled with subdued and grungy finishings. Moreover, one of the signature properties of this style involves a bare form of styling.
Often, you'd see exposed brick walls or ceiling beams to complement the dark-colored grittiness of the furnishing. In this respect, wood and metal are prominent in such interiors. Typically, there's a beautiful mixture of chairs, tables and other furniture with both steel and wooden elements. Some designers improve the look by incorporating reclaimed wood and lacquered-black steel frames.
Also, many warehouses feature an open-plan concept. Why not transfer this feature to your property? Usually, an industrial-inspired home is perfect for a landed house. When you combine it with the signature hooded lighting and raw look, your home will immediately start resembling a warehouse. Besides, the style is flexible and easily customizable.
Eclectic
Lastly, eclectic interior design is a relatively unknown style in Singapore. Still, it's slowly making its way into one of the popular home styles. Perhaps, it's the total opposite of minimalism, and it features lots of color, vibrancy, and contrast. In essence, an eclectic landed property design can blend all motifs into one individuality.
Of course, the whole process requires careful construction to avoid messiness. Usually, the main feature of such a design is the specific color or material. In that sense, this look puts emphasis on order. Achieving overall cohesiveness is not effortless. Therefore, you'd need a professional interior designer to help you nail this sophisticated style perfectly.
Since a landed property often has multiple inhabitants, everyone will have their own styling preferences. The main benefit of the eclectic design is the freedom of experimenting with the themes in each room. Of course, you can create a single central theme to flow through your home.
Eclectic Landed Property Design – A Bridge Between Generations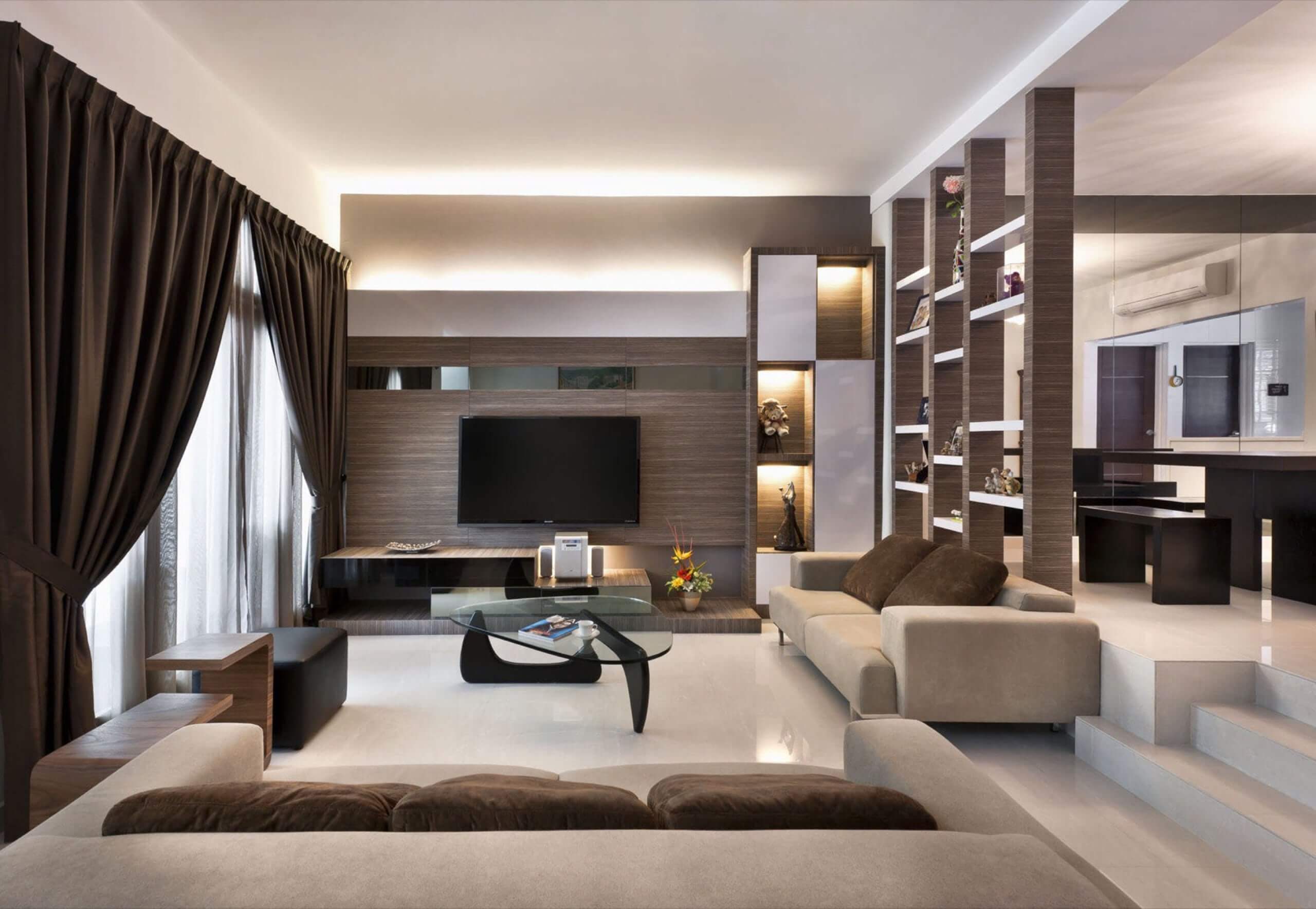 An Earthy Palette @ Joo Chiat Ave
Since landed homes have ample space, they are perfect to whirl up your creativity. You can safely play with darker colors to achieve a more sophisticated look. Moreover, you can express multiple individualities in one single take.
In their Joo Chiat-located project, our Space Factor designers have created a mix of styles for a family of two generations. The eclectic mix of layouts and textures is a seamless cohesion of contrasting tastes. The color palette consists of deep red and white with earthy mid-tones. What's more, there's an interplay of shapes and sizes, especially when it comes to furniture.
Resort-style Landed Property Design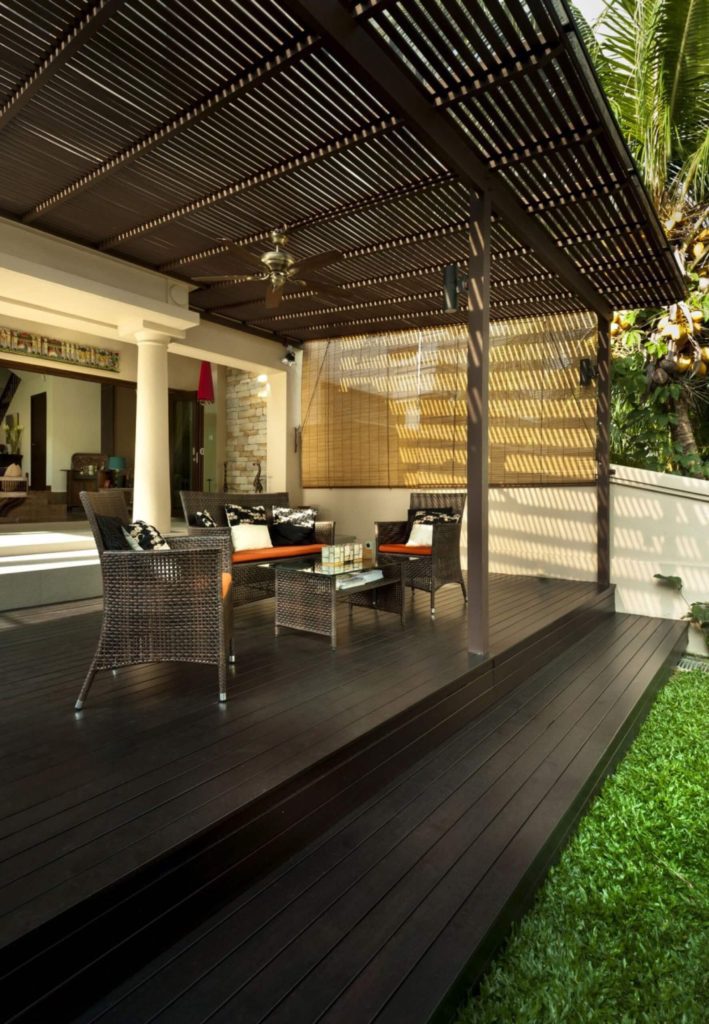 You can feel the vibes right from the entrance. There you can see some plants and rattan adornments. While the front yard boasts broad tile flooring, the back patio uses contrasting dark-brown wooden floors. Of course, the patio uses a set of rattan coffee tables and chairs of similar color to the flooring.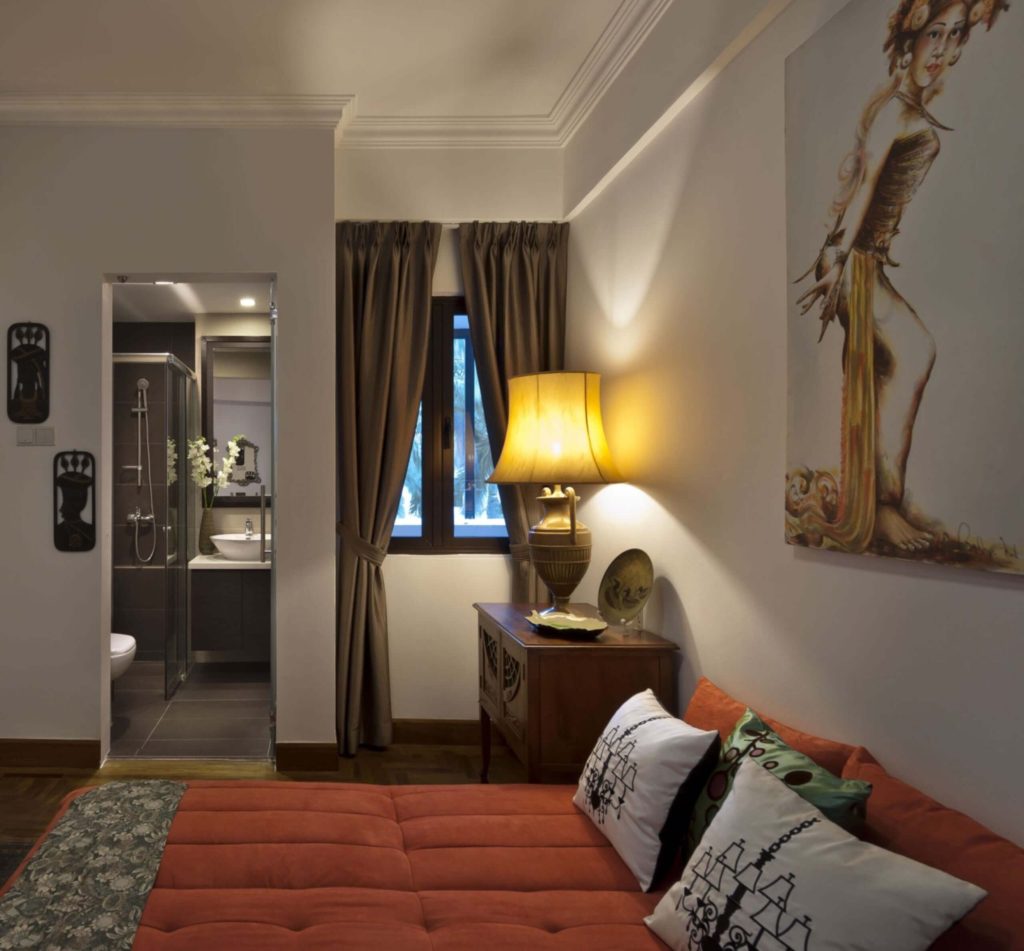 When you enter the home, you'd feel an instant surge of colonial-style interior design. Perhaps, the combination of soft lighting, terrazzo flooring, and the standout foyer table will mesmerize you right from the start. Of course, there's the luxurious chandelier and the white furnishing that creates a subtle contrast. Also, don't forget the tropical-style cushions and subdued-tone rug that complete the alternating composition.
As you can imagine, there is plenty of strip lighting in the bathroom and kitchen. The premises integrate seamlessly with the cohesion of dark-brown cabinets and marble countertops. In the bathrooms, you can see the popular vessel sinks along with some Marrazzo single-wall adornments. As expected, the designers have replaced the generic shower heads with rain ones.
If you've ever dreamed of a canopy bed, we can do the magic for you. The bed in their landed house interior design fits all requirements for a resort-like bedroom. Moreover, you'd love the soft layering of the luxe bedside lamps and subtle ceiling lighting. Don't forget the massive and luxurious floor-to-ceiling curtains that will ensure you get quality sleep. Also, there's a large piece of art above one of the beds.
Set the Tone
Firstly, you'd want to set the tone with some resort-like colors. So what's the typical color palette for a resort? Generally, it can be any scheme that will induce a vacation mindset.
Whether it's Mediterranean, Tirolean, or colonial style, make sure you achieve an upscale, modern feel. For example, you can try some stylish hues like taupe, espresso, and pewter. Create contrast with some tropical wallpaper or other wall treatments with natural finishes.
Bring in Some Statement Pieces
Next, you'd want to implement some accent pieces in every room. Similar to a high-class resort, you should complete your landed property apartment with at least one bold accent piece. Surely, you'll want your interior to draw immediate attention.
In such cases, your best shot would be a large piece of art or tapestry. An oversized wall painting will enliven your space without overwhelming it. Moreover, such an addition will work as a design centrepiece and an expression of personality.
Let the Outdoors in Your Landed Property Interior Design
Arguably, one of the signature elements of every high-end resort is the selection of tropical textiles. You've probably seen one of these rattan and bamboo sets of outdoor furniture. Perhaps, you could quickly bring them inside.
If you have a patio, you can add a set of hanging chairs, a hammock, or a bamboo bed. Either way, you'll enhance the tribal feel and make your landed property design feel like a resort. Also, don't forget to put some oversized plants here and there. A pair of banana trees or dracaena will make your home look like you're on a tropical island.
Use Crisp and Natural Fabrics
Also, you'd want to transfer the feel to your bedding as well. Generally, you should stick to the standard scheme of white linen or luxe fabrics. What's more, you can safely immerse yourself in the sea of tropical hues and earthy tones.
If you want to make your bedroom feel like a Greek island resort, bring in a canopy bed. Moreover, you should adorn it with some airy fabrics and heavy, high-end curtains. It's a signature part of every resort-like interior. For more creative bedroom interior designs, check out our blog post.
Bet on Soft and Luxury Lighting to Complete the Resort-like Look
Perhaps, you've seen the elegant chandeliers in the hotel foyers. Adding one luxury piece will help set the mood right from your home's entrance. Also, you should complement your walls with some soft-light sconces. Try to layer the lighting with some additional bedside lamps for a light-filled space.
Usually, five-star hotels feature sleek recessed lighting and ample sources of natural light. You should make sure you provide gentle illumination, too. Ultimately, you'd want to go for some fluorescent lighting. At the least, you should opt for an oversized natural-fiber pendant.
Add the Finishing Touches in Your Spa-like Bathroom
Of course, don't forget the bathrooms. Since you can't make your restroom overlook the Adriatic, you can at least add some spa-like features. Instead of the standard showerhead, you can get a rain one and throw in some bamboo mats. If you have the budget, you can add terrazzo-style tiling with subtle lighting strips.
Last but not least, you'd want landed property interior design to look, but also smell like a resort. Therefore, you should buy some tropical candle scents to greet your guests properly. Besides, you can always add some soaps and room sprays for a soothing fragrance. Just don't overdo it.
MISTAKES TO AVOID IN A LANDED INTERIOR DESIGN
A good interior design encompasses all the elements and personalisation that will make your house the home of your dreams. It creates the perfect ambience that helps you feel comfortable and relaxed in your humble abode. There are many different interior design styles and themes which you can choose according to the house you want to design. The type of the house or flat, its location, and its size all play a role in what design elements will look like in them and which ones will not.
If you own a landed house, you get to have a bigger area and space to play around with. It broadens your horizons of interior design and your choices are not limited as is the case with small condos or HDB flats interior design. However, having a large area of a landed house does not mean that you can choose any design, style, and other elements and it will still look good. There are many mistakes that you need to avoid even in a landed house interior design so that you do not create an unappealing and unpleasant outlook. The interior design needs to be functional, comfortable, and beautiful even on landed property. It is important to avoid some of the most common interior design mistakes which are discussed in detail below.
Choosing The Wrong Furniture
The selection of the right kind and size of furniture is one of the most important things to consider when designing your landed home. In such a property, chances are that you have bigger rooms and areas. Choosing the wrong furniture which is either too small or too big will completely ruin the room's appearance. Too much furniture will make even a big room appear small.
On the other hand, too little furniture will make the room awkwardly empty and will not create an appealing visual sensation. Similarly, the furniture should be according to a particular theme. If you place plush luxury furniture in one corner of the room and place some rustic and raw furniture in the same room, the elements will clash with each other and not appear beautiful.
Consider the following image of a living room at Gangsa Rd. Notice how the furniture completely complements each other. The theme is Scandinavian style and each element of the furniture whether it is the sofa, coffee table, or TV shelf goes with each other in style, size, and number.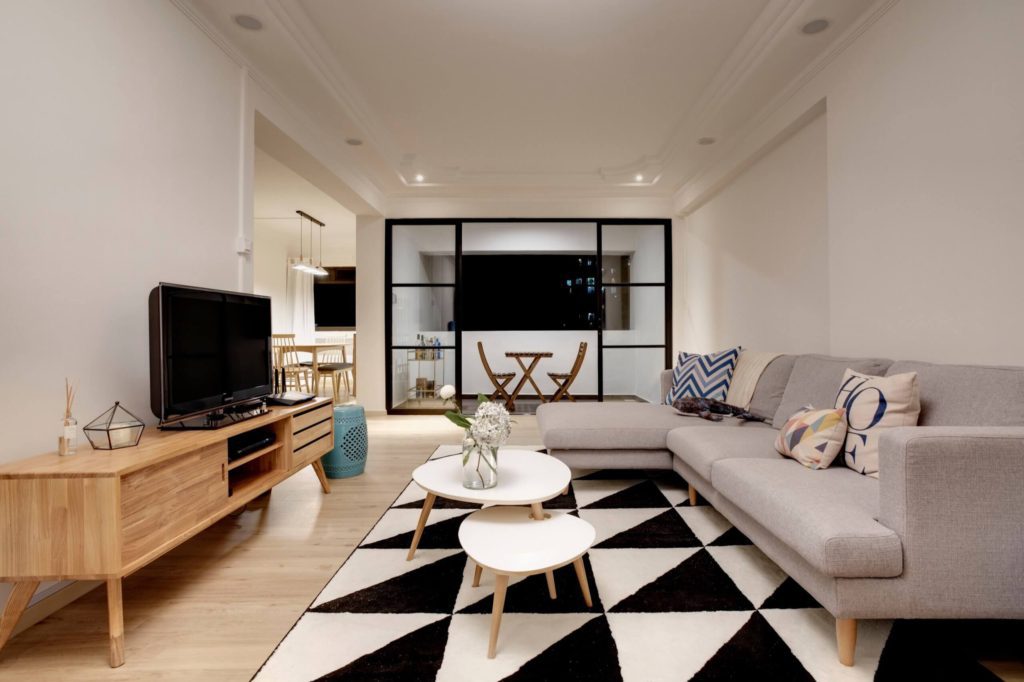 Not Having Enough Light
Natural and artificial light is probably the most important element of any interior design and not having enough of them will create a visual imbalance and unpleasant outlook. No matter how beautifully your house is designed and decorated if you do not have sufficient and the right kind of lighting, the design and decoration will go in vain. If there is not enough light coming into a room, even a bigger room of landed property will appear smaller, cramped, and gloomy. Having large windows that allow greater amounts of sunlight to enter will immediately brighten up the appearance of any room.
Apart from natural light, using different types and fixtures of artificial lighting will allow you to set the mood and ambience of any room. You can use track lighting or accent lighting to enhance or highlight particular elements of the room which will be pleasing to the eyes. Using recessed lighting will create a more dramatic and cozy outlook.
The following image of a house at Eco, Singapore showcases beautiful lighting and fixtures that add to the beauty. We can see a large window through which lots of natural light flows inside. Several types of lighting and fixtures highlight elements of the home to create an appealing outlook. A large mirror on one wall also helps the light to reflect and bounce off in the room to create a more spacious and bright look.
Choosing The Wrong Color Themes
Colour themes are another important element of any interior design. In the case of landed property, the sizes of the rooms will most probably be big. So, you don't want to choose the wrong colours that will make even the bigger rooms appear smaller. Choose light and neutral shades for the walls to give a bright and airy appearance. If you want to choose a darker shade for a wall, limit it to just one wall and balance it out with other contrasting elements and proper lighting.
Another mistake that many people make while choosing colours is that they try to match all elements of a room based on their colour. This unnecessary matching of colour creates a monotony and boring appearance. Don't be afraid to mix and match colours. Using contrasting colours or hues of the same shade will create a perfect balance of harmony and style.
In the following portfolio at Punggol, Singapore, notice how the designer has used different shades of cool colours that go together beautifully. Green, yellow, orange, blue, and grey all work together along with the pastel-coloured walls to make a comfortable and appealing home.
Unnecessary Clutter Of Accessories
When you are designing and decorating your home, you may be inclined to go overboard while purchasing different accessories and decor items. However, too much of anything will do the opposite effect of what you are trying to achieve. Not only will you spend so much extra on these accessories but together, they will look absolutely unappealing and cluttered. Too many of these things will create both sensory and functional overload.
For example, consider a sofa on that you want to put cushions on. You need only a few cushions to add comfort or a pop of colour to the interior design. If you go overboard and cover the whole sofa with a lot more cushions, they will not be functional anymore. The sofa will look cramped and cluttered and will create an unpleasant outlook. Similarly, decorative items everywhere will take away from the beauty of the composition instead of enhancing it. A cluttered house, therefore, is difficult to maintain, looks unappealing, and appears much smaller in size.
Consider the following example of landed property. Notice how, regardless of the large space, the living room area and entryway do not contain unnecessary clutter. A few decorative items and accessories here and there help to keep the area beautiful as well as harmonious.
Need more living room interior design ideas? Check out our blog post!
Choosing The Wrong Types of Rugs
Rugs are an important functional and decorative item. With the right kind, colour, and size of the rug, you can completely transform the image of a room for the better. Conversely, a wrong rug will completely undermine the appearance of any room or house. You should choose the type of rug based on the overall theme of the room. Placing a luxurious rug in a room with a contemporary theme will look out of place. Similarly, if you put a simple rug in an otherwise luxuriously decorated room will not do justice to the overall design.
For example, for a living room, placing the rug close to the sofa and leaving space in front of the TV or fireplace that does not inhibit access will make the place look cosy and warm. The rug should complement the overall theme of the living room; usually, it is kept neutral. This is exactly what has been done in the following image of a living room at Thomson Grand.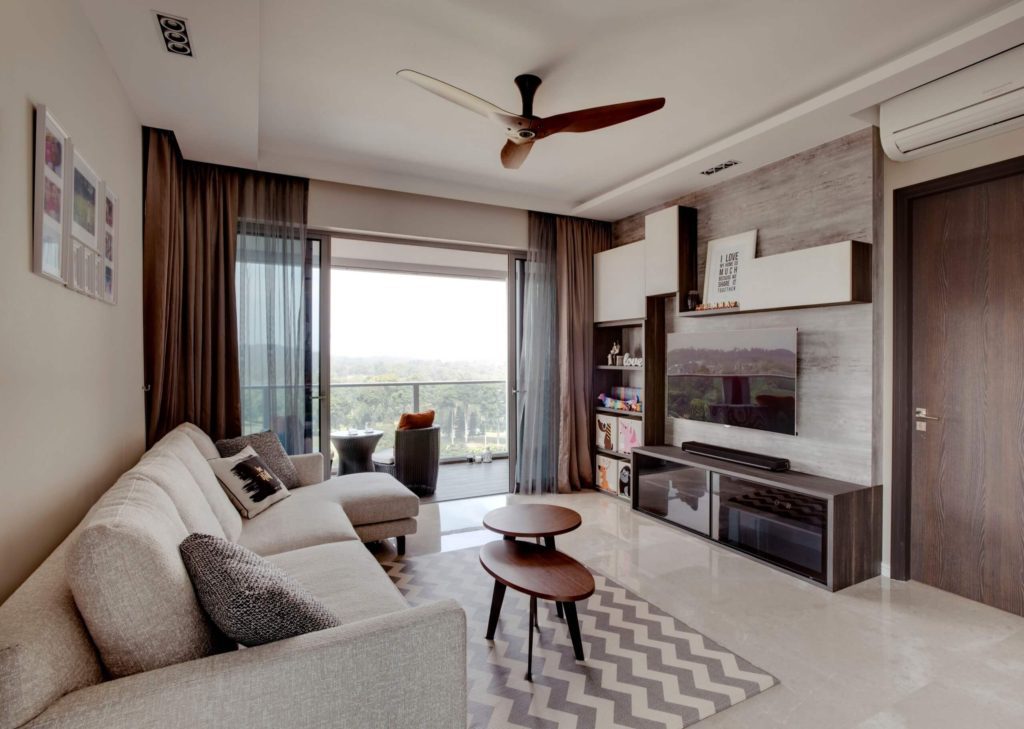 Similarly, for a children's room, the idea is to keep the rug small and close to the bed so there is ample space left for the children to play around without the fear of getting the rug dirty. The children's room drug should be fun and bright so as to give a pop of colour. This is showcased in the following children's bedroom at Thomson Grand.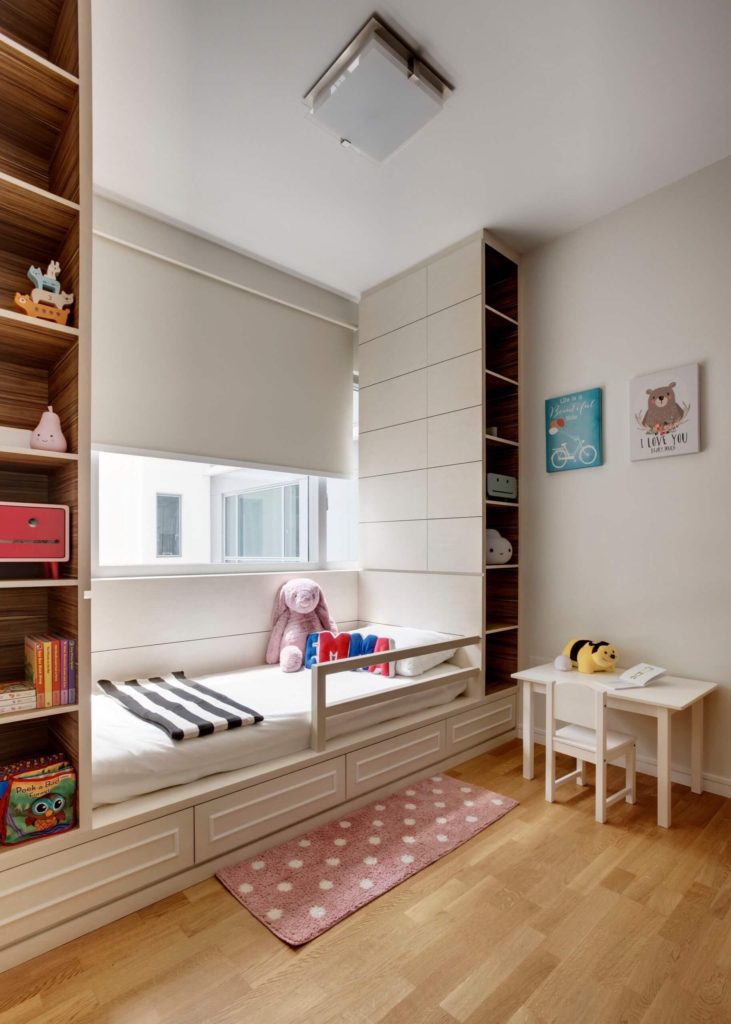 These are just some of the mistakes that one should be careful to avoid in landed property interior design projects. There are many other things to consider when designing and decorating your home. But if you steer away from these simple and common mistakes, you are sure to get the house of your dreams and avoid major renovation disasters.
Final Thoughts
Perhaps, the chic flat surfaces and low-hanging sofas and armchairs are only a small detail in the overall design. With an accent on the space and height, this style is free of decoration. With the help of our interior designers, you can implement one of these breathtaking landed property styles in your home.
Looking for more interior design styles? Find interior design ideas such as Balinese design style and Rustic design styles. Our professionals have experience in designing different houses and sizes from 3-room interior design, 4-room design style, 5-room interior design to condo interior designs.
Contact us for a consultation today, or view our portfolio for HDB renovation and small condo interior design today!
Check out our other articles