5 Breathtaking Landed Interior Design Styles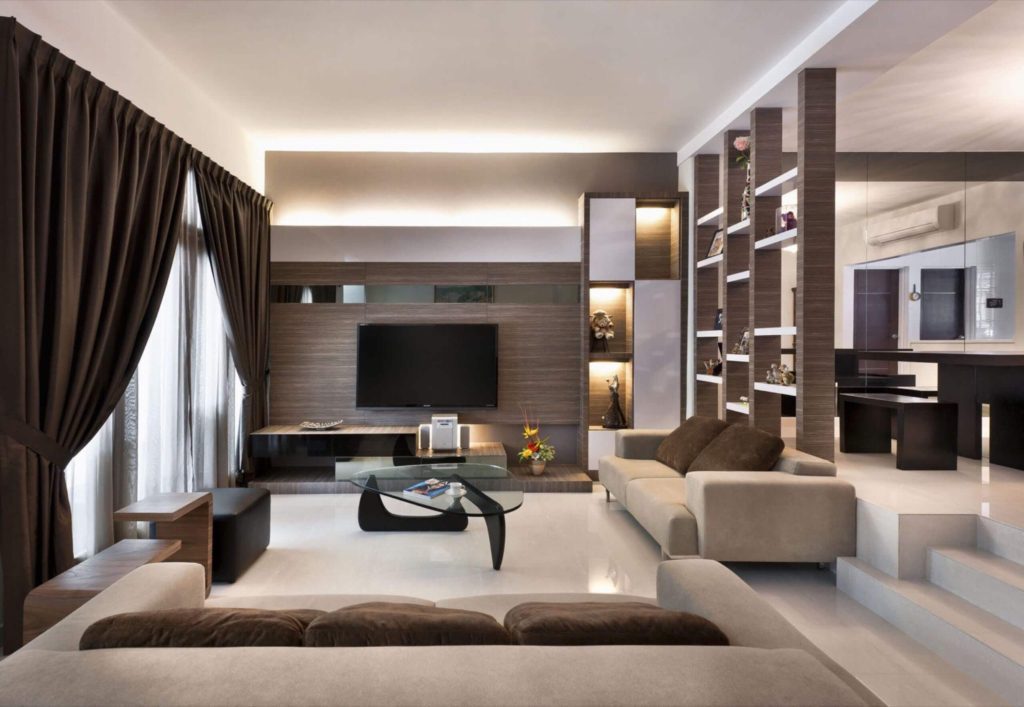 An Earthy Palette @ Joo Chiat Ave
If you live in a landed property, you are fortunate. Typically, the best thing about houses is that they have plenty of space for refurbishments. Owners can take their time and immerse themselves in the world of design.
Of course, the aim is to choose the perfect landed interior design. However, the abundance of options can make everything a bit daunting. Homeowners soon find out that they have to pick between tons of styles. Moreover, they have some ideas in their minds, too.
Therefore, planning your landed property interior design project is often a tough mission. As you can imagine, there's no place for mediocre results. That's why an interior designer can give you a serious push.
On your behalf, you have to make your mind and determine the direction of your interior style. Is it going to be minimalistic, eclectic, or modern? What's the difference between modern and contemporary. Here's a list of 5 breathtaking landed property interior design insights. Hopefully, they'll give you some inspiration to work on your project.
Minimalistic
Firstly, we'll start with something space-friendly. The minimalistic style has been popular for quite some time. Typically, owners choose the simplicity of Wabi-Sabi or a more modern look. Either way, the classic minimalism will make for an inviting and elegant landed property interior design.
So far, you may know that minimalism evokes a philosophy of "less is more". In turn, this strategy is famous for its aesthetic and space-saving interior design properties. Usually, you'd see this type of interior design in HDB units in Singapore. Therefore, implementing minimalism into your landed property interior design will make your space look even airier.
What's more, minimalism is for every owner who loves a more open and calm atmosphere. When you bring the minimalistic feel to a property, you leave ample free space for furnishing.
Most of all, you can do wonders without overcrowding the premises. Perhaps, you can create a "wow" effect with a simplistic large sofa or a chic piece of art. Usually, you can do all that without ruining the central theme. After all, you have ample floor space to enjoy. That's why the minimalistic style is perfect for a landed property interior design where bright space and mind is paramount.
Cozy Nordic Style
Similarly, the Scandinavian style puts the priority on simplicity and functionality. It has Nordic origins, so it may look cold and distant. Contrary to what you believe, it's a warm and inviting solution for everyone who wants to bring nature closer. Probably that's why most Nordic interiors feature bright and airy rooms.
Moreover, a common property for every room is to have large windows that let in plenty of light. Usually, it would feature neutral or soft tones with lots of woody accents. The whole theme completes with draping soft fabrics – rugs, throws, pillows, and others.
In a Nordic-style landed property interior design, you'd enjoy the comfort and inviting feel of the clutter-free space. In your landed property, you'll have lots of windows to make your interior airy. Along with that, the warm textiles and style-specific wooden furniture will fill in your premises with Nordic coziness. All in all, it seems like this style will perfectly fit in every landed property interior design.
Contemporary
When you go online, you'll see a lot of interior design styles that will catch your eye. Arguably, the contemporary style is one of them. However, not many people know the difference between the present and modern design. Well, it's simple – modern design exudes the fashion trends of the 20th century, while contemporary interiors follow the latest tendencies.
In other words, living in a landed home will allow you to keep up with the evolving trends. Moreover, you'll have enough room to move, mix, and match styles. You'll be able to play with scale, height, color, and other aspects of the interior.
All in all, you'll have the freedom to create a unique contemporary landed house interior design. You can start right off with some art deco furniture and darker, earthy tones. Ultimately, you'd want to keep the sophisticated feel of the old modern interior design.
Industrial Feel
While styles like contemporary and Nordic look more traditional, industrial is the opposite. This unorthodox style has gained popularity in the past few years. As you can expect, it combines early 20th-century warehouse vibes with a pinch of sophisticated looks. That's why it will easily fit into any landed property interior design's plans.
Perhaps, you were looking for something that'll make the interior look more active and lively. Industrial interior design focuses on high ceilings and a space filled with subdued and grungy finishings. Moreover, one of the signature properties of this style involves a bare form of styling.
Often, you'd see exposed brick walls or ceiling beams to complement the dark-colored grittiness of the furnishing. In this respect, wood and metal are prominent in such interiors. Typically, there's a beautiful mixture of chairs, tables and other furniture with both steel and wooden elements. Some designers improve the look by incorporating reclaimed wood and lacquered-black steel frames.
Also, many warehouses feature an open-plan concept. Why not transfer this feature to your property? Usually, an industrial-inspired home is perfect for a landed property interior design. When you combine it with the signature hooded lighting and raw look, your home will immediately start resembling a warehouse. Besides, the style is flexible and easily customizable.
Eclectic
Lastly, eclectic interior design is a relatively unknown style in Singapore. Still, it's slowly making its way into one of the popular home styles. Perhaps, it's the total opposite of minimalism, and it features lots of color, vibrancy, and contrast. In essence, an eclectic landed property design can blend all motifs in one individuality.
Of course, the whole process requires careful construction to avoid messiness. Usually, the main feature of such a design is the specific color or material. In that sense, this look puts emphasis on order. Achieving an overall cohesiveness is not effortless. Therefore, you'd need a professional interior designer to help you nail this sophisticated style perfectly.
Since a landed property often has multiple inhabitants, everyone will have their own styling preferences. The main benefit of the eclectic design is the freedom of experimenting with the themes in each room. Of course, you can create a single central theme to flow through your home.
Eclectic Landed Property Interior Design – A Bridge Between Generations
An Earthy Palette @ Joo Chiat Ave
Since landed homes have an ample of space, they are perfect to whirl up your creativity. You can safely play with darker colors to achieve a more sophisticated look. Moreover, you can express multiple individualities in one single take.
In their Joo Chiat-located project, our Space Factor designers have created a mix of styles for a family of two generations. The eclectic mix of layouts and textures are a seamless cohesion of contrasting tastes. The color palette consists of deep red and white with earthy mid-tones. What's more, there's an interplay of shapes and sizes, especially when it comes to the furniture.
Final Thoughts
Perhaps, the chic flat surfaces and low-hanging sofas and armchairs are only a small detail in the overall design. An accent on the space and height, this style is free of decoration. With the help of our interior designers, you can implement one of these breathtaking landed property interior styles in your home.
Contact us for a consultation today, or view our portfolio for HDB renovation and small condo interior design today!