Transform Your Space with Top Interior Design Ideas in 2023
If you're looking for a fresh new start to the year, it may be a good idea to start from your home. As interior design has become a very convenient service with the high availability of various companies and experts, experimenting with your home décor and interior is a safe and satisfactory quest.
Of course, choosing a new style for your home interior is not as easy as it may seem. Just because trends come and go, many homeowners shy away from doing any renovation in their homes.
Nevertheless, there are still some timeless interior design projects that deserve to be in 2022's top interior design trends. Here's some unconventional and unique inspiration for your upcoming home transformation.
MINIMALIST STYLE
From neutral colour palettes to warm textures and textiles, this style is increasingly popular in recent times. The main reason is the neat and sly atmosphere that it creates.
Minimalist interior design focuses on keeping a clear interior without unnecessary objects that may make things look messy. The furniture choice emphasizes quality rather than quantity.
Also, there's a strong need for storage and organizational furniture to help reduce the clutter – drawers, foldable beds or storage beds, etc.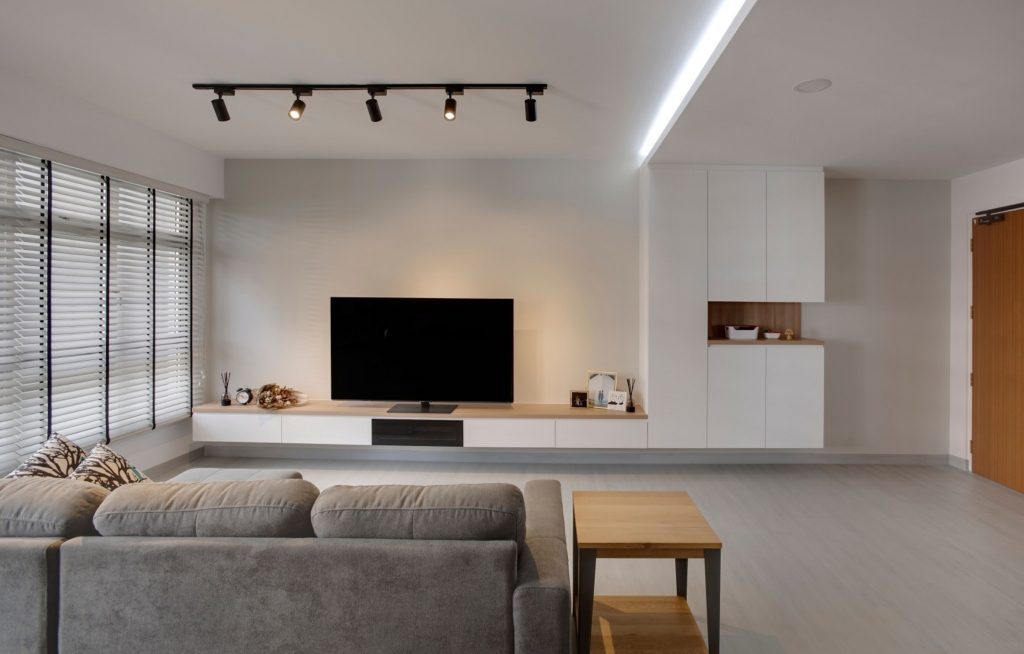 White Minimalist Living Room @ Bukit Batok West
WHIMSICAL STYLE
Some homeowners adore a home that reminds them of their childhood. Some just prefer bright colour palettes. No matter what, the whimsical style is a growing trend even though it still requires some to dare to go for a good old vintage-looking interior.
If you're looking for a truly original and extraordinary renovation style, you can start by creating a focal point in each of your rooms with one stand-out piece of furniture. Mixing and matching different pieces of décor and furnishing is the key to creating a harmony of tonal colours, textures, and patterns. If you're not afraid to look different, then this style is completely suitable for you.
ART DECO STYLE
If you still think that the whimsical interior style is not vintage enough, then you might want to go for the art deco. Popular in the 1920s and 1930s in the USA and Europe, this style is somehow contrasting the minimalist, nature-inspired Art Noveau. This style focuses on making a big statement.
This style incorporates bold geometric patterns with a clear preference for symmetry in its design. Gold and silver accents are typical and it's safe to say that it's a style of royal tones and contrasts.
MID-CENTURY MODERN STYLE
There is a reason why this style has preserved its popularity throughout the years. With its clean lines and gentle organic curves, the no-frills Mid-Century Modern style opts for functionality with minimal ornamentation.
If you're into uncluttered design but you're not keen on minimalist interior style or modern interior style, then the Mid-Century Modern is ideal for your renovation project. Its simplicity reinvents various elements from the traditional as well as the non-traditional materials.
With this style, it's completely normal to combine completely contrasting materials such as suede, leather, wood, and steel. For this reason, many homeowners tend to choose this look just because it makes their homes look like they're straight out of an interior design magazine.
SCANDINAVIAN STYLE
Similar to the minimalist style, the Scandinavian designs are pretty self-explanatory. And that's why they're so popular: cold to soft minimalist colour palettes with cosy accents, striking modern furniture, and high-contrasting looks that often play with natural light are the staple of this type of style.
The hallmark of the Scandinavian interior look consists of wooden floors and serene white walls with plenty of greenery in each room. It somehow reminds you of a cool breeze on a summer day.
In terms of prices, this style may be one of the best low-cost renovation styles. The main reason is the minimal renovation work required as there is no need for expensive carpentry or decoration items.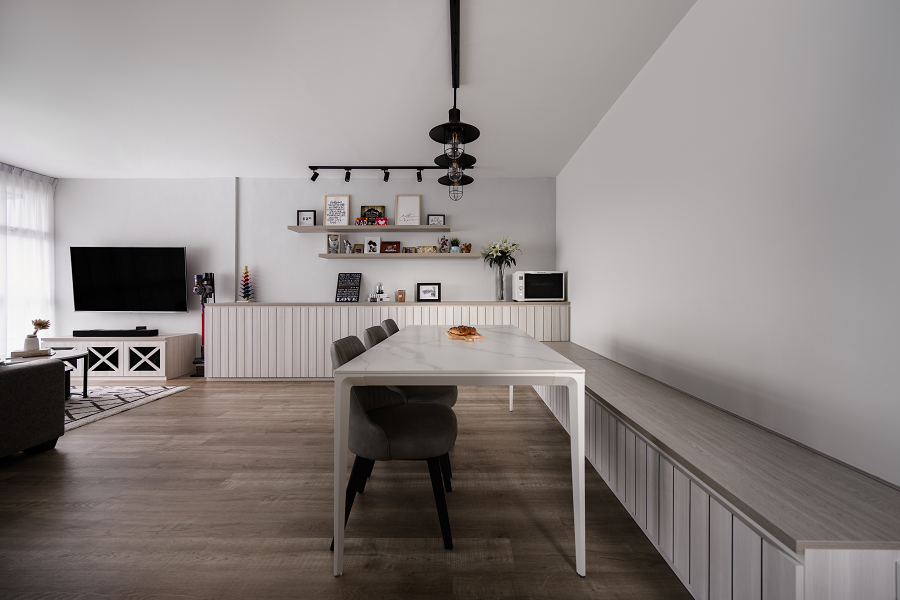 Scandinavian Plus Farm House Style
Find other interior design styles such as Balinese design, Colonial-Style interior design, Warehouse design, Industrial interior design style and Rustic interior design in our blog posts.
WHAT ARE SOME OF THE 2023 INTERIOR DESIGN TRENDS?
OLD VS NEW
2023 is in and many homeowners are still looking for budget-friendly and out-of-the-box ways to decorate their home interiors. Layering the old and new by bringing in one-stop-shop design resources will take your interior design to a whole new level. Mixing and matching old and new furnishing, accessories, and décor is bound to create a unique and fresh atmosphere. You can also buy some locally-made souvenirs from your trips to create a themed space.
GRAPHIC TILING
Another trend this year is graphic tilework. However, many interior designers tend to steer clear of it. The reason for this is that the strong prints, patterns, and colours will become outdated very fast. On the other hand, replacing them can be quite costly. Instead, you can incorporate these ideas into small accessories such as pillows, throws, rugs, etc.
SINGLE PRINT WALLS
Speaking of graphics, there's something about drama and style and it's absolutely a thing in 2022. Decorating your walls with some single print themes is a simple and effective way to add uniqueness without doing too much. There are many options for this part of your year-round decoration but you'll be astonished by some glamorous and timelessly chic designs inspired by Asian history and culture.
OPEN SHELVING
Looking for an inexpensive way to add extra storage space to your living room or bedroom? Open shelving is one of the interior design trends in 2023 that can greatly contribute to your minimalist or mid-century modern interior. It will improve any home interior that's oriented towards the true organization and neat and clean looks. Of course, it's a good idea to be mindful when buying these types of items because you may end up having to dust them regularly without really using them too much.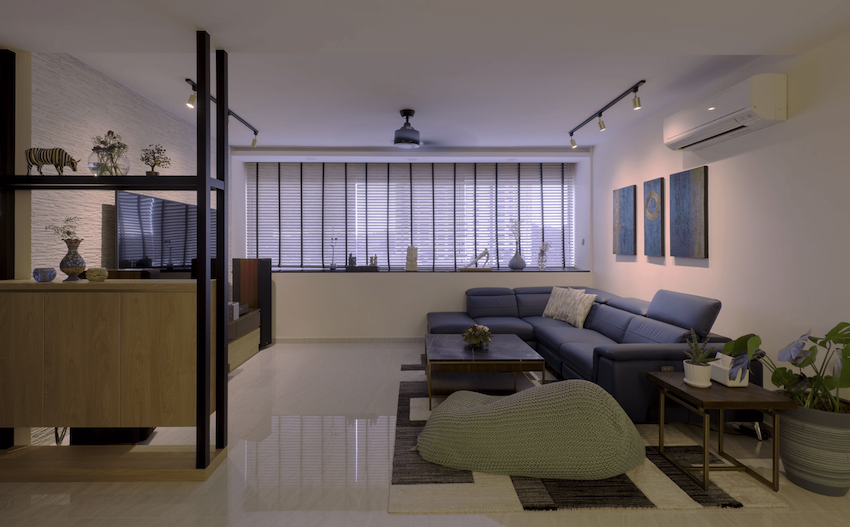 DARK-PAINTED DOORS
Combined with earth tones, doors painted in dark and rich colours increase the warmth and character of the room considerably. Therefore, one of the interior design themes is dark-painted doors. If you want to make a statement right from the entryway, you should bet on this trend. Paired with some matching cabinets and appliances, you'll give a bold example of character.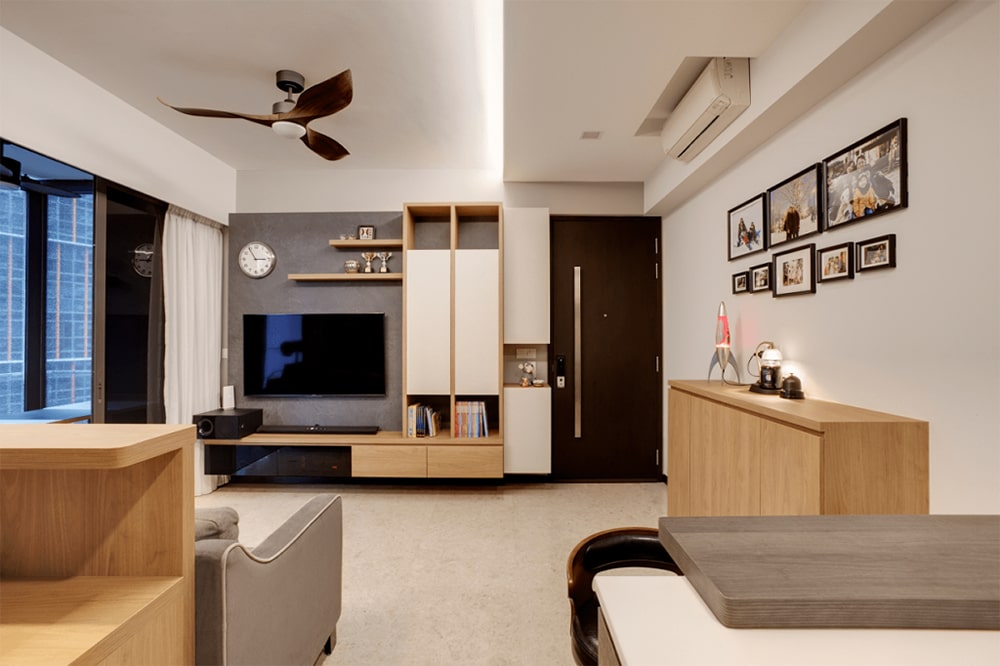 Dark-coloured Doors Increases the Warmth of the Living Room @ Sims Urban Oasis
MULTI-FUNCTIONAL SPACES
Last but not least, the oversimplifying trend has evolved into creating informal workspaces that incorporate parts typical for other rooms. This not only saves valuable space but allows clients to take their workspace home without sacrificing basic conveniences. It's now completely fine to combine your closet with your office and you can make them both disappear when not in use. Flexible and multi-functional spaces with a dab of fancy décor can help you blend more than one function seamlessly to create a productive and minimalist look.
10 INTERIOR DESIGN TIPS TO ENHANCE YOUR RENOVATION STYLE
Not everyone can afford a full-blown and luxurious home renovation, and revamping your home interior definitely shouldn't be considered a rich man's privilege. Contrary to popular belief, there's always a way to make your home look new without splashing out a huge amount of money.
There are tons of creative tricks and styling décor hacks that require little or no money at all. All you have to do is be willing to experiment. To help you with your project, we have compiled a list of 10 budget-friendly styling décor tips.
STEP #1: NEW PAINT MAKES MIRACLES
To begin with, the foundation of every home interior is the walls and flooring. Repainting a room is the easiest way to change its look and perhaps, a good starting point for your budget-friendly project.
However, you have to carefully choose what colour palette you'll want to go with. Essentially, there are two colour categories – bold or soft. Your pick should be based on your personal preferences as well as the interior design style you're going after.
You may also want to implement some of the recent trends. For instance, one of the interior design themes is dark-painted doors, so it's a good idea to do quick research for inspiration.
Besides, painting your interior doors in dark and bold colours will make them look expensive without spending that much. Just make sure your door colour matches your interior.
STEP #2: DETAILS MATTER
Good interior design is about details. Actually, they can be the key to a budget-friendly styling décor. A cheap way to make any room look elegant and expensive is to install crown moulding.
It's not only a great way to add a finishing touch after a repaint, but it connects the walls to the ceiling which ultimately, creates an almost royal atmosphere.
Another cheap yet effective idea is to install a new faucet. Replacing home utilities is always a good way to freshen up your interior. This is a good reason to get a new, perhaps, more stylish-looking bathroom sink faucet. Just make sure it matches your bathroom's interior style.
STEP #3: UPDATE YOUR CABINET HARDWARE
If you're looking for an instant makeover, a new kitchen cabinet can completely change your kitchen's look. Of course, there's an endless variety of options. Just make sure you get the right measurements so that the new hardware fits in.
As for the dining room, you can buy a "raw" corner cabinet. That'll not only save you money, but it will also allow you to paint the cabinet the same colour as the room's walls. In this way, the freshly-painted cabinet will give an impression of something that's been part of the original interior of the home.
Many homeowners are tempted to buy basic drawer pulls and knobs from their local home improvement store. Since you're on a budget and these hardware pieces are pretty inexpensive, you might think they're the perfect addition to your interior. However, you can get much more value for a few more bucks.
There are plenty of expensive-looking drawers in the antique and flea markets all at affordable prices. Besides, you can always take your shot at a local appliance and furniture thrift shop where you can get luxurious pieces of furniture at bargain prices.
Looking for kitchen renovation ideas? You can view this article to learn how you can maximise efficiency in your kitchen renovation.
STEP #4: CREATE A PERSONAL SPOT
Creating a personal spot is an easy and creative way to decorate your living room or bedroom. Any bare tabletop is good to go as your only resources will be your own photos, snapshots, and postcards. Also, you can decorate your personal collection with some beautiful pieces of glass or printed fabric underneath. Find living room design ideas and tips on improving your bedroom's interior design in our blog posts.
STEP #5: REPURPOSE A LADDER
Almost every homeowner has a small wooden ladder at home that they've completely forgotten about. Guess what – it can be put to good use once again and with minimal effort. With a little sanding and a new coating, any old ladder can be repurposed to make an original interior décor. You can use it to store nearly everything that comes to your mind – from pots of decorative flowers to blankets and jackets.
STEP #6: PUT UNUSED GLASSWARE INTO ACTION
We've all grown tired of constantly receiving glassware as presents. Most of the time, we have glassware sets that are already in use and we just pile up the newly-gifted ones somewhere in the closet. However, some of these sets might be put to good use. You can get really creative and mix old with new-looking glassware to make your empty shelves look full and your kitchen or dining room rich.
STEP #7: MAKE YOUR INTERIOR ROLL
Sometimes, small spaces opt for creative interior design hacks. If you're on a budget, you might be reluctant to buy a few nesting or foldable tables. There's a good alternative and it may turn out to be quite effective.
Attaching a set of casters to a farm table is a genius way to create an almost free yet extra-large kitchen island that can be moved wherever you want. If you don't have a farm table at hand, you can always use a crate to make storage that can roll easily underneath a counter.
STEP #8: LAYER LIGHTING
A common mistake among homeowners is underestimating the power of lighting. If you're still using one lighting source at a time, then it's time to do it right. Besides the natural light, you also have to make sure you have a good number of lighting sources.
This will allow you to layer different lighting sources like table and floor lamps, thus making your living space look bigger. Moreover, getting a few designer light fixtures will surely make your décor look expensive and stylish. Ultimately, you can check out the flea markets and the local second-hand stores for some unique finds.
STEP #9: ADD SOME SOFT TOUCHES
If your interior looks already rough and too "raw", you'll definitely make it look brighter with a few soft pillows around the place. However, you should choose them wisely for the best effect. You'll be amazed by how much of a difference they make. To keep things expensive-looking, you should purchase large, overstuffed pillows.
The plush and soft additions will contribute to the luxurious look without having to spend a fortune on them. Avoid the smaller and down-filled pillows as you may risk making the wrong impression.
STEP #10: WINDOWS AND MIRRORS ARE IMPORTANT TOO
Last but not least, don't forget to take proper care of your windows. Adding simple window treatments to your windows will make your interior decor look finished and complete. Because they are one of the most budget-friendly ways to give your home a new and stylish look, it would be a good idea to choose the best option possible.
Eventually, you'll want to stick to natural silk, linen or cotton. They provide privacy and they look elegant and expensive. If you're not into draperies, you can go for woven bamboo shades or wood blinds. The goal here is to make sure your home looks well-designed.
As for the mirrors, first, you should make sure you have at least a couple of them. They are an essential part of every home, especially if it's a small one. Mirrors have been used as a way to create the illusion of space for a long time. And why not use them now?
If possible, position your mirrors adjacent to some of your windows. The reflecting light will create the illusion that your rooms are bigger than they really are. Finally, antique and rustic mirrors are always a good addition to any interior décor.
FINAL THOUGHTS
Finally, these are some of the trending styles and inspirations that will dominate the interior design field throughout the year. Whether you are conservative or willing to dive into the vast ocean of unique, intricate and even extravagant design options, there are styles for days. Moreover, there is something for each potential client and picking the style that truly reflects your personality is easy as pie.
If you're looking for professional help with your home renovation, be it HDB renovation, landed design or condo renovation, Space Factor is an interior design company in Singapore that specializes in all kinds of interior design services. We have experience with HDB BTO flats interior designs (3-Room HDB design, 4-Room HDB interior design, 5-Room HDB design), Condo interior design, and Landed Property design.
Feel free to check out our design portfolio of residential and commercial units. Call us now for a design consultation today.
Check out our other articles