Warehouse Chic HDB Interior Design – Elegant or Eccentric?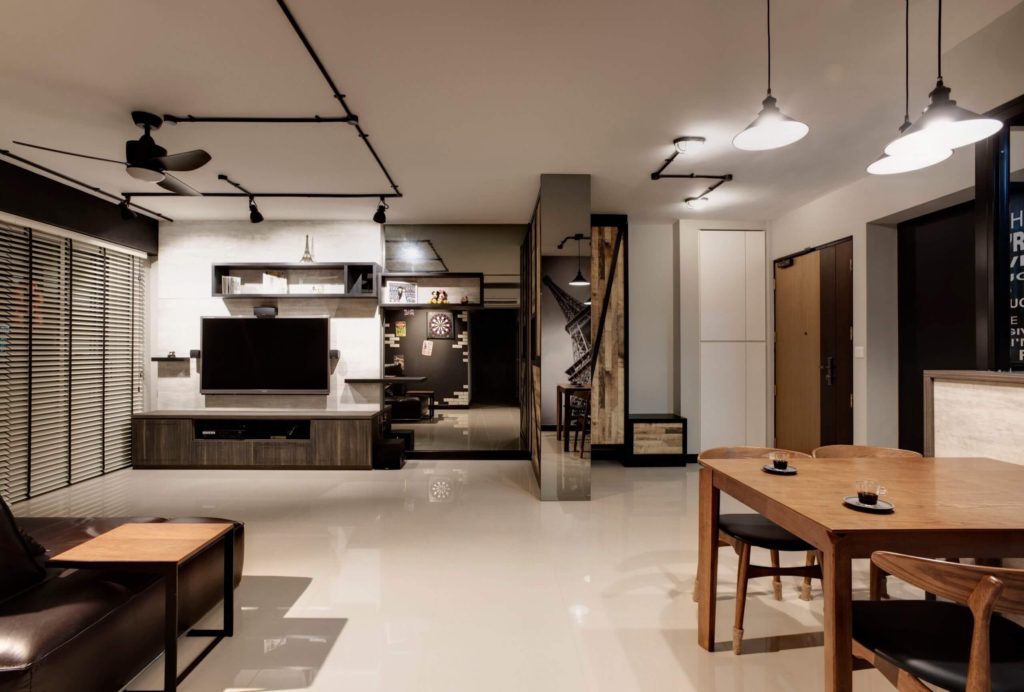 Warehouse Chic @ Punggol Drive
In the past decade, there has been one rising design trend. Thirty years ago, no one would think of making their home look like a warehouse.
Today, warehouse chic is dominating and won't lose steam soon. Of course, no one has a clear idea of when it all started. However, warehouse chic is now a thing in HDB interior design and pop culture alike.
The plethora of exposed metallic elements, wood, and vintage furniture has deep roots. Perhaps, everything may have started in the early 20th century.
The designer of a large table and floor lamps didn't expect his creations to outgrow him. Since their purpose was to fit in factories, they retained the simplistic and rough look. Surprisingly, you'll find the very same lights to be still in production. This time, as a design feature for HDB design makeovers.
Where's the difference?
It could be hard for one to believe that you can ever combine the warehouse with chic. Still, there's a fine line that integrates both styles into one unique HDB interior design.
Typically, the most immediate feature is the understated selection of colors and materials. You'll see lots of muted tones of the white, grey, and black palette. Most of all, you're bound to see lots of unfinished concrete and exposed brick.
Of course, let's not forget about the signature factory lights, steel-cased windows, metal beams, tables, and more. Arguably, there's a reason why so many people choose the simplicity of industrial design.
How to pull off warehouse chic HDB interior design?
When going for warehouse chic, you need to pay attention to some key elements. Since you're going to embrace a raw appearance for your HDB home, you should consult with a designer. Ultimately, you'd want to focus on exposed elements, the materials, and the furniture. Here's how to achieve it:
Exposed and raw elements
So far, you should get the central concept of this interior style. Generally, every successful warehouse chic design puts emphasis on raw looks. Usually, designers evoke the industrial feel with exposed ceilings, ducts, brickwork, and piping.
By putting these details to the front, you'll achieve a prominent and eye-catching atmosphere. Your guests will immediately feel the industrial vibes from the floor to the ceiling.
Furthermore, the exposed brick wall will add a lively texture to your space. Along with the subdued, classic brown color highlights of the wood, the entire home vibrates with coziness.
Metal and wood are prominent
Of course, excessive use of wood indeed recalls minimalism. Therefore, don't be afraid to embrace it. The unusual combination of metal and reclaimed or dark-themed wood shouldn't surprise you.
In a traditional warehouse, this sight would look quite familiar. Therefore, you should try and implement them everywhere. Moreover, you can go further by making DIY furniture pieces. In some cases, homeowners can restore old wooden furniture and use them for their interior.
Therefore, you should stick to the pairings of wood and metal. Even though they are immediate features of a warehouse chic interior, the combinations can vary. Usually, everything that looks dark and grungy is a go.
Vintage pieces of furniture for a timeless feel
While it's not a breaker, you'd eventually opt for a few classic-looking pieces of furniture. That way, you'll infuse the feel of a mid-century atmosphere. Again, you'd want to bet on wood and metal. However, you can go for a luxe leather sofa or armchair. Just stick to the same industrial earthy concept.
Additional accessories
Finally, you can complete the warehouse chic HDB interior with suitable accessories. Of course, your first idea would be to add the signature hooded lamp. Alternatively, you can choose to go for caged lighting. Either way, it has to be rusted or galvanized to create the desired feel. Also, don't forget the wall details and shelves using raw metal elements.
Space Factor's take on the popular styles
In the past few years, Singaporeans have developed a taste for home interior design styles such as Scandinavian interior design, modern design styles, Balinese interior design, Colonial interior design and Rustic design style. Thanks to their HDB BTO regulations, they have the freedom to build theme-specific interior styles. Of course, that's impossible without professional help.
Of course, there are plenty of studios that offer HDB interior design services. However, not too many can pull off the warehouse chic as we did. Perhaps, the designers from the company did their best to evoke the traditional warehouse feel. Meanwhile, they managed to retain the unique look of the interior.
How did it happen?
Perhaps, the design of the 109-square-meter HDB flat is a real genre breaker. Probably, the design is a prime example of how to pull off the industrial interior design theme with functionality. Arguably, the functional aspect is typical for an apartment with many family members.
In this take, the interior designers have complied with the inhabitants' needs for storage space. While the theme focuses on metal elements, here, there's more wood to see. From the laminates to the furniture pieces, you can immerse yourself in the grungy but polished details.
Related read: 15 smart HDB BTO interior design ideas in Singapore
Originality and style on display
As you can imagine, Space Factor's take is all about wood. While most designers would go for steel and aluminium chairs and tables, the wooden set here looks quite modern. As a prominent feature in their HDB renovation, wood makes the overall exposition feel warm and inviting. Practically, the kitchen and living room cabinets mimic vintage reclaimed wood pieces.
In this take, the metal details and casings serve as complementary elements. Of course, there's a small functional table with lacquered steel frame. It's as if attached to the leather sofa opposite the large TV cabinet.
The designers have completed the décor with a wallpaper of the Eiffel Tower. In the hall, you can find a dartboard and a bicycle. All this comes with a plethora of hooded and camera-style lighting conventional for the industrial style.
Final Thoughts
Finally, don't forget to add a pinch of uniqueness when planning your home design. Now that you've seen how it's done, you can take an example from the professionals. Better yet, you can call them for your warehouse chic project.
At Space Factor, we offer all types of interior design services. Our company has extensive experience in putting its clients' unique sense of style on display. Over the years, our experts have earned the company a place among the best interior design firms in Singapore. We have handled 3-Room HDB interior designs, 4-room HDB renovation designs, HDB 5-room interior designs, Condo interior designs, and landed property interior designs. Find bedroom interior design ideas, kitchen renovation designs, living room interior designs, and trendy kids room designs.
Contact us today for an interior design consultation, or view our portfolio for HDB renovation and condo renovation today!
Check out our other articles