Unique Interior Design Ideas For 4-Room HDB Flats
When you are looking for interior design ideas for your 4-room HDB apartments, you can become overwhelmed by the number of choices that you come across. There are several different types of interior design themes and styles that will go quite well in a 4-room HDB BTO or Resale flat such as the common Scandinavian interior design, Modern Mid-Century design style, Balinese interior design, and rustic design style. There are often mixes of 2 or more design themes that can also look quite good according to your requirements.
But many times, unless you see how those different themes and designs are being implemented in actual homes, you are just unable to visualize how they will look in your own apartment. This is the reason that we have consolidated some of the portfolios that are designed by us where you are able to see the different interior design themes and styles implemented in actual 4-room HDB apartments through which you can draw inspiration for your own homes.
Whether you are designing your home from scratch or renovating certain aspects of the apartment, these portfolios will give you a starting point of how you want things to move forward with respect to interior design. Check out the following projects which are some unique interior design ideas for 4-room HDB apartments designed by us.
British Colonial Interior With A Black And White Theme
This 4-room resale HDB flat at Tanglin Halt designed by us has a unique and beautiful interior design that features an open-plan living, huge windows, and wooden textures that add a touch of classic British Colonial vibes, minimalism, and aesthetics into the space. Cool-toned earthy colours and the use of natural materials make for a blissful, relaxing and tranquil interior. The colours black and soft chalky white dominate the overall design where dark timber wood and vintage-inspired furnishings are incorporated to add a colonial touch, giving the home its unique appeal.
In the living room, the floors are kept dark wood colour whereas the furnishings are a mix of leather and cane. Spacious and filled with airiness, do not be afraid to knock down some walls to achieve this effect. Injections of rich dark green were introduced into the natural earthy colour palette of browns drawn from leathers, teak and rattan. The white walls contrast the dark wooden floors whereas the large floor-to-ceiling cupboard that resembles huge file cabinets adds a touch of character to the design. Beautiful indoor plants brighten the space with a lovely touch of nature, giving the home life, colour and an elevated cosiness as compared to before. For more living room interior design ideas, take a look at our article.
Unique Living Room Design @ Tanglin Halt
The open-concept kitchen design also features a neutral earthy and white colour scheme which is in perfect contrast and balance with each other. The kitchen walls and cabinetry are pristine white whereas the countertops are black which match the dark brown wooden floors. This gives a comfortable, chic and lively ambience to the kitchen interior design, as the use of cool hues maintains an element of cool minimalism and a relaxed vibe in the space. Notice how a lot of greenery is used in all the areas which uplifts the appearance of the space and gives a fresh organic feel to an otherwise dull dark and white theme. Together, the whites, darks, and green give a very modern yet earthly feel to the space.
Uplifting Kitchen Interior Design @ Tanglin Halt
The bathroom in this HDB flat also has a unique monochrome theme and design that is visually appealing to the eye. The monochromatic floor tiles feature a geometric black-and-white pattern that makes a bold statement and gives your bathroom a talking point. To prevent them from overwhelming the space, they are balanced with reflective white wall tiles and black bathroom fixtures, and the resulting bathroom is a perfect example of balance and harmony. The matte black bathroom fixtures contrast boldly against a dominant white palette and add a touch of industrialism to the design, resulting in a chic and urban bathroom space. Once again, green leafy plants are incorporated in the interior which adds a pop of colour and freshness to the space.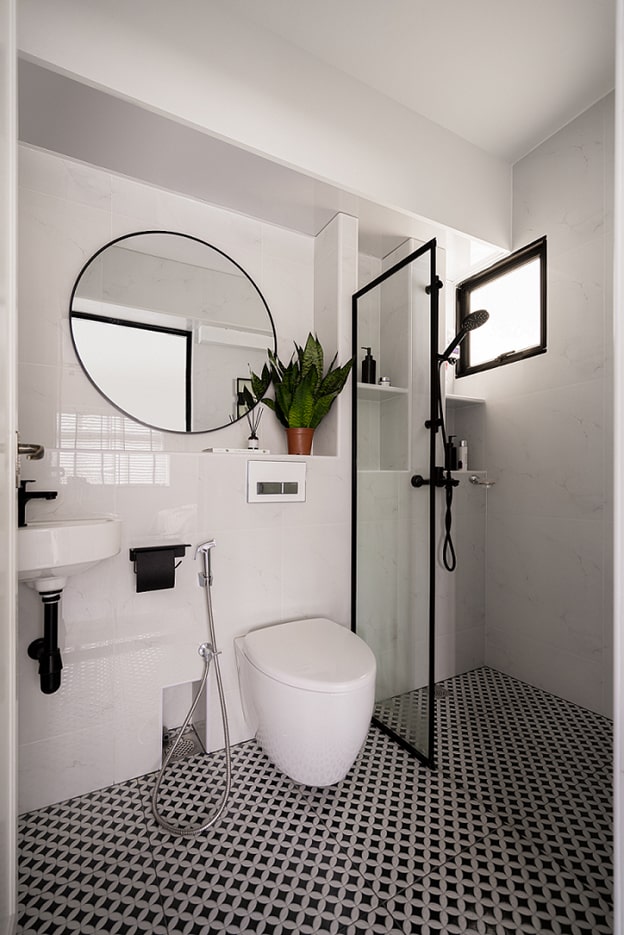 Black And White Bathroom @ Tanglin Halt
The incorporation of wood shades brings in a feeling of natural warmth from its organic presence. The bedroom space is kept minimal with dark wooden floors and a dark brown bed frame. Embracing simplicity and minimalism in its interior design, the walls are kept a clean white that brings attention to the other elements in the space. The bedroom door is also white with a dark border which adds contrast and extra character to the design. Indoor plants are a refreshing addition to the dark and white space, giving a fresh and eye-catching appeal to the room. A black ceiling fan and track lighting fixtures add a rustic, industrial touch to this British Colonial interior design.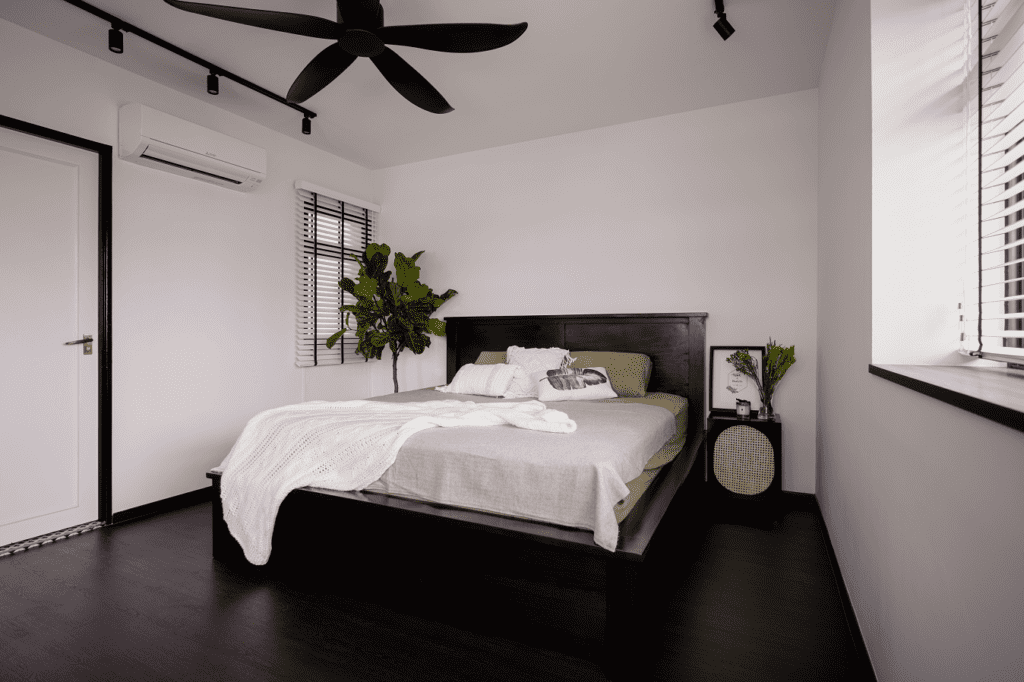 Beautiful Bedroom at Tanglin Halt
Dramatic Contrast With Grey And Wooden Tones
The beautiful and dramatic contrast of grey and wooden tones along with fresh and vibrant colours in this 4-room HDB interior design is a perfect inspiration for anyone who wants a lively and dramatic abode for themselves. The colours used in this interior design along with the selection of furniture and decorative project a very striking style and mood into the space.
The living space appears simple, elegant, and sophisticated which is dominated by the colours grey, brown, and oak. The design is kept minimal and elegant with only one wall of the room dedicated to featuring home family photos. Different shades of grey accompanied by wooden textures and gold accents make for an elegant living space where you can relax and unwind. White curtains go well with the warm wooden tones and cool greys, while soft cove lighting in the ceiling gives a sense of homeliness to the interior.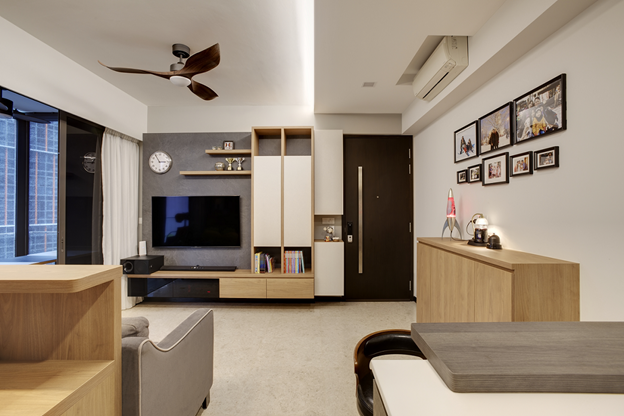 Dramatic Contrast In the Living Room @ Sims Urban Oasis
Another view of the living from the other angle shows dark brown walls and a counter with stools which is all accentuated by using spotlights, recessed lighting, and hanging light fixtures. They depict depth and add to the multidimensional character in the space. Layers of textures amidst the soft colour hues transform the interior, inducing an instant cosiness to the space. An open kitchen flows into the living area where the cabinets are dominated with grey textures and a white island countertop. Balancing the use of cool grey tones along with warm wooden textures induces a calm and soothing vibe in the living area. Faux indoor plants add a touch of organic goodness and elegance to the overall interior design.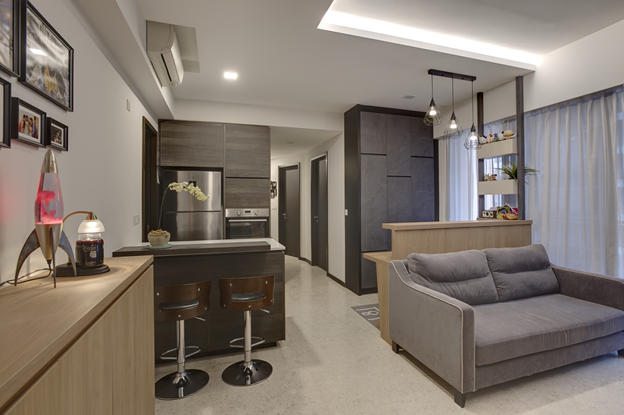 Open Kitchen And Living Room @ Sims Urban Oasis
The simple and elegant view of the living room and kitchen takes a turn when entering the kids' bedroom. The constraint space is utilized to the maximum by installing a double-decker bed with plenty of useful, hidden storage spaces. The general colour theme of the kids' room interior design is white while colourful wall hangings make for a visual feature wall that uplift the room's personality and image. The contrasting dark wooden floor adds a final touch of sophistication.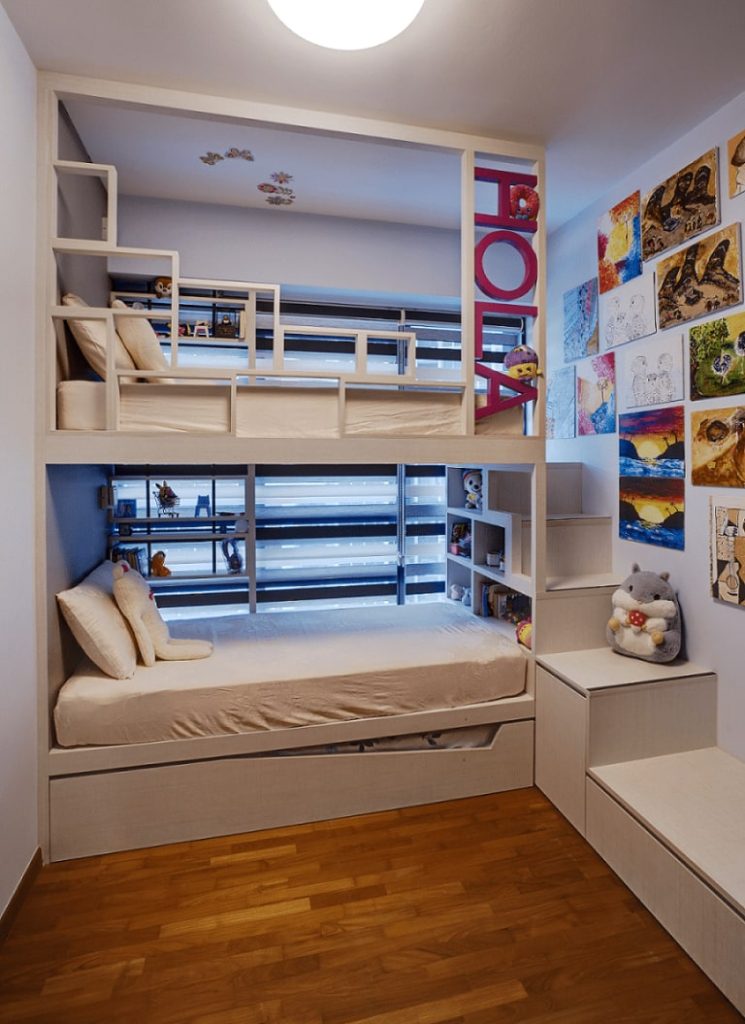 Again, the minimalist approach is quite evident in the bedroom interior design. A space-efficient layout is utilised where a small desk and shelving installation unit doubles up as a partition between the bed and the rest of the room. This is perfect for those with space constraints, as this achieves both functionality and aesthetics at the same time. A neutral grey colour scheme is adopted that is matched with wooden accents featured in the flooring that give a natural and calming ambience that is further enhanced by recessed lighting and track lights. Warm lighting elevates the cosy charm of the bedroom, offering a soothing cocoon to rest and recharge at the end of the day.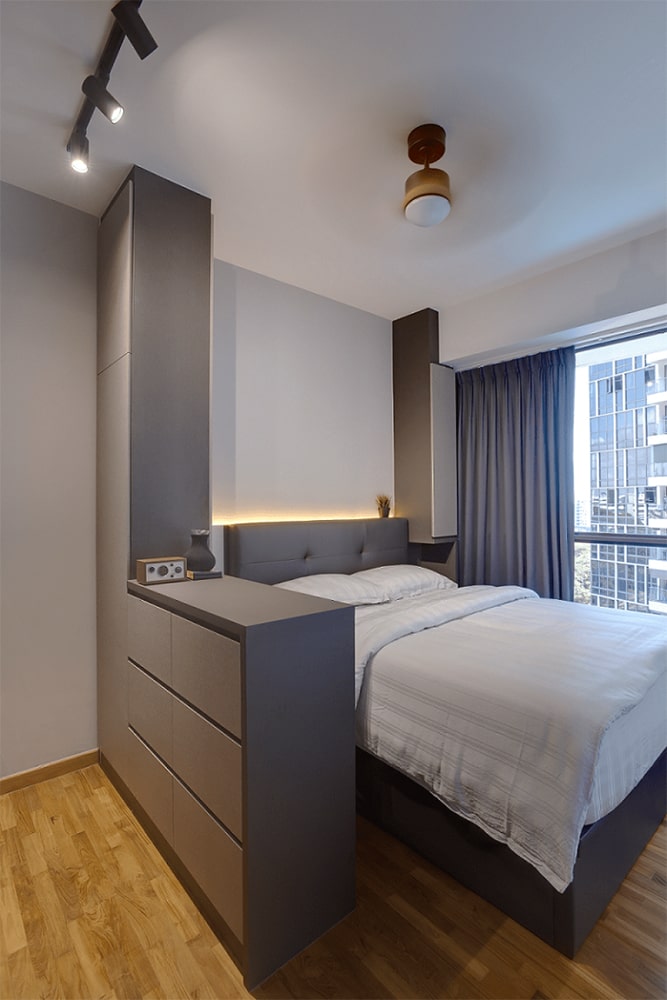 Simplistic Bedroom @ Sims Urban Oasis
Modern Industrial Design With A Touch Of Luxury
In this beautiful mix of modern, luxurious, and warehouse design elements @ Faber Garden condominium that is designed by us, anyone can draw inspiration from the harmonisation of design elements of these supposedly different interior style themes. A simple modern touch is achieved primarily through the use of beige and grey colour with just the right amount of texture, accents and pop of other colours added to the mix that gives a luxurious vibe to the space. Such an elegant and modern interior design style suits condominium interior designs in Singapore very well!
The main essence of luxury is achieved through the use of the colour blue in a subtle yet dramatic effect. The living room, dining room, and kitchen are all in an open-concept living space where several elements of the interior design are used to create a luxe atmosphere. A dose of navy blue in the cabinetry provides the right balance of richness and intensity in this elegant space, going well with the kitchen countertops that are luxuriously marble tiled. A clean white look coupled with matching marble countertops and tiles certainly accentuates a timeless, luxurious vibe amidst a casual and cosy setting. The kitchen stools are made of golden steel which adds to the luxury of the design. The black wrought-iron cabinets in the kitchen add that touch of industrial style to the design. Different forms of statement lighting and chandeliers complete the look.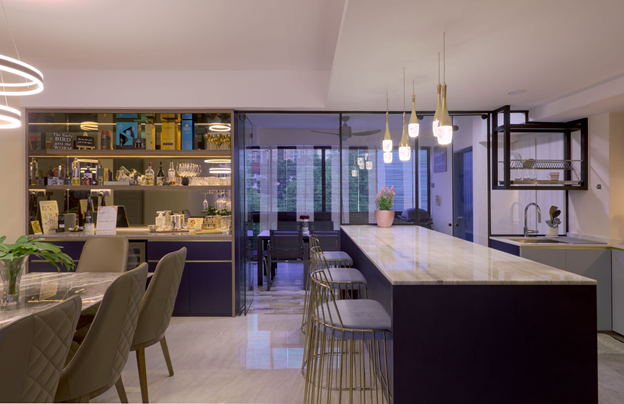 Luxurious Open Concept Design @ Faber Garden
Blue is known to introduce calm and serene vibes into space, creating a tranquil and peaceful atmosphere within this bedroom. The geometric-patterned feature wall of a blue shade makes for a spectacular statement in this bedroom. The wooden textured flooring and white bed set complement the blue colour and make it look elegant and sophisticated. Recessed lighting adds the final touch of luxury to the design.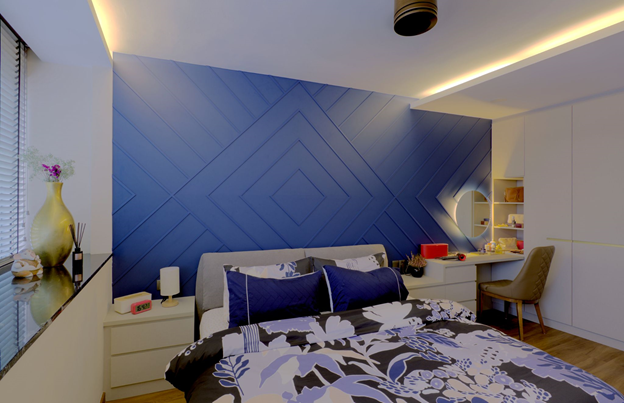 Luxurious Bedroom @ Faber Garden
The essence of simplicity and style is emphasised in the bathroom space as a one-tone white theme is used as the colour palette. All the toilet fixtures, walls, and floors are in pristine white. The cabinet underneath the sink is wooden whereas the glass partitions are bordered with black wrought iron. The subtle addition of black and wood to a dominant white theme bathroom provides warmth and contrast that immediately uplifts and enhances its appearance. Amplify the luxe factor in your bathroom by incorporating marble details. One of the walls of this bathroom space utilises a series of seamless pattern tiles that create a beautiful visual interest to the overall aesthetics, making sure that the whiteness of the space does not appear too plain and stark. Again, the use of indoor planters helps add a little freshness of nature to the space.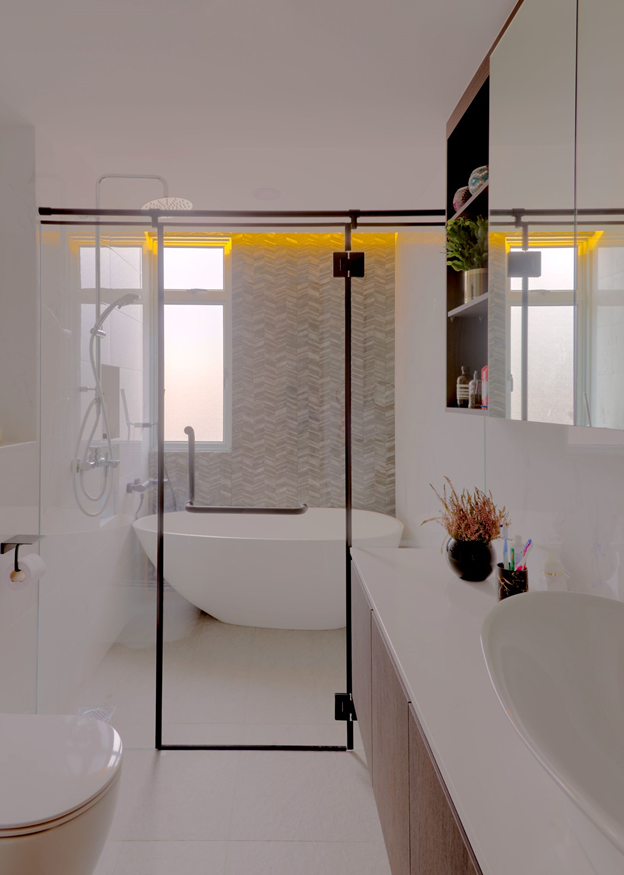 White and Simple Bathroom @ Faber Garden
All these designs for a 4-room HDB flat take on many elements of several different design styles and mix them together to create unique spaces and areas which are bound to impress anyone who steps into the space. The end result is a beautiful, elegant, modern, and cosy home where you can feel relaxed after a difficult and hectic day at work!
The designs of these interiors and many other projects that are done by us can help inspire new ideas and designs for your own home interiors and renovations. We at Space Factor provide services for BTO or Resale HDB renovation, condominium renovation and landed property renovation for homeowners in Singapore. You can also find interior design inspirations for 3-Room HDB interior design, 5-Room HDB interior design, HDB BTO design styles, condominium design styles and landed property interior design. Start building your dream house with us today!
Check out our other articles: