18 Cosy Bedroom Interior Design Ideas & Tips in Singapore
Who does not want to transform their bedroom into a functional yet comfortable abode? A place where they can leave all their worries behind and free their minds from the stressors of life. However, it may not be such a simple task for everyone. There are so many modalities involved when one wants to redesign or renovate his/her bedroom There is the choice of colours, selecting a style, choosing a particular theme for the interior design, choosing various design elements, the types of lighting, and whatnot. All these choices can become overwhelming for the vast majority of people who can be considered laymen in this regard.
Here, we will describe some of the most common yet essential bedroom interior design ideas that are a prerequisite for anyone who wants to transform their bedroom into the bedroom of their dreams. All these ideas are taken as inspiration from various design portfolios by us. All these examples show the important tips and tricks that one can adopt to revamp a bedroom interior design.
If you're looking for ways to improve your bedroom interior design, check out our blog post. We also compiled a list of creative and trendy design ideas for your children's bedroom.
1.  Maximize Functionality In A Single Room
Don't be afraid to add multiple types of functionalities in a single room. Often we have a room that serves a particular purpose, but still, it has enough room to be functional in another way. This is where you should not hesitate to mix and match the various functionalities in a single room. As an example, consider the following design portfolio where a single room has been divided into a sleeping area and a walk-in closet by a headboard. The bed and wardrobe would have taken up just a small space and the rest of the room would have been empty. So the designers utilized this extra space by incorporating a headboard and turning a small section of the room into a walk-in closet. Bonus: the headboard can also be utilized as extra storage space for owners to keep their belongings!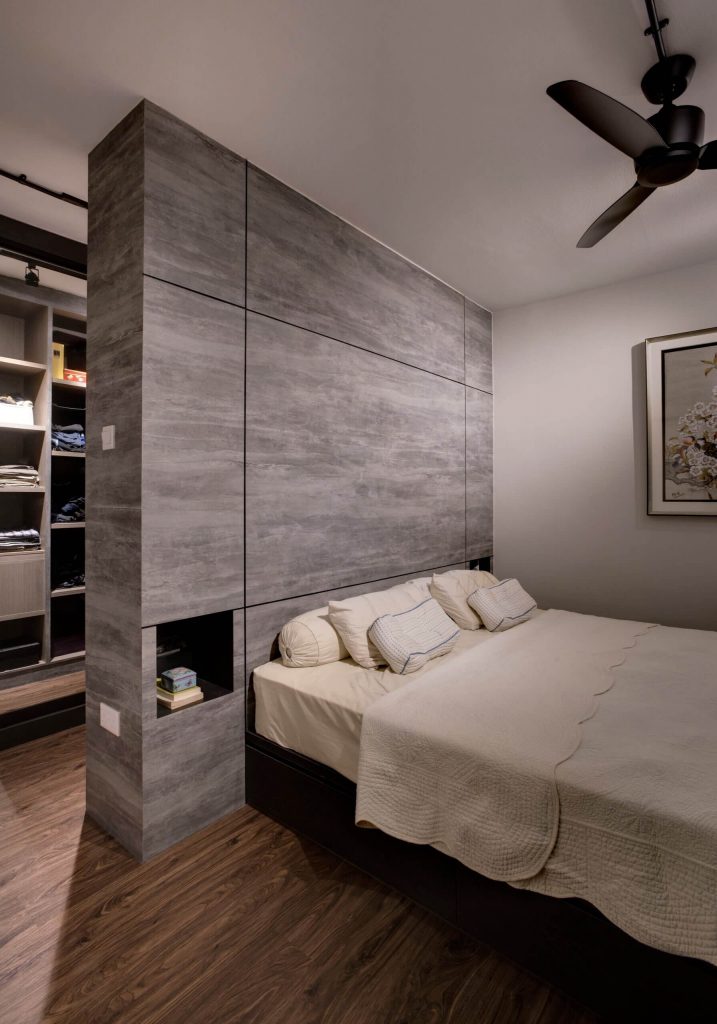 Walk-In Closet Plus Storage Space In Bedroom @ Tampines, Singapore
2.  Identify Your Deal Breakers
This is also one of the most important tips when designing a house. You may not know what different design elements might look good in your home but there are definitely certain things for everyone that they consider to be deal-breakers. Whether that is a particular colour, design theme, decorative items, furniture, or any other design element, identifying them at the start will enable you to steer away from them and focus only on the important things.
3.  Incorporate Feature Walls
When designing a house, the walls play a very important role in uplifting and enhancing a room's appearance. However, the usual choices for walls are either painting them or adding wallpaper to them. To add an extra character to your home, don't be afraid to incorporate a feature wall in some rooms. This is basically a wall that is painted or designed differently from the other walls in the room. This is exactly what has been done in the bedroom of a condo designed by us. Notice how the royal blue textured wall gives the room a pop of colours as compared to a room with fully white walls. Blue is also a soothing colour and helps to promote relaxation and sleep!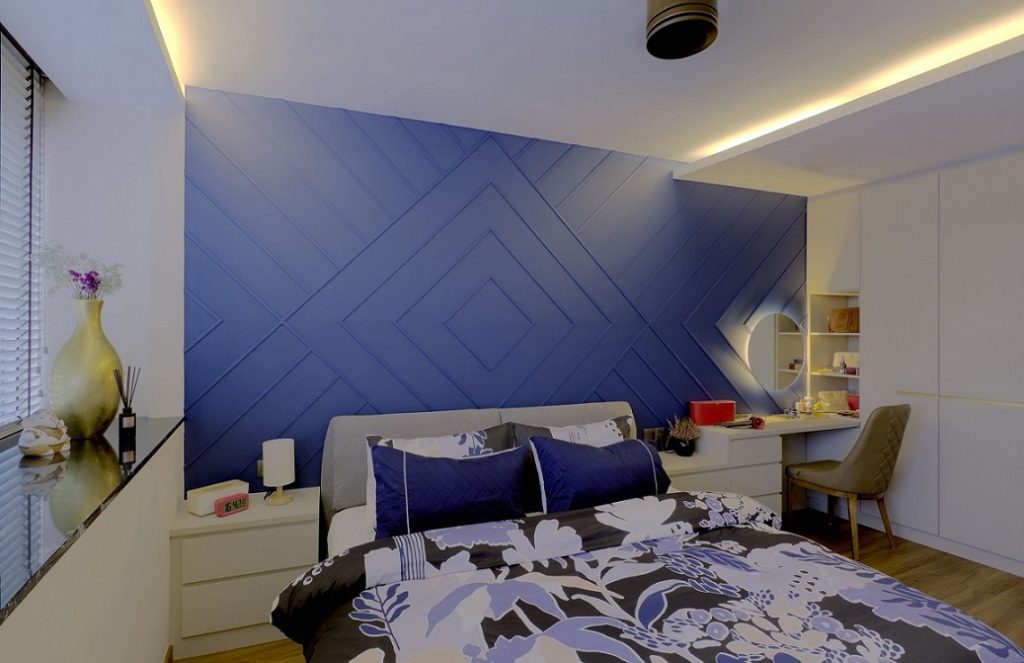 Royal Blue Textured Feature Wall @ Faber Garden
4.  Mix Old And New Design Themes
Another important trick in creating a unique but comfortable haven for yourself is to mix old and new design themes. Do not be forced to use a particular element of a design if you are not comfortable with it. Add in some elements from another style and theme without the fear of whether they will match or not. When you will play around with things, you will be able to find exactly what you are looking for. In the following example of a project, we can see how beautifully the old and new elements merge together. The side table and chest of drawers have a Victorian element to them whereas the bed, lighting, and wallpapers are modern. This creates a beautiful mix of old and new.
Looking for a new design style? You can check out trending design themes such as Scandinavian design, mid-modern designs, or minimalist interior design or unique design styles such as Balinese design style, Rustic interior design, Warehouse interior design, Industrial design style or Colonial-Style design on any of our blog posts.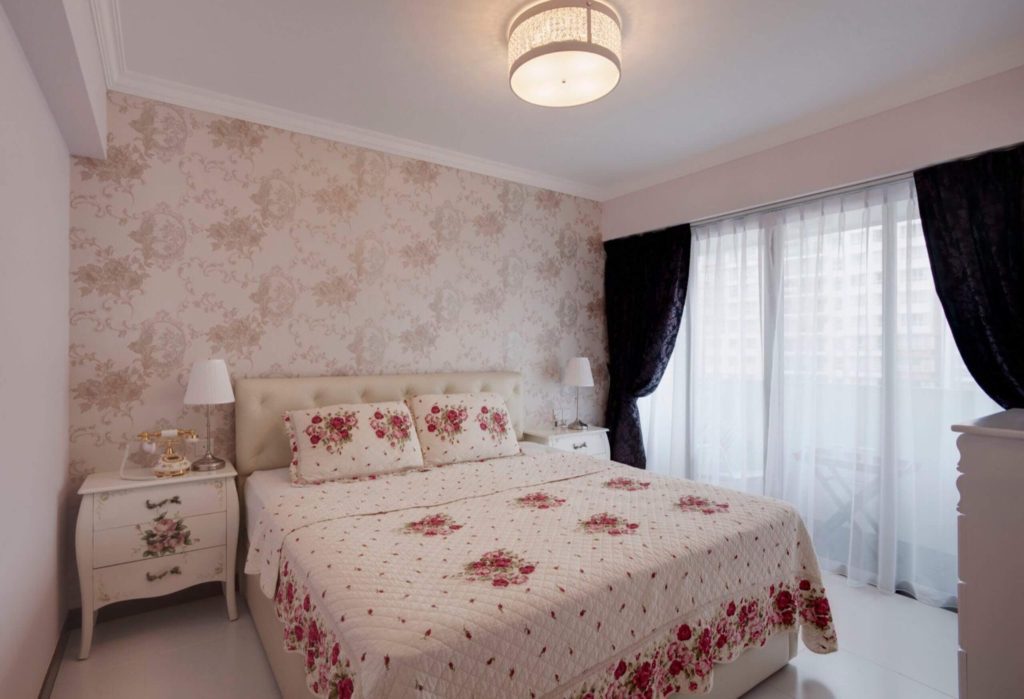 5.  Step Up Your Game By Choosing The Proper Lighting
Lighting plays a pivotal role in any interior design project. Even if the other elements of the room are plain and dull, proper lighting can immediately enhance the room's appearance to a whole new level. And this does not mean sticking to just one or 2 forms of lighting in a particular room; you can go overboard in that too. In the following bedroom interior design, we can see at least 3 different types of lighting in a single room: track lights, ceiling fan with light, and headboard LED strips. The result? A beautiful and elegant sleeping space!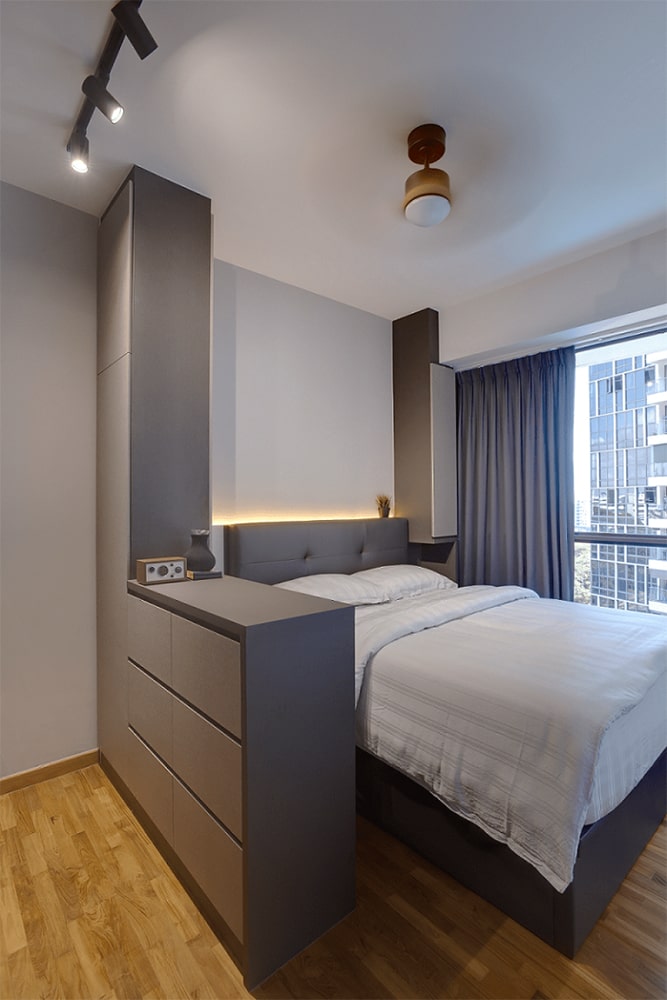 Elegance Through Lighting @ Sims Urban Oasis
6.  Use Vintage Furniture
Vintage furniture has a very exotic feel when placed in a modern setting, especially for condominium interior designs in Singapore. It creates a dramatic effect where one feels style, grace, and beauty in one place. In the following design portfolio, various pieces of vintage furniture and its Victorian feature wall are added to the space which is highlighted by modern lighting and other decorative elements. The results are a beautiful mix of vintage and modernism in one place.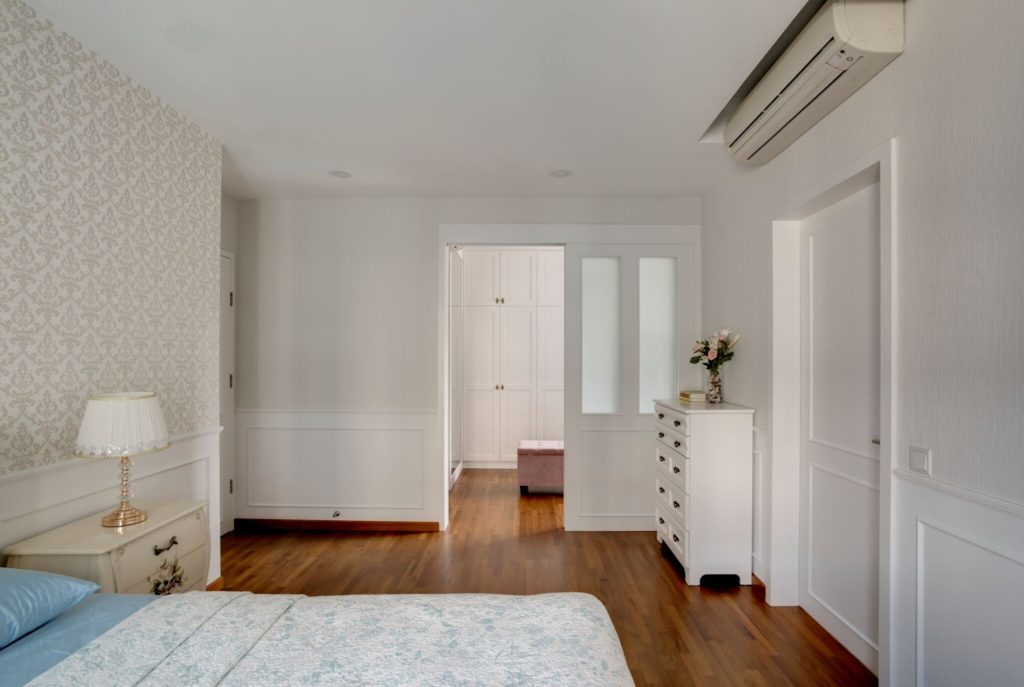 Victorian Vintage With A Touch Of Modernism @ Waterfront Wave
7.  Incorporate Lines And Symmetry In The Space
Adding lines and symmetrical elements in the interior design also help to uplift the room's appearance. It automatically puts one's mind at ease and helps to create better visual lengths. Clean, crisp lines are the epitome of simplicity and elegance and these should be added in different forms in a design. We utilized this approach by adding lots of vertical lines and panels in this bedroom. Notice how different hues of brown when used in vertical lines accentuated with proper lighting create a spectacular view in the following bedroom at Katong, Singapore.

8.  Play With Textiles And Textures
Another easy yet effective way of adding some character to any space is to add different types of textiles and textures by playing around with them to see what goes best together. For example, you can use leather upholstery for one sofa and plush velvet for the other. You can use a non-woven rug with plush curtains to add extra character to the area. As an example, consider the following bedroom at Parc Olympia, Singapore where the designers have mixed and matched several different types of textiles and textures. The rug is plush, and luxurious whereas the floor has textures of wood. The silky curtains and upholstered padded headboard of the bed add elegance to the room.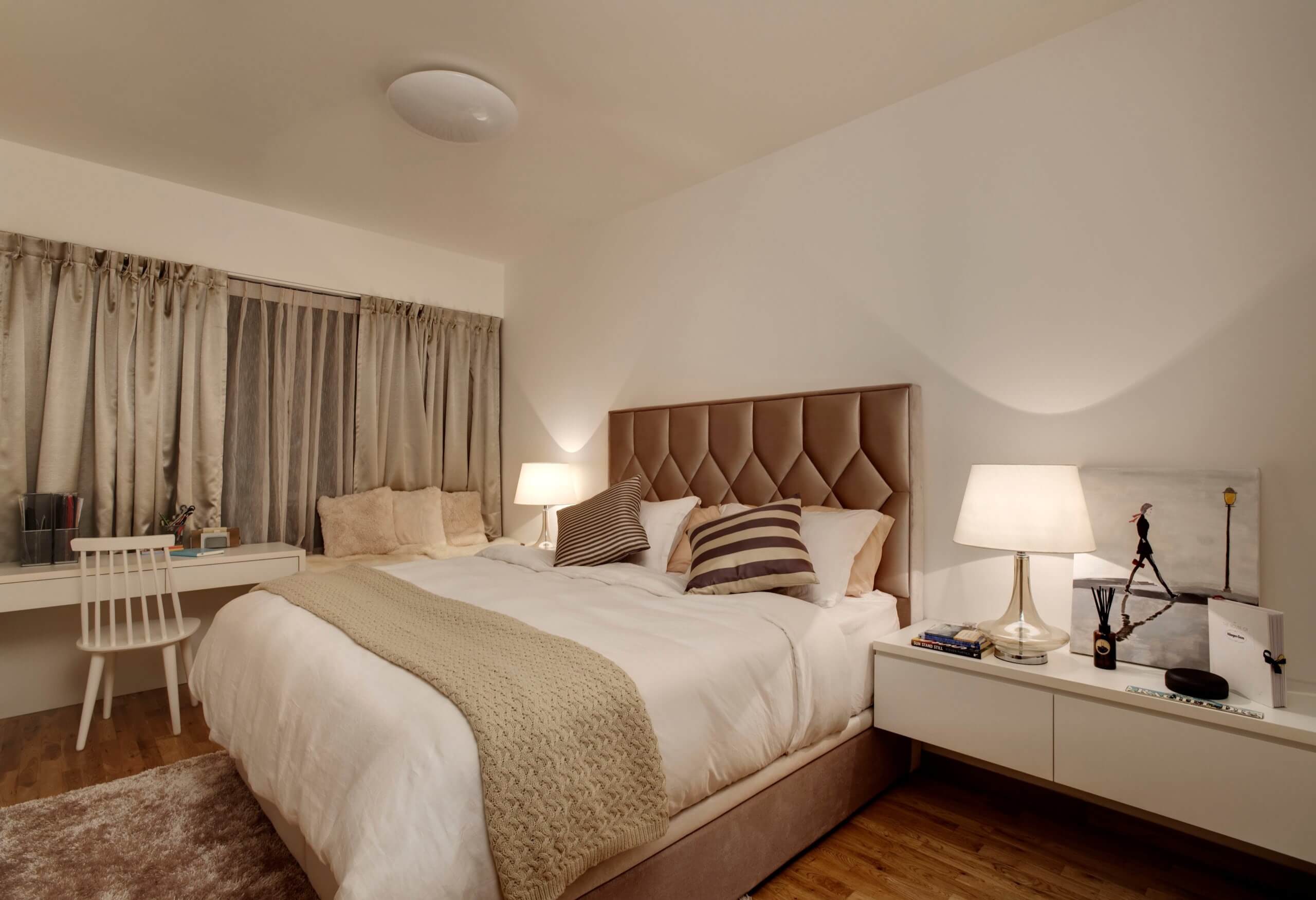 9. Choose Your Curtains, Drapes, Or Blinds Wisely
Last but definitely not least are the type of curtains or blinds that you use in a particular room. The drapes or blinds are probably the most important element of a room; the one which catches the attention of anyone who enters almost immediately and defines the perspective with which he will look at the room. Therefore, it is very important that you choose them wisely as they should complement the whole look of the room, not degrade it. In the following example of a bedroom interior design, we can see that the overall theme of the room is elegant but it is stepped up to a luxurious level by adding silk and organza drapes.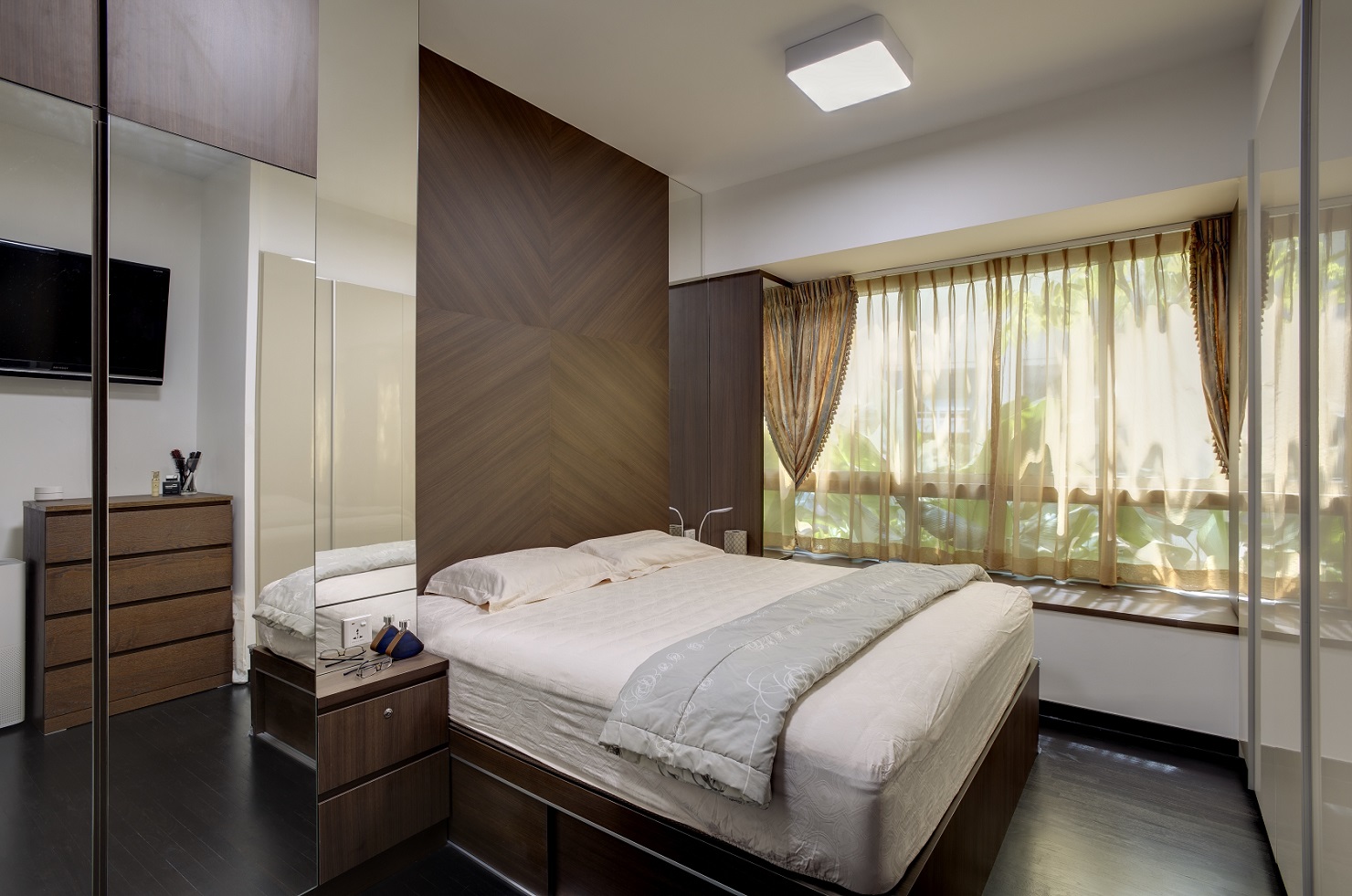 Luxurious Curtains @ Sophia Residence
Bedroom Interior Design Tips
Every now and then, your entire home will need a good revamp. However, dealing with a ton of details can bring in some unwanted headaches. Oftentimes, homeowners take on a new renovation project with enthusiasm but end up at a dead-end road simply because they're unaware of how to deal with certain interior design problems.
Of course, renovation is not an easy task, so you have to be well-prepared. Here's a list of some common bedroom interior design problems that you may encounter. To assist you in your quest, we've also provided some solutions.
Peeling Paint
The first and probably most common interior design problem is peeling paint. And the most likely reason for this is moisture. Another common reason is improper application or just poor paint quality. Repainting is obviously the only way you can deal with this issue. However, what you can do is avoid repeating the mistake.
To do this properly, you should properly prepare the area and surface that needs repainting. This can be easily done by scraping away any loose paint, filling the cracks, sanding and applying a solid primer. Also, keep in mind that painting any room before and after rainfall is a big no-no because of the excessive moisture.
Last but not least, make sure you hire a professional contractor that will apply suitable and long-lasting paint. You may be reluctant of spending additional bucks on a professional paint job contractor but a good professional usually has the right tools and skills which may save you a lot of money and time in the future.
Peeling Wallpaper
Another "peeling" issue many homeowners face is when the wallpaper starts falling off. Typically, the problem starts from the end but it can turn into a real disaster if not fixed on time. The peeling wallpaper can be repaired by applying a special wallpaper adhesive on the ends. Now, bubbles are a bigger headache and there are a couple of reasons that may cause them. There may be a need for regluing but another reason might be the accumulated dirt underneath.
Of course, everything can be fixed with the right amount of wallpaper adhesive. Ultimately, you can have your wallpaper changed by a professional to prevent this from happening again.
Faulty or poor lighting
Frankly, many homeowners neglect the lighting part when decorating their bedrooms. This often leaves them with dark corners, which is a huge problem, especially for those living in small houses or apartments. Unknowingly, they end up making their sleeping space look even smaller.
When it comes to interior designing, layering different types of lighting sources is a must for providing proper artificial lighting and making your rooms look more spacious. Of course, that doesn't mean it's alright to pack up your bedroom with a ton of bedside lamps. Everything should be done temperately and picked carefully to create a cosy and inviting atmosphere. Ultimately, make sure you allow enough natural light into your room because nothing can top that.
The Flooring is in Bad Condition
Along with the walls, the flooring is the foundation of any room and home. It plays a major role in how people perceive a room. Unfortunately, replacing it can be a tedious and expensive task that not everyone can afford.
Usually, replacing flooring can be avoided depending on the type of damage and material that's used. Vinyl, wood, ceramic or porcelain flooring can be easily refurbished with specially-designed cleaning and restoration solutions. However, if it's already outdated or has many visible signs of wear and tear, you should think about new options.
Small Space
Small spaces have always been challenging, even for professional interior designers. If you're tired of living in your small bedroom but you can't afford to move out, you definitely need to get creative.
Making your space look bigger is not an impossible task, but you'll probably need to readjust your room interior from scratch. From foldable beds to headboards with built-in storage space, small spaces can definitely inspire you to create a truly unique design for your bedroom. In fact, the concept of creating more space can change your entire mindset and the way you perceive your bedroom interior design in a small HDB BTO flat.
Focusing on using every surface, even the walls and the ceiling is a good start. Buying a foldable or wall-mounted bed can sound a little awkward and even crazy, but you'll be pleasantly surprised by how much floor space you'll get when you hide it during the day. And don't forget to layer several lighting sources. In combination with natural light, your home will look spacious and airy.
Ignoring Scale
Ignoring scale is one of the main reasons why your rooms look smaller. Even though it can be a tricky task, syncing every detail properly is the key to creating a spacious-looking interior.
Remember that every item in a room should somehow match with the others. What's more, you should scale the size of your furniture to the room size. To create the illusion of a big room, focus on creating focal points with one or two large pieces of furniture. Then, layer the rest of the items around them to enrich the atmosphere and make it look diverse and wide.
Relying on current trends rather than timeless designs
Everybody wants their home to look like it is coming straight out of an interior design magazine. This tricks many homeowners into believing that renovating their rooms according to the latest trends will do a great job. On the contrary, you shouldn't fall for this trap because you may regret it sooner or later.
For this reason, it may be a better idea if you focus on timeless interior designs rather than those that are trending now. The reason for this is rather simple – the now on-trend designs will become outdated quickly and you'll be left out with a home that's looking old-fashioned at best.
To avoid this, it's important to realize the power of timeless design. Not only you'll save money on remodelling every two years, but you'll be able to purchase some high-quality pieces of furniture and décor that'll last longer. In the end, you'll create a stylish and comfy atmosphere without having to reinvest in new decoration and furnishing every now and then.
Conclusion
These few tips and tricks can serve as a baseline or foundation over which you can incorporate new ideas and elements to build the bedroom of your dreams. Renovation and designing can be daunting tasks, but if you keep these ideas in mind, you will start to enjoy the process and it will become a fun, family activity. All these projects by Space Factor can be used as inspiration to transform your bedrooms. We provide services for HDB design, condo design and landed house interior design for homeowners in Singapore.
View our interior design ideas for a range of different HDB flats such as 3-Room HDB interior designs, 4-Room HDB design styles and 5-Room HDB designs. Start building your dream bedroom with us today!
Check out our other articles