Exquisite HDB Design Portfolio @ Bukit Batok West
When it comes to HDB interior design, you might think there are fewer design options especially because of the relatively smaller size of HDB flats. However, a smaller area should not limit you to incorporating aesthetics and functionality into the interior design to create a breathtaking and awe-inspiring home.
There are several design styles and trends that can be incorporated into an HDB flat such as Rustic interior design, Modern mid-century design style, Scandinavian, Warehouse interior design, Industrial design, and other themes. Minimalist interior design is gaining popularity in recent times and many people are renovating their homes based on this theme. Here, we will describe a beautifully minimalist design at Bukit Batok West designed that combines neutral palettes and sleek carpentry with other elements to create a modern, clean, and sleek home. It is further discussed in detail below.
Living Room: Theme and Colors
Contrary to popular belief, a minimalistic design does not have to be boring or less creative. There are so many aspects of a minimalistic design that gives you the leverage to use various elements and themes to create a vibrant and aesthetically pleasing interior. This is exactly what has been done in the living room of this HDB flat. For more living room interior design inspirations, check out our blog.
Since a minimalistic design calls for light and pastel colour tones, the floor has a light wood colour that goes perfectly well with white cabinets and shelves. The wooden elements and furniture of a cool wood colour enhance the white fixtures and walls. However, to add a dramatic effect, recessed white lighting is used. Since too much white light can make the room monotonous and boring, to counter this effect, warm track lighting is used. This track lighting highlights the TV area as well as the sitting space to create a perfect balance.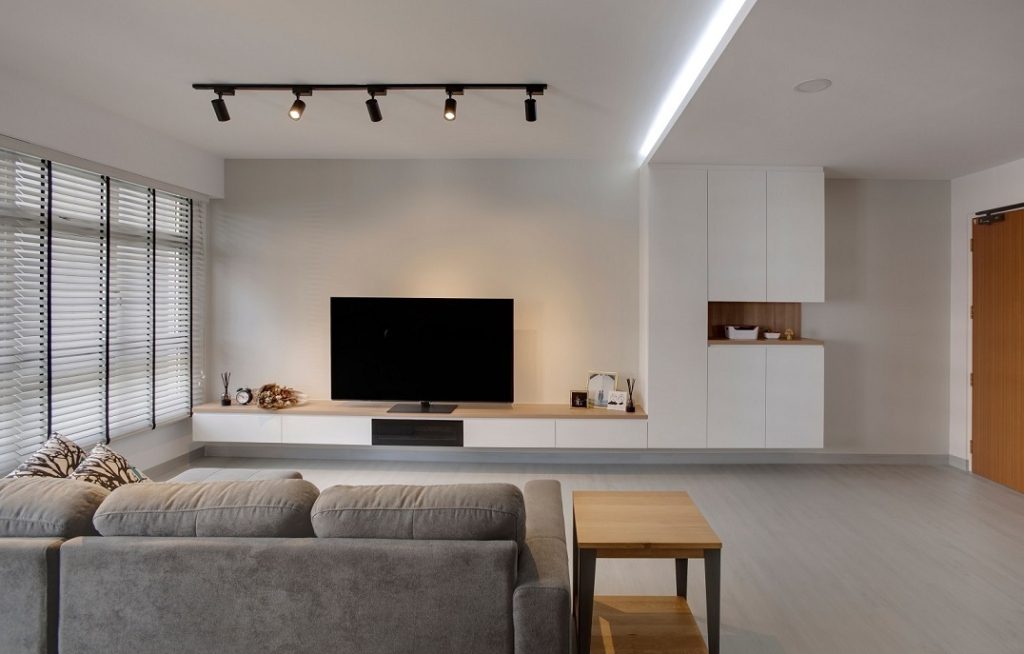 The furniture and other elements are kept to a minimum keeping up with the minimalistic theme. However, notice how the cabinets are incorporated in the living room which not only serves for storage purposes but also adds to the décor and functionality. Large windows allow lots of natural sunlight to enter the room which not only makes it look spacious but also adds a touch of neatness and elegance.
Furthermore, to maximize the usage of the living room, the dining table and chairs are placed behind the sofa. The furniture is a mixture of wood and black colour which add a touch of elegance to this minimalistic design. Again, hanging accent lighting is used to add a dramatic and wow factor to the design. Minimalistic design is all about the amalgamation of light tones with a touch of black and modern lighting and this has been beautifully showcased in this HDB interior design.
Minimalistic Design In the Kitchen
There are many ways in which you can incorporate a minimalistic design into the kitchen. The bottom line is to keep things simple and elegant while maximizing functionality and comfort. A perfect example of such a design is showcased in the open-concept kitchen design of this HDB flat at Bukit Batok West.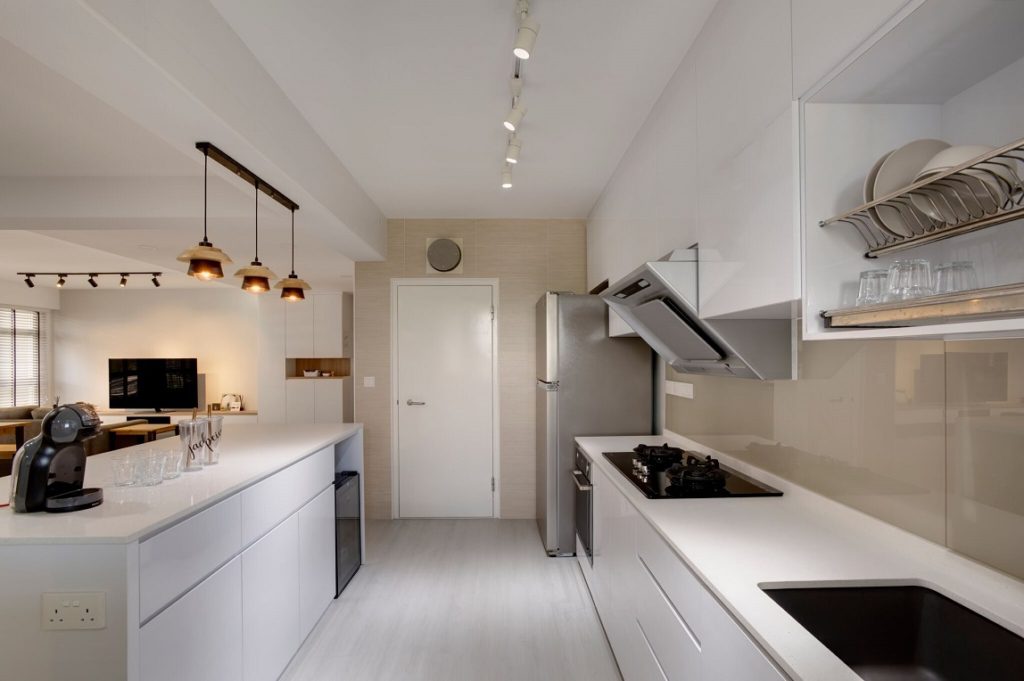 The general theme of the kitchen is white with the same light-coloured wood floor and a touch of black to balance the white. Track lighting and accent lighting are used to enhance all the fixtures and to make the area appear more creative. There are lots of cabinets and drawers to maximize storage space and functionality.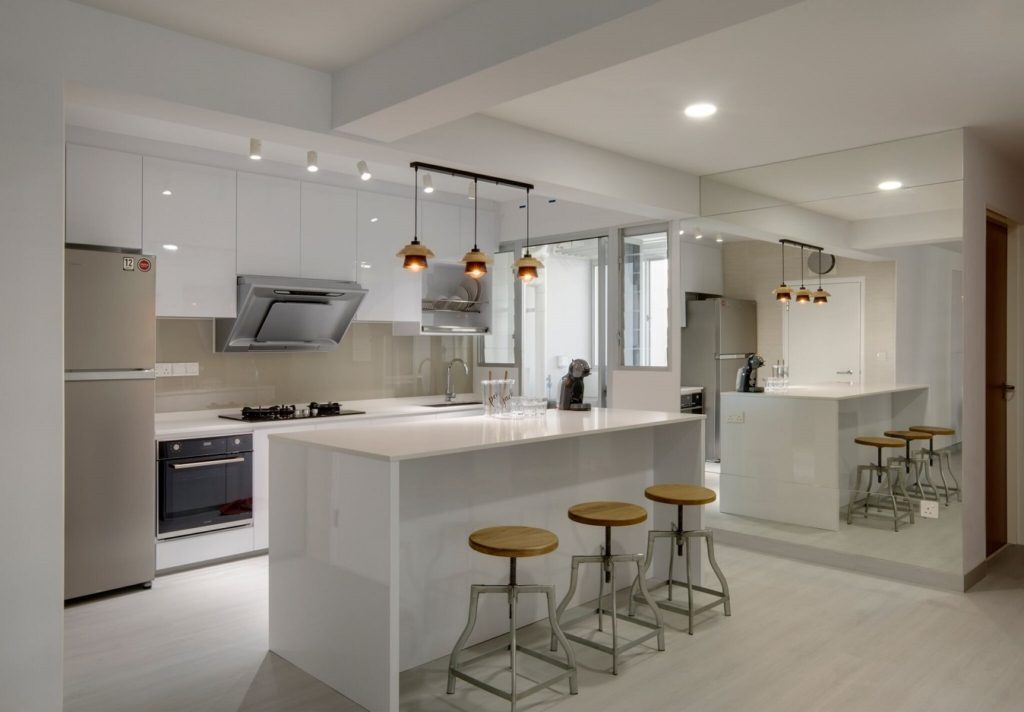 This front view of the kitchen appears quite spacious because of the idea of putting a full-length mirror on one wall. Such a big mirror helps to create a much larger visual space for the beholder which makes the area look less cramped and cluttered. Notice how the kitchen island has been very aptly utilized by placing drawers on one of its sides while still being used as a counter or table. Again, the warm and white accent and recessed lighting enhance the overall appearance of the kitchen to make it look modern and elegant.
Want to maximise efficiency and style in your kitchen interior design? Check out our blog post to learn more.
Modern and Vibrant Toilet
Worried about a cramped and simple toilet design in an HDB flat? Doesn't necessarily have to be like that! This HDB interior design at Bukit Batok West can provide you with great inspiration for a minimalist theme in a toilet that makes it look spacious and trendy. There are certain tips and tricks that you can incorporate to keep the design simple, functional, and attractive.
Consider the following image of a toilet from our showcase HDB design. Although the toilet is small, it still doesn't look cramped at all. This is because of the use of white and wood tones to create an open visual space. Maximum storage space is added in the form of a vanity as well as storage cabinets behind the mirror. Warm recessed lighting adds a touch of colour to the space. A touch of black fixtures and Oakwood laminate help fuse all the elements to make the toilet more vibrant.
For the common bathroom in this HDB flat, hexagonal tiles were used to add a modern element to the minimalistic design. Black fixtures and an Oakwood vanity perfectly complement the white tiles and floor. Again, warm lighting is used to balance everything out and to create harmony in the design. Glass doors are used to separate the shower area which makes the toilet appear modern while still making it appear spacious which would not have been the case if the shower curtains were used.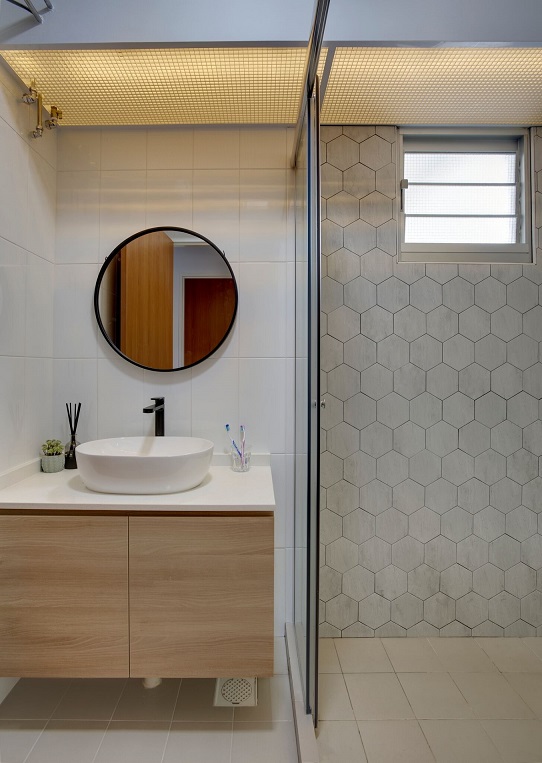 Comfortable Bedroom Design
Last, but not least, comes the bedroom. A bedroom is that area of a house where you could relax in a comfortable environment after a long hard day at work. This is exactly what this bedroom at Bukit Batok offers! Light tones and simplicity in accordance with the minimalist design are combined with warm lighting and comfortable bedding to create a relaxing and cosy interior. Light oak-coloured cupboards complement the light wood floor.
The toilet door has a unique cabin look which adds a new character and dimension to the bedroom. The sliding door not only saves space but also helps in keeping the bedroom looking spacious and uncluttered. The warm recessed lighting adds a kind of drama and a relaxing mood to the overall interior of the room. Large windows on the wall allow lots of natural light inside which helps the area to look clean and crisp. The raw look of the cabin door is combined with a modern touch of recessed lighting to create an elegant yet comfortable bedroom.
Find bedroom interior design ideas and tips to improve your bedroom interior design in our blog posts.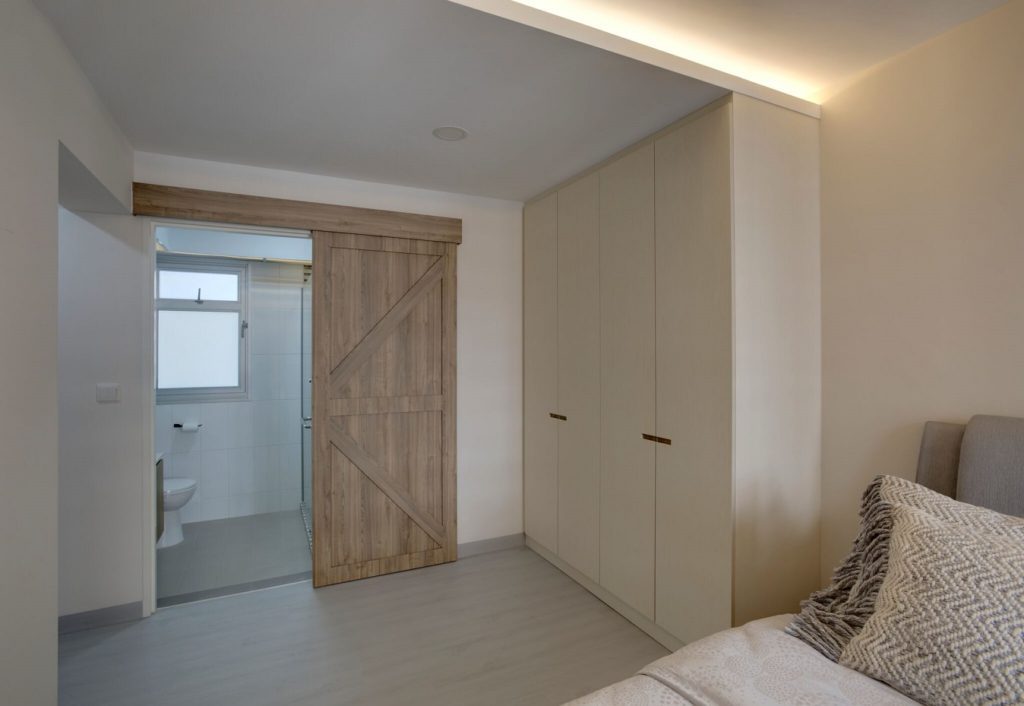 The complete interior design of this HDB flat at Bukit Batok West shouts out simplicity yet elegance and functionality. No matter what kind of house or flat you are designing, you can always take inspiration from this portfolio.
A minimalistic interior design is quite trending these days, especially in Singapore because of the new smaller HDB flats. Find interior design tips for HDB BTO flats in this article. This design portfolio by us is a perfect example of how you can combine beauty, elegance, and functionality in a small space while still adhering to the requirements and rules of a minimalistic design. Check out our portfolio for more HDB interior design ideas today.
If you're interested in interior designs for different HDB flats, we have a range of options for 3-room HDB designs, 4-room HDB designs and 5-room HDB designs. We also have a wide selection of condo interior designs and landed property interior designs.
Check out our other articles