15 Cosy HDB BTO Interior Design Ideas for a Warm Home
In the past, homeowners didn't have access to an online database of interior designs. That way, they could pick styles from a  selection. Today, things are way different – every homeowner can surf the Internet for inspiration. In turn, this advantage encourages them to use their imagination and find creative solutions for their home.
What's more, you can get ideas from others' work, but how unconventional can they be? Perhaps, Singapore has been a mecca for HDB BTO interior design for quite some time. Therefore, it won't take long for you to find a team of professionals that will help you bring your project to life. Here are some ideas to get you going.
Firstly, many homeowners suffer from a lack of storage space. As you can imagine, space is never enough. So, why not create it yourself? There's an effortless way to do it, and you'll just have to elevate your bed. That way, you'll have plenty of cabinets under the stairs.
What's more, you can complement the bed with some sliding panel doors for increased privacy. Ultimately, you'd want to combine the elevated bedroom with a full-height closet on the side. You'll feel the benefits of sleeping high in no time.
Usually, homeowners focus on creating, not merging rooms. At the same time, they tend to steer clear of dividing solutions. However, an experienced designer will take a step further. Ultimately, you'd want to achieve a functional and seamless transition between the different parts of the home.
Fortunately, there's an effortless way out with glass walls. Just use the material for your sliding or folding doors. Moreover, you can use it for your glass walls. Ultimately, you'd want to achieve an airy elegance of dynamic contrasts for a flexible HDB BTO home.
Suspended Bedroom
Perhaps, there are plenty of ways to turn a bedroom into a more functional form. For example, you can suspend your bed above your workstation. Furnish the surroundings with a set of trendy furniture to make your restrained space lively and functional.
Surprisingly, this ingenious option doesn't end here – you can add a large dining room. Of course, don't forget to decorate the staircase leading to the bedroom platform. Also, you can work out a skylight opening towards the roof or layered lighting for a unique romantic atmosphere.
Related read: 18 cosy bedroom interior design ideas & tips in Singapore
Darker Themes
Arguably, the use of dark colors is one of the design taboos everyone fears. Sometimes, the new is the well-forgotten old. Therefore, it's genius of you to embrace a more subdued hue for your HDB BTO design. It may be controversial to most, but dark gray or black colors won't make your unit appear smaller.
Of course, you'll have to do your best to use the dark tones to your advantage. For this reason, you should implement plenty of transparent and reflective surfaces. What's more, you should focus on polished metal accents for a higher visual impact. If possible, expand your space vertically for storage space. In the end, you can achieve an oddly-satisfying combination of industrial and luxe in one.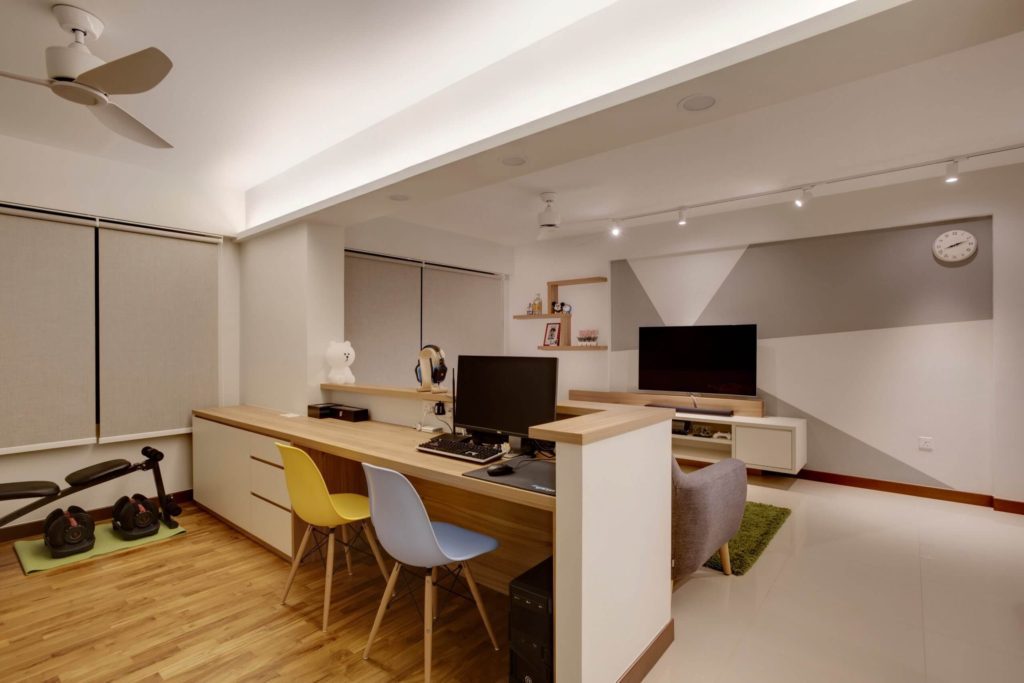 Sensuous Simplicity @ Punggol Drive
To some, this idea might seem pretty obvious. Still, that doesn't make it less creative. What's more, you can open up a lot of space if you pull your sofa away from the wall. Sometimes, this step is more than enough to make your living room feel more spacious. Furthermore, it guarantees comfort for more than one person at a time.
In a tiny HDB BTO interior design, you can dedicate a niche behind your sofa. Instead of wasting valuable room, you can make the most out of your open plan concept. Some smart suggestions are to implement a workspace with a mini gym. Moreover, this 97-square-meter HDB BTO apartment partitions the sofa from the workstation almost seamlessly. Our designers from Space Factor have integrated two entirely independent parts into one larger room.
Concealed Sections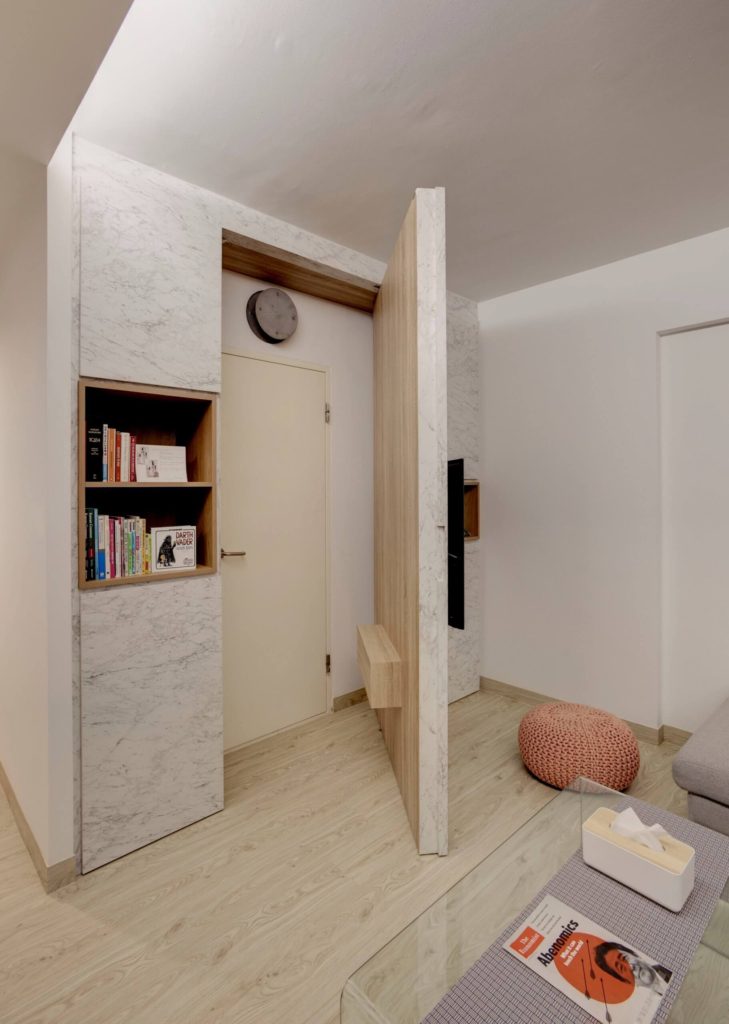 Japanese Modernism @ Cantonment Road
Perhaps, there's one smart way to find a place for all your books – concealing walls. They come in many sizes and configurations. Most of all, they can free a lot of space for your modern HDB BTO interior design. Typically, the idea materializes in storage spaces hidden by bookshelves. The concealing part can be either swinging or sliding.
In recent times, the latest trends have reached new levels of creativity. There's a motorized movable wall that can rotate to 180 degrees. Some designers implement a closet, bed, and TV set. Of course, you don't have to make everything that complex. Instead, a more natural solution would be to hide your bedroom door with a book or storage shelf.
When it comes to size, beds are probably the most massive piece of furniture in every home. Therefore, it's challenging to make a bed work with your HDB BTO interior design. On top of that, it has to be comfortable enough for quality sleep.
Nowadays, there's an endless number of functional bed options. Apart from the now-familiar Murphy bed, you can extend the idea of functionality with a partially-hidden bed. Rolling your sleeping nest during the day in a wardrobe opening can secure a comfy sofa during the day.
Whether you're a fan of minimalist design or not, you'll eventually have to pick up some insights. Of course, you don't have to go for an all-white HDB BTO design. Still, you can achieve a full-blown contemporary style by hiding every possible compartment. That way, you'll create a spacious and neat atmosphere.
Moreover, you can implement wall-to-wall sliding doors to fully embrace the minimalistic emptiness. Pick different colors for the premises and finish with smooth concrete floors. As a result, you'll have the ultimate modern minimalistic interior with a slight industrial presence.
Often, the seemingly busy foyers turn into ineffective shoe storage spaces. If you're looking for a practical way to repurpose your entryway, go for a more functional approach. Perhaps, your micro-apartment will benefit from a few furniture pieces. Most of all, your HDB BTO design will get an immediate strike of brightness and style.
Another practical solution, incorporating mirrors in a small HDB unit, can make every room look larger. What's more, they will reflect the inlet of natural light, making your home brighter than ever. Some owners even step it up a level by installing mirrored-surface floors and ceilings. Usually, the results are rooms of high depth that give the illusion of a larger space. You can complement your set of mirrors with illuminators. Ultimately, you'll fulfill the enchanting appeal of your interior.
After you move into your new home, your first step is to invite a friend or two to dinner. Time runs fast, so a secret Murphy bed might be of great benefit. If you don't have a guest room, just hide your bed piece in the storage wall. Complete the fluid environment with a modular sofa and an expanding coffee table.
Similar to mirrors, using your vertical space is yet another convenient way to make the most of your tiny unit. Perhaps, the new thing here is to complement your ceiling with hanging decorative elements. As an example, you'd love to have a few metal constructs paired with a mini hanging garden of plants. Typical for the industrial style, this combination will exude a feeling of an active lifestyle.
Of course, such choices will save valuable room in your kitchen and living room. Besides, it will add a unique character to your HDB BTO interior design. Finally, you can implement a contemporary lighting scheme to fulfill the warehouse-themed concept of the composition.
If you're into space-saving access points, you've probably heard about sliding doors. While they're still gaining popularity, many homeowners in Singapore have already acknowledged their benefits. Wood or glass, these doorways are ideal for any contemporary HDB BTO interior design. They are easy to maintain, and they're best at separating the premises with an aerial elegance.
Arguably, creating walls of shelves is one of the most budget-friendly options on the list. While adding dynamic details to the overall atmosphere, this concept can integrate within one single piece of furniture. Perhaps, the highlight of the interior may look like a simple decorative wall. The originality evokes by the differently-sized and shaped shelves. Indeed, such a project requires a little artistry, but it can be a perfect inspiration for DIY enthusiasts.
Last but not least, remember to leave a secret place when you have to work from home. Home office work schedules are at an all-time high right now. Therefore, you should have a micro-desk that you can easily pull out when needed. Typically, you'd want to have it incorporated into a wardrobe or clothes dresser.
Exciting Interior Design Theme And Style Ideas
Minimalist
Minimalist-themed design is quite trending these days because of its simple yet elegant outlook. It is basically an even simpler manifestation of modern design. It features neutral and cool colour schemes along with such a design that the area appears spacious and airy. Furnishings are kept simple and not at all extravagant. The decor items and wall arts are also not flashy; rather they are kept to a minimum and as simple as possible.
A few popping-colour items can be added to break the neutrals and bring everything together. This theme also features clean and crisp lines that can be incorporated into furniture design, wall structures, and other elements. Another important feature of this style is decluttering. Stow away all extra things in storage so the visual space is cleared to give a needed and clean look.
The following design features neutral palettes with sleek carpentry to create an exciting and beautiful abode.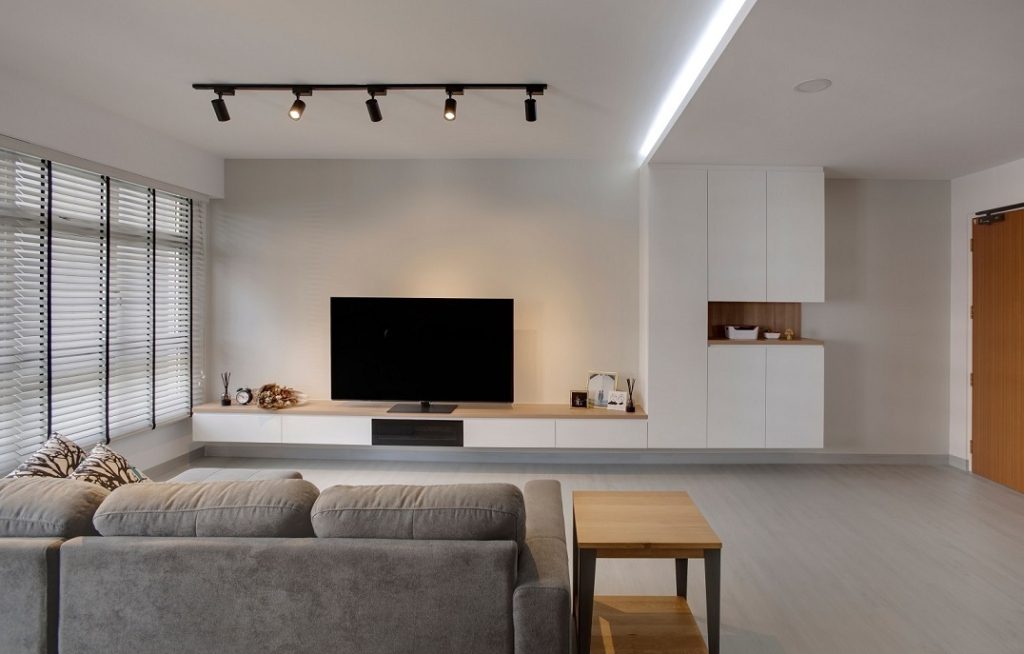 Modern
Modern interior design is a broader term that is used to define a theme that has cool and neutral palettes, clean and crisp lines, and in which glass, metal, or wooden elements are used. This design also features some iconic furniture from the first half of the 20th century such as the Mies van der Rohe's Barcelona chair and the butterfly chair. Furniture upholstery and other elements are kept plain and simple. The use of glass, mirrors, and steel adds to the artistic beauty of this style.
Usually, in modern style, white colour is used along with black contrasts to give a better visual appearance. Modern furniture that incorporates wooden and plain elements along with glass partitions and steel structures is the epitome of a modern theme design. This can be seen showcased in the following project at Gangsa Rd, Singapore. Notice the glass partitions, neutral walls, and black and white rug all work together to create this beautiful modern design.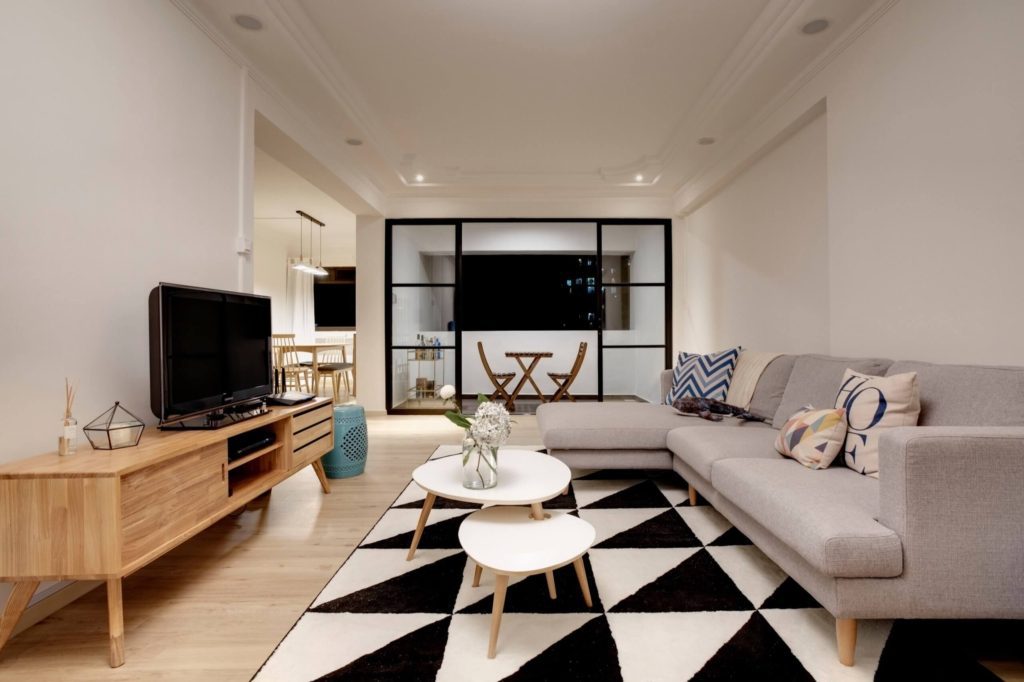 Scandinavian
Another theme that you can incorporate in an HDB home is the Scandinavian Chic design. This HDB design project features functional elements that are laid out in bursts of colours to produce a natural and organic outlook. A clean, streamlined style dominates this theme and the general idea is to keep things simple and elegant. Usually, the colour schemes are neutral and plain but there are elements of colour that are used by natural fibre, art, fur, and throws. The neutral tones give a very relaxing and soothing appeal while the colourful elements add a cheery tone to the overall outlook.
This Scandinavian chic design has been implemented in one of our projects at Yuan Ching Rd, Singapore. This design features an organic, spacious, minimalist approach that expresses the tranquillity and harmony of the Scandinavian style. The foundation of the theme is an industrial one, which together with the Scandinavian elements, creates a clear, innovative, and harmonious blend.
Traditional Chic
Another style that you can incorporate into your HDB home is the traditional chic design. The traditional design is inspired by the 18th and 19th centuries and features classic art, antiques, and elements with some history. When this is combined with a few modern and chic elements, you get the traditional chic design that is trendy yet classical.
In a traditional theme, consistency is key. Furniture usually matches and things are in symmetry. Dark and warm colour palettes are used including red, brown, green, and plenty of dark wood. To give a chic effect, art, textiles, and decor items can be used to create a pop in the room. Chandeliers and wood paneling are also significant features of traditional design.
In the following project completed by us at Compassvale Crescent, Singapore, the traditional style is coupled with chic elements to create this beautiful and trendy HDB home. The cane furniture and classical chairs represent the traditional design whereas the chic coffee table and wooden blinds help to uplift the traditional style to make it more appealing and pleasing to the eye.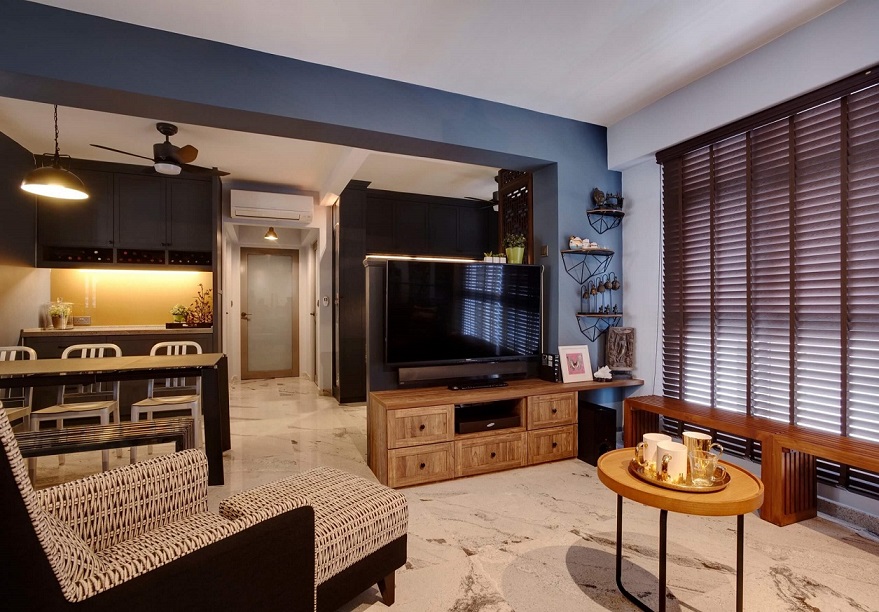 Industrial
As the name suggests, the industrial theme is inspired by a warehouse or industrial estate outlook. It features rawness in most of its elements with exposed wood, brick, ductwork, and pipes visible throughout the design. An industrial style is a good option of choice for HDB homes as it adds a touch of uniqueness and excitement to an otherwise boring design. It is also commonly seen in landed house interior design projects.
In an industrial theme, usually, the walls have higher ceilings and feature old timber and hanging metal structures which are usually utilized as light fixtures. The floor also gives a raw feel in the form of cemented or epoxy floors. These raw elements and ductwork can give a very dry and monotonous feel. So to counter that, abstract paintings, décor items, and a few colourful furniture pieces are placed to break the monotony.
Such an industrial design has been implemented by us in this project at Fernvale Link, Singapore. Notice the hanging metal structures and raw floor which constitute the industrial elements. The colourful chairs and spotlighting add the touch of drama that such an industrial style needs to create an exciting and uplifting HDB home.
Related read: Breathtaking landed interior design styles and ideas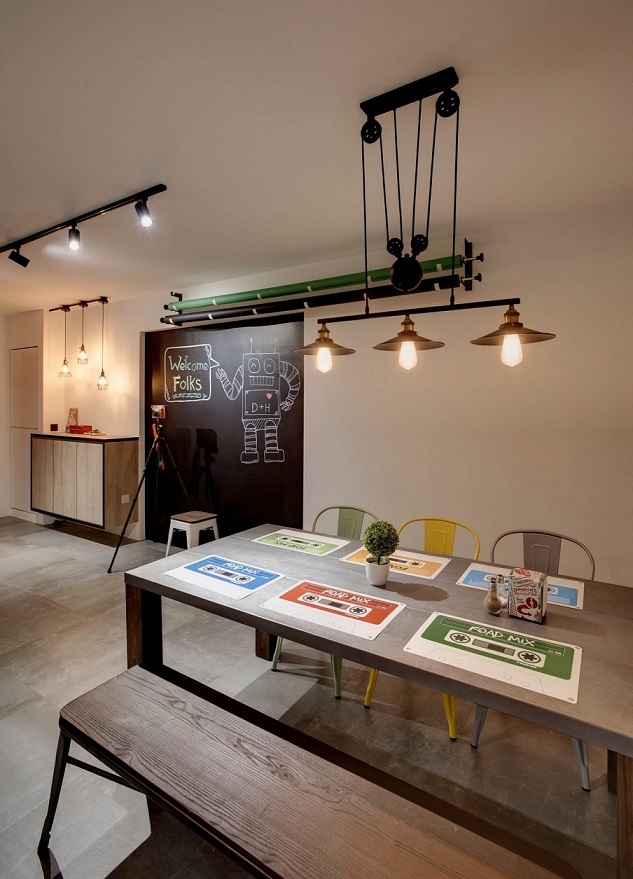 Resort Living Design
If you have a relatively bigger HDB apartment of 4 or 5 rooms, you can incorporate a resort living interior design style into it. Since an HDB home still has relatively smaller-sized rooms, extra sensitivity is required to transform its appearance. The resort living style features earthly colour palettes and wooden elements. Wooden ceiling beams are also a significant feature of this design.
Lots of accents and recessed lighting help to create a dramatic and cosy effect. The walls are usually kept neutral and white along with huge full-length windows or glass doors. This gives the effect of living in a resort with lots of sunlight flowing in. Certain blue and green elements are also incorporated in the design to give the effect of water and plants from a beach.
We designed a resort-style HDB at Punggol Walk, Singapore. Notice how the wooden ceiling beams, huge windows, wooden floors, and wood-effect walls all work together to give the feel of a resort.
Related read: Unique interior design ideas for 4-room HDB flats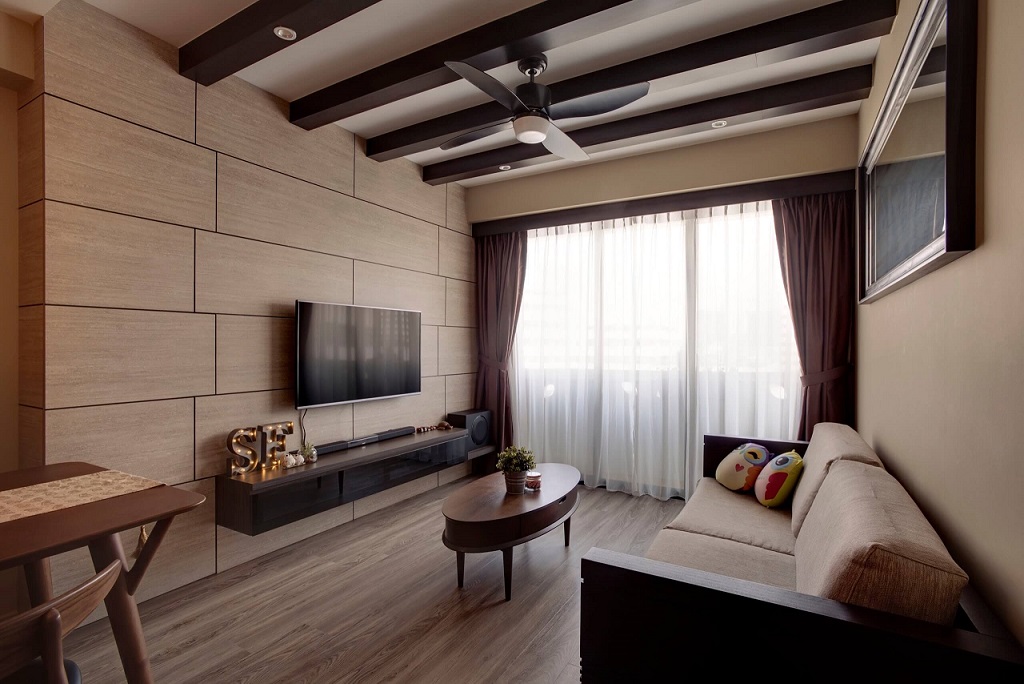 Japanese Modernism
This unique interior design is an amalgamation of the Japanese simplistic style and modern styles. The Japanese style is based on the Zen philosophy of simplicity and minimalism. It features lines, form, light, and white space. An open plan is incorporated so there could be an organic flow between the interior and exterior. Such materials and geometry is used that creates a relationship between the natural environment and the interior.
When these elements are combined with modern elements such as glass, Oakwood, and classy furniture, the result is a beautiful Japanese Modern design that is bound to impress anyone.
An example is the HDB home completed by us at Cantonment Rd, Singapore. The design features simple white walls and an open design for the Japanese theme and incorporates glass and wood elements to create a beautiful Japanese modern style. You can find out more about small condo interior design ideas in our portfolio.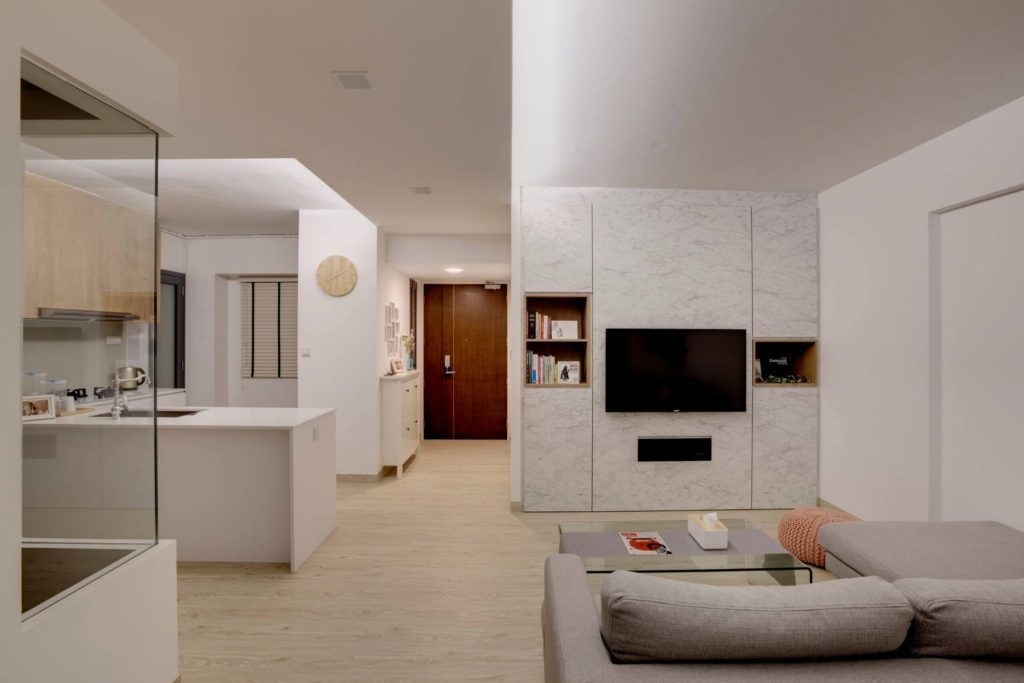 Of course, creating a fully functional styling in a restricted space requires bold solutions. Thinking out of the box won't always help. That's why you need a team of skilled and experienced professionals. In its essence, every unique look has some type of unconventional feel to it.
In this aspect, our designers here at Space Factor have completed many beautiful HDB interior design projects and we offer various HDB BTO design services, as well as condo interior design and landed house design. Contact us today and see how we can face the challenge of limited space for your HDB home today.
Check out our other articles