15 Smart HDB BTO Interior Design Ideas
In the past, homeowners didn't have access to an online database of interior designs. That way, they could pick styles from a   selection. Today, things are way different – every homeowner can surf the Internet for inspiration. In turn, this advantage encourages them to use their imagination and find creative solutions for their home.
What's more, you can get ideas from others' work, but how unconventional can they be? Perhaps, Singapore has been a mecca for HDB BTO interior design for quite some time. Therefore, it won't take long for you to find a team of professional interior designers. They will help you bring your project to life. Here are some ideas to get you going.
Firstly, many homeowners suffer from a lack of storage space. As you can imagine, space is never enough. So, why not create it yourself? There's an effortless way to do it, and you'll just have to elevate your bed. That way, you'll have plenty of cabinets under the stairs.
What's more, you can complement the bed with some sliding panel doors for increased privacy. Ultimately, you'd want to combine the elevated bedroom with a full-height closet on the side. You'll feel the benefits of sleeping high in no time.
Usually, homeowners focus on creating, not merging rooms. At the same time, they tend to steer clear from dividing solutions. However, an experienced designer will take a step further. Ultimately, you'd want to achieve a functional and seamless transition between the different parts of the home.
Fortunately, there's an effortless way out with glass walls. Just use the material for your sliding or folding doors. Moreover, you can use it for your glass walls. Ultimately, you'd want to achieve an airy elegance of dynamic contrasts for a flexible HDB BTO interior design.
Suspended Bedroom
Perhaps, there are plenty of ways to turn a bedroom into a more functional form. For example, you can suspend your bed above your workstation. Furnish the surroundings with a set of trendy furniture to make your restrained space lively and functional.
Surprisingly, this ingenious option doesn't end here – you can add a large dining room. Of course, don't forget to decorate the staircase leading to the bedroom platform. Also, you can work out a skylight opening towards the roof or layered lighting for a unique romantic atmosphere.
Darker Themes
Arguably, the use of dark colors is one of the design taboos everyone fears. Sometimes, new is the well-forgotten old. Therefore, it's genius of you to embrace a more subdued hue for your HDB BTO interior design. It may be controversial to most, but dark gray or black colors won't make your unit appear smaller.
Of course, you'll have to do your best to use the dark tones at your advantage. For this reason, you should implement plenty of transparent and reflective surfaces. What's more, you should focus on polished metal accents for a higher visual impact. If possible, expand your space vertically for storage space. In the end, you can achieve an oddly-satisfying combination of industrial and luxe in one.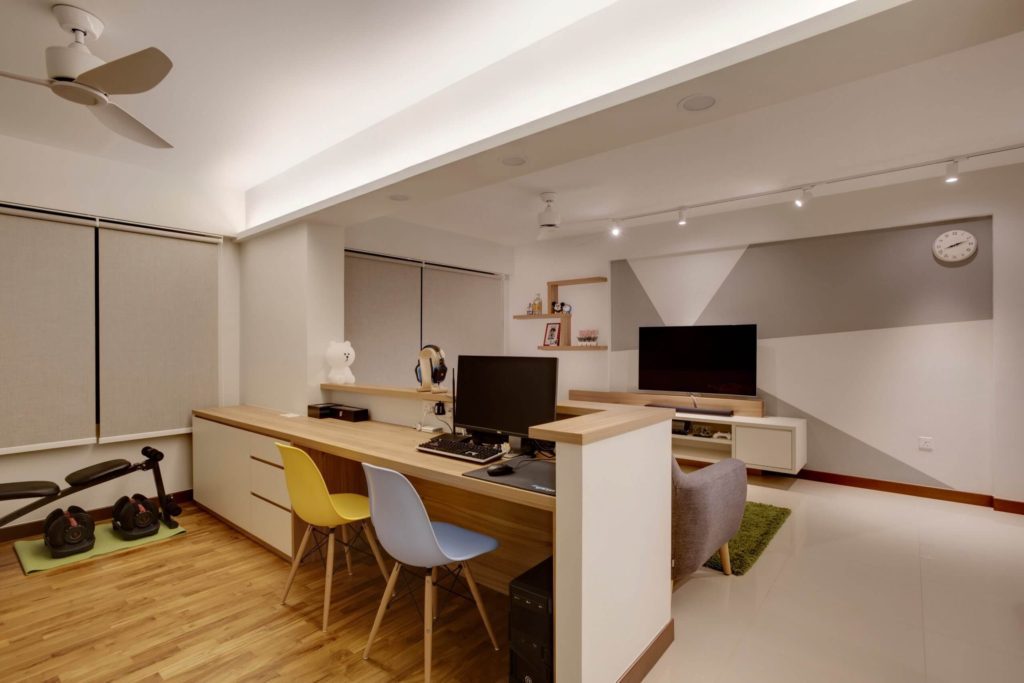 Sensuous Simplicity @ Punggol Drive
To some, this idea might seem pretty obvious. Still, that doesn't make it less creative. What's more, you can open up a lot of space if you pull your sofa away from the wall. Sometimes, this step is more than enough to make your living room feel more spacious. Furthermore, it guarantees comfort for more than one person at a time.
In a tiny HDB BTO interior design, you can dedicate a niche behind your sofa. Instead of wasting valuable room, you can make the most out of your open plan concept. Some smart suggestions are to implement a workspace with a mini gym. Moreover, this 97-square-meter HDB BTO interior design partitions the sofa from the workstation almost seamlessly. Our designers from Space Factor have integrated two entirely independent parts in one larger room.
Concealed Sections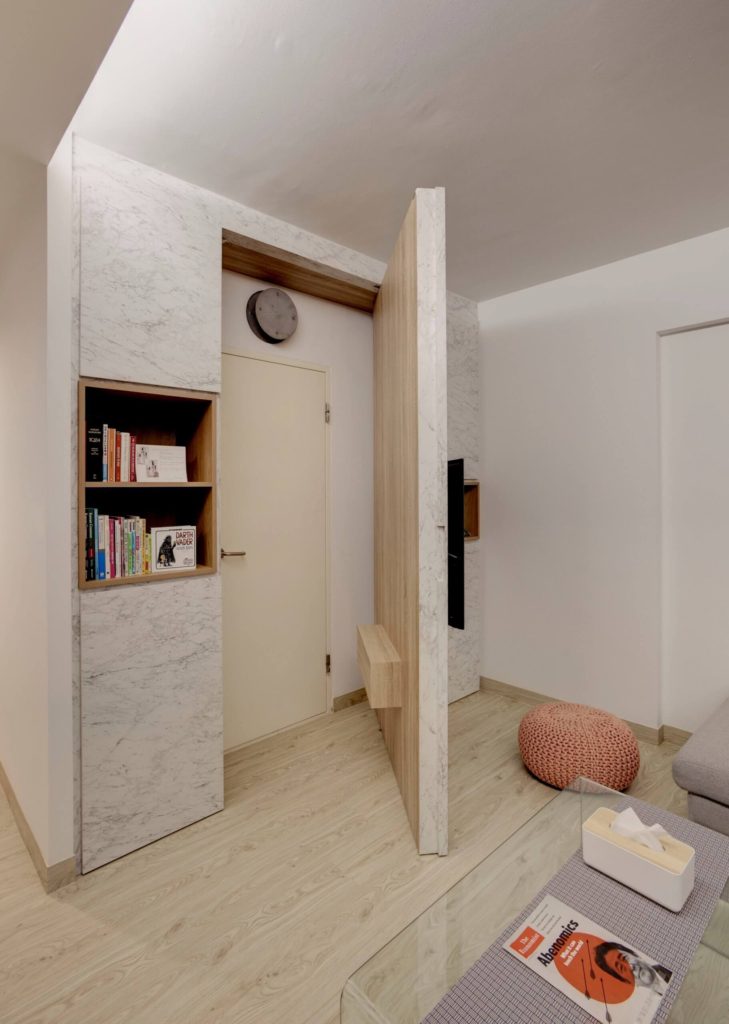 Japanese Modernism @ Cantonment Rd
Perhaps, there's one smart way to find a place for all your books – concealing walls. They come in many sizes and configurations. Most of all, they can free a lot of space for your modern HDB BTO interior design. Typically, the idea materializes in storage spaces hidden by bookshelves. The concealing part can be either swinging or sliding.
In recent times, the latest trends have reached new levels of creativity. There's a motorized movable wall that can rotate to 180 degrees. Some designers implement a closet, bed, and a TV set. Of course, you don't have to make everything that complex. Instead, a more natural solution would be to hide your bedroom door with a book or storage shelf.
When it comes to size, beds are probably the most massive pieces of furniture in every home. Therefore, it's challenging to make a bed work with your HDB BTO interior design. On top of that, it has to be comfortable enough for quality sleep.
Nowadays, there's an endless number of functional bed options. Apart from the now-familiar Murphy bed, you can extend the idea of functionality with a partially-hidden bed. Rolling your sleeping nest during the day in a wardrobe opening can secure a comfy sofa during the day.
Whether you're a fan of the minimalist design or not, you'll eventually have to pick up some insights. Of course, you don't have to go for an all-white HDB BTO interior design. Still, you can achieve a full-blown contemporary style by hiding every possible compartment. That way, you'll create a spacious and neat atmosphere.
Moreover, you can implement wall-to-wall sliding doors to fully-embrace the minimalistic emptiness. Pick different colors for the premises and finish with smooth concrete floors. As a result, you'll have the ultimate modern minimalistic interior with a slight industrial presence.
Often, the seemingly busy foyers turn into ineffective shoe storage spaces. If you're looking for a practical way to repurpose your entryway, go for a more functional approach. Perhaps, your micro-apartment will benefit from a few furniture pieces. Most of all, your HDB BTO interior design will get an immediate strike of brightness and style.
Another practical solution, incorporating mirrors in a small HDB unit, can make every room look larger. What's more, they will reflect the inlet of natural light, making your home brighter than ever. Some owners even step it up a level by installing mirrored-surface floor and ceiling. Usually, the results are rooms of high depth that give the illusion of larger space. You can complement your set of mirrors with illuminators. Ultimately, you'll fulfill the enchanting appeal of your interior.
After you move into your new home, your first step is to invite a friend or two to dinner. Time runs fast, so a secret Murphy bed might be of great benefit. If you don't have a guest room, just hide your bed piece into the storage wall. Complete the fluid environment with a modular sofa and an expanding coffee table.
Similar to mirrors, using your vertical space is yet another convenient way to make the most of your tiny unit. Perhaps, the new thing here is to complement your ceiling with hanging decorative elements. As an example, you'd love to have a few metal constructs paired with a mini hanging garden of plants. Typical for the industrial style, this combination will exude a feeling of an active lifestyle.
Of course, such choices will save valuable room in your kitchen and living room. Besides, it will add a unique character to your HDB BTO interior design. Finally, you can implement a contemporary lighting scheme to fulfill the warehouse-themed concept of the composition.
If you're into space-saving access points, you've probably heard about sliding doors. While they're still gaining popularity, many homeowners in Singapore have already acknowledged their benefits. Wood or glass, these doorways are ideal for any contemporary HDB BTO interior design. They are easy to maintain, they're best at separating the premises with an aerial elegance.
Arguably, creating walls of shelves is one of the most budget-friendly options on the list. While adding dynamic details to the overall atmosphere, this concept can integrate within one single piece of furniture. Perhaps, the highlight of the interior may look like a simple decorative wall. The originality evokes from the differently-sized and shaped shelves. Indeed, such a project requires a little artistry, but it can be a perfect inspiration for DIY enthusiasts.
Last but not least, remember to leave a secret place when you have to work from home. Home office work schedules are at an all-time high right now. Therefore, you should have a micro-desk that you can easily pull out when needed. Typically, you'd want to have it incorporated in a wardrobe or clothes dresser.
Of course, creating a fully functional styling in a restricted space requires bold solutions. Thinking out of the box won't always help. That's why you need a team of skilled interior designers. In its essence, every unique look has some type of unconventional feel to it.
In this aspect, our interior designers here at Space Factor have completed many beautiful HDB interior design projects and we offer various HDB BTO interior design services, as well as condo interior design and landed interior design. Contact us today and see how we can face the challenge of limited space for your HDB home today.