10 Stylish Bedroom Interior Design Ideas in Singapore (2023)
While it must be said that all parts of the home are important to your daily life, the bedroom in itself can be seen as an integral portion of your home in many unique ways. As the place whereby you both start and end your day, how your bedroom looks can influence your life and shape your mood and emotions. Therefore, planning and executing a well-designed bedroom is of the utmost importance. We recommend hiring Space Factor to help you in ensuring that your bedroom is fully up to scratch. But before that, here are some tips to help you improve your bedroom's interior design.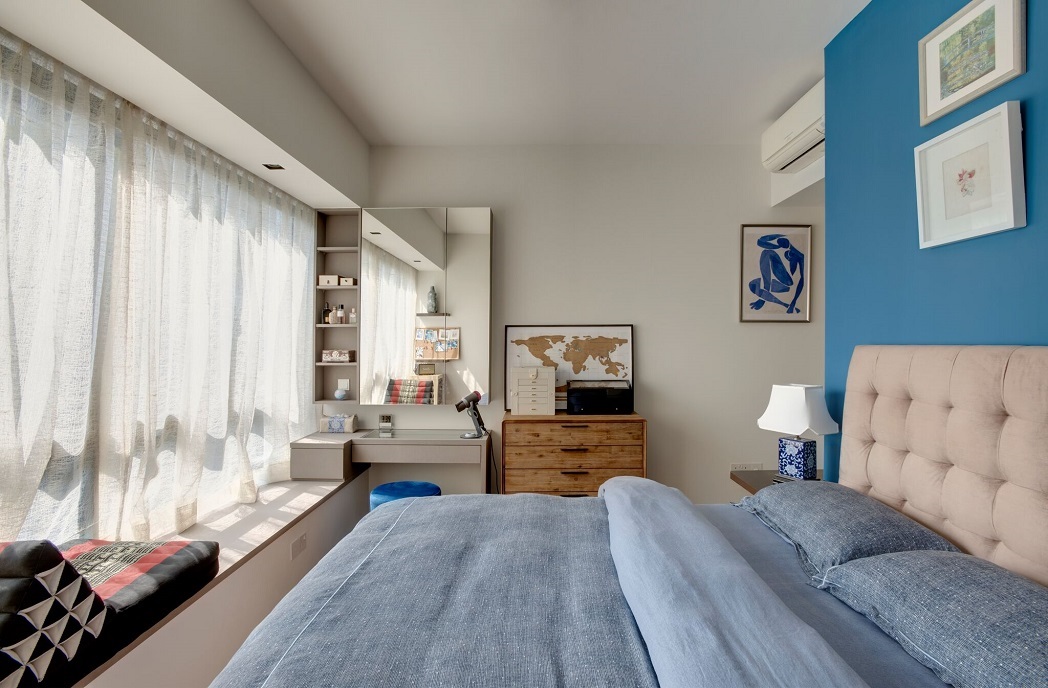 Space and Symmetry
We understand the temptation to get the biggest possible bed you can find, set it down in the middle of the room and call it a day. After all, what's better than being able to come home from work and lie on a bed with ample space? However, we urge you to think twice before designing your bedroom to the dimensions of your bed. Floor space is every bit as important as the size of your bed and can make your early mornings and middle-of-the-night snack runs more feasible. In addition to this, you'd want to make space for compartments, nightstands and wardrobes to be able to fit everything you would need in your day-to-day routine. Imagine having to get out of bed constantly to grab yourself a tissue on a nightly basis. While having additional storage space is important, you should ensure that the floor layout is not cluttered with items. We recommend purchasing a variety of cupboards and dressers to ensure that all your essentials are packed away neatly.
Other than space, symmetry is another point to consider when designing your bedroom. While this is not a must-have, having a symmetrical bedroom is said to promote comfort and peace within certain individuals. It can also be very nice to look at. When we say symmetry, what we mean is possibly having a nightstand on either side of your bed instead of just on your left or on your right. Visually balancing your bedroom can be a key element of your interior design plans for your home.
Colour Schemes and Gradients
It seems obvious, but it has to be said. Planning and ensuring that your bedroom's colour and texture scheme is on point is a wildly important part of renovating your home. Even if it's an unconscious effect, the colours of your bedroom can affect your emotions in a variety of ways. For example, colours like blue and purple can invoke emotions such as comfort and relaxation, whereas orange and red are well-suited to people who enjoy waking up early and participating in a number of activities throughout their day. There's even a case for neutral colours like black, grey and white to ground the interior colour scheme of the room and provide an accent wall for the stronger colours you decide to choose. We strongly recommend picking a colour that you feel closely affiliated with as that colour will be the first and last thing you see in a day.
Ensuring that your floor is painted to the shade of your choice is another thing to take note of. Whether you choose to use marble, or hardwood, the colour of your floor can either perfectly complement the shades of your room, or completely kill the vibe.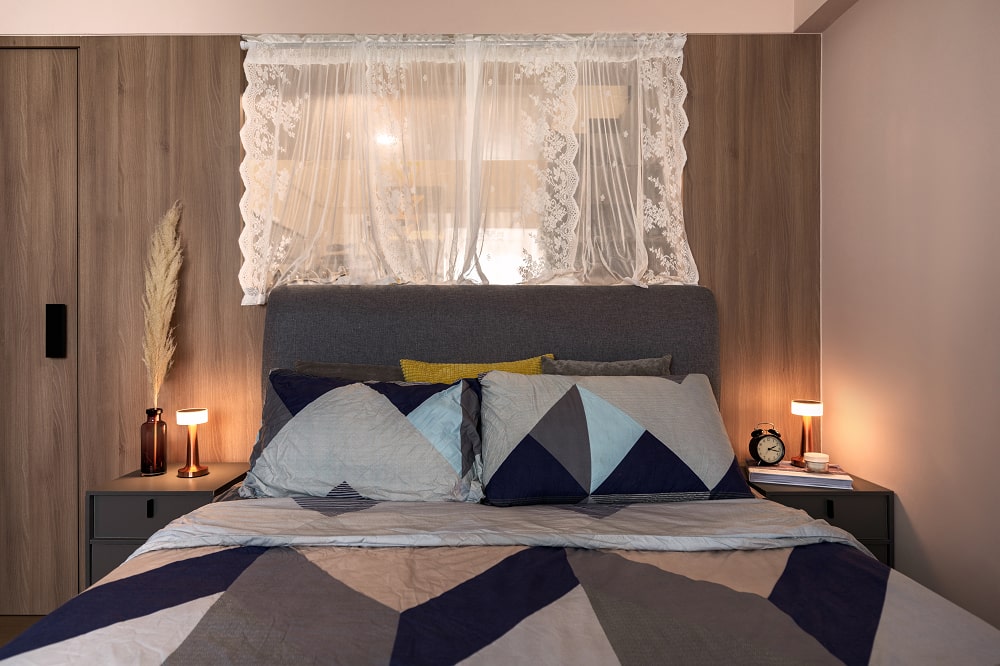 Lighting
Whether you're reading a book, or even working overtime from home late at night, having sufficient and effective lighting is a must. While it can be simple to just stick a fluorescent overhead lamp above you and call it a day, expanding your lighting options and exploring different forms of light can really help tie your bedroom together. Purchasing a table lamp to use late at night while you're relaxing or watching a movie, for example, provides you with warmer light so that falling asleep after the movie ends would be much easier as compared to needing to turn off the main light. Installing alternative forms of light also means that you wouldn't have to get out of bed to switch off the main light before bed.
There are also different forms of light bulbs as well as tones of light to be used in a bedroom. For example, using a halogen or a compact fluorescent lamp as the main light in a bedroom may not be the best option, due in part to both bulbs being extremely strong and used to illuminate larger areas. We recommend using either a soft white bulb or a daylight bulb in your bedroom, with a warm-toned and dimmable LED or incandescent bulb in your table lamp.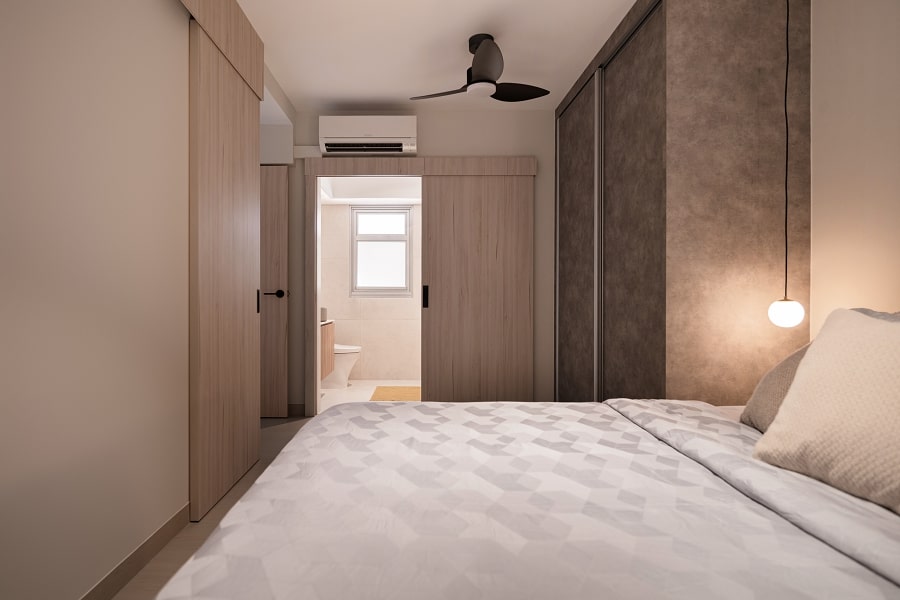 Choose the right interior design theme
Choosing the right bedroom interior design theme is crucial for the bedroom to give the vibes that you have in your mind. One rule of thumb when choosing a particular design style is to prioritize your requirements: is relaxation and comfort your top priority or having a bright, fun-colored bedroom is what you want? Whatever your priority is, choose a basic interior design style for the bedroom accordingly and then you can add in other aspects as you continue to design it.
Normally, a bedroom is supposed to be a peaceful abode, where you relax and unwind after a tough day. It is also the place where you want to feel refreshed once you wake up in the morning, ready to take on the challenges of the day. The design theme should therefore be able to manifest all these emotions and feelings.
Furthermore, choosing one design theme does not stop you from incorporating design elements from other design styles. You are completely in charge of mixing and matching design themes to get the bedroom of your dreams. Hence, you can have a Scandinavian design style as the main theme which resonates a relaxing and minimalist vibe. But still you can add a bohemian patterned rug and colorful floor cushions to add a pop of color to liven up the space.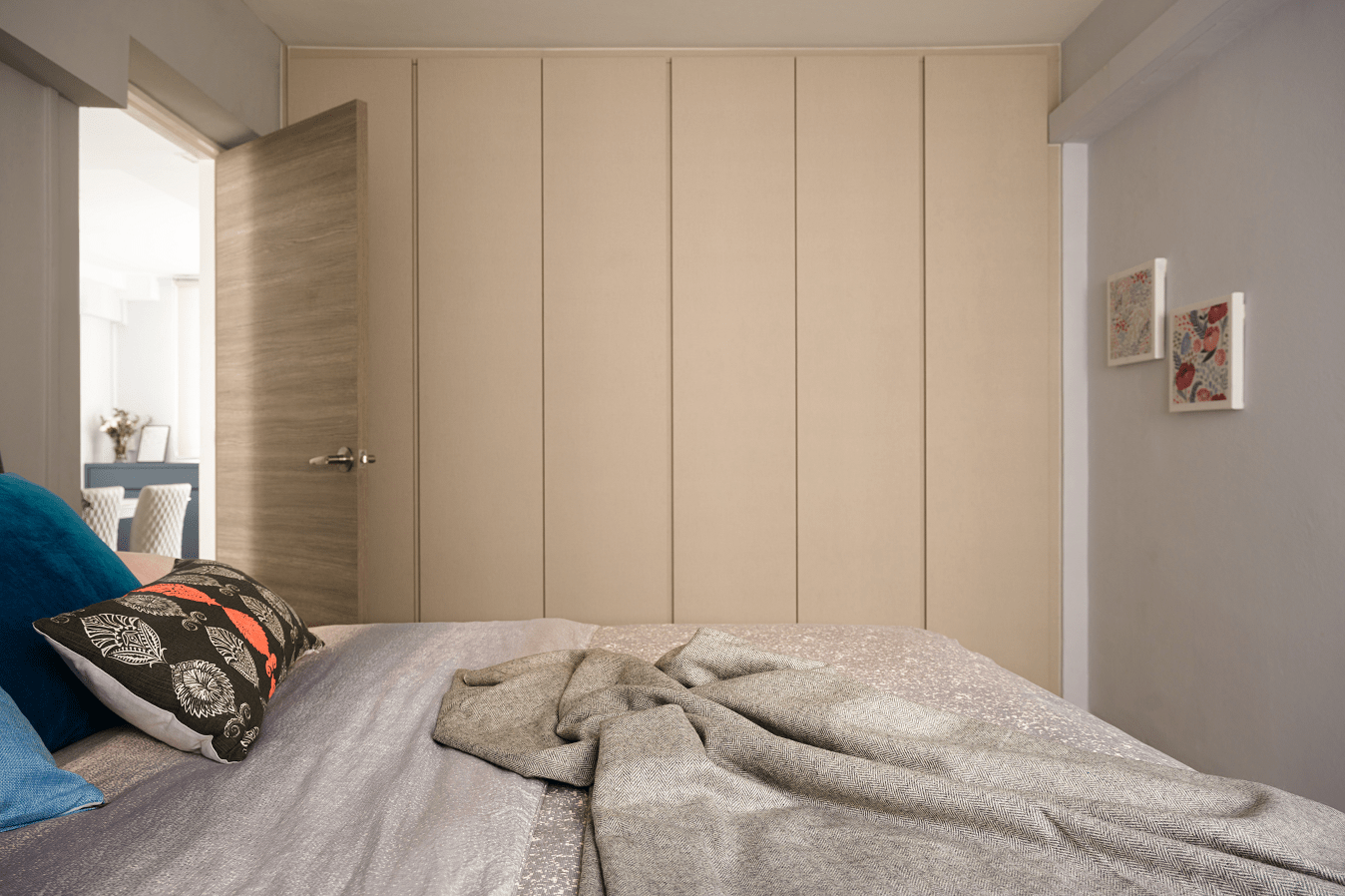 Choose furniture wisely
Another important tip for improving your bedroom interior design plans is to choose the furniture of the room wisely. This tip may seem intuitive but goes a long way in ensuring that not only is your bedroom beautiful but comfortable as well.
Being the focal point of a bedroom, the bed needs to be selected to ensure comfort and beauty. The appearance of the bed can be chosen in accordance with the interior design style but don't forget to pay attention to the mattress! The more comfortable a mattress is, the more relaxed you will feel, you will sleep better, and eventually wake up fresh and recharged. The bed pillows and cushions come next. Again, they have to be comfortable and ergonomically shaped to ensure a good posture during sleep.
Apart from the bed, other pieces of furniture also hep to create a particular ambience in the room. These could include the bed side tables, dressing table, sitting chairs, sofas, ottomans, and any other pieces of furniture that you place in your bedroom. All these pieces should complement each other in some form to create a balance and harmony in the interior. Play around with colors and patterns in the upholstery and bed linen to find the perfect blend of beauty and comfort.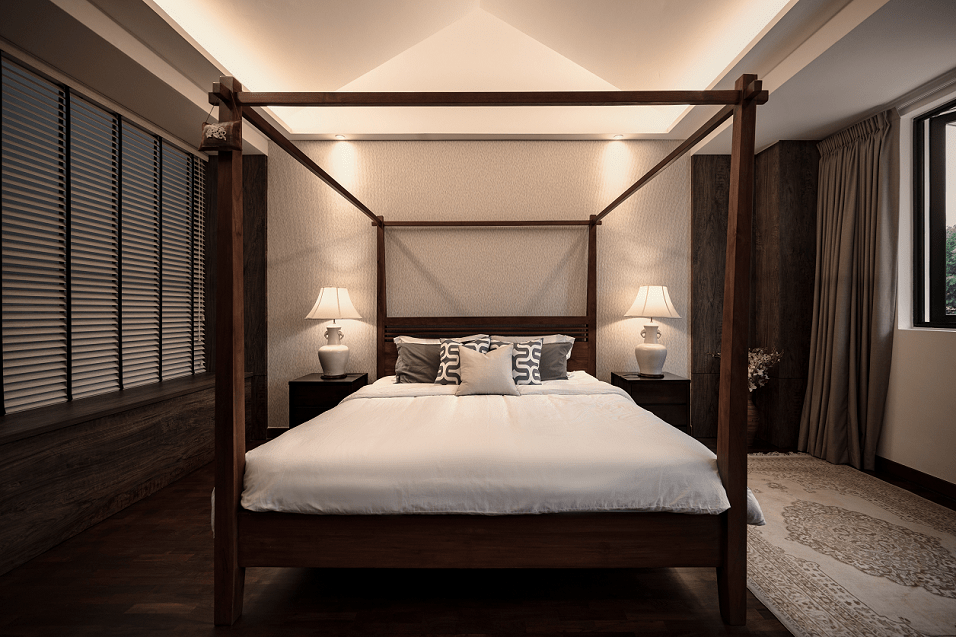 Add layers of texture
Whether you are designing your living room or your bedroom, adding various forms of textures in layers adds depth to the space which brings out a personality of its own in the interior. A bedroom that has just one or two types of textures will appear dull and washed out. Since a bedroom is usually designed in muted tones, the absence of textures will be the visual death of the interior. Therefore, adding layers of textures is something which should never be missed in a bedroom.
Now, we come to the part of how to add textures in a bedroom interior design. The idea is to select different forms of textures in whatever fabric or upholstery that is being used in the room. For example, for the bed, you can add cotton bed linen and drape a woolen throw over it. For the floors, you can keep them the natural wooden texture and then add a shaggy rug or a plush persian carpet to add luxury on top of texture. Similarly, take note of any sofa chairs or cushions that are in the bedroom and choose different textures for their upholstery. Then comes the turn of the curtains. You can add texture layers in the curtains by choosing one layer of sheer, net drapes, and draw over them thick velvet or silk curtains. Once all these different textures in the bedroom start to work their visual magic, your bedroom's appearance will immediately be uplifted.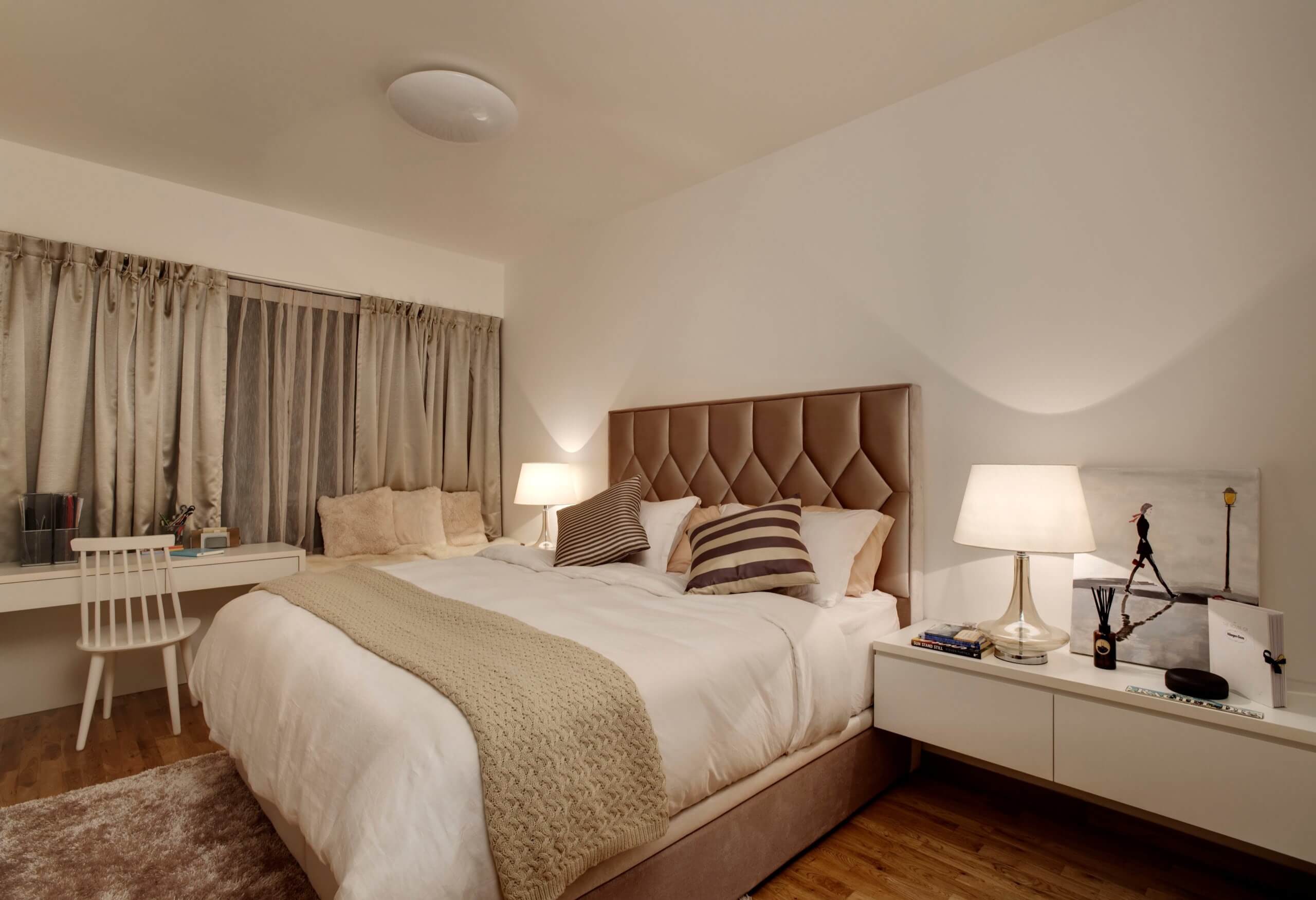 Adorn the windows
Often when we decorate a bedroom, we pay lots of attention to adding decorative items on tables and hanging paintings and artwork on walls. However, one aspect that is often ignored is the window that covers almost one wall of the room. Whether you choose curtains or blinds for the windows, they are the things that immediately catch your attention whenever you enter the room. Needless to say that whatever way you choose to display the windows, it is going to have a huge impact on how anyone who enters the room perceives it. Therefore, the way you adorn the windows is an important part of bedroom interior design plans.
While blinds look very professional and tidy, they are not well suited in a bedroom which is supposed to give a relaxing and comforting ambience. Therefore, choose comforting fabrics for bedroom curtains, whether they are velvet, silk, wool, or plain cotton. As discussed in the previous section, adding different layers of textured curtains help uplift the bedroom's appearance while improving the relaxing ambience of the room.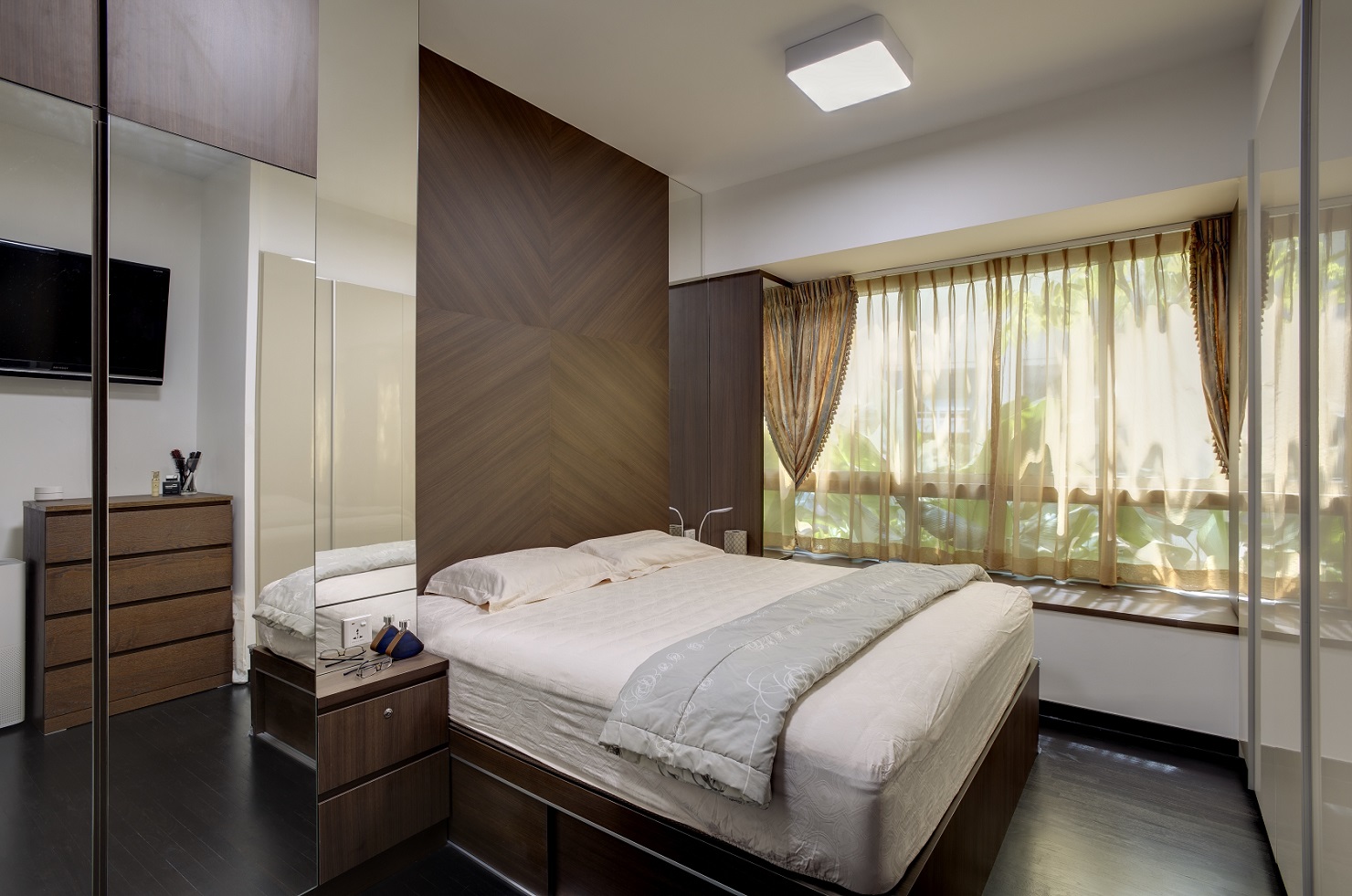 Avoid clutter
Another tip that can help you improve your bedroom interior design is to avoid clutter. Now, everybody knows that you have to have a neat and clean space for it to look appealing. But what we mean here by clutter is that apart from the obvious mess, the space should not have elements that clash with each other and create a visual mess for the beholder. These could be the clash of colors in the interior, or elements from completely different eras that do not go well together. These can even be elements from two different interior design styles that clash with each. The bottomline is that all elements in the bedroom should complement each other to enhance the bedroom's interior design.
This also means that you should keep the bedroom clean and organized as this will help your mind relax and help keep the stress triggers away. You can keep as many elements as you want in the bedroom, just keep everything organized.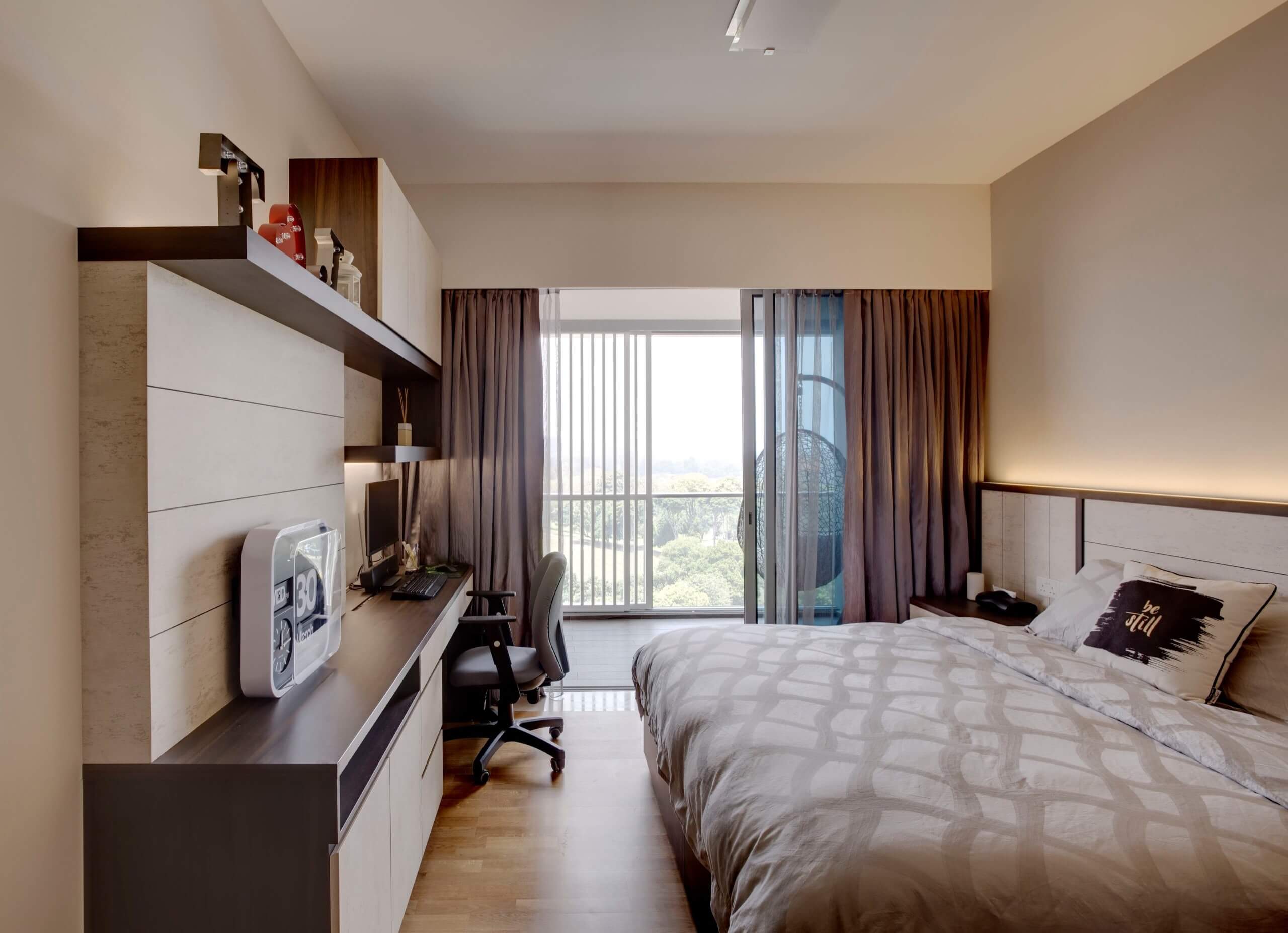 Storage
Having enough storage in the bedroom is also an important aspect of good bedroom interior design. Afterall, a bedroom is not just for sleeping; you keep your clothes and other personal items in the bedroom. To keep all these items safe and organized, make sure you have enough storage options in the bedroom. The bedside tables and dressing table are a must for any bedroom. Apart from that, if you have enough space, you can add almirahs or cupboards for added storage space. Yet still, you can add a walk-in closet in your bedroom if you have enough space for it. A walk-in closet not only makes for an awesome place to store items and keep them organized, but also looks elegant and modern.
Another trendy bedroom interior design idea is to incorporate clever storage solutions in the bedroom. These concealed storage areas can be added even in small bedrooms and they help to keep the room clutter-free. These storage sections can be incorporated under the bed, on its sides, in ottomans, and other areas where you can achieve double purposes.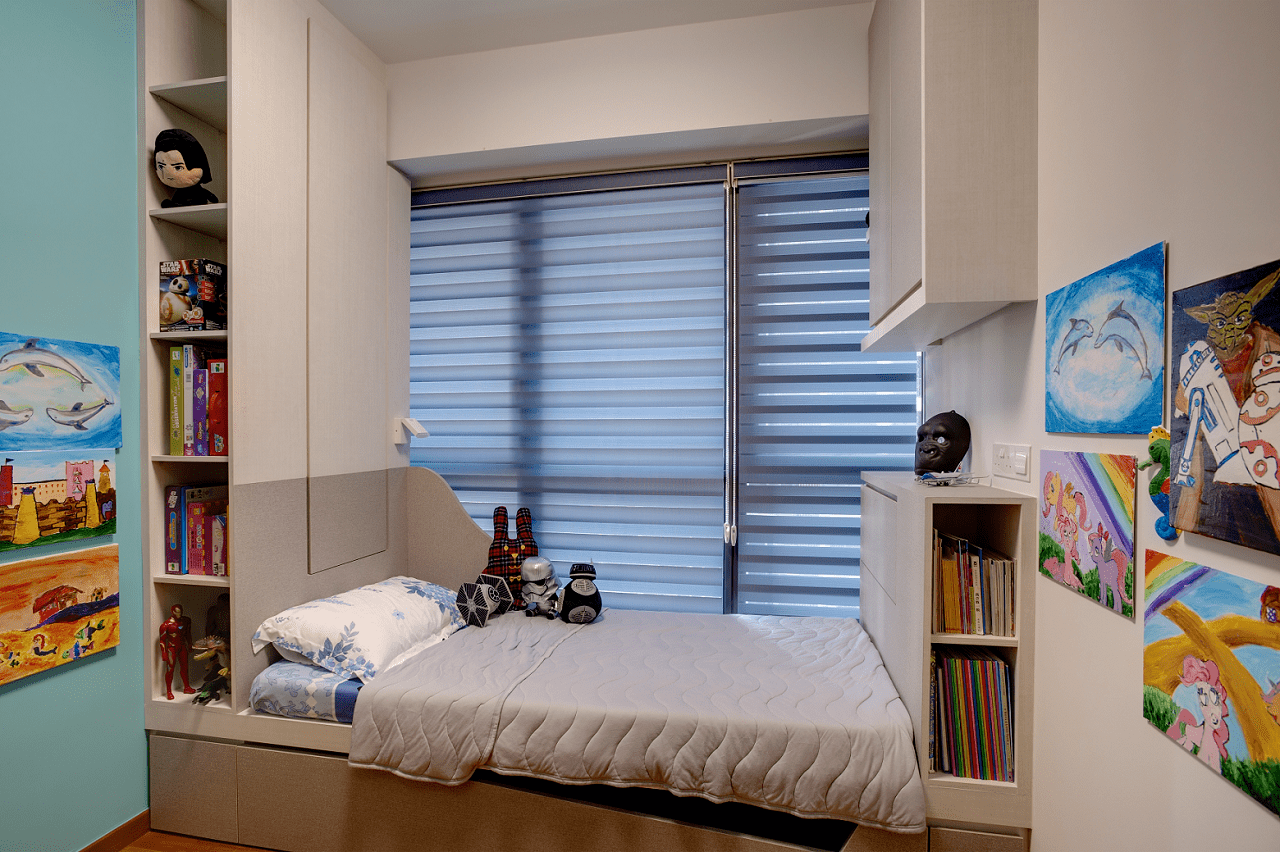 Add comfortable nooks in the bedroom
Yet another bedroom interior design idea that is unique and makes the space appear even more comfortable and cozy is the addition of a small reading or sitting nook in some part of the room. These nooks are usually created as platforms at the end or side of the bed. To make them appear even more appealing and cozier, add a platform nook near the window. This allows you to bask in the sunlight and feel the cool breeze as you indulge in your favorite book. You can do as much as you want to make this nook even more special and cozy.
Add in fluffy cushions or even a small blanket to keep you warm and cozy. Depending on what kind of ambience you want in the nook, choose the cushions' upholstery, patterns, and textures accordingly. For a lively and upbeat nook, use bright bold colors for the cushion with abstract and bohemian patterns. For a more relaxing ambience, use neutral tones and pastel shades for the cushions. Avoid having too many patterns, and keep things plain and simple.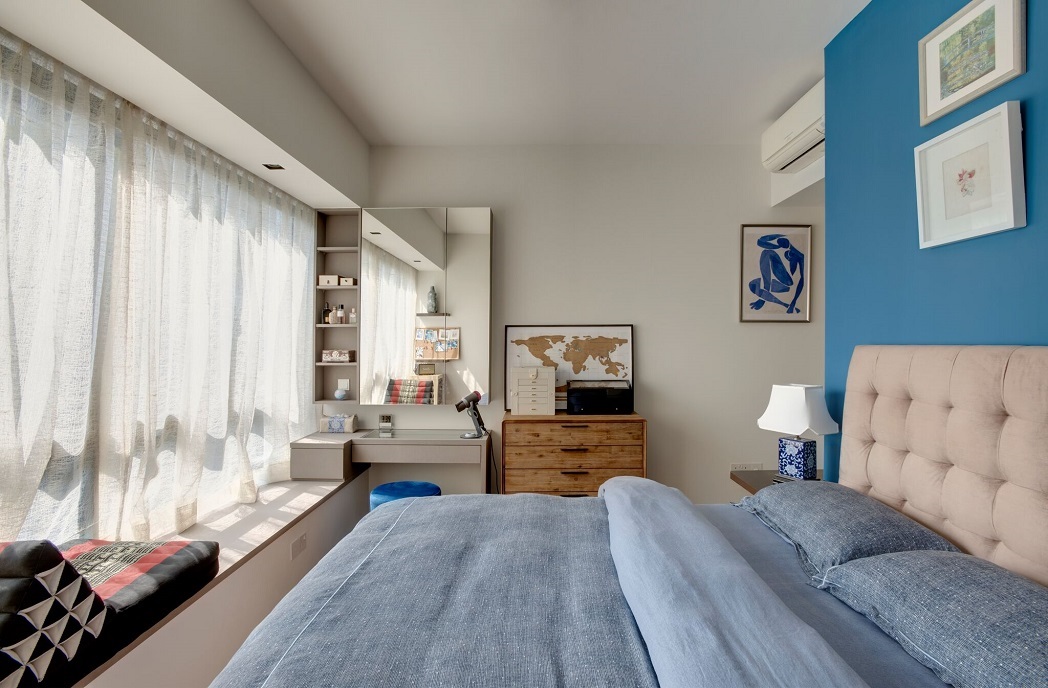 Hire a Professional
We can keep going on and on about different tips and checklists for the perfect bedroom, but in truth, hiring a competent interior design company is your best shot at perfecting your dream bedroom. From understanding your floor space to suggesting colour schemes and tones, to ensuring that every light source in your bedroom is to your liking, having an interior designer with experience can make your renovation process much easier.
A good interior designer understands the client's requirements and preferences and knows exactly what you want to suggest amazing bedroom interior design ideas for you to select from. You can pour in your own suggestions and be assured that the designer will guide you appropriately as to whether it is a good idea to incorporate the suggestion or not. You can rest assured that you will be able to achieve the home of your dreams.
This is where we come in. Here at Space Factor, we have the experience, professionalism and patience to help you in procuring the bedroom of your dreams. Every single picture above reflects a bedroom that we have designed, and we can do the same for you. We take pride in our work, and we guarantee that by the end of the job, you'll be more than satisfied with the final product. Contact us now, and let us know exactly how we can help you.