Inspiring 5-Room HDB Interior Design Ideas to Modernise Your Home
There are so many design ideas and styles available when it comes to interior design and renovation in Singapore, it is bound to leave one baffled with all the choices. On one hand, homeowners may be looking for new and trendy design ideas for their homes while on the other hand, some of them may be looking for traditional and conservative styles with a touch of modernism. It can be a difficult task to stick to a basic interior design theme and add some new design elements to it so that it does not look outdated. However, this is very achievable!
Here, we will take a look at some of our portfolios where we have revamped and renovated spaces that not only look traditional and chic but does not look outdated or shabby. With a mixture of traditional textures, elegance and luxury vibes, we have transformed various HDB apartments into completely breath-taking and luxurious spaces. These portfolios can serve as great inspiration for your 5-room HDB interior design and give you some ideas on how to create a beautiful yet functional home to live in.
Looking for more interior design styles? Find colonial-style interior design, balinese design style, warehouse interior design theme, and Scandinavian design style on our blog pages. You can also find HDB BTO interior design ideas, 3-Room HDB design ideas, 4-Room HDB interior design inspirations, 5-Room HDB design inspirations, condominium interior design theme ideas, and landed property interior design theme inspirations.
Combining Old And New Elements In A Wood Dominated Theme
In this beautiful 5-room HDB maisonette apartment at Tampines, the owners wanted to combine old and new elements in such a way that provides enough space for living, entertainment, and relaxation. They owned an eclectic collection of art and furniture, which they wanted to tastefully blend into a contemporary setting. We lived up to the expectations and delivered just that. By coordinating the design, and material selection in the combination of wooden textures and elements related to art and furniture, we were able to create a comfortable, happy, and modern home that has a touch of traditional design.
This home resonates with a down-to-earth vibe. Through the use of wooden textures and clean lines, it brings a cosy vibe and a sense of warmth that makes this home a practical and comfortable space. The lounge is kept completely traditional with lots of wooden elements and textures. The floors are of light-coloured wood whereas the central coffee table and TV console are of relatively darker wooden shades with evident wooden grains and texture that provide a nice contrast. These wooden elements are balanced with the incorporation of a soft and plush grey with contrasting off-white and maroon cushions.
Traditional lamps add to the elegance and beauty of the design. Indoor plants add a touch of freshness and liveliness in order to lift the mood which might have become dull with the use of so many wooden elements. The stairs that lead upstairs are lined with picture frames that add visual interest and vibrance to the interior. Black-framed track lights and a black metallic ceiling fan add an industrial dimension while also creating a unique ambience for the space.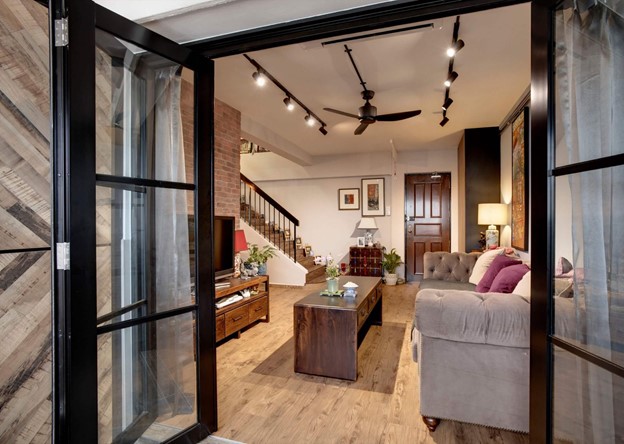 Traditional Living Room @ Tampines
The bedroom is a mix of industrial interior design and modern interior design that is highly functional and incorporates a lot of storage solutions in a small area. The bed's headboard is a wooden textured hidden storage area that allows one to keep the room decluttered while still adding a touch of modernism to the room. Behind the full-length headboard is a highly organised and sophisticated walk-in closet with many shelves and storage areas. All these design and functional elements have been beautifully added in such a small room that it makes one feel amazed at how so much can be done in such a small space. The floors are traditional brown, hardwood floors whereas track lights and spotlights create a beautiful ambience in the room.
Industrial Design Bedroom @ Tampines
The kitchen and dining area are also beautifully designed in a smaller space in such a way that it does not look cramped or crowded. The kitchen's main fixtures are designed in a longitudinal area with wooden cabinets and shelves. The open space adjacent to the living room is utilized to add a counter or island that can serve as a dining space as well as a place to hang out. The counter also has hidden storage compartments that aid to declutter the home whereas the wooden textures of the cabinetry create a beautiful contrast with the tiled floor of the kitchen area. Hidden compartments are great ways to save space for homeowners and are used for small condo interior designs. This open-concept kitchen and island make the space appear bigger and more spacious. Again, traditional light bulbs in a modern track light sort of design add a unique character to the area. The final effect is a charming, character-filled home where art mingles with life.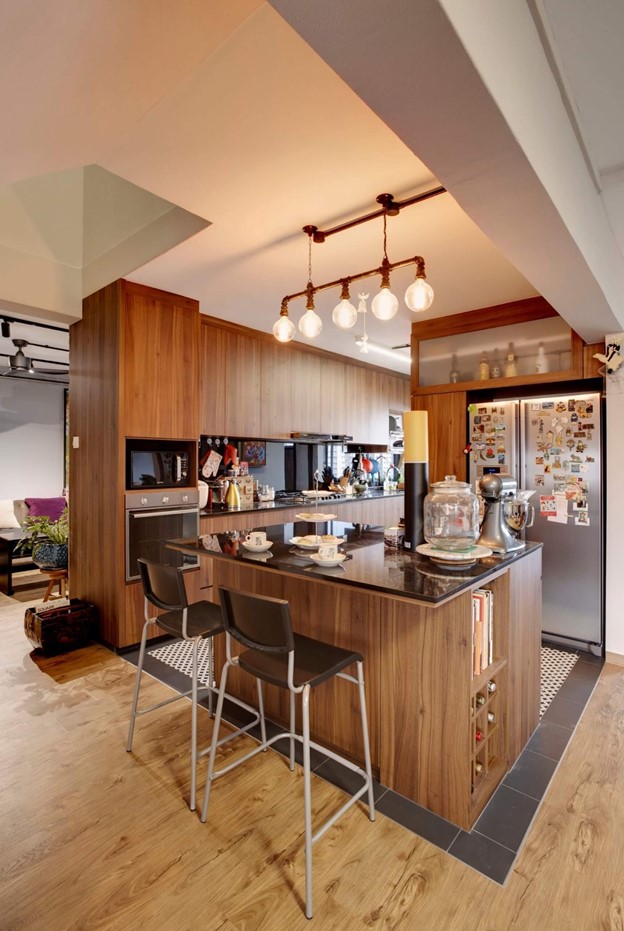 Beautiful Kitchen Design @ Tampines
The bathroom is kept simple yet elegant by using slate-looking tiles that are contrasted by using a dark wooden textured vanity area. A separate shower area has been created which adds a little space to the bathroom and does not make it look cramped. The shelves have been incorporated inside the wall of the shower area which provides ample space for storing toiletries and related stuff. The result is a simple, clean, and spacious bathroom which is a great interior design for HDB houses with small areas.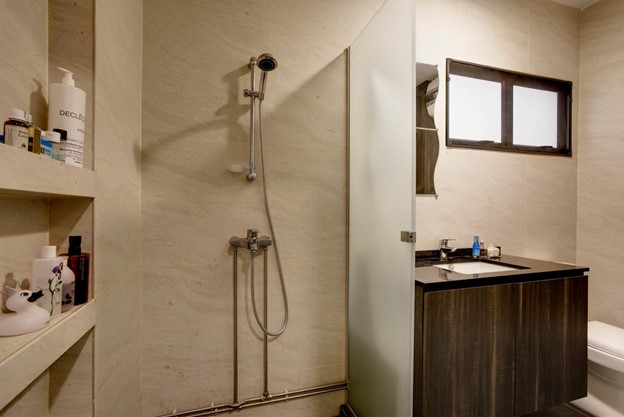 Clean, Spacious Bathroom @ Tampines
Traditional And Rustic Interior Design At Compassvale
This interior design project is a beautiful amalgamation of traditional, modern, and rustic design elements that use deep colours and ambient lighting to create a beautiful and comfortable haven. This home can serve as a source of inspiration for anyone who wants to revamp or create a 5-room HDB apartment in a relatively smaller space. Many landed interior designs tend to go for a traditional and rustic look as well.
The living room is just an example of how beautifully different elements of different design themes have been combined. One of the sofas is a modern jute one whereas the other one is made of traditional cane. Both of these sofas are balanced by placing a modern-design coffee table. One complete wall features a modern skyline of a city whereas a traditional wooden chest of drawers contrasts it. The floors are marbled tiles which again contrast perfectly well with the traditional and rustic elements of the room. To add more functionality to this space, a small study area has been created that features rustic furniture.
However, the carved wooden separator and window blinds create harmony by mixing rustic and modern elements. The addition of small indoor plants brings a touch of nature to the room. Track lighting and recessed lighting along with a black metallic fan help to uplift the room's appearance and add a unique character to the space.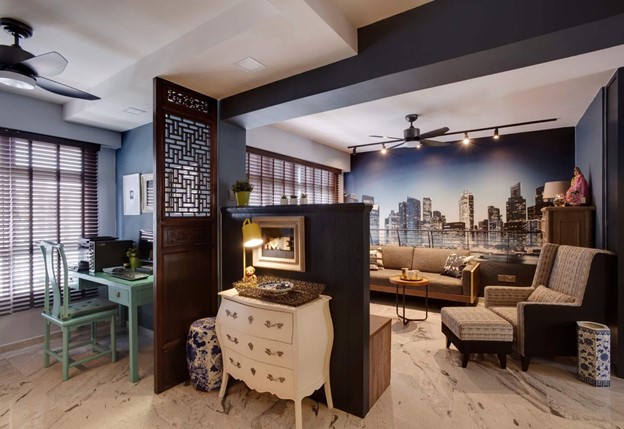 Traditional And Rustic Living Room @ Compassvale
The bedroom interior design is also a beautiful combination of rustic and modern elements. The bed is a traditional wooden one with full-length frames. Behind the bed is a wall that has wooden-textured panels, the design of which is similar to the closets beside the bed. The traditional lamps are in line with the bed and closet designs. Then come the modern elements of the room. The floors are marble-tiled whereas one complete wall of the room features a window that has wooden blinds on it. Recessed lighting creates a unique ambience in the room.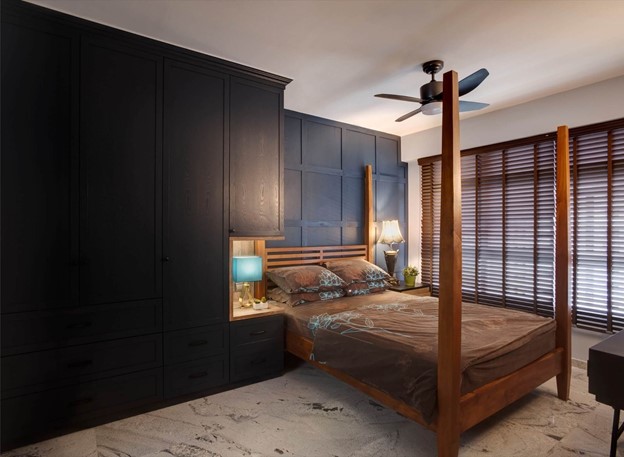 Traditional Yet Modern Bedroom Interior Design @ Compassvale
The kitchen's main interior design is rustic with grey rustic cabinets and slate countertops. One kitchen wall is rust-coloured whereas one has brown brick-designed textures. A traditional black chandelier completes the rustic theme of the kitchen. Spotlights under the cabinets add a touch of modernism to this design theme.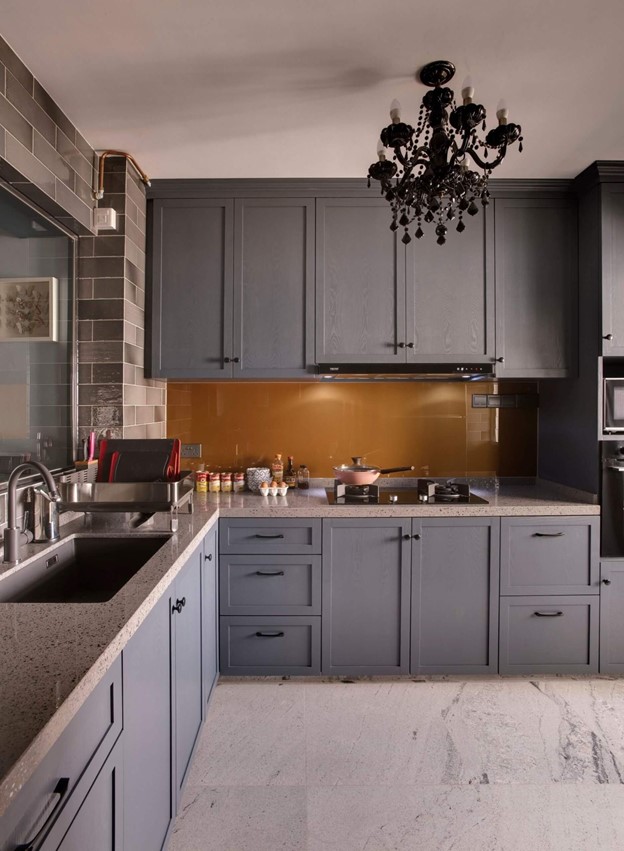 The main rustic theme is carried out in the bathroom as well with the rustic wall and floor tiles. The bathroom vanity is also of rustic wood with a slate countertop. The vanity is of a hanging style which helps to create the illusion of a larger space so the bathroom does not look cramped. Modern toilet fixtures complete the modern element of the design. A glass-separated shower area keeps things uncrowded in an otherwise small bathroom. Recessed ceiling lighting creates an ambience of its kind in the overall space. Various shelves are incorporated in different areas to store toiletries. Natural light and warm cove lighting fill this space, highlighting the black trimmings and wooden textures that provide a good contrast to the muted wall tones.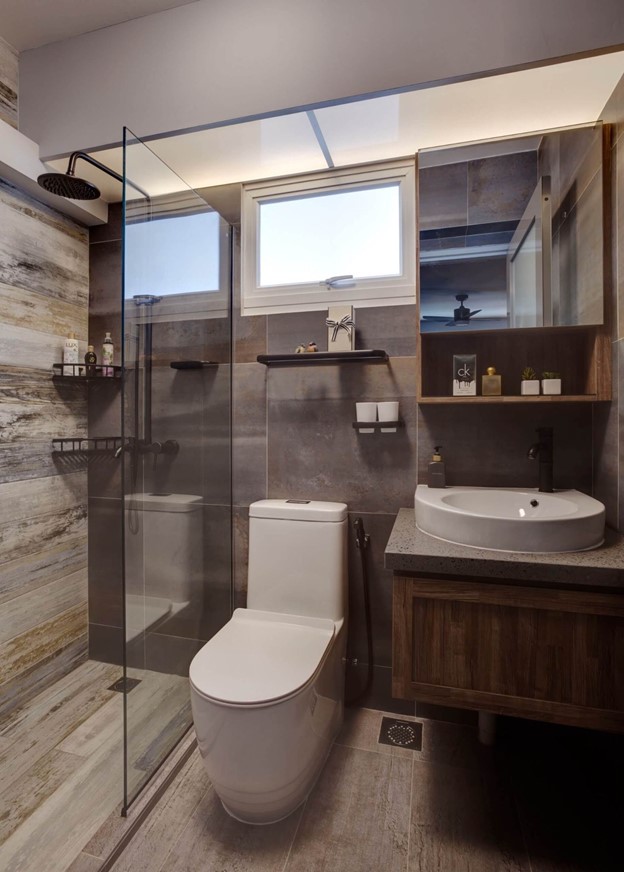 Rustic But Modern Bathroom @ Compassvale
BACK TO BLACK at BIDADARI
Minimalism is the ideal trend for helping us all get the most out of our lives with less. Adhering to minimalist interior design principles does not imply that we must compromise personality or refrain from making bold decisions. In fact, using the colour black is one of the most popular minimalist trends right now. Do not be frightened of a dark palette; it does not have to be gothic.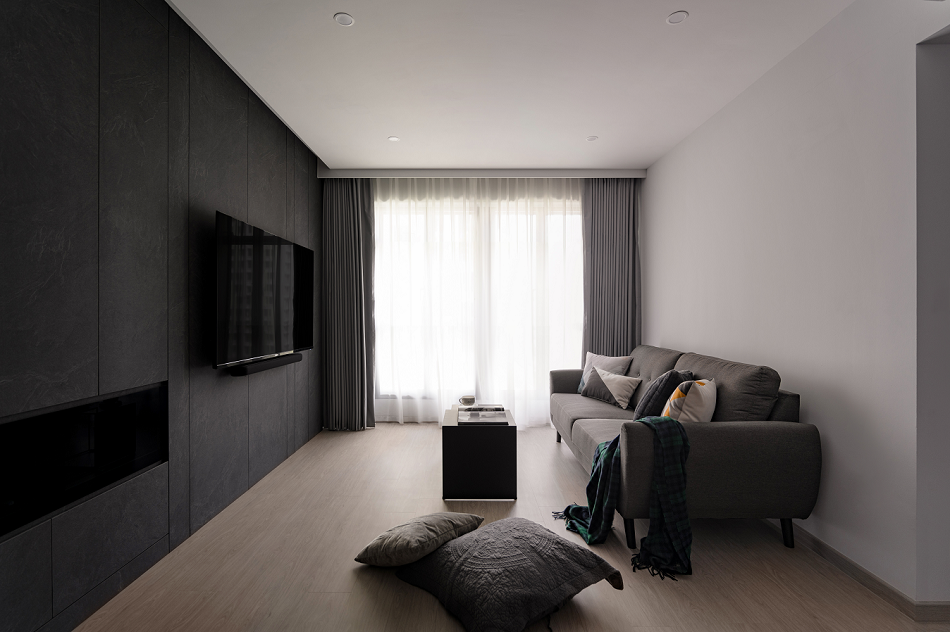 White cabinets and worktops instantly appear clean, sleek, and minimalist, but, at times, a little stark and boring. Instead, go for an all-black palette to make a dramatic statement. Using gold accents quickly brightens up the area, making it feel more welcome and instantly updating and personalizing it.
An accent feature wall featuring grey raw textures continuously stretches from the entranceway all the way to the living room for a modern and sleek feel to this abode. Besides elevating the overall aesthetics, this feature wall has a hidden surprise. Open the cleverly hidden door to reveal the exquisite master bedroom and ensuite toilet. This is great for the homeowners' privacy as it hides personal spaces from any prying eyes and the doorway blends in seamlessly with the feature wall.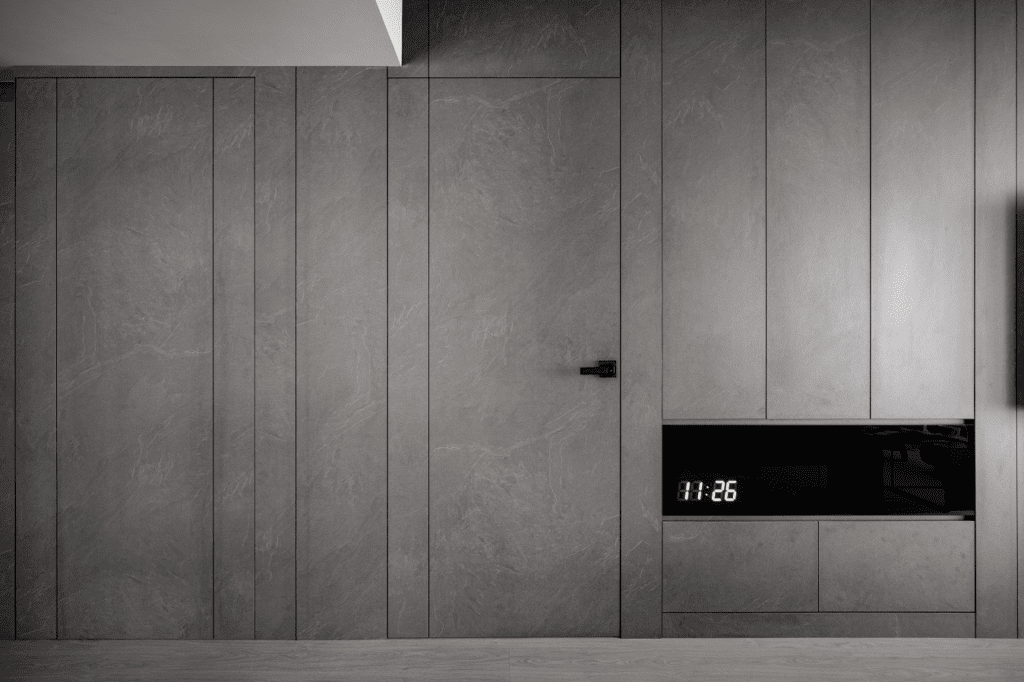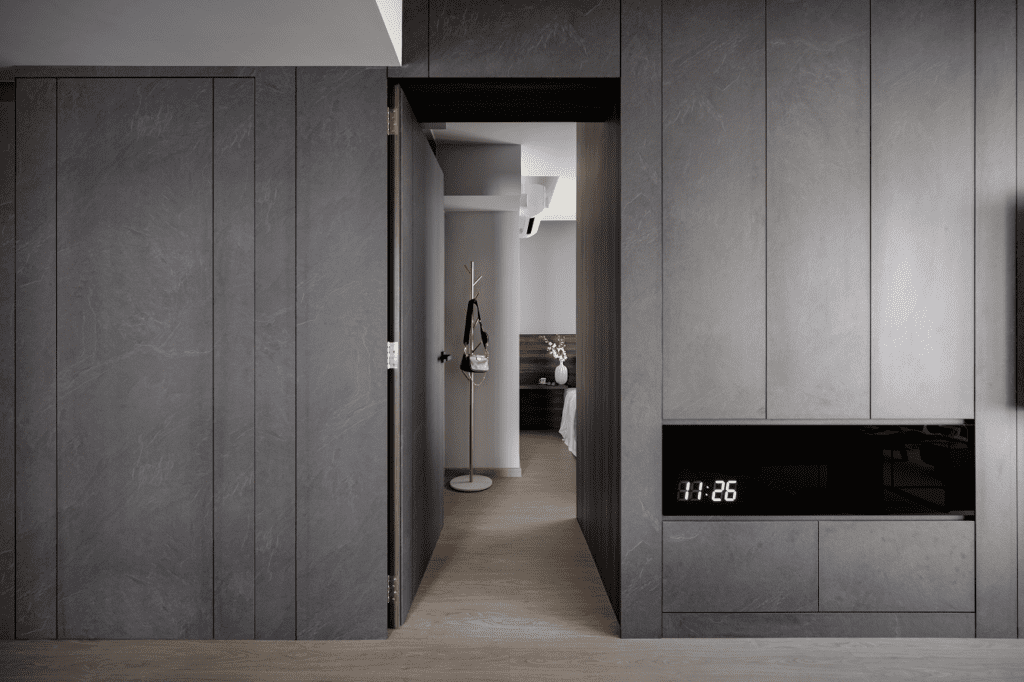 The bedroom décor incorporates a larger range of grey tones. With its dark wood floors and extensive use of layered linens, this area feels warm and welcoming despite its sparse style. This space, like the living room, has artwork that reflects the whole range of monochromatic tones utilized nearby.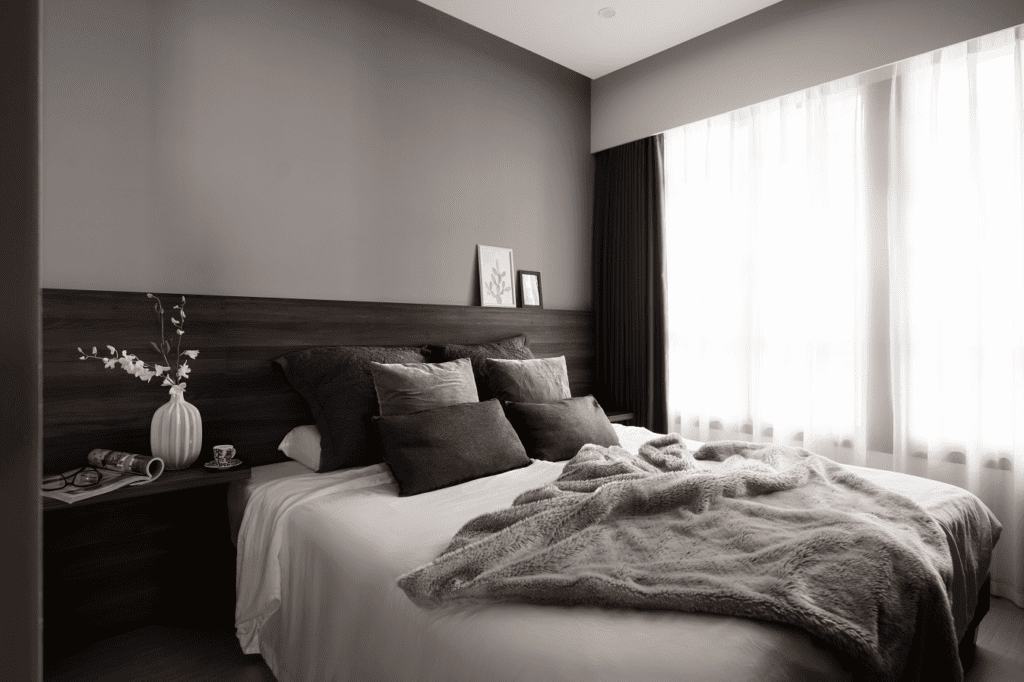 A dark bathroom does not have to be gloomy. With a sense of creating a cocooning sanctuary, raw textured wall tiles create shadows within the dark colour that creates a moody sophistication and an atmospheric scheme. Dark greys are paired with accents of other dark shades that adds depth and contrast in the bathroom. They echo a soft mesmerizing edge throughout the space, making a bold style statement and are versatile enough for virtually any interior design style or space.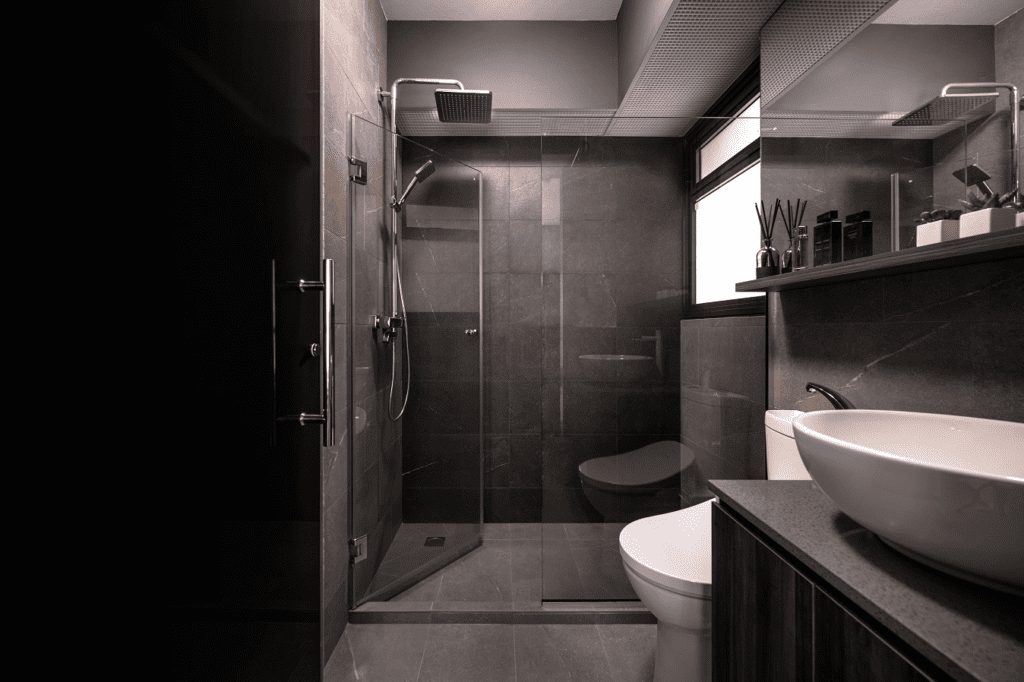 CLASSIC AND MODERN FUSION at PUNGGOL CENTRAL
This beautiful HDB apartment is a perfect blend of country Victorian and modern elements that fuse together to create a charming, yet calming abode. With white being the dominant color, this design incorporates Victorian motifs and patterns across the home. The furniture is functional and we can see symmetry across all the elements. Every element flows and blends seamlessly with the others to create a delightful ambience.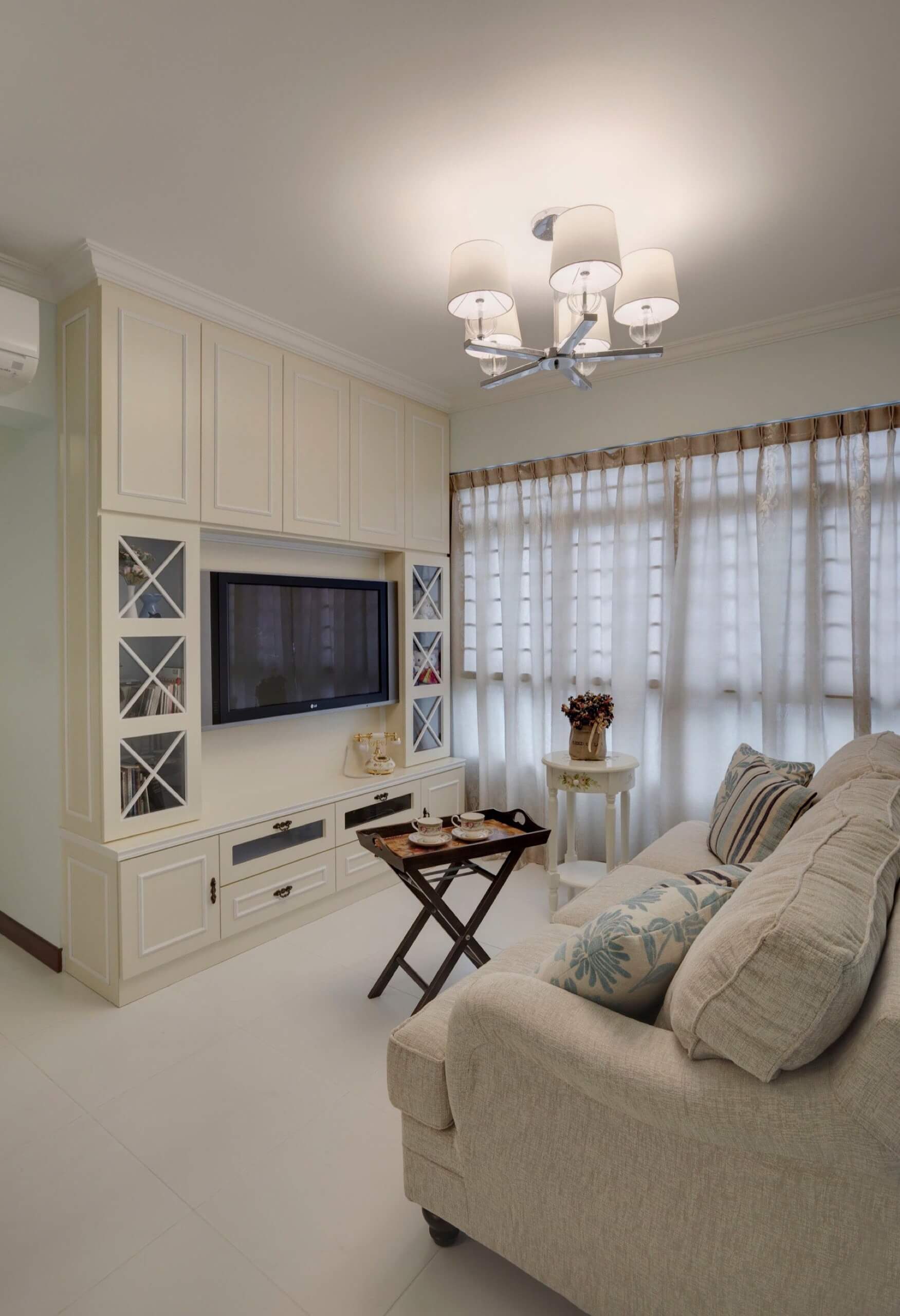 In the living room interior design, we can see white splashed across every element. However, in spite of the white dominant color, the interior does not look dull at all. The wise selection of sheer curtains allows lots of light to enter the room to illuminate and brighten up the space. The classical carpentry with decorative shelves instead of a modern media wall gives a touch of nostalgia that is balanced by the modern, comfortable couch and floral patterned cushions. Modern lighting and a clean, white space give a very elegant yet classical touch to this living room. The overall ambience of this living room is that of a relaxing and cozy space where one can unwind after a long, hard day at work. This is the kind of serenity and calm that one desires from a classical home having all the necessary amenities to create luxury and elegance with a country touch!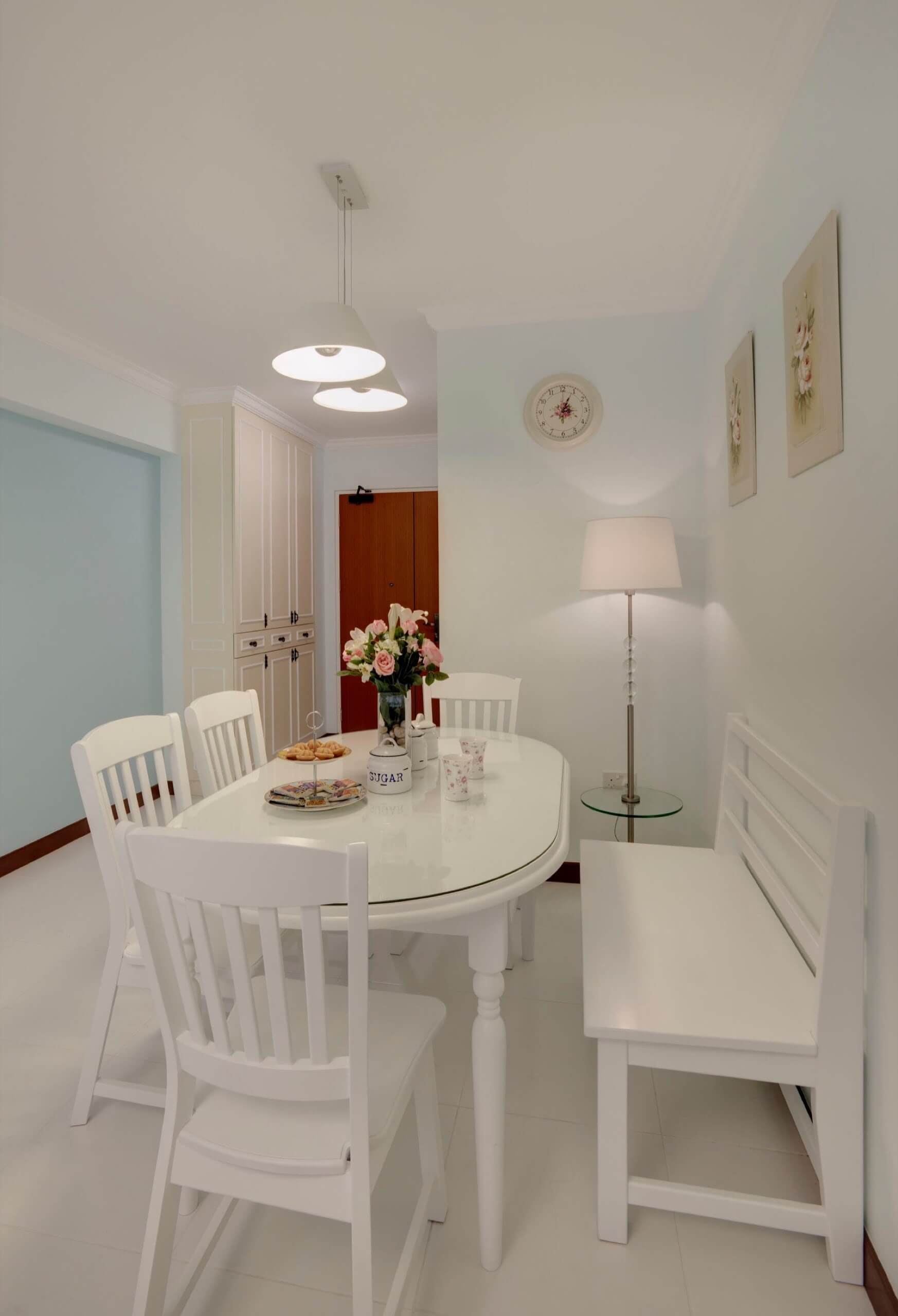 The dining room in this HDB is also a beautiful piece of classic mixed contemporary interior design with light sky-blue walls and white furniture. The dining chairs are the classical chairs from the early 20th century that help bring a country vibe into the atmosphere. A modern side glass table with a trendy lamp brings a touch of contemporary style to this design. The walls are also adorned with beautiful floral wall hangings. Every element in the room basks in the light from the hanging track lamps to give a relaxed, country vibe.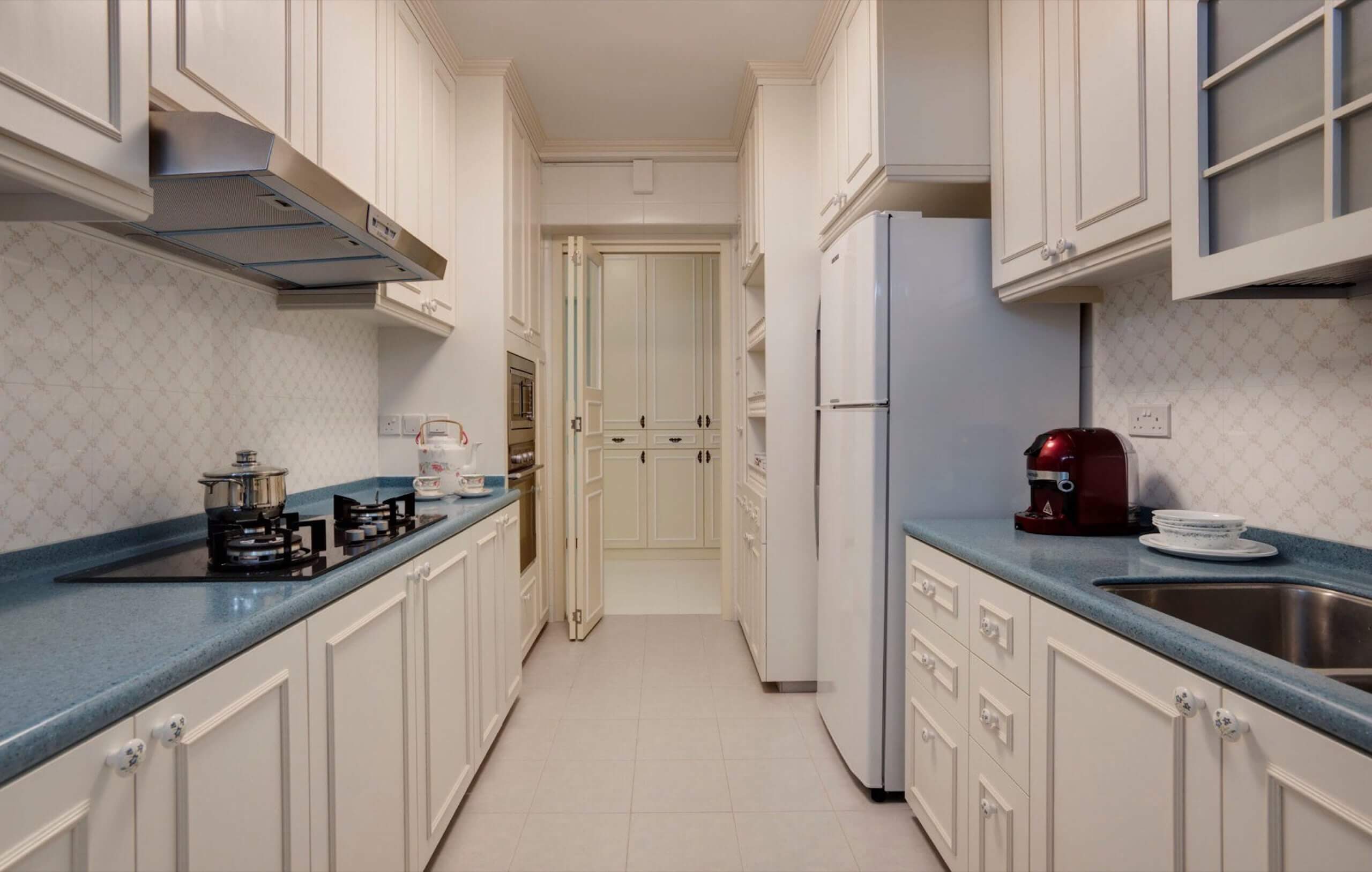 Similarly, the kitchen in this HDB continues along the lines of the classic-modern interior by using the same cool-toned theme and adding touches of old and new. The kitchen cabinets are a classical white color with a deep shade of turquoise for the countertops. This dark color adds the perfect accents to the white kitchen, giving it a unique modern touch. The backsplash is also white with a simple geometric pattern that helps fuse mid-modern century interior design elements beautifully. We can also see lots of storage options in the kitchen that help keep the area clean and decluttered. The kitchen otherwise is kept minimal which, together with the white color theme, gives a very refreshing and airy feel.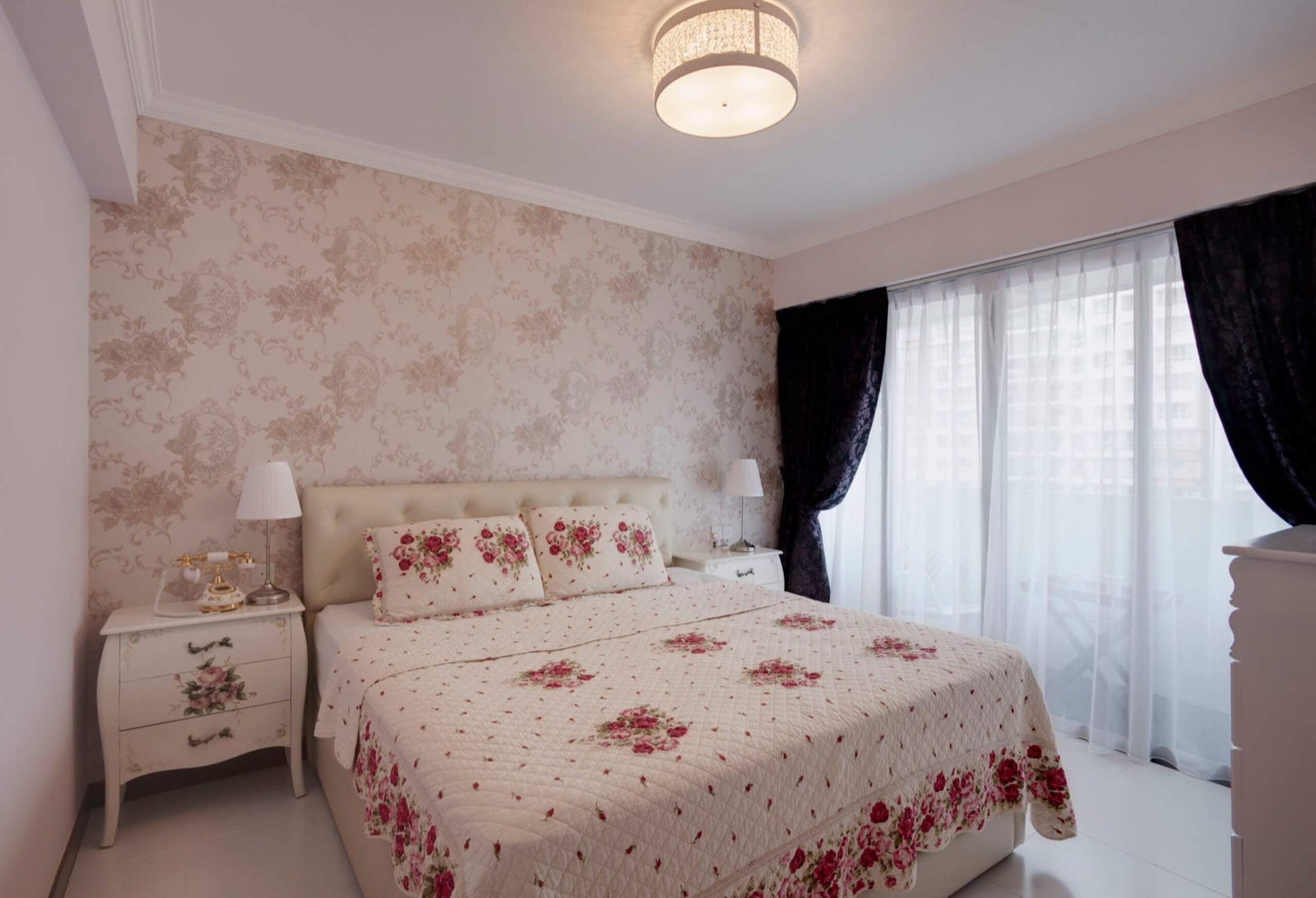 The bedroom in this HDB serves as the perfect relaxing abode that one desires for a bedroom. It is not only beautiful but comfortable and cozy. Here, we can again see a beautiful harmony of old and new design elements that help enhance the room's appearance by several notches. The bedroom walls are a cool powder-pink color with one wall adorned with a beautiful motif-patterned wallpaper. The wallpaper design takes you right to the classical Victorian era. The bedside tables are also of a typical Victorian furniture design with beautiful floral motifs painted on them. However, a modern and cozy bed adds that touch of modernism to this interior.
Moreover, the full-length and full-width windows on one wall of the room help create a refreshing ambience in the room. To help balance the overly pink tones in the room, a layer of black curtains is intelligently used over a layer of sheer white curtains. Modern lighting fixtures also help to make a fashionable and elegant statement.
These above-mentioned portfolios are one of a kind in offering inspiration to homeowners for 5-room HDB apartments who want to create a modern space while still sticking to traditional and rustic elements. The right choice of furniture, flooring, fixtures, and lighting can help in creating such a space according to one's requirements and preferences. Space Factor excels in creating unique design ideas and themes to completely transform a space and change its appearance for the better. We provide services for HDB designs, condominium designs and interior design for landed properties in Singapore. Start building your dream house with them today!
Check out our other blogs: