Beginner's Guide to Contemporary Interior Design
When you shift to a new home, whether it is a house that you bought, renovated, or rented, you wish to create the best possible version possible with it. A house's structure and layout play a vital role in deciding what kind of an outlook it will have but the main thing that puts life into a house and makes it a home is its interior design. 
The interior design style of a home is an entirely personal choice but there are several design themes from which you can choose from. Interior design keeps on evolving with time and the style that best fits this definition of continuous evolution is contemporary interior design.
Contemporary interior design refers to the design style that is in trend at that particular time. It encompasses design elements from the past too but they are refined and tweaked to fit the current trends. In other words, contemporary interior design may be influenced by other interior design styles like minimalism, Scandinavian, and modern interior design; anything that is popular at that particular time. 
Elements of contemporary interior design style
Just like any other interior design theme, contemporary interior design is defined by certain features that make up its core foundation elements.
Minimalism
Probably the most important foundation element of contemporary interior design style is minimalism. Simply put, minimalism refers to the concept of less being more. It involves using only those elements that serve some purpose to maximize functionality and to create a simple environment. A minimalist interior has uncluttered spaces and everything is always in its right place. A truly minimalist interior will include minimum ornamentations, but in case of contemporary interior design, you may choose a few decorative elements that help increase the room's elegance and sophistication.
Neutral color palette
Contemporary interior design is defined by a neutral color palette with the majority of elements in those neutral shades. Colors like off white, beige, and grays are used in a contemporary interior as they compliment the minimalist feature as well. Moreover, some of the elements having these neutral colors have contrasting black or metallic borders or frames that create unique and striking accents. These accents make the elements stand out in the interior and can also serve as focal points around which the other elements of the room are arranged. The neutral color palette gives a feeling of tranquility and comfort that is the hallmark of this design style. However, based on your preferences, you may even choose to add a pop of color here and there in the space but avoid going overboard with it. 
Patterns and shapes
Some specific patterns and shapes are quite evident in a contemporary design theme, the most important of them being geometric shapes. These geometric shapes can be included in various forms like upholstery and textiles. You can use these patterns on sofa cushions, rugs, curtains, and bedsheets. You can even display wall paintings and artwork that is in similar abstract and geometric-shaped patterns. 
Moreover, metallic geometric sculptures may also be used for decoration in a contemporary interior. Or you can opt for a geometric-shaped lighting fixture. The options are countless.
Focus on functionality
Another important feature of a contemporary interior design is that the space is designed with the requirement of functionality. Whatever elements are used in the interior must be functional along with them being elegant. Therefore, you would not see a lot of clutter in such homes, only the bare essentials that fulfill some purpose are used. Think about tables and ottomans that have hidden storage in them or sofas that can be converted to beds when required. This way, you are able to get multiple functionality from the same element.
Materials and finishes
A contemporary interior design is also characterized by specific materials and shiny finishes. Since a contemporary home is often trendy and stylish, it features many different materials like woods, metals, glass, and mirrors. Often mixing all these elements in a room can result in a highly stylish and elegant space; but you must be careful in mixing all these materials together in the interior which can become a bit uncluttered if not done right. Choose the right balance in choosing all these materials. Sleek metallic structures with glossy finishes create a luxurious and elegant look that is the hallmark of this interior design style. Similarly, add mirrors in the space to not only increase the visual space to make the room look bigger but also to add a touch of excellence.
Clean lines
In a contemporary interior design, you would often see clean and sharp lines in various elements. The furniture comprises clean and sleek lines and shape that sets the tone for the complete room. The geometric shapes and patterns in the interior also manifest clean lines that create an atmosphere of symmetry and order. This creates a balanced interior that is beautiful and elegant.
Accessories and art forms
Contemporary interior design features trendy accessories and decorative items. You can have a vibrant wall painting that can bring any interior to life or you can use decorative elements like crystal vases and showcase them proudly on the table. Just keep in mind that whatever accessories you choose, they should be of the highest quality even if there are just a couple of those in the interior. 
Lighting
A prominent feature of any design style including contemporary interior design is statement lighting. Choose different forms of modern lighting to add different types of lighting to the space. Opt for light fixtures like lamps and chandeliers that look sleek and modern. Also include indirect and recessed lighting because that creates a rather dramatic and warm atmosphere. You can also use accent lighting to highlight some accents or statement pieces in the interior to create a wow effect.
Modern Vs Contemporary Interior Design
Although modern and contemporary may be thought of as similar words in their meanings, when it comes to interior design, they both differ greatly from one another. 
Modern interior design refers to the design style that emerged in the early 1900s that focussed on functionality and used industrial materials. On the contrary, contemporary interior design focuses on what is in trend nowadays.

Modern design style always utilized a neutral color palette with no bright accents but contemporary interior design uses a mix of neutral colors with dark accents or dark colors with bright accents.  

A modern interior uses materials such as concrete, brick, and steel. Instead, the contemporary interior uses marble, granite, glass, wood, and metal.

A modern interior comprises carved furniture and accessories that add some sort of luxury in the space but a contemporary interior focuses on sleek furniture with clean lines and minimum ornamentation. 

A modern interior features all the elements that bring out a nostalgic feel from the early 20th century. On the other hand, a contemporary interior includes technological innovation and state-of-the-art gadgets that add a stylish touch to the space.
Inspite of these differences, various features of both of these design styles can be combined in a beautiful fusion in what we call the modern contemporary interior design. This unique design style combines the best of both styles to create an interior that is not only trendy but nostalgic, elegant, and above all, welcoming.
How to get the contemporary interior design in your home
Now that we have a clear understanding of what contemporary interior design encapsulates, let us look at some great inspirational ideas on how you can achieve the contemporary look in your home. We will go through some portfolios by Space Factor where you can see how you can design each room of your house in this design theme.
Contemporary living room
A contemporary living room should be simple and minimal with only a few bare essentials. It should give an elegant yet cozy vibe with streamlined furniture and limited accessories. The following image shows a similar living room interior design having all the right characteristics that make it a contemporary living room.
The overall color palette is neutral with shades of off-white and beige with a few dark colors and black metallic accents. The center table has a sleek, black metallic frame that depicts clean lines and a sleek structure. The rug, cushions, and sofa throw all comprise geometric patterns. The TV is mounted on the wall with no console beneath. In terms of accessories, we can only see a couple of abstract paintings and a few decorative elements on the coffee table. In short, this living room is elegant, minimal, and contemporary!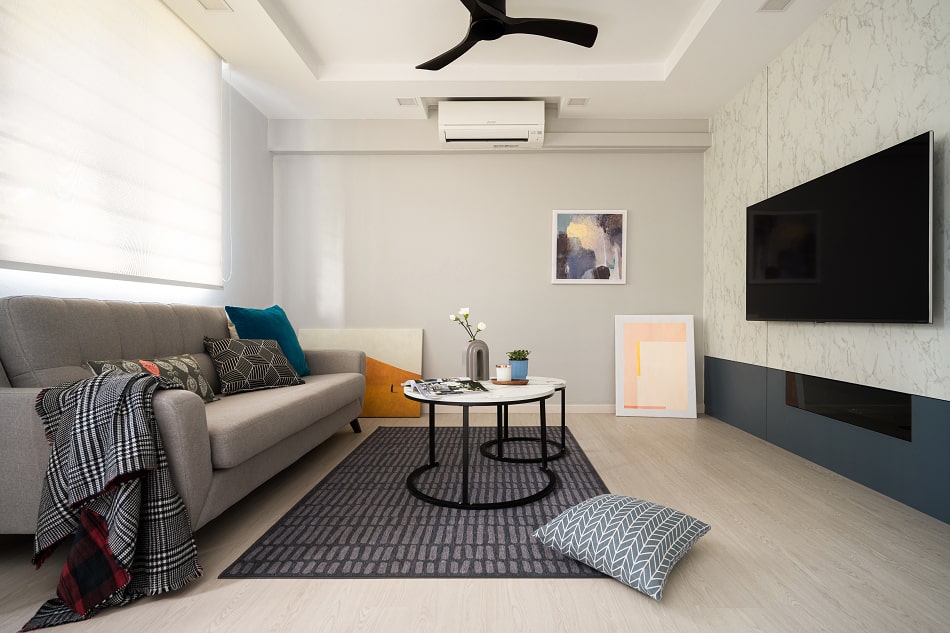 Contemporary dining area
The dining space should also be kept simple with sleek furniture. Whether you have a separate dining room or this area is added alongside the living room or kitchen, its furniture should be sleek and everything else should be kept clean and minimal. Keep the color palette simple and soft. Just add one or two decorative elements or wall art and you should be done. 
As an example, consider the following image of the dining area where simple black dining chairs and a table can be seen. There is just one painting on the wall with no other accessories. Notice how there is a large window that allows the area to be lit up and makes the space bright which would otherwise have become too dark because of the darker color palette selection. A green plant in the corner adds just the pop of color needed in the interior.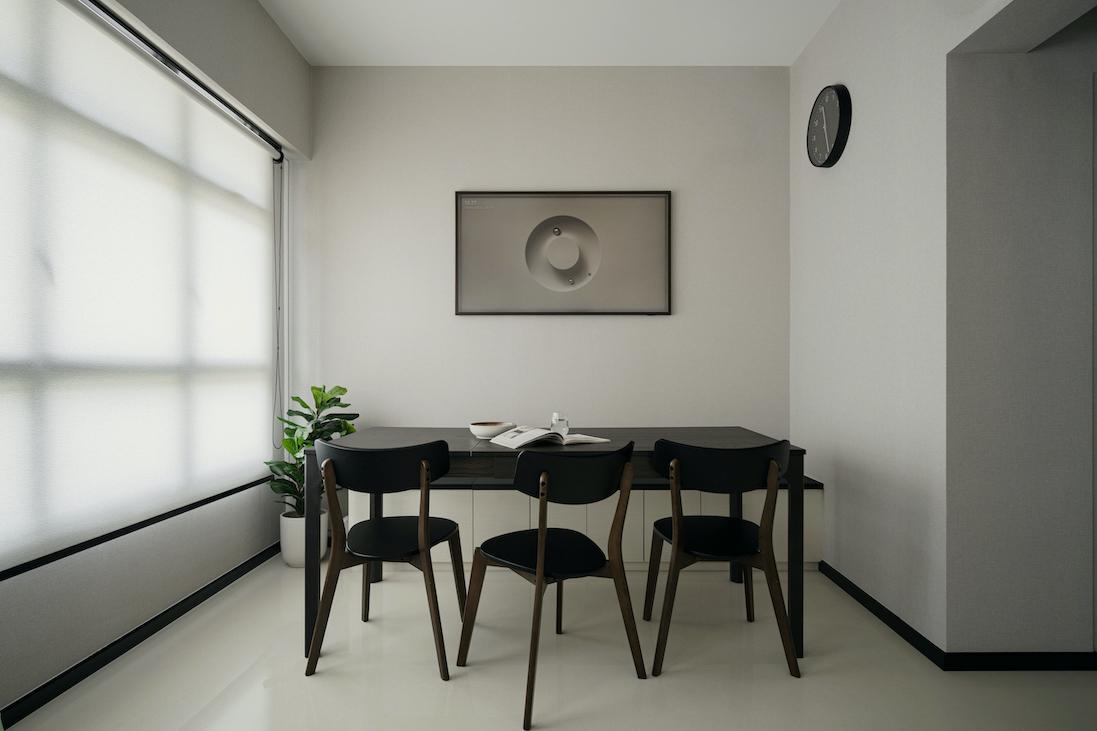 MONOCHROMATIC MINIMALIST @ BUKIT BATOK
Contemporary kitchen
Often people think that the living room and bedroom only should be designed with a particular interior design theme and they often leave out the kitchen. Whereas in reality, the kitchen is where you spend a considerable amount of time cooking for yourself and your family. Therefore, the kitchen interior design should be equally beautiful and functional so that you enjoy your time there. 
Consider the following contemporary kitchen designed by Space Factor as inspiration. As you can see, the kitchen itself is simple but sleek and beautiful. A dark gray and off white color palette creates an elegant atmosphere. In line with this design theme's features, the kitchen is kept neat and tidy with little to no accessories on the countertops. All necessary kitchen elements and appliances are stowed away in storage to create a spacious ambience with no clutter. A contemporary kitchen also often includes a kitchen island that aids in increasing functionality and storage. There are modern lighting fixtures and a huge mirror that do a great job in making the space look trendy and stylish.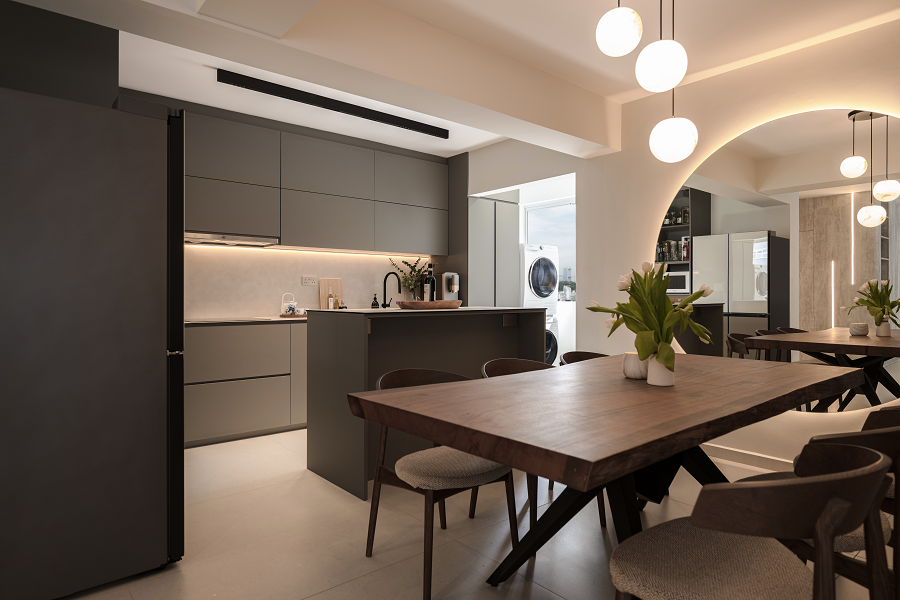 Contemporary bedroom
A bedroom is a place where you go to relax after a hard day's work. It is where you can let go of all the stressors of the world, enjoy your sleep, and wake up refreshed and motivated to start another productive day. Hence, your bedroom interior design should not only be aesthetically beautiful but comfortable and relaxing as well. A contemporary bedroom does just that to create the perfect cozy abode for you.
The following picture shows a contemporary bedroom that is unique and elegant. The color palette is the typical neutral, pastel one with a pair of dark colored sofas. The overall layout of the bedroom is what sets it apart from others. The bed is actually a platform bed where the platform extends from one wall to the other. The relaxing sofa chairs are also placed on the same platform. This creates a small relaxing nook in the bedroom. Coming down from the platform, we can see a sleek study table and chair that adds functionality in the space. The overall outlook of the bedroom? Elegance and comfort!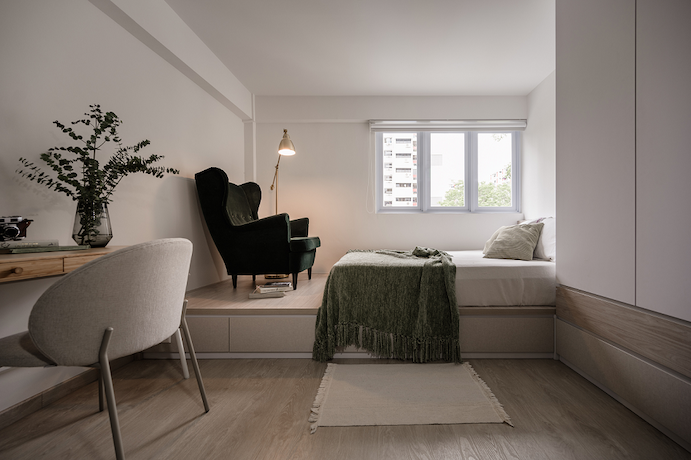 Contemporary bathroom
The bathroom is also another area of the house that is often ignored during interior designing. However, if designed properly, the bathroom can also become beautiful and make you see a continuation of the design theme from the rest of the home.
An example of a contemporary bathroom is shown below. This bathroom takes into account all the necessary features of contemporary interior design and implements them in the form of a neutral color palette. Moreover, uncluttered area is ensured by adding a vanity storage space that can be used to store all the toiletries. The shower area is kept separate in a glass enclosure that adds a modern and trendy touch to the bathroom. The black bathroom fixtures also create highlighted accents in a pastel-colored atmosphere.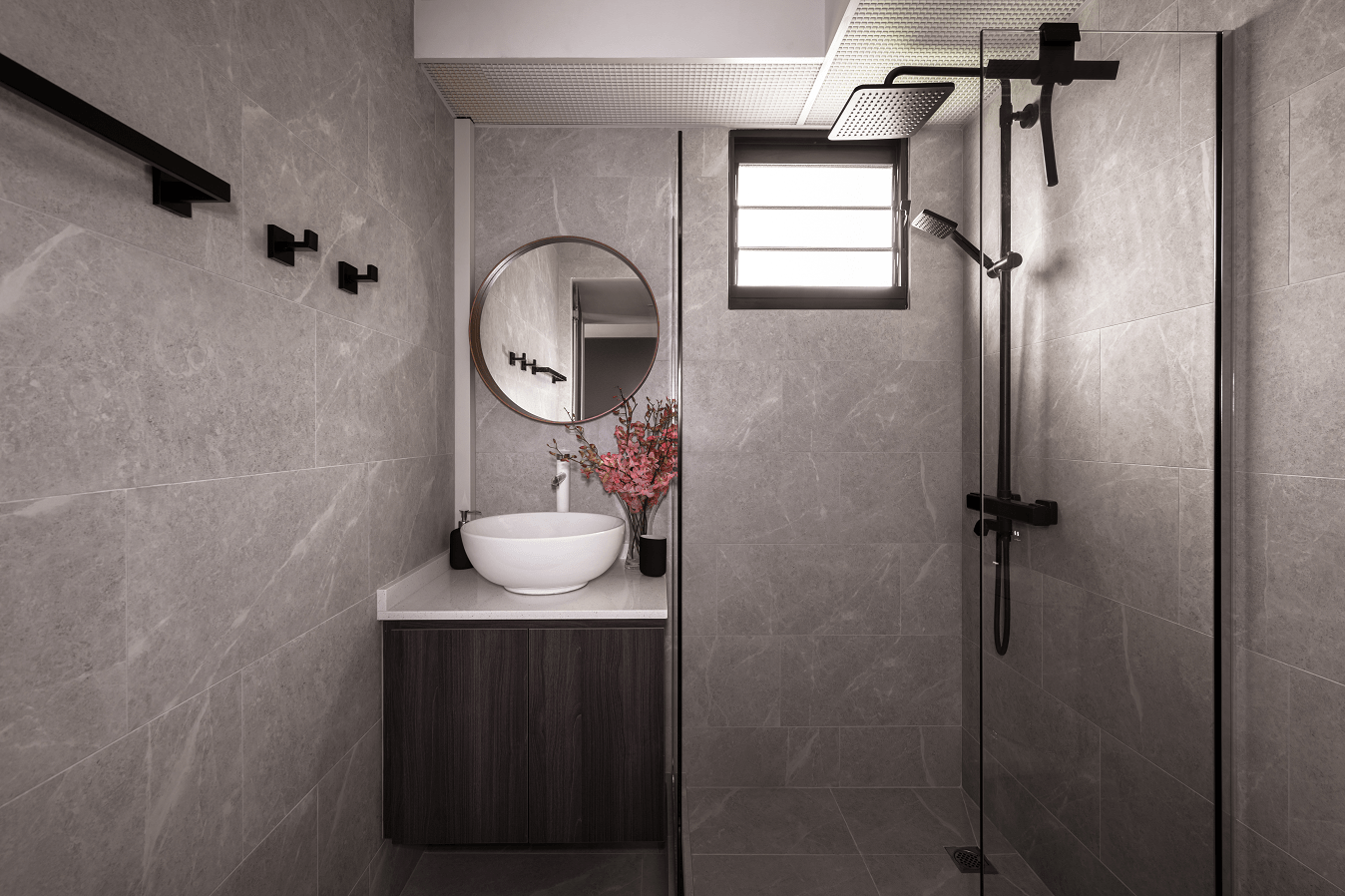 These are some of the ways in which you can achieve a contemporary interior design look in your home. For more inspiration about other interior design styles in Singapore such as Balinese interior design, Colonial interior design style and rustic design style or any other guidance and expert advice regarding interior design, contact Space Factor today.