Bringing Balinese Design Aesthetics Into Your Home Interior
What is Balinese interior design all about?
This design style is grounded in nature and all of its related elements. This is what really makes Balinese interiors stand out from the rest. It has seamless incorporation of the indoors to the outdoors and then vice versa. This is easier said than done when you think about having it in an urban jungle locale such as this property we've renovated in Park Villas Rise. But interestingly, our architects and interior designers surely understood the assignment and hit the nail right on the head in ensuring that modern Balinese interior design was prevalent all over the house's spaces.
There's a good use of foliage or greenery, craft pieces, and that pious but well-balanced sense of spirituality that's much beloved in the Balinese culture and aesthetic. The whole goal for this project featured in our portfolio is to create an interior design that reflects resort living; something that's laid back and something that feels like a respite after a long and hard day at work. We're really happy to have successfully achieved that and while showcasing this portfolio, we'll give you some tips for the pros on how you can, too! You just need to nail the basics and you'll be bringing the Balinese aesthetic into your home in no time!
Looking for more interior design styles? Find modern mid-century design style, colonial-style interior design, warehouse interior design theme, industrial interior design, Scandinavian design style and minimalist interior design on our blog pages. You can also find HDB BTO interior design ideas, 3-Room HDB design ideas, 4-Room HDB interior design inspirations, 5-Room HDB design inspirations and condominium interior design theme ideas.
Here's how to pull it off:
CREATE A "BALE" (STEEPLY ROOFED PAVILION) ADAPTION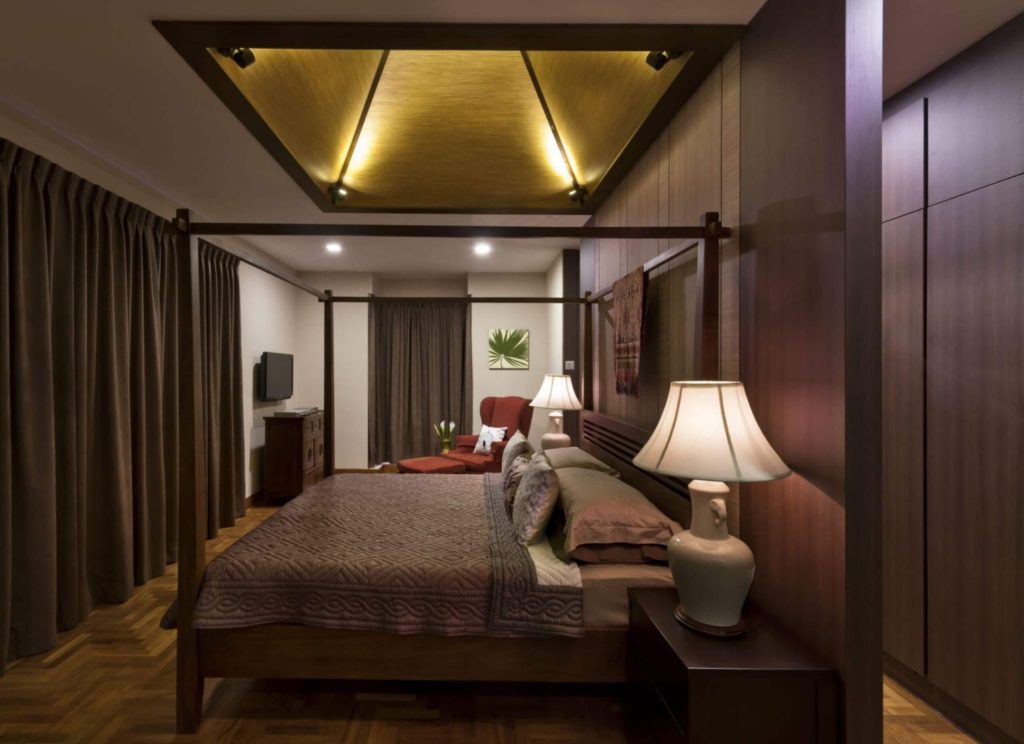 Steep Sunroof Ceiling In The Bedroom
A quintessential Balinese interior design could never be without its steeply thatched roof. This roots more in a need for function rather than aesthetics when it started. Balinese homes needed more airflow coming in and out of the house because of the extreme tropical weather. There's oftentimes a lot of wind or sun or rain or a mixture of everything. It's a natural way to climate control the house. Pictured in this Park Villas Rise bedroom design, we recreated the "bale" as a sun-roof right on where the ceiling was supposed to be over the bed. It transitioned smoothly into modern Balinese interior design where form conveniently marries function. We just love this major detail! We know you do, too!
INCORPORATE A SMOOTH FLOW OF INDOOR-OUTDOOR LIVING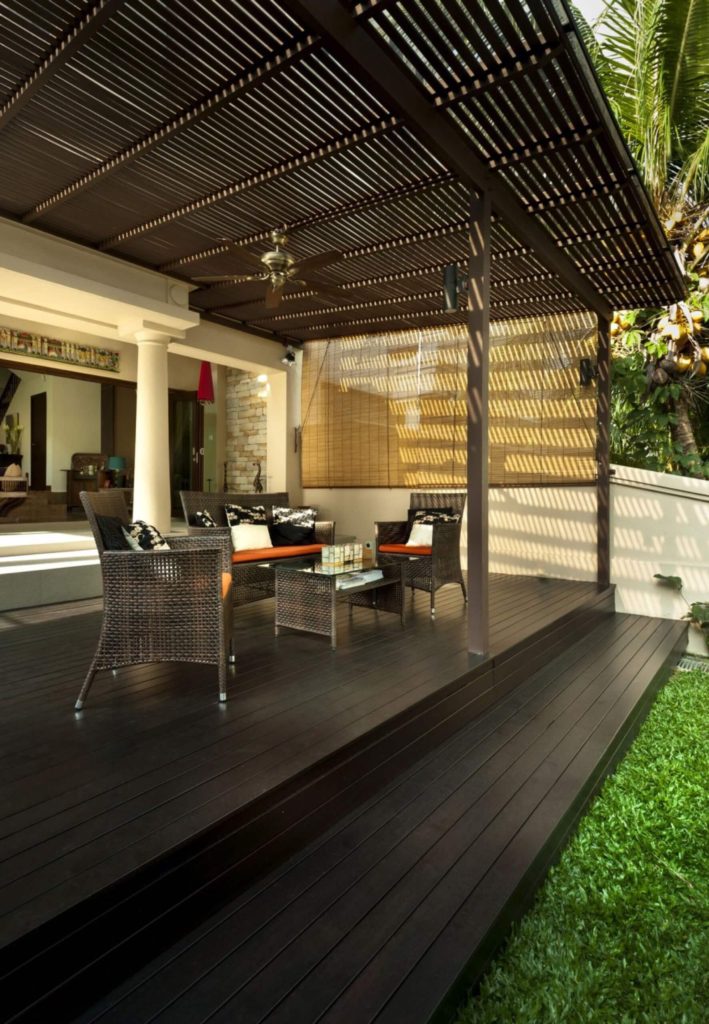 Shaded Porch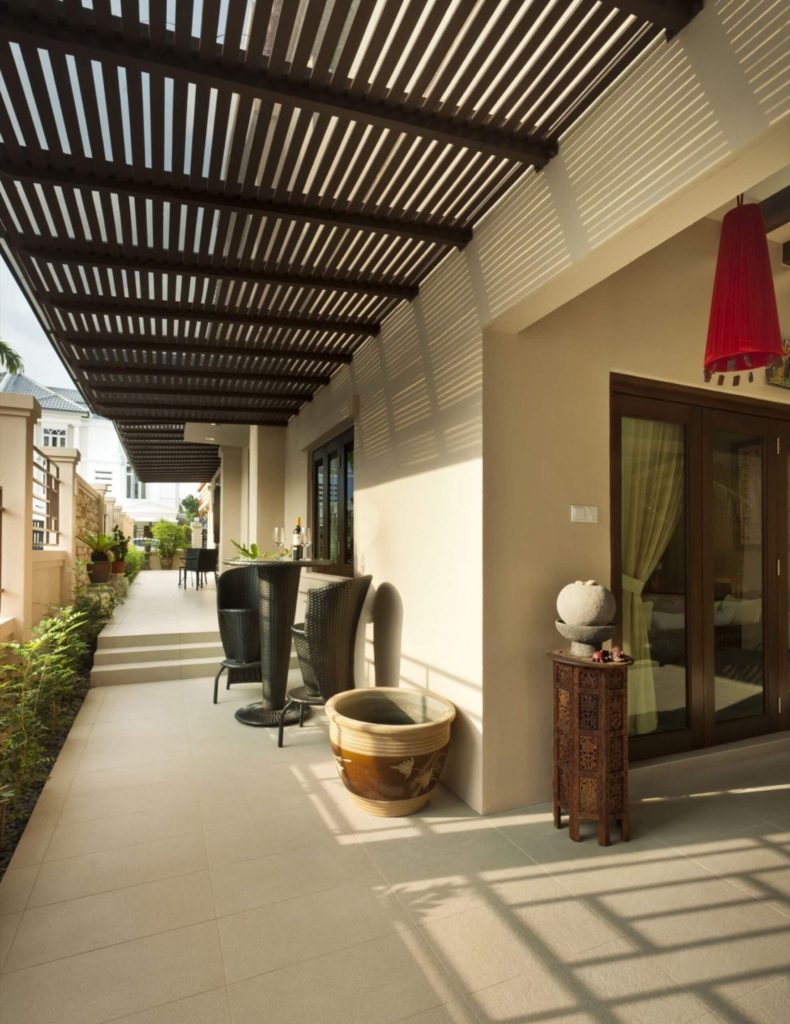 Extended Awning With Seats and Tables
Another thing about modern Balinese interior style design is that it isn't exclusive to the interiors. The interiors and the exteriors always smoothly flow right into each other. It's a concept that's regarded as "free-flowing living spaces" and something that we kept in mind every step of the way when we created this shaded porch and extended awning with seats and tables. The vibe is that the indoors are kind of spilling over to the outdoors and that's exactly what we've achieved here for this Park Villas Rise landed property interior design. You can, too. Invest in some wicker furniture, or any other type of natural jute or seagrass furniture, add in some tactile cushions, and you're definitely halfway there.
BALINESE LANDSCAPING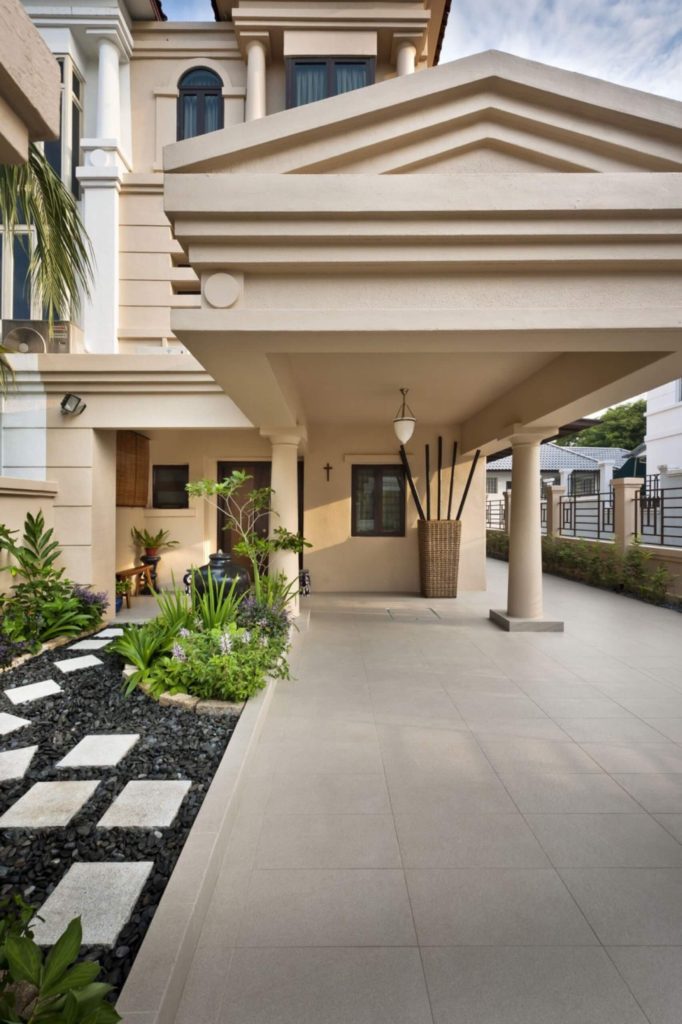 Minimalist Balinese Landscaping
And of course, who can ever resist the clean, and very minimalist Balinese landscaping? The best part of this is that you can completely do it in a walled compound, which is what it's all about in the first place. Balinese landscaping is all about having rock gardens, some very well-placed plant islands, and very clean lines. We thought the stark white stone pathways contrasted quite nicely against the black cut stones. It's sparse, but also has a certain eclectic sense of design in it and we feel like it really showcased a resort vibe entrance, preparing the onlooker visually for a delightful modern Balinese interior design experience the moment that they enter the space.
SHOWCASING OF CRAFTSMANSHIP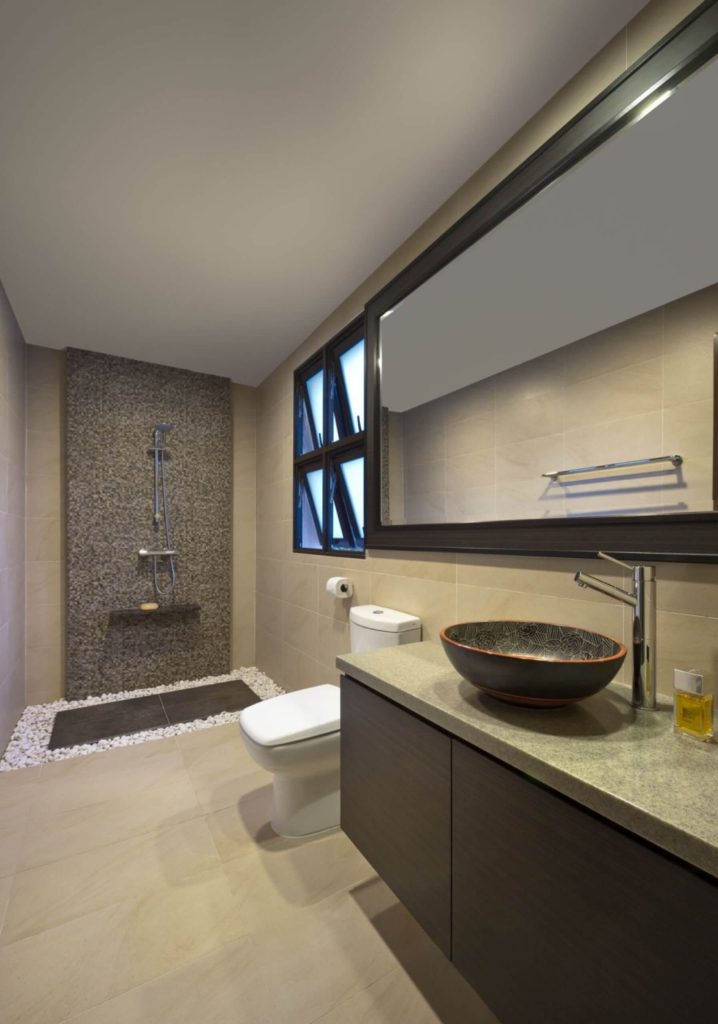 Bowl-Type Glazed Earthenware Sink In Bathroom
Another way to really nail modern Balinese style interior design down pat is to showcase craftsmanship along with the layout. It can be anything to everything from batik fabrics, to earthenware and ceramic pieces, and the like. Pictured here in this Park Villas Rise bathroom is a bowl-type glazed earthenware sink that also serves as a grounding focal piece for the space. We love the dark brown elements that accentuate it as well from the shower's dark patterned natural stone backsplash to the shower floor tiles contrasted with smooth white loose pebbles, to the dark-colored sink cabinet doors. You don't need a lot of craft pieces, either. Get one to two basic ones and make sure that they command the attention of the room and you're in for a real treat!
PLAY AROUND WITH TEXTURES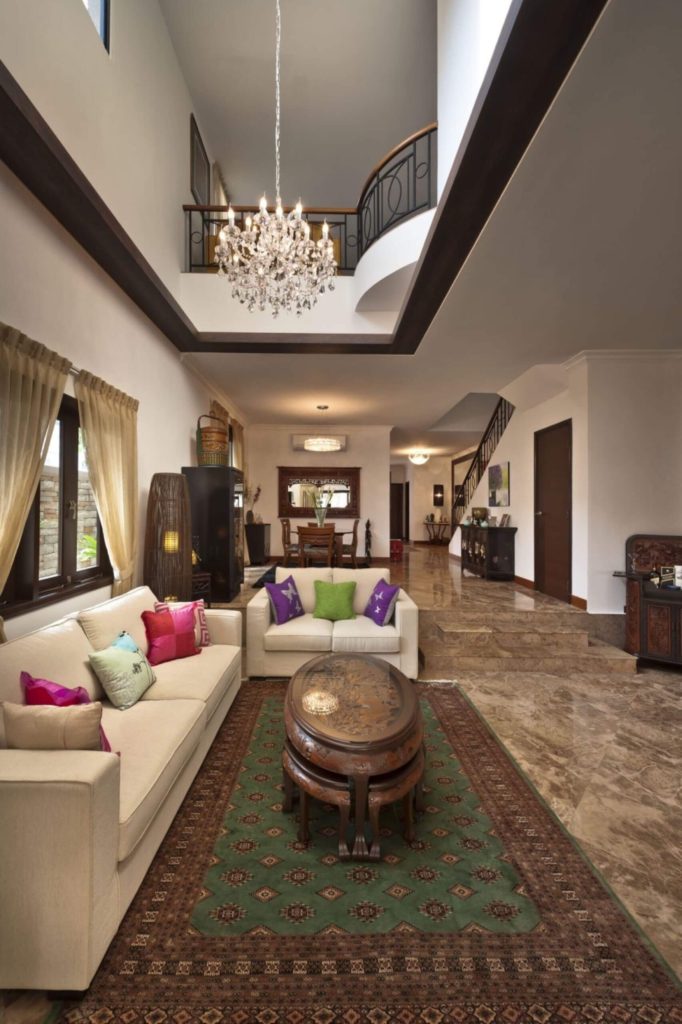 Living-Dining Space
This is so expertly done in this living room interior design. It really embodied modern Balinese style interior design with a good play of patterns, colors, and organic wood elements. Pictured here are a traditional patterned Balinese rug, a heavy ornamental oval coffee table, and even the seagrass lamp enclosure on the far left. The throw pillows are a dead giveaway to the aesthetic as well and something that you can easily replicate with a quick trip down to your local home store.
GROUND WITH EARTHY COLORS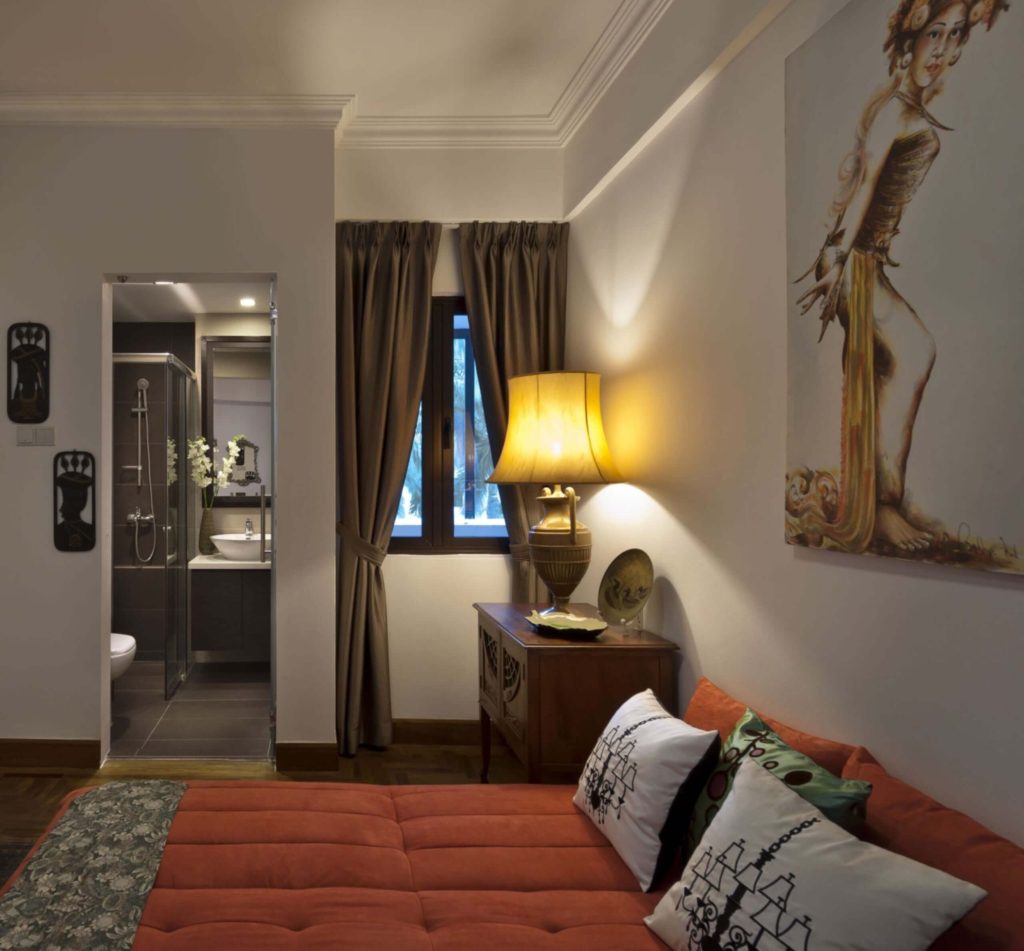 Grounding Effect
And of course, you can never really go wrong when you use earthy colours as a base for your Balinese interior design efforts. In this property's second bedroom, we played around with greys, browns, rustic style reds, and whites to create a cohesive "grounding" effect that the Balinese aesthetic is popular for. You can do it without any major cosmetic upgrades. Just play with the colours of the fabrics and other decorative portable elements you include in the space. Some art on the side certainly wouldn't hurt, either so feel free to explore and be creative similar to what we've done with this space. We also took a play on silhouettes from the painting, to the brass and wood art we hung up on the walls.
THE TAKEAWAY
Achieving a flawless modern Balinese style interior design isn't an impossible feat. Focus on indoor-outdoor flows, the "bale, rock landscaping, craft pieces, and other organic materials and you should be well on your way to creating your very own resort-style home soon! Space Factor provides services for BTO or Resale HDB renovation, condominium renovation and landed property renovation for homeowners in Singapore. Start building your dream house with us today!
Check out more articles: