Reviving Retro Charm with Modern Mid-Century Interior Design
Mid-century modern interior design appeals to every taste and personality because it's easily customizable no matter what your main preferences are. This HDB in Eunos was redesigned to suit the fairly minimalist but creative palette.
Mid-century interior design is all about appreciating vintage aesthetics but with the basic fundamentals of functionality in mind the whole time. It's a cohesive hodgepodge of modern and vintage and it's quite understandable why it has a certain appeal in its versatility. This is exactly what we've accomplished for this HDB. It has an eclectic feel to it that's both cozy and otherworldly. The pictures don't really do it that much justice as walking through this HDB space feels like you're walking through another dimension in time but with all of the functionality of modernity. Alternatively, you can try going for a colonial-style interior design.
Looking for more interior design styles? Find industrial interior design, warehouse interior design theme, and Scandinavian design style on our blog pages. You can also find HDB BTO interior design ideas, 3-Room HDB design ideas, 4-Room HDB interior design inspirations, 5-Room HDB design inspirations, condominium interior design theme ideas, and landed property interior design theme inspirations.
HISTORY OF MODERN MID-CENTURY DESIGNS
The mid-century modern interior spans the time periods between the early 20th century to the mid-20th century, specifically between 1930 to 1950. The 19th-century interior and architectural designs featured ornate and formal details which were quite unique and classic. However, some events in history including the world wars influenced this revolutionary change in design where the mass production of a variety of materials and textures opened new doors for designing interiors.
As more and more people migrated towards urban living, new interior design requirements arose for living in smaller spaces. These new requirements together with the 20th-century German Bauhaus movements influenced designs of that era which would later be coined as modern mid-century. Backed by the industrial revolution and new developments in the fields of architecture and production, the types of materials and textures for interior design shifted towards much more easily-available and affordable options. Therefore, when we talk about modern mid-century interiors, it not only includes the types of furniture but also other elements that are used to accessorize the interior.
CHARACTERISTICS OF MODERN MID-CENTURY INTERIOR DESIGN
A modern mid-century interior is characterized by certain features that serve as the foundation on which other layers of designs are built. This design style is dominated by functionality, simplicity, clean lines, muted tones, and a classic subtle look. The following characteristics must be kept in mind while designing a modern mid-century home:
Functionality
One of the main characteristics of this design style is that it is highly functional. Every element in a room is there for a purpose; there are hardly any unnecessary elements there except for a few that are used as decorative items.
Minimalism
Another important characteristic of this design is that the interior is simple and functional with minimum clutter. As discussed above, all elements offer some form of functionality but their design and size is also quite simple and sleek to avoid taking up unnecessary space and creating a messy space.
Muted tones with few vibrant colors
A modern mid-century interior features natural, neutral tones such as black, gray, white, and brown as the base colors and then uses a few vibrant colors as accents. The undertones are usually natural hues including earthly browns and greens, ocean blue, and bright sunny yellow.
Intermix indoor and outdoor elements
This design also fuses together indoor and outdoor elements to create a perfectly balanced interior where everything complements each other. Outdoor elements like plants, flowers, rocks, and pebbles can be seen inside the rooms whereas the outdoor areas can be converted to relaxing sitting areas by placing comfortable sofas and chairs. Large windows that allow the outside view to be seen help create the illusion of a beautiful visual flow between the indoors and outdoors. This intermix of indoor and outdoor elements is a key characteristic of the modern mid-century interior.
Fusion of various materials and textures
The fusion of various types of materials such as man-made and natural materials is also quite visible in a modern mid-century design. Therefore, you would see plastic, vinyl, and other synthetic materials along with wood, glass, and metal in the interior. These varying materials and textures blend together to make a classical and elegant statement.
WHAT'S IN ITS APPEAL?
The main appeal of this modern interior design comes from the fact that it can work in large and small spaces alike. This is because its furniture is adaptable to easily suit any type of space. It's practical, durable, and extremely livable even for fairly huge families. This flat in Euros whispers understated elegance and has a breeziness to it that's being toned down by its subdued colours. It's a relaxing take on useful minimalism and is tangible proof that less really is more as far as this design scheme is concerned.
The principles of rethinking modern mid-century interior design for your own apartment are fairly simple and finite. Here are some ways for you to get replicate what we've done for this portfolio.
HOW DO YOU CREATE THE LOOK?
Introduce geometric and organic shapes into the design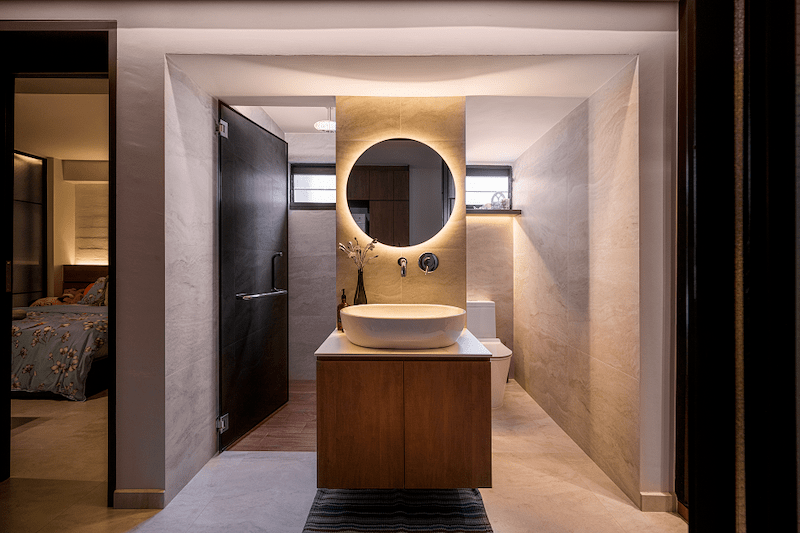 Circular Mirror In Bathroom
When embellishing your home with furniture pieces and other decorative elements, try to go for those that have minimal ornamentation to offer. Again, it's always formed over function with this one. In this Eunos apartment's bathroom entryway, the main focus of the space is the circular mirror's backlit positioning. There aren't a lot of other things included and the design is even borderline Spartan in its overall look and feel.
Always choose function over form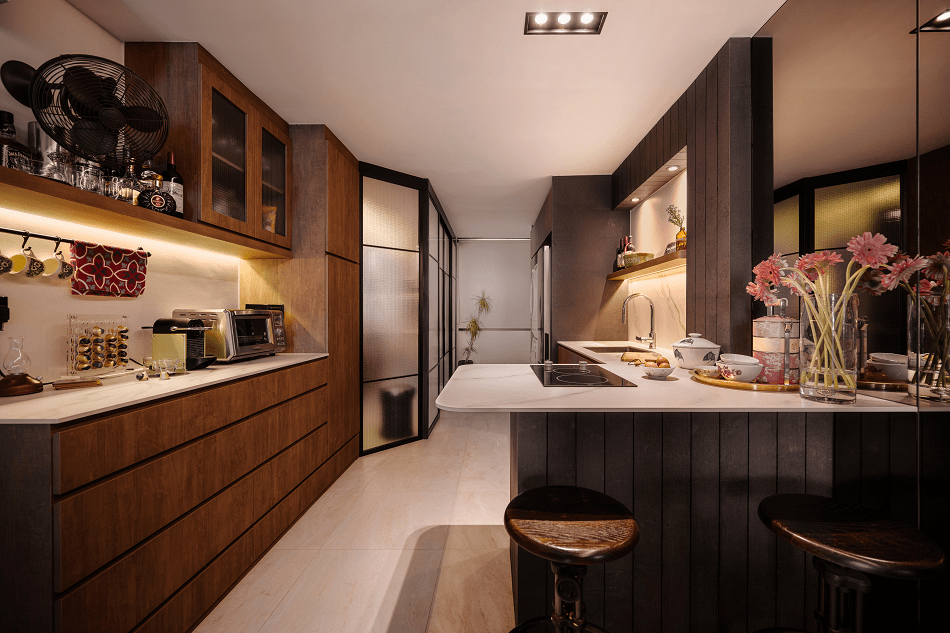 Flat Slab Concealed Drawers In Kitchen
In this kitchen interior design layout pictured below, not a single inch of space is put to waste. Everything has its own purpose and everything is easily usable. The kitchen is an area in the home or in the apartment that gets the most amount of foot traffic and any dead or negative spaces could end up ruining the mid-century modern interior design vibe you're going for. The flat slab concealed drawers stretch out the lower horizontal space of the kitchen countertop, creating a fuss-free and clutter-free environment in the kitchen, the way it should be when you keep practicality and functionality in mind the whole time.
Minimal ornamentation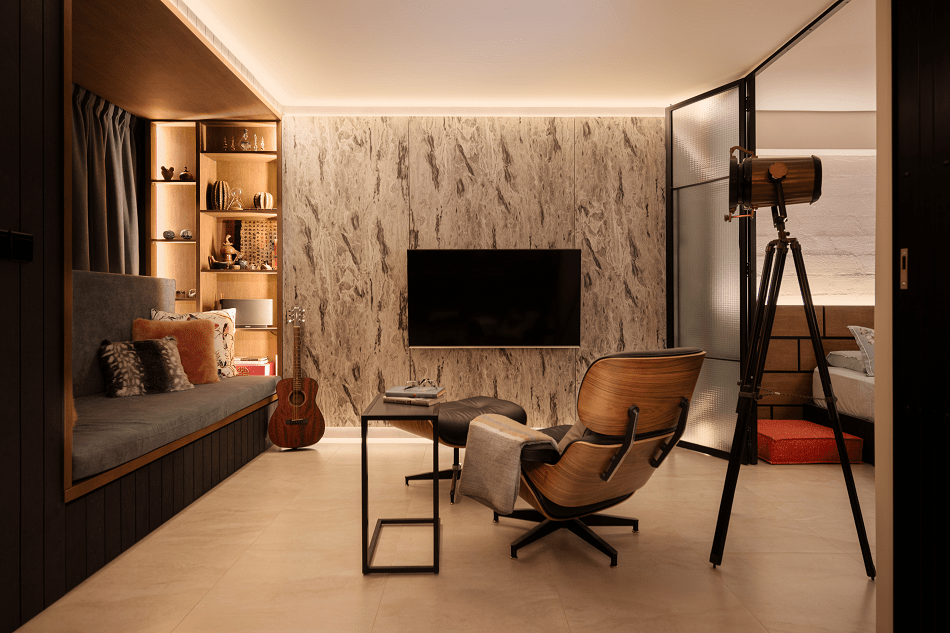 Cozy Recreational Space
Some would say that mid-century interior design is bordering on the masculine and we don't disagree. This recreational space pictured above doubles over as an HDB version of a "man cave" and we have absolutely no regrets about it. We incorporated upholstered dormer seats by the windows and in staying true to the theme, we made sure not a single square footage of vertical space is put to waste by utilizing the corner by converting it into additional storage via open shelves. It's sparsely furniture but every single piece has its own purpose and function, all the way down to the highly aesthetic spotlight lamp on a tripod. It's like a scene out of a retro film and we're absolutely in love with it!
Contrasting textures and mixed materials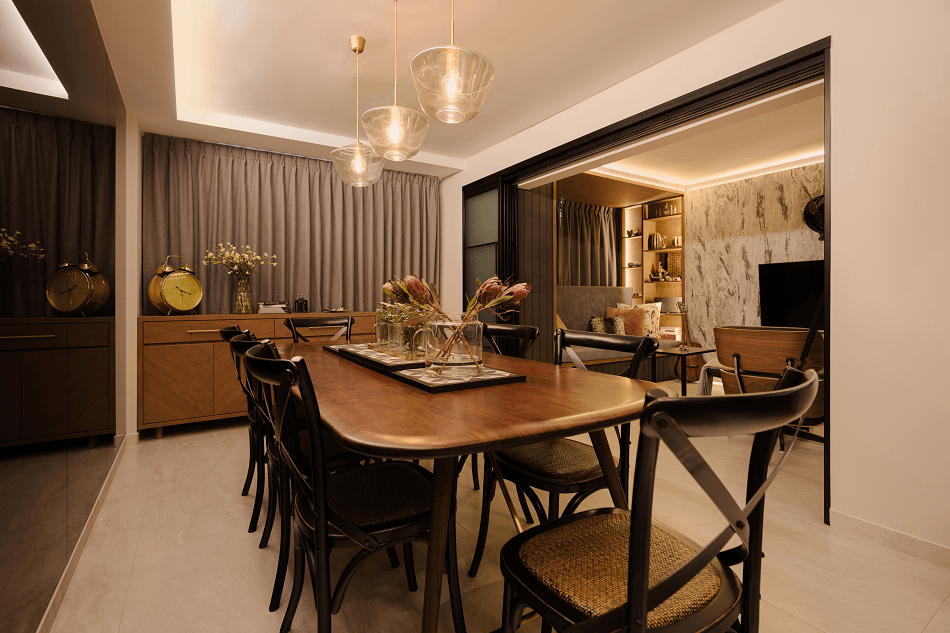 Contemporary Dining Room
This dining room area is still kept really clean and minimalist, as with the rest of the spaces in this Euros HDB and yet, from first glance; you can tell that there's a lot going on here. Right off the bat, the low-hanging clear glass pendant lights command the attention of the room. Its polished modernism is then offset and balanced out by the solid smooth flat dining table, paired with rustic style dining chairs with woven wicker seats. The brass clock at the end of the room brings in an art deco element while the full-sized wall of glass throws in a taste of the contemporary. It really is mid-century modern interior design at its very core. Similar to what we've done here, don't be afraid to experiment with different materials and different textures. For as long as the overall look comes together, the sky really is the limit. Bringing the synthetic and organic elements together really works with this concept at the end of the day.
Use neutral and bold colors together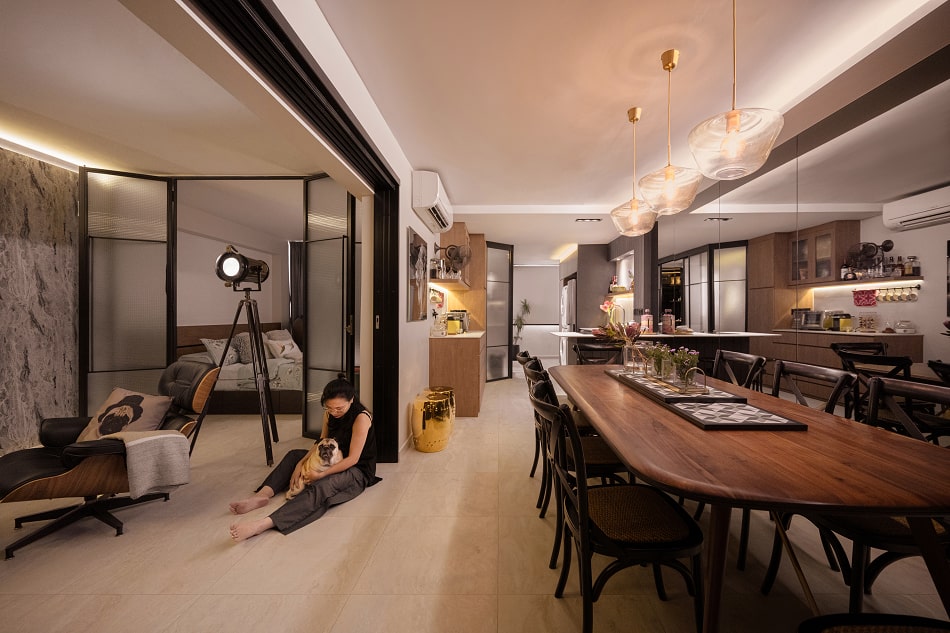 Home With Neutral And Bold Colors
The overall look and feel of mid-century interior design are really more on neutral and subdued colors. It's really more of creating a monochromatic backdrop but with the occasional splash of color here and there to spice the space up. Pictured here are small splotches of yellow and gold coming from random items in the space such as the tambourine side seats, the brass fixtures from the pendant lights, and even the fresh green of indoor plants.
It's definitely very possible for you to go a little avant-garde with your color choices. You can even opt to have an entire brightly colored accent wall in any of the spaces in your home if you so choose. The only important thing for you to keep in mind is that you ought to make sure that it doesn't end up overwhelming the space. A pinch of creativity here and there can really tie the whole look in so play around with it. Go with what feels right and feels like "you".
INSPIRATION FOR YOUR MODERN MID-CENTURY HOME
Modern mid-century interior design is a popular style for homeowners in Singapore as it offers great functionality, simplicity, and bright space. Not only is the space much brighter in this design style, but it is also much more comfortable and functional. It also offers a unique atmosphere where you can see modern and vintage elements come together in beauty and elegance. The following sections offer inspiration for your dream modern mid-century home, room by room.
Modern Mid-Century Living Room
In a modern mid-century living room interior design, the space is fashioned to showcase all the specific features of this distinct design style like the varying materials and textures, natural colors, vibrant accents, and a fusion of old and new furniture. Therefore, you need to create a focal point in the living room which best exhibits these distinct qualities. If your main focus is to accentuate the natural elements of the room, then keep them in focus through various forms of lighting and use bright colors to create accents around them.
Moreover, don't skip out on adding some form of old and new elements to create the harmony and balance that modern mid-century design exhibits. Lastly, don't overcrowd the space and keep things minimal.
The following portfolio of a living room can serve as an inspiration for achieving that modern mid-century look. Here, we see various mid-century materials such as marble, jute couch, and wrought iron decorative shelves. However, these elements are balanced by adding a modern touch through deep blue accents, wooden window blinds, and modern warm lighting. A wrought iron/wood coffee table acts as the perfect definition of modern mid-century in this living room.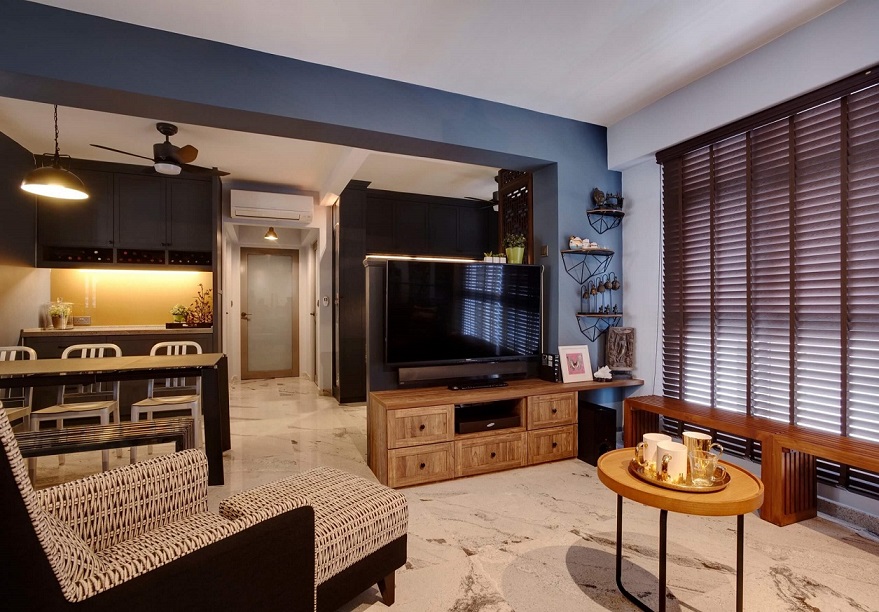 Modern Mid-Century Bedroom
The bedroom is that area of the house that must be comfortable and cozy above everything else. However, that does not mean that it cannot follow the design theme and style incorporated into the rest of the house. Thankfully, a mid-century modern bedroom interior can be elegant as well as comfortable. You can keep indoor plants and soft furry elements to create that comfortable atmosphere. Soft woolen bed linen, shaggy carpets, and velvet curtains also create a sense of comfort and calm in a bedroom. However, a touch of vintage and old is also necessary for this design theme. This can be achieved by using vintage beds and side tables. You can even place retro lamps or vintage lamps with intricate carvings that make them look as if they are from the Victorian era.
As an inspiration, consider the following bedroom portfolio at Meng Suan. This bedroom is a beautiful manifestation of the modern mid-century interior with a fusion of old and new elements. The raw, rugged brick wall and the four-poster wooden bed all exhibit an old effect. The hardwood flooring and the comfortable sofa add a luxurious touch to the space. The earthly color tones and the bright interior thanks to the sunlight flowing through two large windows bring together natural and man-made elements in beautiful harmony.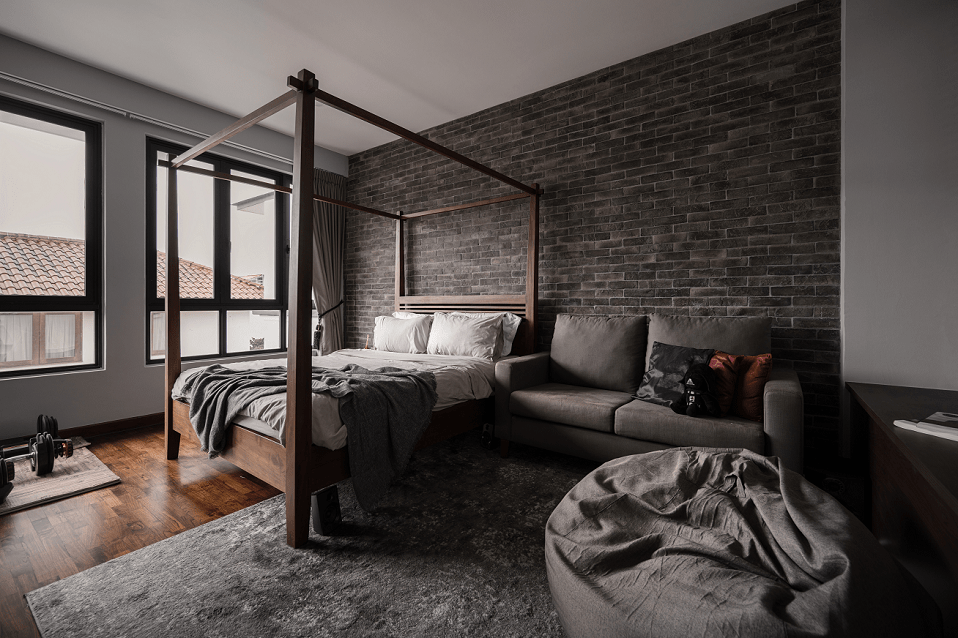 Modern Mid-Century Kitchen
A modern mid-century kitchen should essentially have all the characteristic features of this design. This includes minimalism, functionality, and a mix of old and new. To make your kitchen functional, incorporate as much storage as possible. This will also help in keeping the space clean and decluttered. The old and new elements can be combined by choosing traditional cabinets and shelves while keeping the walls and countertops modern. Such a kitchen should ideally be white since white helps to create an airy and spacious atmosphere. Some deep or vibrant colors should then be used as accents to bring some depth and character to the atmosphere.
The following kitchen interior design shows exactly how to achieve a modern mid-century feel. The kitchen is predominantly white with a deep ocean blue shade chosen for the shelves. The backsplash has a traditional pattern that transports you to the early 20th-century country homes. All the cabinets provide ample storage, thus allowing the homeowners to keep the area decluttered. The white marble countertops act as the ideal fusion with the blue shelves to take the appearance of this kitchen to a whole new level.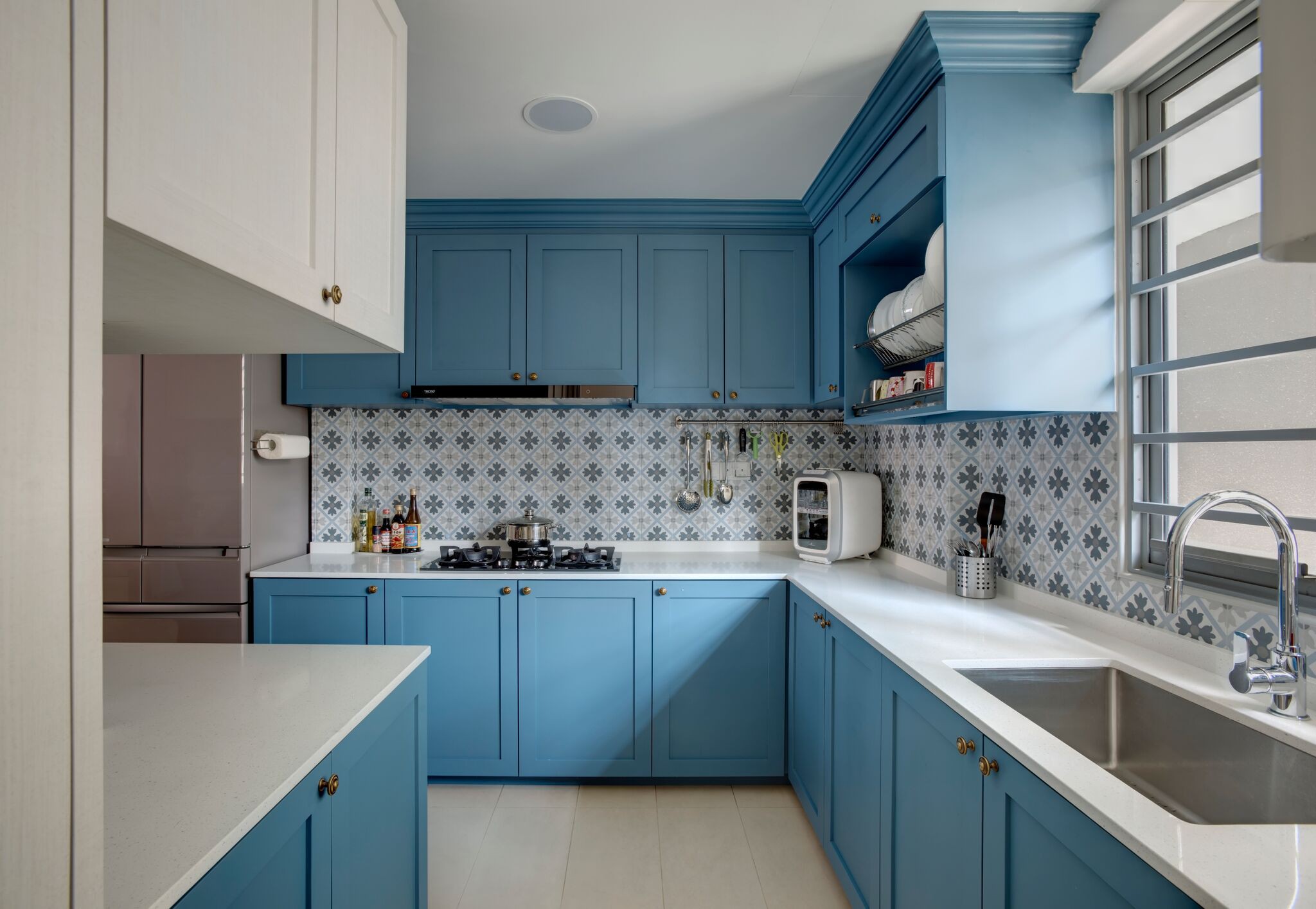 Modern Mid-Century Bathroom
A bathroom is often ignored when designing a house and the general design theme of the house is often not incorporated into the bathroom. However, you can easily incorporate a modern mid-century design in your bathroom as well. Just keep the key characteristics of this design style in mind and add the bathroom elements accordingly. This could be translated in the form of traditional bohemian tiles for the walls to give an old, retro feel whereas stylish bathroom fixtures could be chosen to fuse them with the older elements. Again, incorporate storage areas into the design to keep the space uncluttered.
The following bathroom shows how you can add a touch of modern mid-century look to your bathroom. The color theme is a cool sand color that signifies the outdoor and natural elements of the design. The same colored wall tiles of traditional bohemian patterns give a country feel to the space. Modern toilet fixtures and a glass-door shower area create an elegant harmony of the old and new.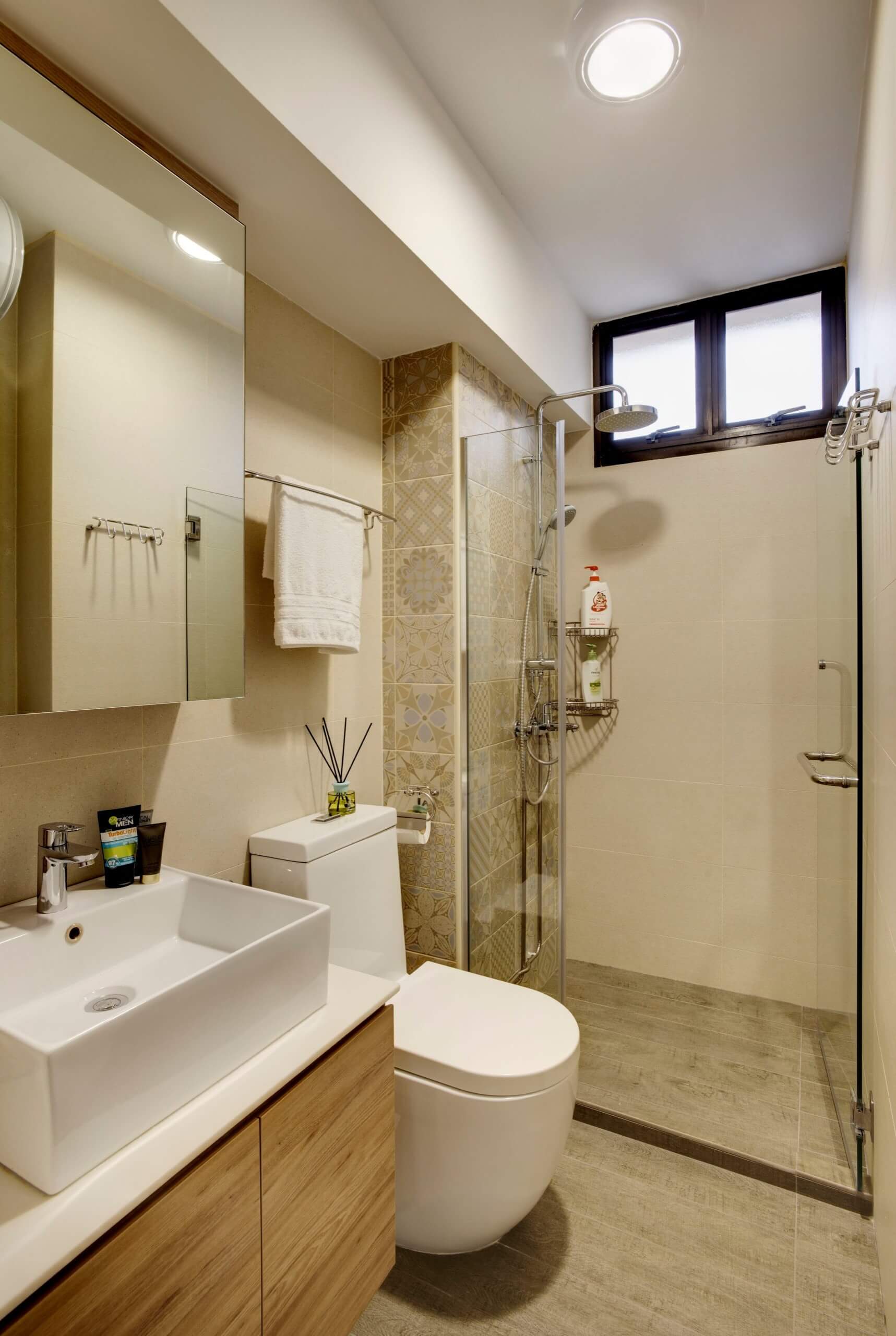 Modern Mid-Century Balcony
If you have a balcony, you can easily incorporate the modern mid-century atmosphere there as well. Just as we try to bring the outdoors inside in the rest of the house, for the balcony, you can aim to bring the inside outdoors. Comfortable seating, which can be an intermix of old and new elements, can help create a relaxing environment on your balcony.
For inspiration, you can check the following balcony at Meng Suan where the designer has chosen a beautiful dull ocean blue shade for the general color scheme. The sofas are a mix of comfort and Balinese designs that blends perfectly well with the modern patterned rug. The hardwood floors, wall hangings, and outdoor fresh environment can make this space a heavenly abode for you. Just imagine relaxing in this open space with beautiful outdoor views while having the comfort of a modern, elegant home. You can simply leave all your worries behind and relax after a hard day at work. It can't get better than this!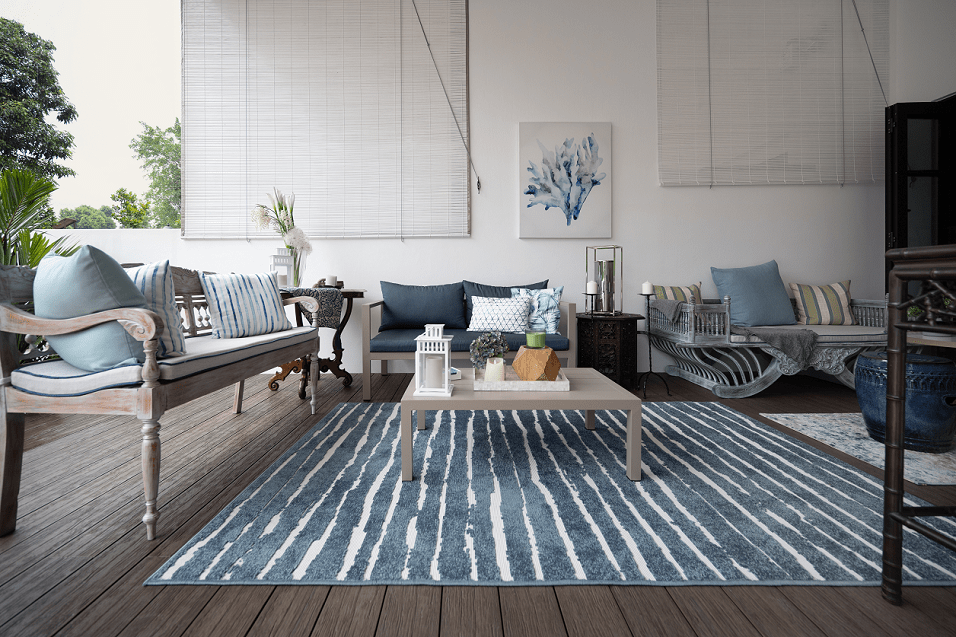 OUR FINAL THOUGHTS
Our final thoughts on mid-century modern interior design are pretty simple. We see it as some sort of "aesthetic cleanse". Don't be afraid to start from a clean slate and build your design layout from the ground up. Keep it vintage. Keep it authentic. But above all else, play around with layers and dimensionality as that's what the whole theme is about! Space Factor provides services for BTO or Resale HDB renovation, condominium renovation and landed property renovation for homeowners in Singapore. Start building your dream house with us today!
Check out our other articles: