Rethinking Modern Mid-century Interiors
Mid-century modern interior design appeals to every taste and personality because it's easily customizable no matter what your main preferences are. This HDB in Eunos was redesigned to suit the fairly minimalist but creative palette.
Mid-century interior design is all about appreciating vintage aesthetics but with the basic fundamentals of functionality in mind the whole time. It's a cohesive hodgepodge of modern and vintage and it's quite understandable why it has a certain appeal in its versatility. This is exactly what we've accomplished for this HDB. It has an eclectic feel to it that's both cozy and otherworldly. The pictures don't really do it that much justice as walking through this HDB space feels like you're walking through another dimension in time but with all of the functionality of modernity. Alternatively, you can try going for a colonial-style interior design.
WHAT'S IN ITS APPEAL?
The main appeal of mid-century modern interior design comes from the fact that it can work in large and small spaces alike. This is because its furniture is adaptable to easily suit any type of space. It's practical, durable, and extremely livable even for fairly huge families. This flat in Euros whispers understated elegance and has a breeziness to it that's being toned down by its subdued colours. It's a relaxing take on useful minimalism and is tangible proof that less really is more as far as this design scheme is concerned.
Read more: 19 Functional Condo Interior Design Ideas for Small Condos
The principles of rethinking modern mid-century interior design for your own apartment are fairly simple and finite. Here are some ways for you to get replicate what we've done for this portfolio.
HOW DO YOU CREATE THE LOOK?
Introduce geometric and organic shapes into the design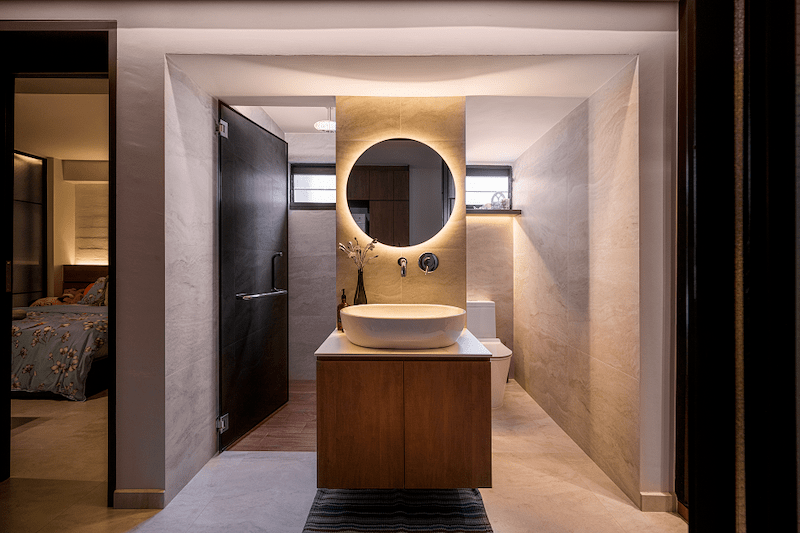 Circular Mirror In Bathroom
When embellishing your home with furniture pieces and other decorative elements, try to go for those that have minimal ornamentation to offer. Again, it's always formed over function with this one. In this Eunos apartment's bathroom entryway, the main focus of the space is the circular mirror's backlit positioning. There aren't a lot of other things included and the design is even borderline Spartan in its overall look and feel.
Always choose function over form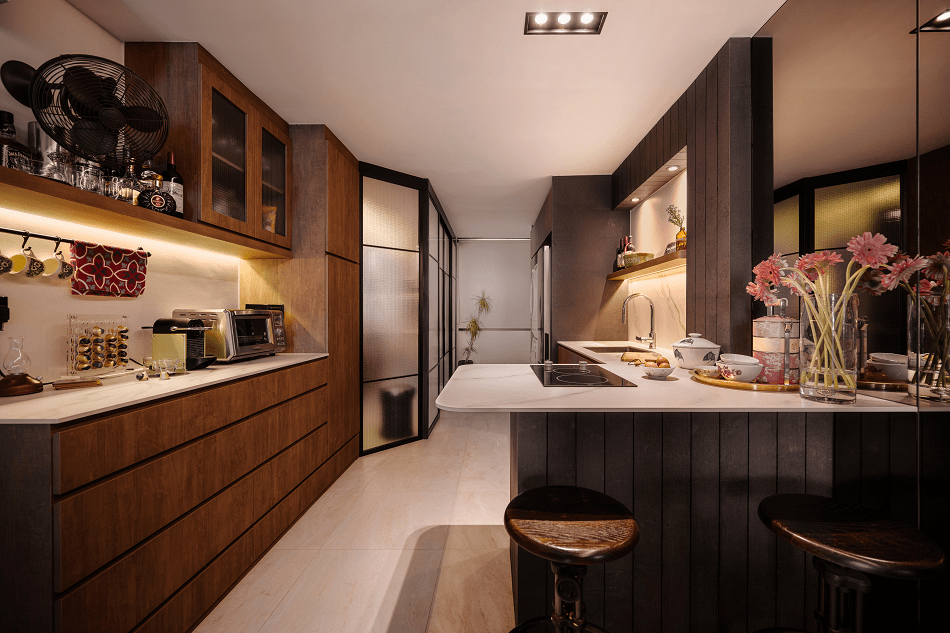 Flat Slab Concealed Drawers In Kitchen
In this kitchen layout pictured below, not a single inch of space is put to waste. Everything has its own purpose and everything is easily usable. The kitchen is an area in the home or in the apartment that gets the most amount of foot traffic and any dead or negative spaces could end up ruining the mid-century modern interior design vibe you're going for. The flat slab concealed drawers stretch out the lower horizontal space of the kitchen countertop, creating a fuss-free and clutter-free environment in the kitchen, the way it should be when you keep practicality and functionality in mind the whole time.
Minimal ornamentation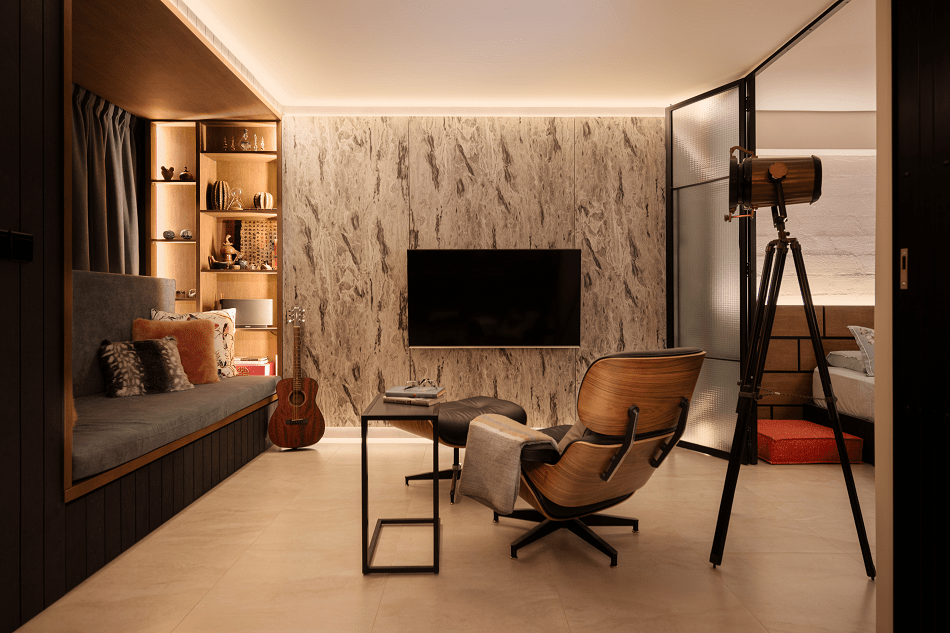 Cozy Recreational Space
Some would say that mid-century interior design is bordering on the masculine and we don't disagree. This recreational space pictured above doubles over as an HDB version of a "man cave" and we have absolutely no regrets about it. We incorporated upholstered dormer seats by the windows and in staying true to the theme, we made sure not a single square footage of vertical space is put to waste by utilizing the corner by converting it into additional storage via open shelves. It's sparsely furniture but every single piece has its own purpose and function, all the way down to the highly aesthetic spotlight lamp on a tripod. It's like a scene out of a retro film and we're absolutely in love with it!
Contrasting textures and mixed materials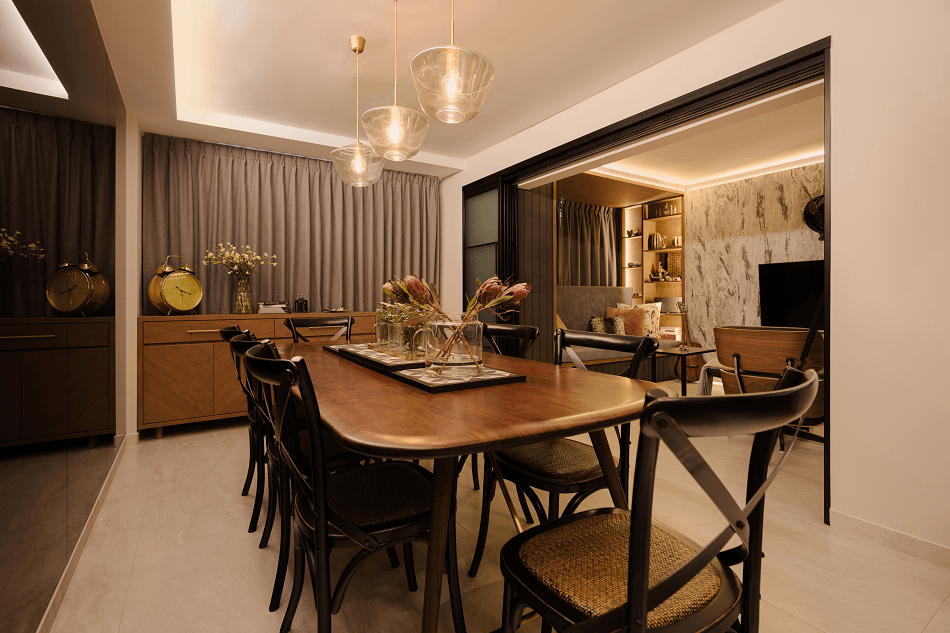 Contemporary Dining Room
This dining room area is still kept really clean and minimalist, as with the rest of the spaces in this Euros HDB and yet, from first glance; you can tell that there's a lot going on here. Right off the bat, the low-hanging clear glass pendant lights command the attention of the room. Its polished modernism is then offset and balanced out by the solid smooth flat dining table, paired with rustic style dining chairs with woven wicker seats. The brass clock at the end of the room brings in an art deco element while the full-sized wall of glass throws in a taste of the contemporary. It really is mid-century modern interior design at its very core. Similar to what we've done here, don't be afraid to experiment with different materials and different textures. For as long as the overall look comes together, the sky really is the limit. Bringing the synthetic and organic elements together really works with this concept at the end of the day.
Use neutral and bold colors together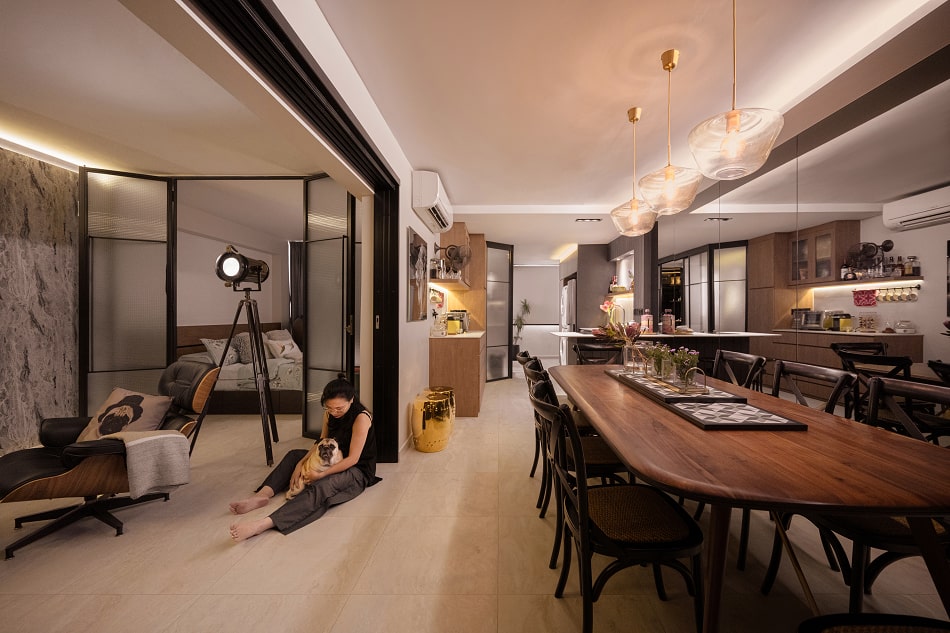 Home With Neutral And Bold Colors
The overall look and feel of mid-century interior design are really more on neutral and subdued colors. It's really more of creating a monochromatic backdrop but with the occasional splash of color here and there to spice the space up. Pictured here are small splotches of yellow and gold coming from random items in the space such as the tambourine side seats, the brass fixtures from the pendant lights, and even the fresh green of indoor plants.
It's definitely very possible for you to go a little avant garde with your color choices. You can even opt to have an entire brightly colored accent wall in any of the spaces in your home if you so choose. The only important thing for you to keep in mind is that you ought to make sure that it doesn't end up overwhelming the space. A pinch of creativity here and there can really tie the whole look in so play around with it. Go with what feels right and feels like "you".
OUR FINAL THOUGHTS
Our final thoughts on mid-century modern interior design are pretty simple. We see it as some sort of "aesthetic cleanse". Don't be afraid to start from a clean slate and build your design layout from the ground up. Keep it vintage. Keep it authentic. But above all else, play around with layers and dimensionality as that's what the whole theme is about! Space Factor provides services for BTO or Resale HDB renovation, condominium renovation and landed property renovation for homeowners in Singapore. Start building your dream house with us today!