Colonial-style Interior Design – Introducing Modern Old World Charm Into Your Apartment
The world of interior design is both wondrous and baffling, especially for those who happen to do it for the first time. If you're in the crosshairs of designing your HBD apartment and you don't quite know which style to go for, modern colonial interior design is something worth taking a look at. It's the perfect marriage between the old and the new. Some would say there's a romantic yet practical vibe to it and it's the reason why it appeals to so many. It's a notch up compared to the usual styles you come across. It's definitely more complex than just traditional, contemporary interior design or farmhouse rustic themes. It's a tricky endeavor, indeed. And yet, oddly satisfying and still easy enough to bring together! You just need to know what key elements to anchor the interior design on.
In this article, we'll walk you through some of our portfolios we've revamped with the essence of British colonial interior design in mind. These renovated spaces have just the right touch of nostalgia but are still equipped with the everyday practicality of daily life, making it both aesthetic and functional at the same time. We played on asymmetrical elements, wooden floors, and the warmth of wood, bricks, and other natural stones. These portfolios are great guides for when you're trying to recreate the look!
We opted for a black-and-white color scheme with the occasional splash of color from organic elements added into the space such as plants, wood, and rattan accents. It's just absolutely impossible not to fall in love with this Colonial interior design Singapore style right off the bat!
The basics are pretty simple. Go for clean, white spaces. Highlight symmetry and clean edges and lines especially with the doors, windows, and basically anything else that has a border or a frame to it. Here are a few more tips down below.
Looking for more interior design styles? Find modern mid-century design style, balinese design style, warehouse interior design theme, Scandinavian design style, Industrial interior design and minimalist interior design on our blog pages. You can also find HDB BTO interior design ideas, 3-Room HDB design ideas, 4-Room HDB interior design inspirations, 5-Room HDB design inspirations, condominium interior design theme ideas, and landed property interior design theme inspirations.
PRIORITIZE FUNCTIONALITY IN THE KITCHEN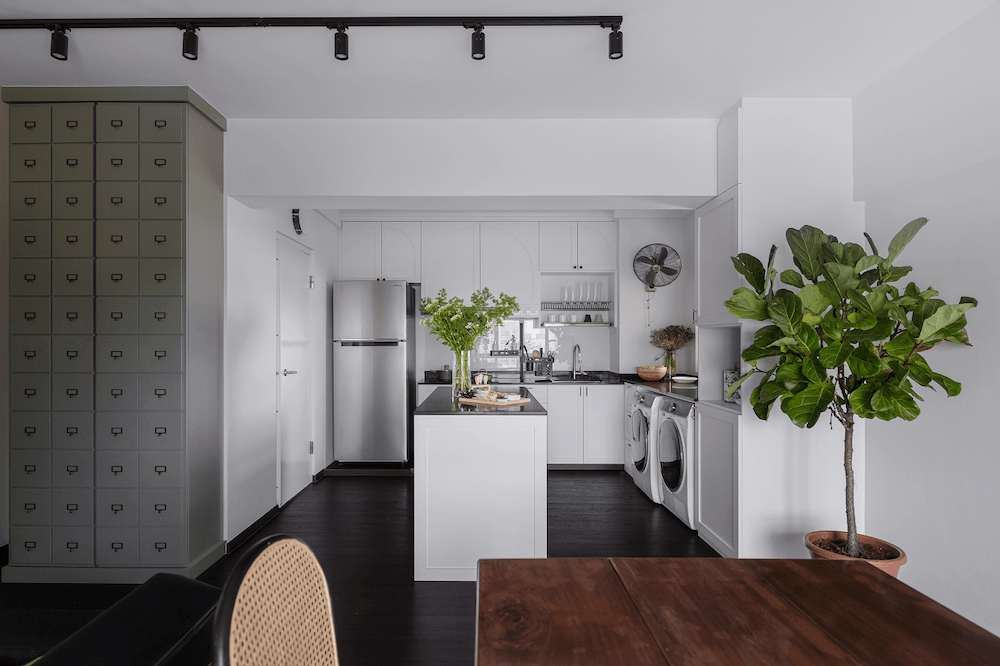 Apartment Kitchen @ Tanglin
This open-concet kitchen is the heart of the apartment but it also happens to be the most used and the most functional one. It receives a lot of foot traffic so our design scheme in this Tanglin apartment's kitchen interior design is to stick to a conservative yet modern colonial interior design. We laid out an all-white Shaker inspired cabinetry with minimal, almost inconspicuous hardware to achieve that clean and seamless look. There's exposed kitchenware on open floating shelves, staying true to the colonial interior design Singapore concept while the potted plant and vases of assorted greenery and flowers added an earthy touch to the space. The quintessential bladed fan is quite quaint and hard to miss on this one! If you are into earthy interior themes, we recommend checking out our article on aesthetic 3-room HDB design ideas.
MAKE USE OF HUGE CEILING FANS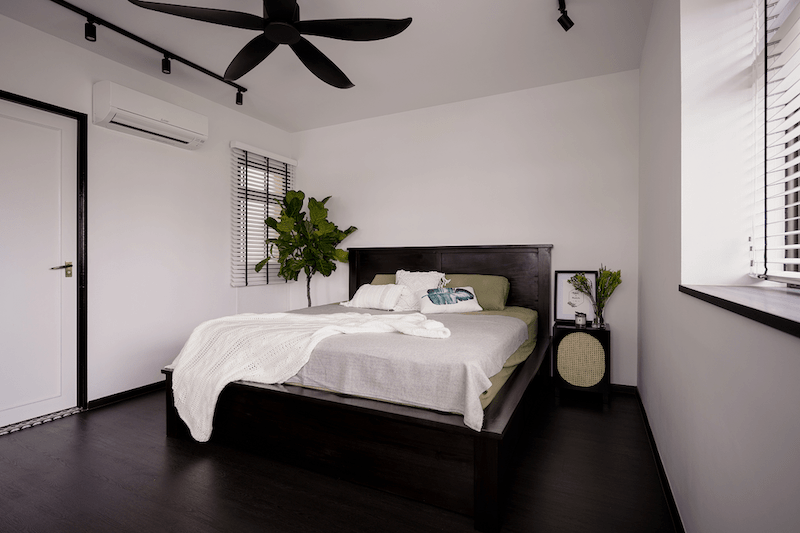 Huge Black Ceiling Fan In Bedroom
The concept of British colonial interior design was birthed from the concept of bringing the West into the tropical location of the East. This is where ceiling fans come into play and take front and center. Despite being already equipped with an air conditioning unit, we made this huge black ceiling fan the focal accent of the bedroom interior design pictured here. It's definitely eye-catching and commands attention the moment that you enter the room.
ADD LOTS AND LOTS OF INDOOR PLANTS
Beautiful Indoor Plants In Living Room-Dining Room Area
The easiest way to exude the cultured yet tropical vibe that's demanded by this colonial interior design Singapore effort is the introduction of a lot of indoor plants into the layout. In this living room interior design, we did just that. In this image, we opted to pick one main big potted plant to be part of the scene. It takes up very minimal floor space but brings in a lot of life and freshness to the space in dividends. We also added hanging plants by the windows and another wall fan for that extra touch.
PLAY WITH LIGHTWEIGHT AND ECLECTIC FABRICS
Farmhouse Vibes In Living Room-Dining Room Area
Pictured here are some tasseled and oriental fabrics casually swung over a sleek black leather sofa. Wicker accents are prevalent in the coffee table and dining seats we included here so although it screams modern colonial interior design, there are still those little touches of little farmhouse vibes that go along with it. A little can go a long way and although subtle, the accents actually stand out because of the all-white space with sparse black accents.
STENCILING / STENCILING EFFECTS

Apartment Bathroom @ Tanglin
In this Tanglin apartment bathroom fashioned after the British colonial interior design, we opted to go for a stenciled effect for the floor tiles to offset the all-white canvas of the rest of the space. Stenciling was popular during the colonial era with quite an interesting historical backstory. Colonists back in the day didn't really have a lot of paint color options so to embellish the spaces, they stenciled quite a lot as an add-on design element. In our opinion, this really brought this entire bathroom design together and has an attractive and impressive "Surprise!" feel the moment that you go through the door. We love how it kept the black-and-white cohesiveness together, never deviating from it, yet still embodying that strong sense of colonial interior design Singapore flair into the mix!
Read more: Top Interior Design Trends in 2022
A SUMMATION OF THE SPACE
We dare say that overall, this Tanglin apartment is eclectic, minimalist, but also amazingly well-curated. Talk about creating something unique and interesting out of the basest of features and elements! It was a huge challenge to kind of marry the old and the new together but it was so perfectly done in this delectable HBD apartment, you couldn't even tell that it was a challenge in the first place. We love the little attention to detail paired with a somewhat well-travelled yet very relaxed lifestyle.
The sense of culture and history in the design is perfectly balanced out by the carefully curated furniture pieces, the chalky white paint, the almost matte black accents, all right down to the dark hardwood floors for the entire space. You can gain inspiration from this portfolio, too! We've mapped it all out for you! Have fun! Space Factor provide services for BTO or Resale HDB renovation, condominium renovation and landed property renovation for homeowners in Singapore. Start building your dream house with us today!
Check out our other articles: