Inspiring Kid's Room Interior Designs for Little Explorers
Home interior design and renovation projects can be exciting and fun for the whole family but who is the most excited among them? The kids! They just can't wait to see their new rooms which have been designed according to their requirements, preferences, and choices. However, as a parent, many of us would know that most of those requirements are just not possible to be materialized in real life. How, then, can you make your kids happy?
The answer is not as difficult as one might hope. There are still plenty of ways in which you can design the kids room and incorporate fun stuff which is sure to please the kids. We have designed and renovated various HDB homes and also provided condominium renovation in which they uniquely designed kids' rooms to make them fun and magical while still keeping all the functionality. Looking for inspiration for your HDB BTO interior design such as 3-room HDB interior design, 4-room HDB design, and 5-room HDB design, condominium design or even landed property design? Our blogs have covered them all.
Some of these design portfolios of kids' rooms are described below from which you can take inspiration from. These ideas are further classified according to the age and corresponding requirements of kids.
Design Ideas For Nursery And Toddlers Room
For a nursery or a toddler's room, the main aim of the designer is to incorporate lots of colours in various different ways. The design, however, has to be functional as well so that it provides ample storage to stow away the toys and accessories to keep the area decluttered. Such an example can be found in this nursery designed by us where all the elements come together to create a fun, comfortable, and playful area. The floors are the usual wooden floors whereas the walls are of a soothing lemon shade. This is further contrasted by using blue wall panels and shelf areas. One of the walls has cute paintings of colourful animals and a garden which is quite attractive to young children. The curtains in this room are also colourful and cartoon-themed. A small wall partition has compartments on both of its sides which provide ample storage space. The crib is kept simple and white which blends perfectly with the other colourful items in the room.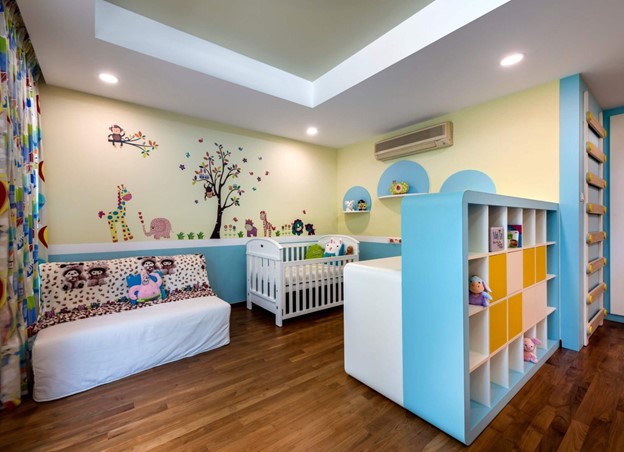 Chic Nursery @ Ash Grove, Singapore
Another angle of this room shows a chest of drawers that is white with colourful knobs. Attractive colourful frames lined on the chest of drawers add to the balance and harmony of the colour scheme. There are small cubbies to place toys and other things. A creative ladder has also been featured in the design which looks quite attractive to kids since it is made in the form of popsicle sticks. Recessed lighting and spotlights uplift the room's features to make it look bright and fun. All these design elements can provide inspiration to anyone who wishes to create a toddler's room or a nursery.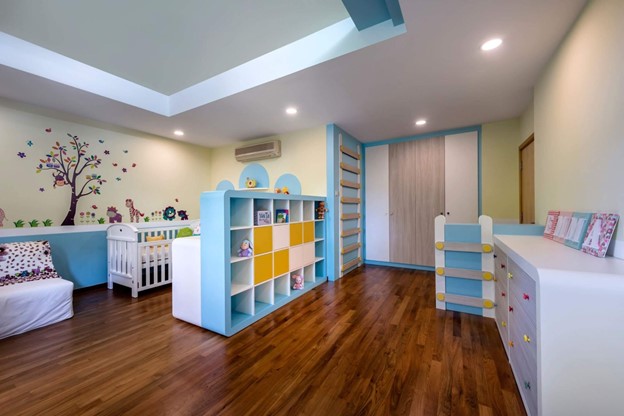 Functional Nursery With Lots Of Storage Space @ Ash Grove, Singapore
Room Design Ideas For Young Girls
Young girls like pink colour, stuffed toys, and cosy nooks and this is exactly what has been done by us. The moment you enter this room, you are swept off your feet by the sight of a magical, comfortable, and spacious room. The room has been designed in sort of a bunk bed fashion with one sleeping area on top of the other. However, the way it is designed is bound to blow anybody's mind. The lower sleeping area is basically a comfortable nook that is separated from the other part of the room by a curtain. There are drawers and shelves inside this nook for storing toys and other things whereas the remaining part of the nook is covered by a mattress. The whole room is painted in a soft baby pink shade which when combined with modern lighting, makes it appear sophisticated and elegant.
If you're looking for modern designs or modern mid-century interior designs, check out our blog posts.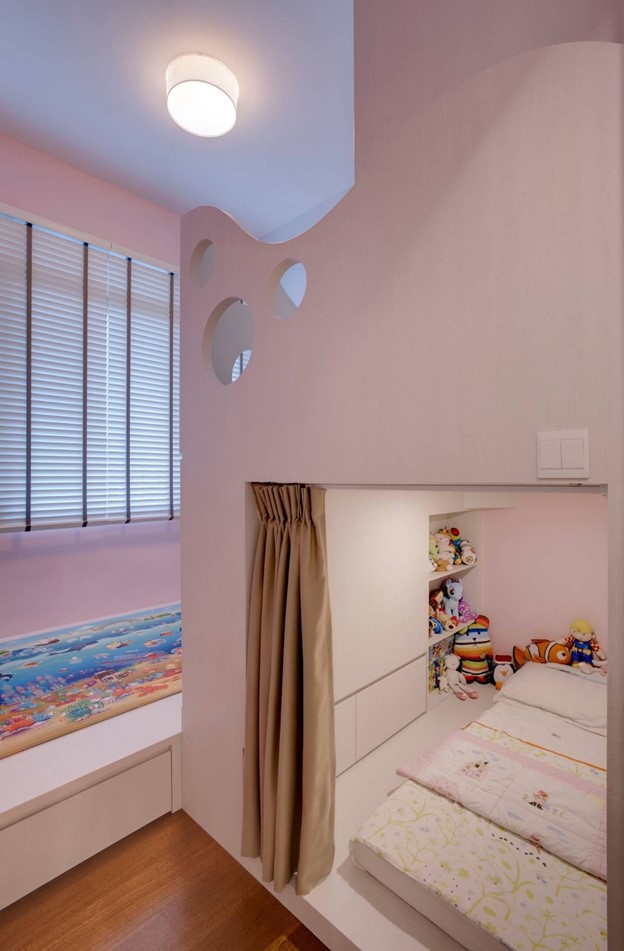 Comfortable Nook In The Kids Room @ Hillview Rise, Singapore
Above this nook is another sleeping area that is separated by a small glass door. Small stairs lead up to this area. Besides both sides of these nooks is a platform that has been covered with a carpet which serves as a sitting area. Below this platform are drawers that provide enough storage space. All these functionalities have been beautifully designed and fitted in quite a small room but the room does not look cramped or crowded at all. There is enough storage space to keep the area decluttered and the comfortable nooks make the room appear as if it is out of a fantasy world.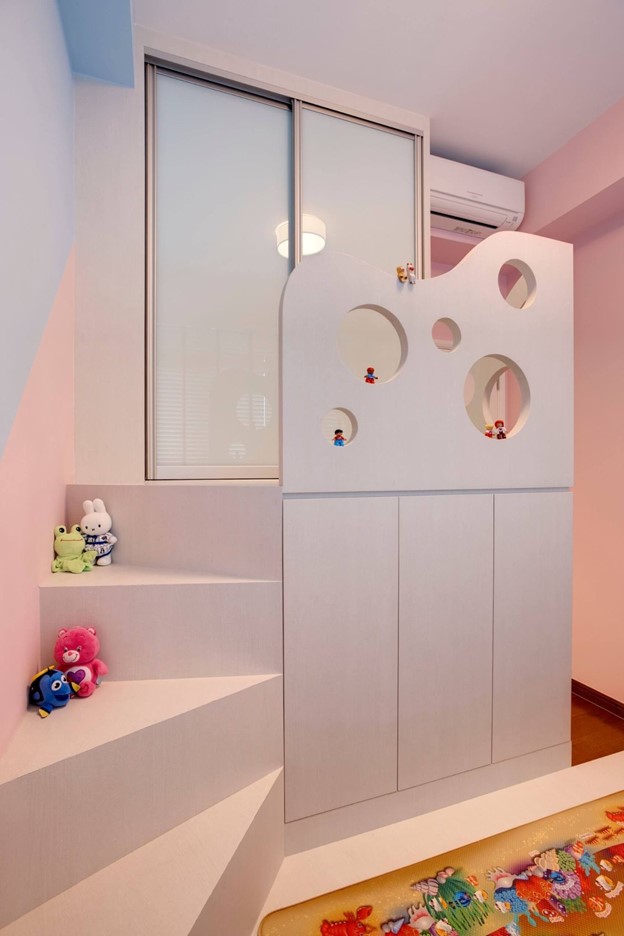 A Creative Kids Room For Girls @ Hillview Rise, Singapore
Design Ideas For Teenage Rooms
Teenagers can be difficult to please when it comes to designing or renovating their rooms. On the one hand, they feel themselves to be too old for kids' stuff such as blue and pink walls, colourful rugs and curtains, and cartoon themes, whereas, on the other hand, they feel the usual pastel colours and deep shades in a bedroom appear too dull and boring. The key in such a case is to find a balance between using dark and deep colours with some pop of colours. The accessories also have to be chosen accordingly so they don't appear dull or boring and not as childish as well.
We have successfully designed such a room for teenagers that appears just perfect for kids of such an age. The floors are a fun zig-zag patterned wood theme whereas the walls are covered in patterned white and silver wallpaper. One of the walls is an embossed black patterned wallpaper which just takes it to another level. The bed is also designed keeping in mind a teenager. The headboard is white whereas the nightstands are red and black. A wooden study table is also featured on one side with its chair being of white and red colour. Another chair in the room features a classic black-and-white design. A small neon green rug in the middle of the room helps to bring everything together. The end result is a bright, fun, and sophisticated room that any teenager would love to have.
If you're looking for bedroom interior design ideas or tips to improve your bedroom's overall design, check out these blog posts.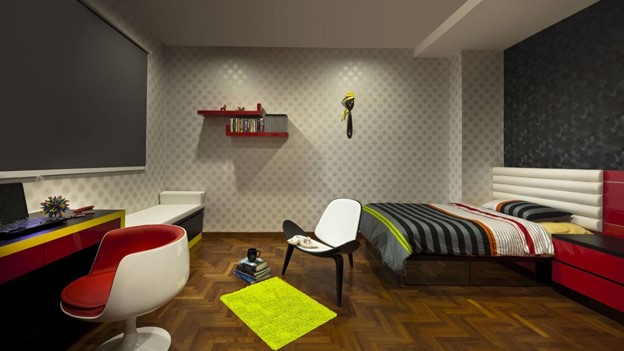 A Teenager's Room @ Joo Chiat, Singapore
Generalized Design Ideas For Kids Rooms
Apart from the above-mentioned specific design ideas for toddlers, girls, and teenagers' rooms, there are certain generalized tips and tricks that one can incorporate in a kids' room to make the most of its space. Kids' rooms are usually small but there are ways you can incorporate storage spaces in them so the overall appearance becomes exotic and fun. When it comes to limited spaces, we are creative with our crafts, especially for small condo interior design.
Consider the following portfolio example by us where a kids' room is beautifully designed in a small area. A platform bed is installed in front of the window. The head and foot side of the bed are lined with vertical shelves that provide space for storing books, toys, and other accessories. Below the platform bed are drawers that provide further storage space. The walls are decorated with colourful paintings and pictures which help to uplift the room's mood.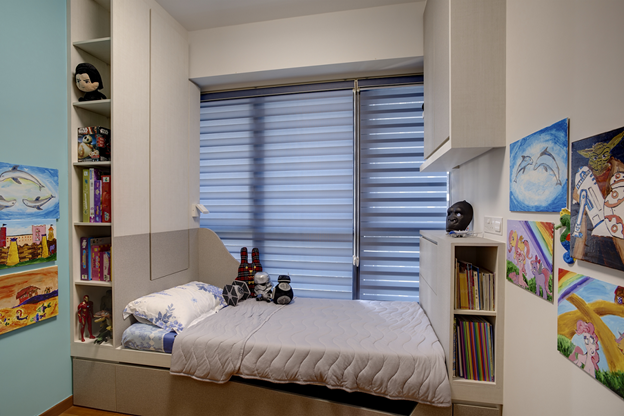 Creative Kids Room @ 18 Sims Drive, Singapore
Another kid's room in the same house shows how a bunk bed can be installed in a small room and still provide enough storage space. The lower bed is on a platform that has a drawer for storage. Stairs on the foot side of the bed leading up to the upper bed. The stairs have hidden storage compartments underneath them. There are more storage areas installed on another wall of the room. The same wall is fully covered in colourful pictures and frames that create a fun and attractive outlook.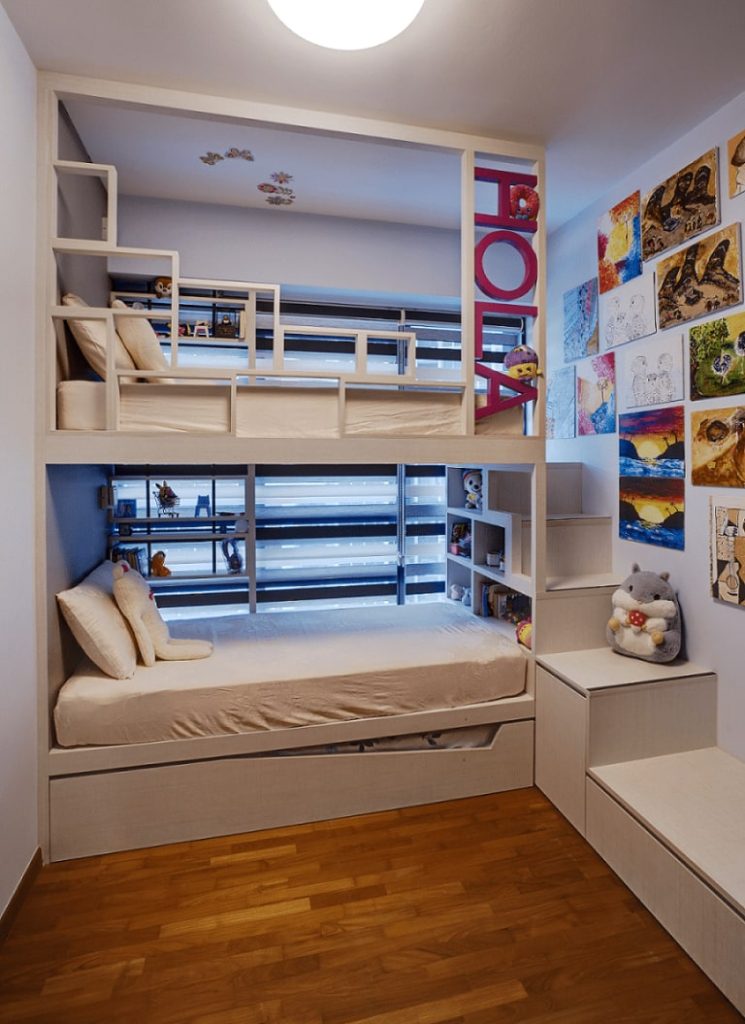 Bunk Bed Bedroom @ 18 Sims Drive, Singapore
All these kids' room design ideas by us can serve as inspiration for anyone who wants to design their kid's room. Based on your child's personal preferences, you can make changes accordingly.  These ideas can serve as a baseline on which you can build up to create the perfect magical bedroom for your kids. With Space Factor, this is possible. We provide services for HDB design, condo interior design and landed house design services for homeowners in Singapore.
If you're looking for interior design styles, you can check out trending interior design themes such as minimalist interior design, Scandinavian design style and modern interior design. You can even find unique design themes such as Colonial-Style designs, Balinese interior design, Warehouse design, Industrial design theme and Rustic interior design. Start building your dream house with us today!
Check out our other articles