Do's And Don'ts Of A Cool Minimalist Interior Design
Do's And Don'ts Of A Cool Minimalist Interior Design
Minimalism in interior design does not necessarily have to be cold and boring. Given the minimalism concept of "less is more", the new way to think about it is just not as a plain white box but a concept that showcases exceptional functional design along with artistic beauty in a simplified environment to live.
Minimalist design features simplicity and elegance by eliminating every unnecessary element to include only the essentials. This streamlined, clean, and simple architecture is not only pleasing to the eyes but also helps you to incorporate functionality within your compact and simple house.
Here, we will describe some of the most important do's and don'ts of incorporating a minimalist yet cool and trendy interior design into your home. Through these tips and tricks, you can be sure of creating a minimalist theme based on your requirements, preferences, and specifications.
Declutter Your Home
The most important element of a minimalist interior design is to declutter your home. If you have extra things lying around in your home all the time, it will not only be unappealing but will gather dust and mould making the house unhealthy to live in. When you have lots of things which seem to take a lot of space, try to give out some of them. Instead of placing small paintings all across a wall, try to gather them in a group on one side of the wall. Same goes for decorative items: group them and keep them together to give a tidy and cleaner look.
Consider the following example of a minimalist interior design at Bukit Batok West, Singapore. The theme is kept simple and there is no cluttering of elements anywhere; everything essential is placed at the right place which does not cramp the area.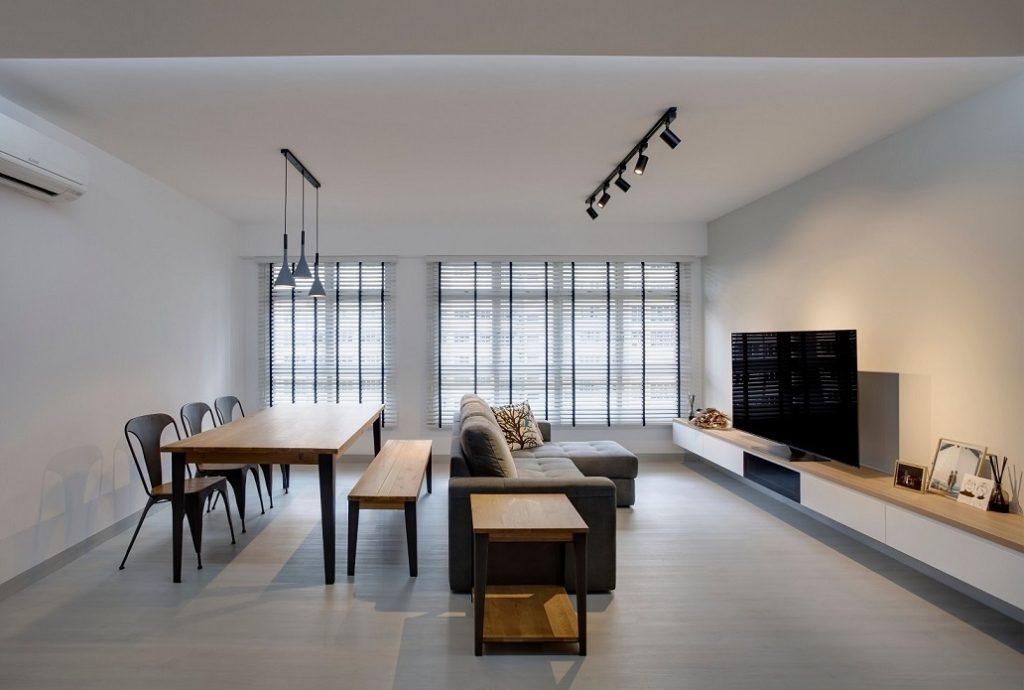 Don't Use Complex Color Schemes
Whenever you are designing or renovating your home, you may be inclined to use your favourite colours in all of the elements of a room. However, if you continue with that and try to count the number of colours of all the elements of the room, be it the walls, sofa fabric, cushions, decorative items, furniture, curtains, etc.; you will notice that it will amount to a huge array of colours which will create a visual imbalance and too much to absorb.
Keep the colour scheme simple; choose two to three colours and try to use their different hues for all the elements. A little pop of colour may be added to break the neutrals, otherwise, try to keep the colour scheme simple.
Consider the following living area of a home at Bedok Reservoir, Singapore which is set beautifully in a minimalistic theme with white as the main colour and pastel blue as the secondary one. A few coloured elements on the shelf add just the right amount of pop to brighten up space.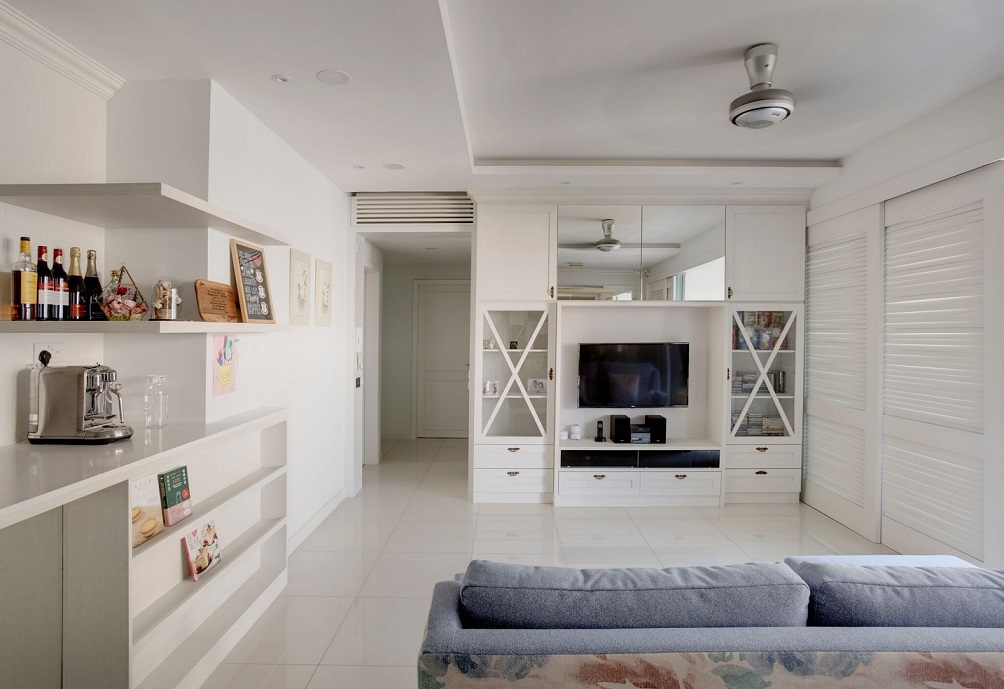 Focus On Functionality
One of the main elements of a minimalist interior design is functionality; add all the elements that are absolutely necessary and eliminate the unessential ones. This way, automatically you will clear up the space to create a neat, clean, and tidy environment. However, this does not mean that you should not add any decorative items or wall art to bring an artistic touch to the design. In fact, a few decorative items will help to make the white and boring minimalist design more creative and eye-catching.
This is what is showcased in the following image of a room at Punggol Central, Singapore. You can see how the white theme of the functional interior design is contrasted with cool wall hangings and colourful flowers.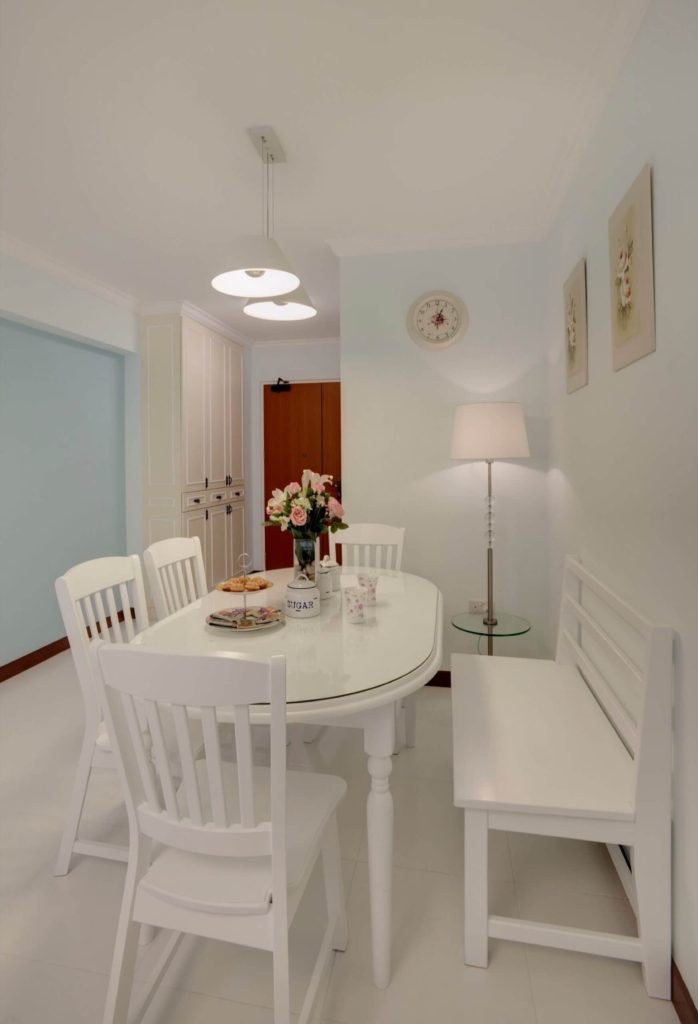 Make Space For Empty Spaces And Focal Points
One of the most important features of a minimalist interior design is empty spaces. This works very well for HDB interior designs. An empty space helps to define objects and how they interact with the background and other elements. It also helps to define a focal point in each room which you can arrange accordingly. Through this visual balance, the room appears spacious without any unwanted distraction. An example of this would be to group similar items together so that the remaining area is left empty. Then after an empty space, you can add a group of elements and again leave some empty space later.
Consider the following living room example at Cantonment Rd, Singapore. Notice on the wall how the shelves are grouped together to leave a lot of white space on the wall. This makes them the focal point and creates a visual balance.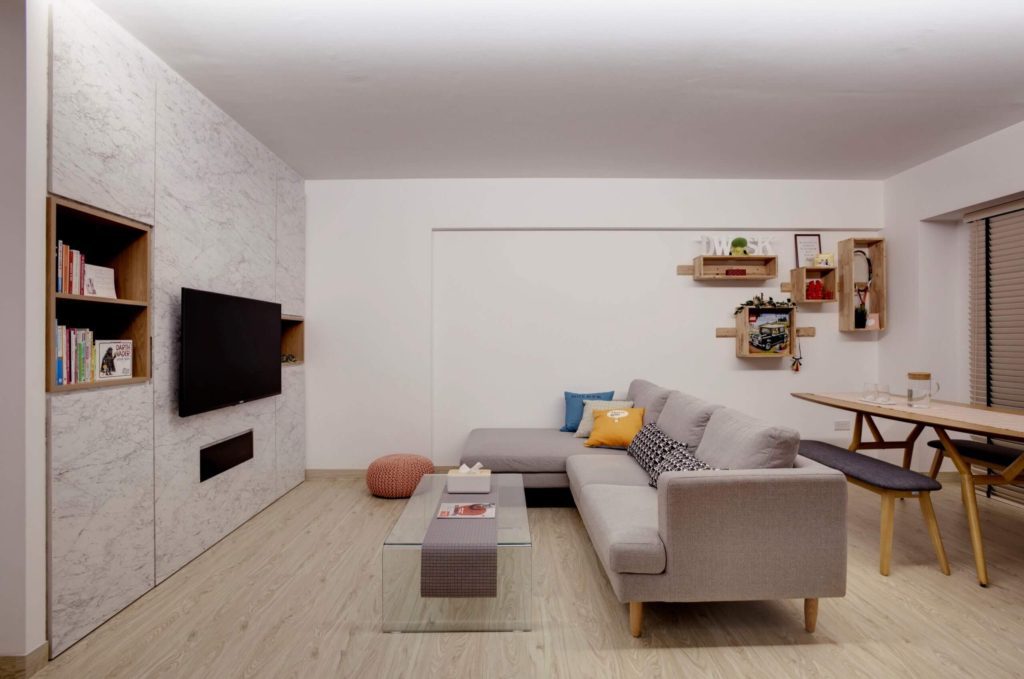 Don't Overwhelm With Decorative Items
Another important feature of a cool minimalist design is not to over-decorate with décor items. Instead, only use decorative items as accents or define focal points. What this means, for example, is to use one big wall hanging instead of many smaller ones to avoid clutter and distractions. For décor items, choose something which will immediately catch attention and try to make it a focal point by not over-shadowing it with other elements.
Notice in the following condo design at Parc Olympia, Flora Drive, Singapore how the two large paintings add just the right amount to art to the aesthetics in the room and still be the focal point while all the other things are kept simple.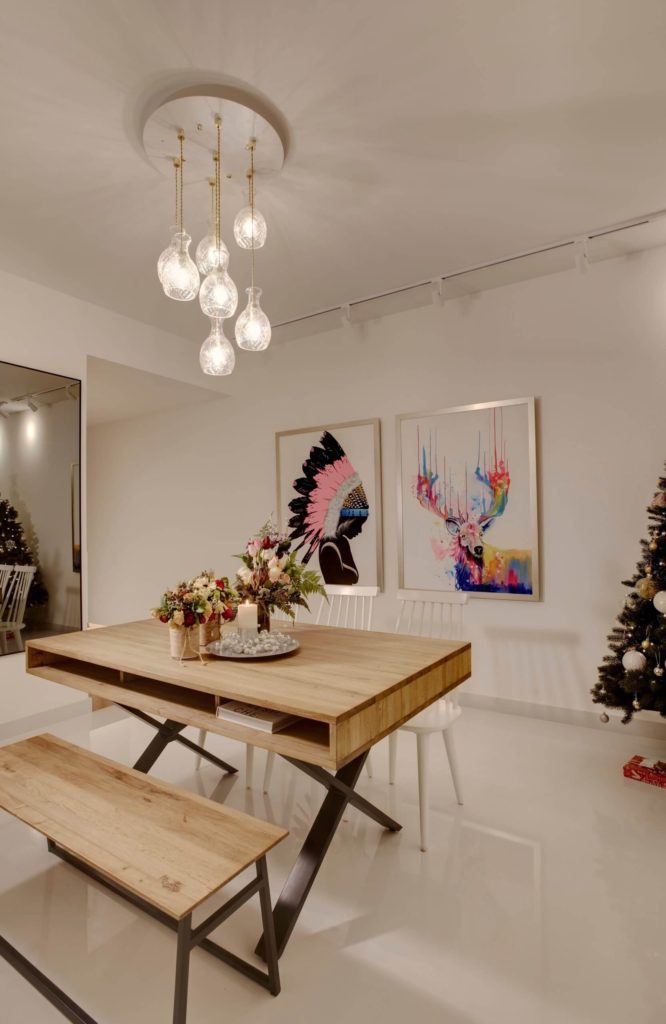 Incorporate Textures
If you think that a minimalist interior design is too boring, adding different textures in a room will add the kind of excitement that you require. This can be in the form of wooden elements, upholstered furniture, plush fabrics, textured wallpaper, etc. All the textures combined together will add to the textural story of the room without it being overwhelming.
As an example, consider the following bedroom at Punggol Central, Singapore. The upholstered bed creates a different texture from the textured wallpaper. The plush curtains add another dimension of texture to the room which has a wooden textured floor. All these textures add some unique balance to the design while still keeping things simple and functional.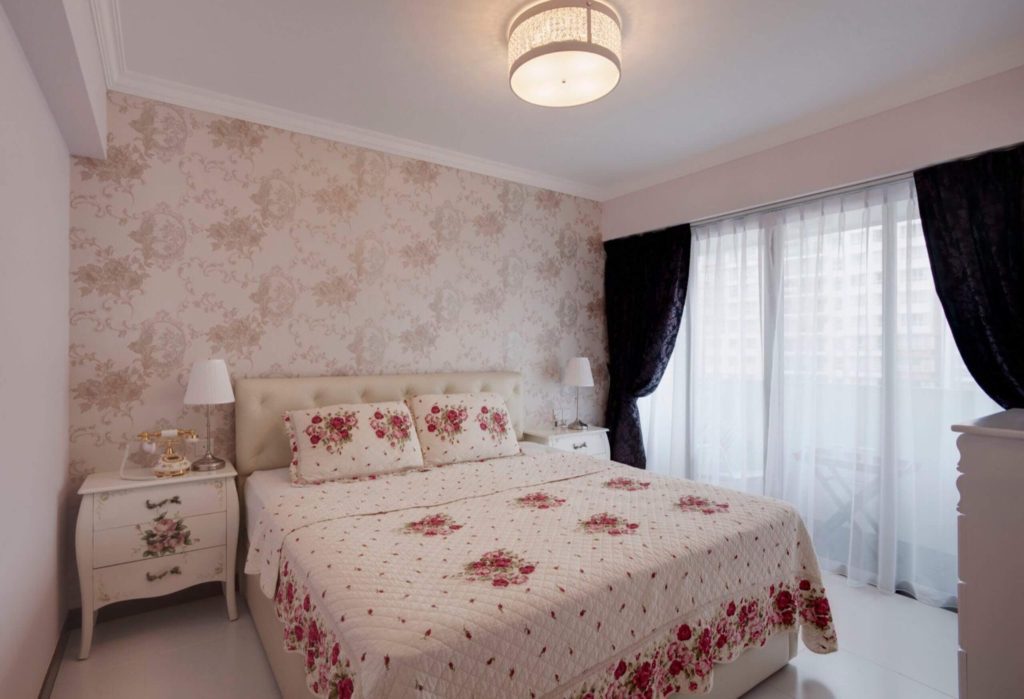 Don't Keep The Area Dark
Another important feature of the minimalist design is to allow lots of natural light to flow in. a brightly lit room appears spacious, neat, and crisp which are the hallmarks of minimalism. To achieve this effect, you can incorporate large-sized windows in the rooms. A room that is not appropriately lit by natural light will appear gloomy and cramped. The perfect option would be to keep the windows unadorned or to use very thin or sheer curtains so that maximum light can flow in the room.
This same effect is achieved in the following image of a living room at Punggol Central, Singapore that is designed by us. Notice the sheer white curtains that allow natural sunlight to flow in and illuminate the room to give a bright and uplifting effect.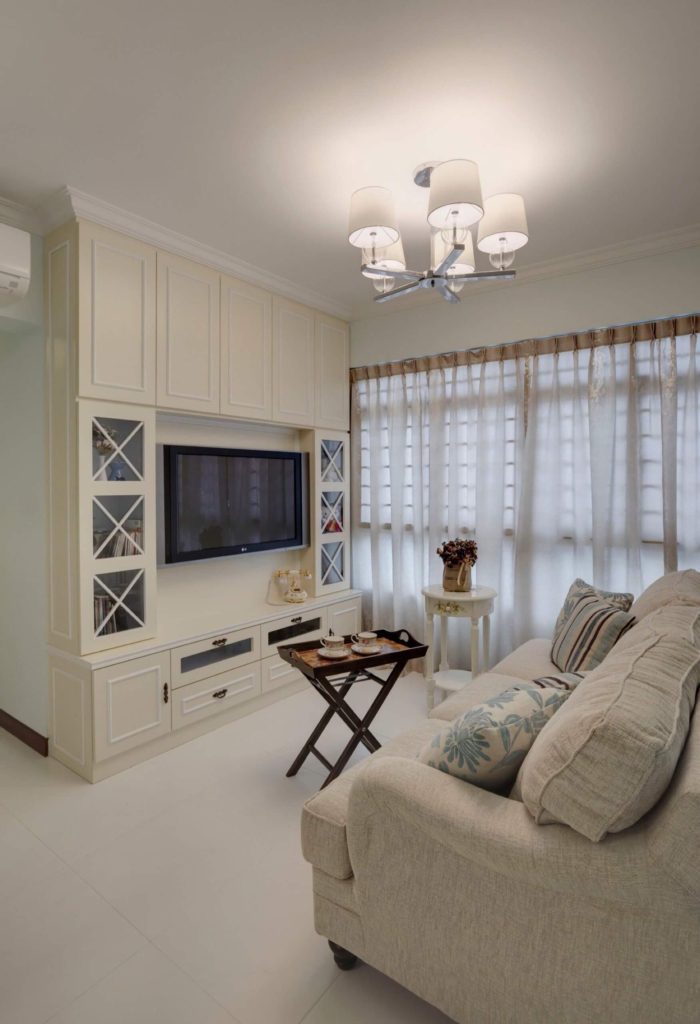 Use Simple Objects And Wall Art
Since a minimalist design is all about simplicity, it is only logical to use simple objects and wall art. Do not spend too much on luxurious decor items and complex wall art as it will go against the simplicity of the minimalist design. Try to keep things simple without adding too complex or extra elements.
The following image is an example of using simple objects and wall art to create a very cool and elegant interior design for condominium homes.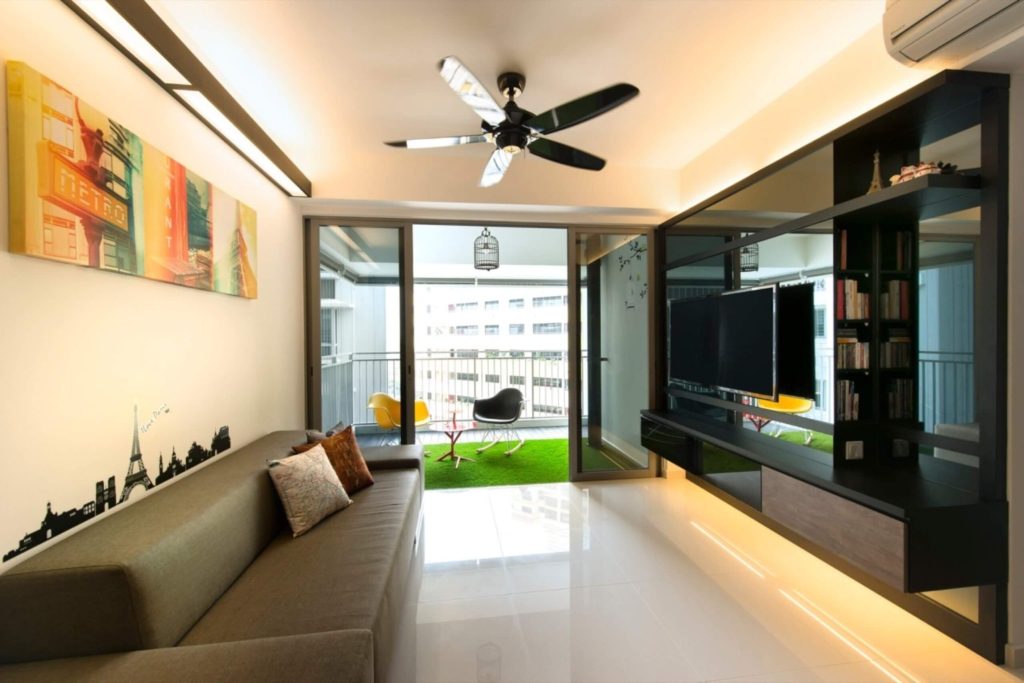 Add Patterned Elements
One more important feature of a minimalist design is to add patterned elements to the design. These patterns could be in the form of a rug, sofa cushions, curtains, or wall art. When everything else is simple and solid-coloured, some kind of pattern will never go wrong. In fact, it will help to bring everything together in beautiful harmony and elegance.
Geometric patterns are especially a significant feature of minimalist designs. This is depicted in the following living room image of a condo at St. Patrick Rd, Singapore. Notice how the walls are neutral and the sofa is solid coloured. The geometric pattern rug and a patterned cushion help to balance everything and creates an element of beauty and elegance.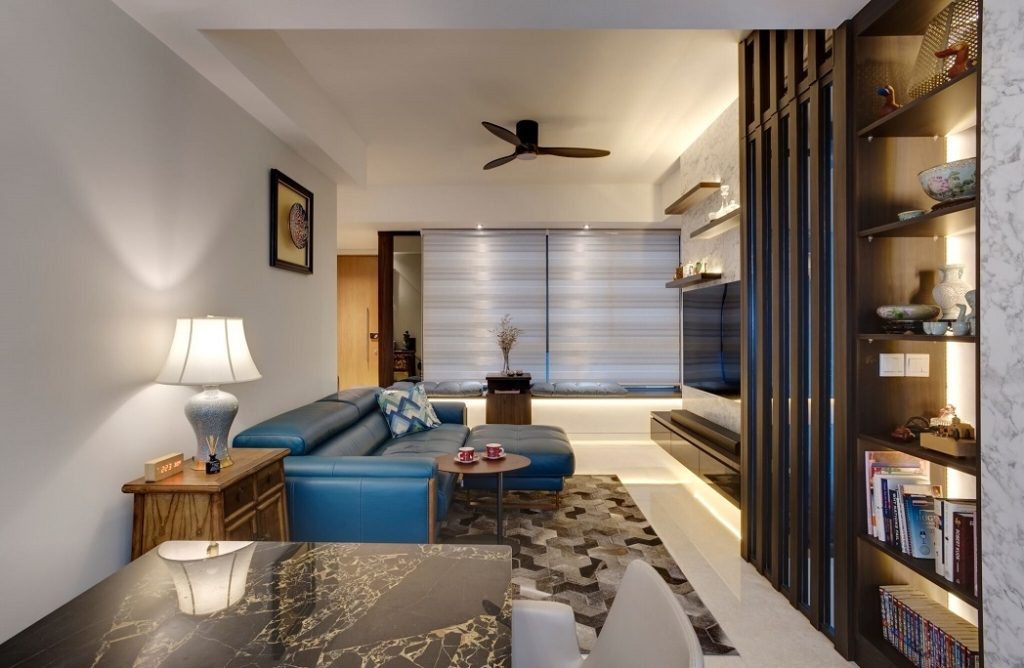 If you want a minimalist design in your home, but want it to be a bit trendy and exciting, then the above-mentioned tips and tricks are just what you need. We excel in providing customized solutions to your Singapore interior design needs, as well as HDB interior renovation or landed interior design.