Scandinavian Interior Design Ideas In Singapore You Can Use (2022)
Most of us realise the importance of having a comfortable and cosy home that only looks beautiful on the outside, but more importantly makes us feel comforted, safe and warm on the inside. Thanks to this, Scandinavian interior design is a very popular interior design style in Singapore, where functionality and practicality are emphasised as design elements. Distinguished by a fresh, light and soft colour palette, Scandinavian design appeals to many with its soothing and cosy nature. It has been around for quite a while ever since the 50s but still looks trendy and modern in any interior. Here are some of our projects with inspiration from the Scandinavian style that we think you should take a look at.
Looking for more interior design styles? Find modern mid-century design style, colonial-style interior design, balinese design style, warehouse interior design theme, rustic design style and industrial design style on our blog pages. You can also find HDB BTO interior design ideas, 3-Room HDB design ideas, 4-Room HDB interior design inspirations, 5-Room HDB design inspirations, condominium interior design theme ideas, and landed property interior design theme inspirations.
Harmonious Balance Between Dark Tones and Scandinavian Designs
Check out this 3-room HDB resale flat project in Mei Ling Street that is done by us. The homeowner was looking for a design that is simple, yet feels spacious and practical, which are key features of the Scandinavian Design style.
The prominent colours in this home are blue, grey, and white tones that perfectly blend and harmonise with each other. The blue is a darker shade of indigo that contrasts well with the crisp, white walls and ceiling. The colour scheme can be seen in the living area, where a grey sofa and patterned carpet blends together with blue cabinets and a dominant white palette. This colour scheme keeps the visual aesthetics interesting while making the room appear airy and fresh. Making everything white may make your interior look plain and stark, so we have incorporated in multiple textures such as a marble textured TV featured wall and cosy cushions to further uplift the room's appearance. Incorporating in decorative textures such as throws and cushions does well in making your interior inviting.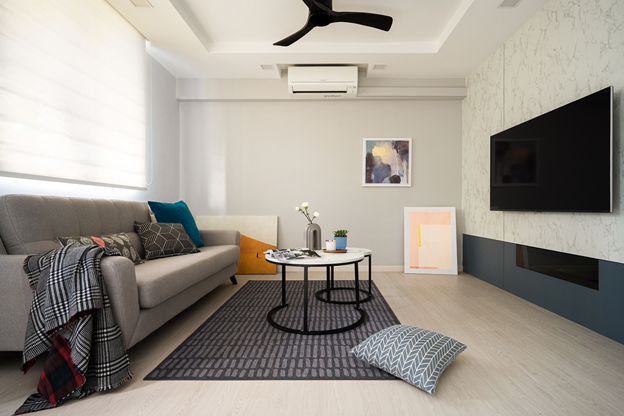 Similarly, the kitchen in this design also features the indigo blue colour for the cabinets which are contrasted with cream cabinet tops to add the perfect character to space. The floors and walls are kept of lighter tones so that the kitchen does not look crowded or congested. Light brown tones in the flooring gives off an earthy and homey vibe. A slight warmth contrasts the cool tones coming off from the more dominant colours and gives a more distinct focal point in the space.
Simple Yet Exquisite Kitchen @ Mei Ling
For the bedroom and bathroom of this 3-room resale HDB flat, things are kept simple in line with the Scandinavian Interior style by incorporating light wooden tones for the cupboards, doors, and bathroom cabinets. The wooden elements add a touch of raw texture from the wood grain to the overall minimalist design. The toilet fixtures and walls are kept a pristine white to make the small area appear brighter and more spacious. The combination of wooden textures and white tones creates a very visually appealing space even though the interior is space-constraint.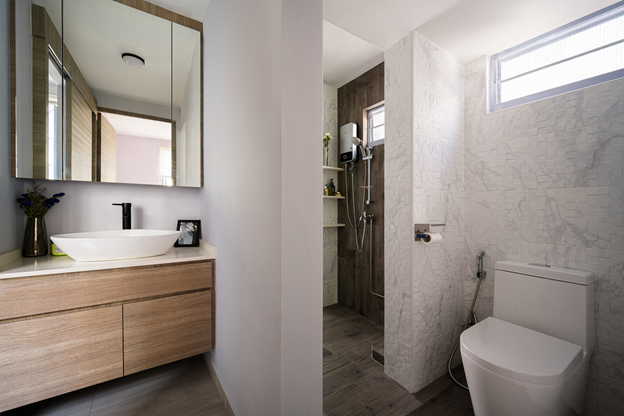 Wooden Textures And White Interior @ Mei Ling
Earthly Tones and Modern Lighting with a Touch of Scandinavian
The following example of a 3-room HDB flat in Eunos designed features a mixture of dark colours, high-end contemporary furnishings, and statement lighting that helps to bring about a dramatic interior to the home.
The all-encompassing darker tones in this dramatic apartment interior will appeal to those who fancy sophistication and mood. Décor schemes that embrace light and brilliant minimalism are more common and provide a sense of refreshing airiness, but sometimes you might prefer a home that has a little more bite.
This design takes simple, clean, and crisp lines from the Scandinavian style and mixes them with earthly tones in spaces that do not have much light. However, even in the absence of lighter tones, the interior does not appear to be gloomy or congested. This is because of the perfect selection of contemporary furniture, statement lighting, and other elements that help to enhance the warm earthy tones of the house. As a result, the home appears to be more comfortable, cosy, and enchanting along with a dramatic effect.
Consider the living room design. It features rich brown shades in the wooden fixtures, sofas, curtains, and table. Besides that, all these elements are enhanced by the strategic placement of indirect and accent lighting. The walls and flooring are of a lighter shade to contrast against the darker elements of the room, where wooden tones and raw textures in the TV feature wall go in line with the overall earthy theme of the home.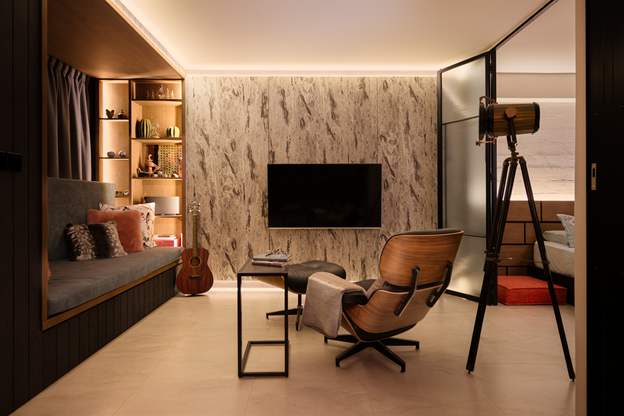 The kitchen also features wooden cabinets and counters which are contrasted with white countertops. Again, accent lighting and spotlights help to enhance every element along with adding a dramatic effect to the space. The floors are also light coloured in perfect balance with the other darker elements.
Another important feature of this design is that every room opens freely and connects with the other spaces of the house. The living area opens in the dining area which connects freely with the kitchen. The living area flows freely into the bedroom with frosted glass partitions instead of traditional doors. Recessed lighting in the bedroom again gives it a modern effect and does not make it look congested even though the room is quite small.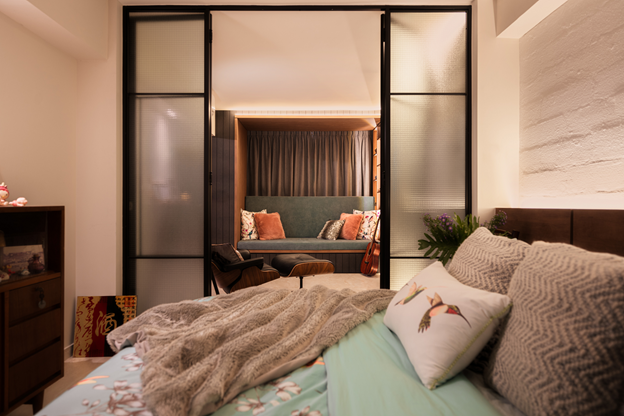 The bathroom in this HDB flat is also unique which features a separate toilet area and a stand-alone washing area. The washing area is kept simple with a washbasin and a wooden cabinet underneath. However, the accent lighting behind the round mirror and around the washbasin makes it look so modern and chic.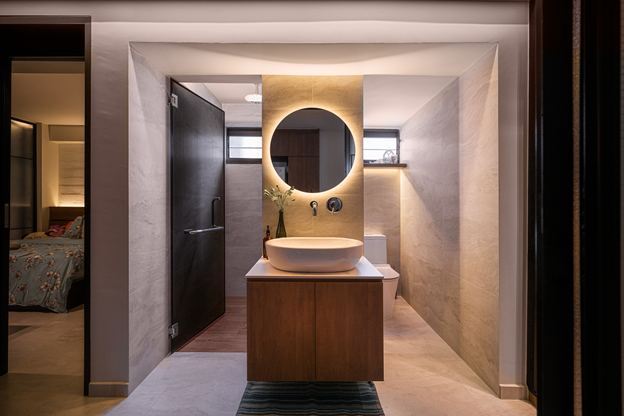 These different forms of modern lighting and the use of dark, earthly tones make one wonder how much you can do and achieve in a small space. This combination makes the interior design modern yet comfortable. The earthly tones help one stay calm and focused whereas the modern lighting adds just the spark of liveliness and hope that one requires.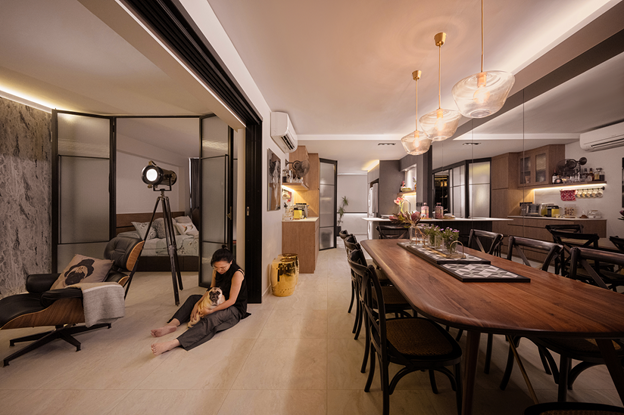 Beauty, Elegance, and Comfort @ Eunos
Earthly and Wooden Tones Contrasting White Scandinavian Design
An interior design that features wooden and white themes gives a very fresh, modern, and elegant feel. Although it boasts simplicity, still it does not appear dull or boring. White is used to give an open and airy feel whereas wooden textures and colours give a very cosy and sophisticated vibe. And this is exactly what has been done in the following 3-room HDB flat at Gangsa Rd. In the living room, a very light tone of the wood is used which is contrasted with darker furniture and white elements in the room. Spotlights are used to further enhance the appearance of the room and to make it look modern and chic. Frosted glass panels are used to separate the living room from the other area which adds a further touch of modernism to the design.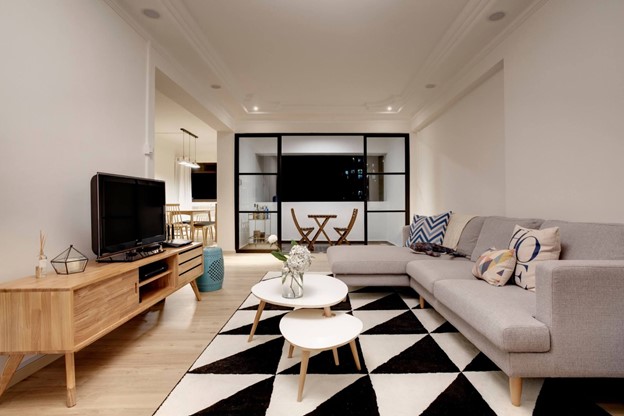 The open-concept kitchen is kept simple yet elegant by using white for the floors, walls, and cabinets. A little character is added to the design by keeping the countertops of oak coloured wood. The kitchen flows freely into the outer area where a wall-mounted counter serves as a small table for dining. This design also features minimalism which adds character to space.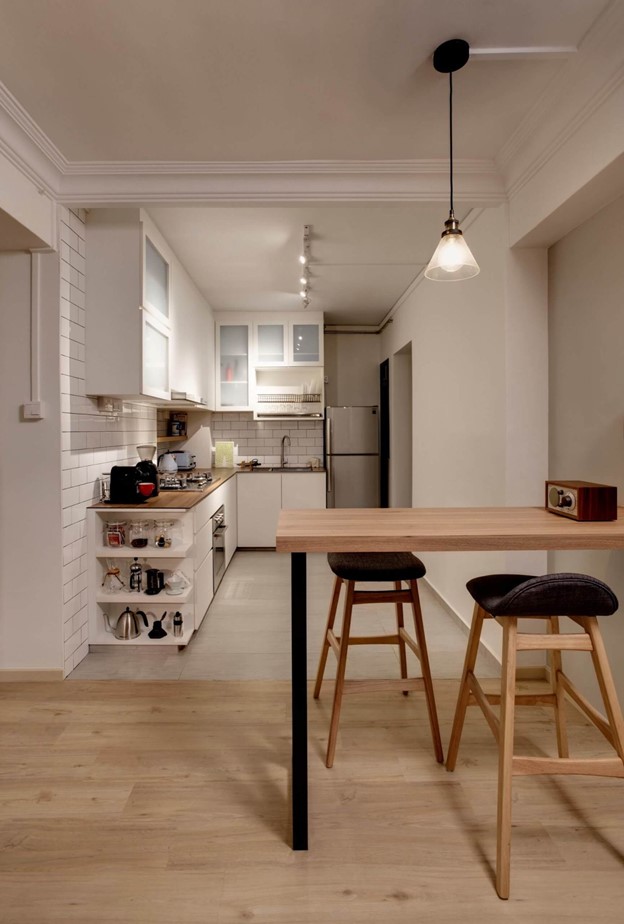 The bedroom interior design is also kept simple with oak-coloured floors, a bed, and a walk-in closet. The walk-in closet helps to keep the clutter away and the bedroom looks organized and clutter-free all the time. The light oak-coloured elements are contrasted with a dark wrought iron table and chair which further uplifts the room's design. A chandelier adds the final touch of elegance to the interior.
Earthly Colors In Scandinavian Theme Create A Cozy Environment
This next portfolio is a beautiful blend of earthly elements with a Scandinavian design to create an abode of comfort and serenity. In this HDB apartment at Senja Road, a modern Scandinavian interior is created by using neutral colours and clean crisp lines. However, a few earthly elements in the form of warm wood tones and green plants add that touch of nature to the design. In the living room, we can see off-white and beige walls and floors with neutral coloured curtains, all depicting a Scandinavian interior. However, the wooden accent wall, the green rug, and a few green planters bring that earthly aspect into the space. Spotlights and indirect warm lighting add that element of modernity and bind all these themes together.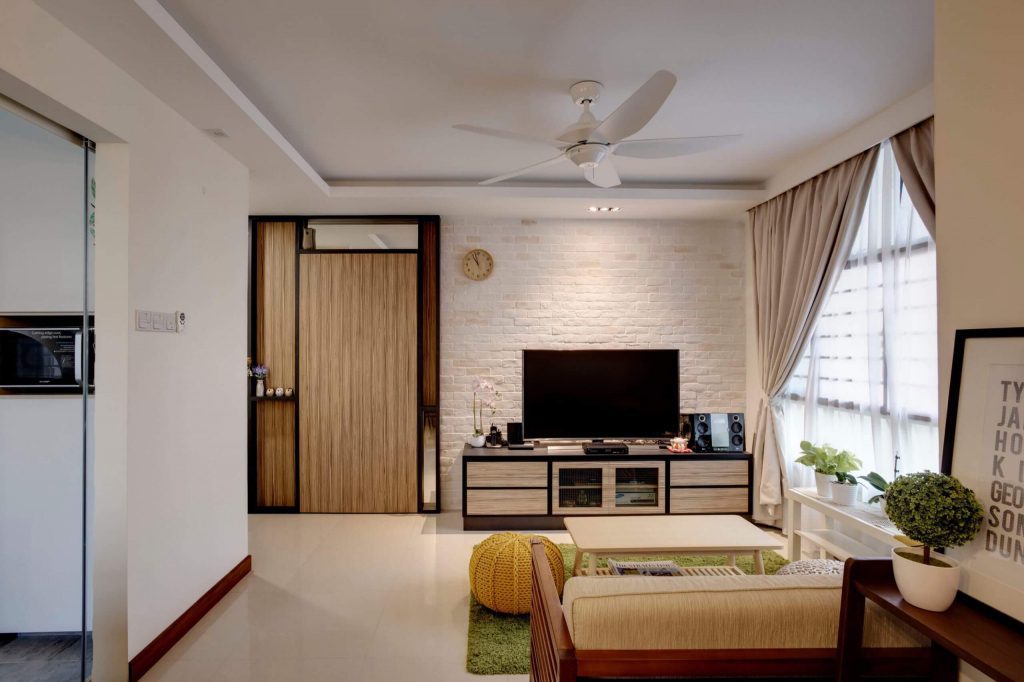 For the dining area, we can see that a dark-toned wooden dining table and chairs are used which create a sharp contrast with the white walls and kitchen. Again, the dark wooden ladder shelf with green plants showcasing it brings out the touch of nature in a beautiful way. The white doors and white kitchen add elegance and beauty to this space.
The bathroom in this HDB flat utilizes light and neutral tones but they are all in hues of a light wood colour. The floors bear the distinctive pattern and grain of a wooden floor which along with the wooden vanity adds that earthly touch to an otherwise Scandinavian theme. A touch of Bohemian is also added in the design but in tones of wood that enhance the bathroom's appearance while still keeping in line with the Scandinavian earthly theme.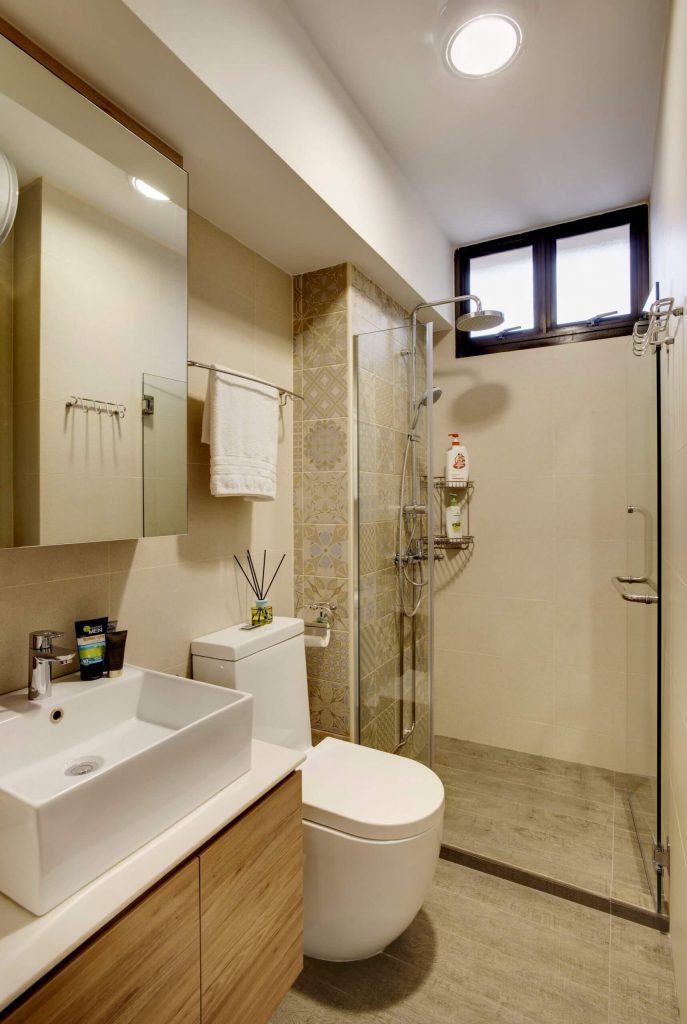 An Earthly Modern Scandinavian Interior at Sims Urban Oasis
Another beautiful depiction of how a simple Scandinavian design can be enhanced by adding some earthly elements to it can be seen in the following portfolio. In this design theme at Sims Urban Oasis, we can see a typical design that is specific to the Nordic countries with light neutral colours, clutter-free spaces, and well-lit airy interiors. But then some darker and warm tones in the form of a dark wooden door, grey accent wall, brown ceiling fan, and black window borders help to bring about depth and character in the design. The idea is to use the right colours and hues so as to bring the natural elements into a minimalist and clean area.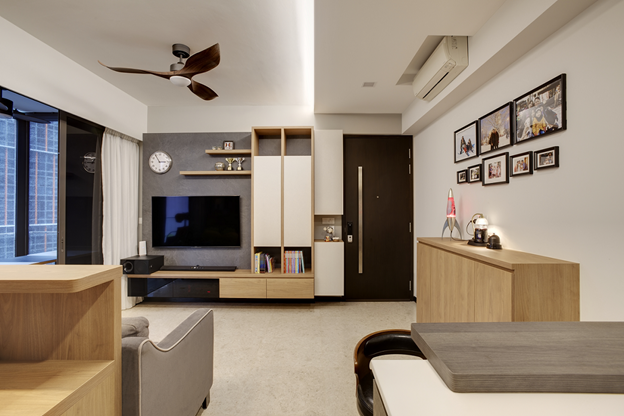 In the bedroom, we can see a beautiful harmony of light earthly colours in the form of oakwood floors with grey walls and bed. The white light from the track lights as well as natural light coming through the huge window creates a fresh and bright space that is typical of a Scandinavian interior.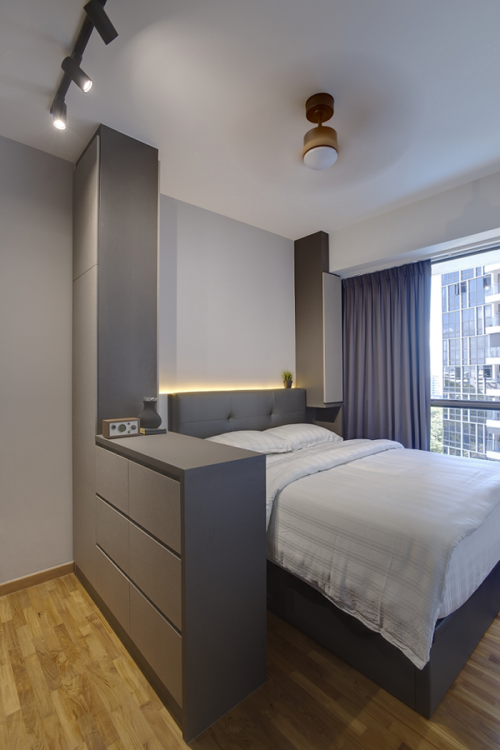 A Minimalist Earthly Scandinavian Abode at Bukit Batok West
A Scandinavian interior design theme is marked by clean sharp lines, clutter-free areas, light neutral tones, and functionality while still keeping the beauty elements of the design. This can be seen as being implemented in the following design portfolio at Bukit Batok West. In the living room, we can see a clean space with minimal furniture and light-neutral walls and floors. However, a few earthly elements are added in the form of wooden tables and shelves. When sunlight that flows through the large windows falls on these natural elements, it adds a unique touch of nature in a modern space which makes it look jaw-drop gorgeous. You can even add a few plants and creepers to add some natural colour to the space which can enhance its aesthetics manifold.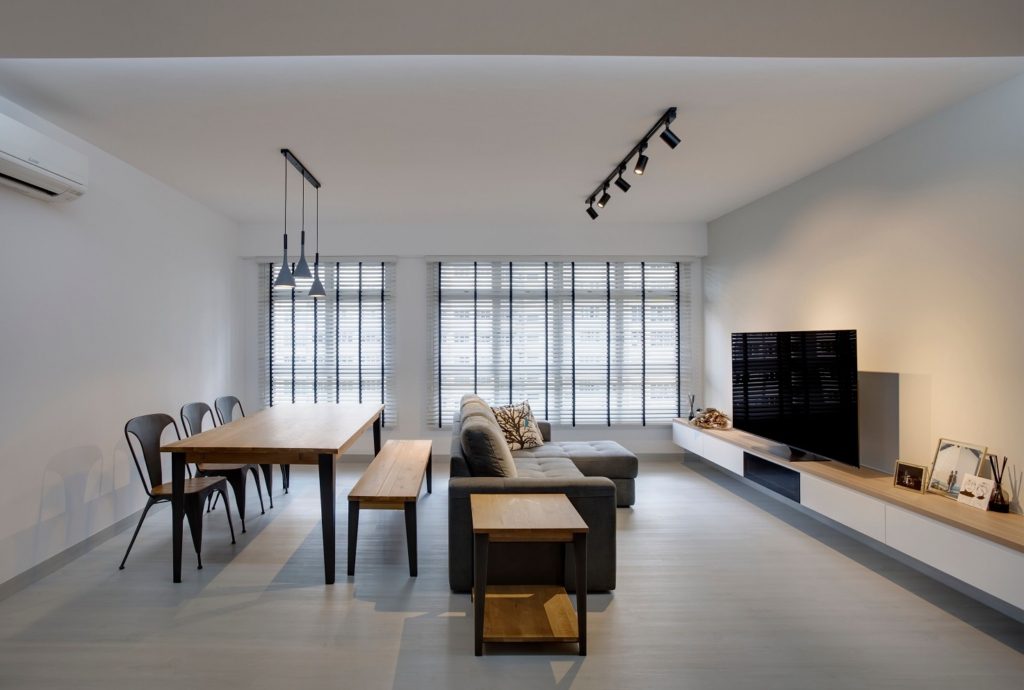 For the bedroom of this HDB apartment, we again see the light walls and floor with modern indirect lighting that creates a dramatic and modern appeal. However, for the bathroom door, a barn-style wood door has been used which adds that natural and rugged element to this otherwise chic design. This creates a beautiful blend of raw and modern interiors which is seldom seen in interior designs.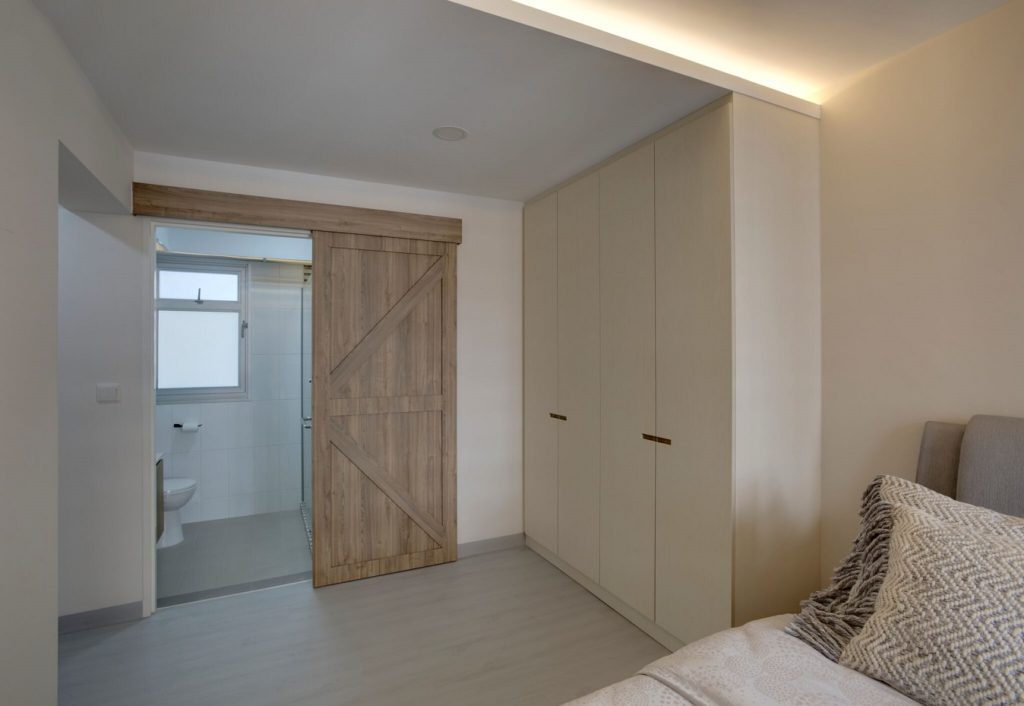 The bathroom also features a similar color palette of light neutral shades with a touch of nature in the form of a wooden vanity and small planters on it. Adding a few more green elements to the interior will make it shine even more.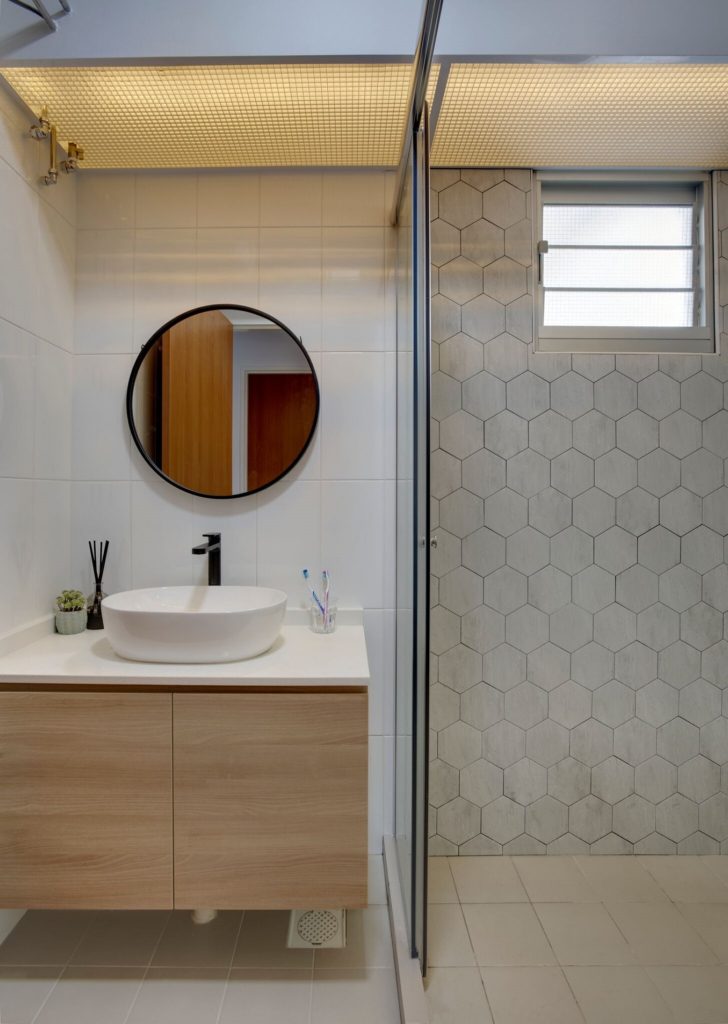 An Earthly Color Palette Blends With Functionality
In the design portfolio discussed below, we see an interior that emulates nature with a predominant earthy colour theme that have some aspects of the Scandinavian design style to create a beautiful abode. In this resort-style HDB apartment at Punggol Walk, the aesthetics of natural elements contrast beautifully with well-lit hallways and rooms along with great functionality and minimal furniture. The living room looks as if you have stepped into a resort. Light wood flooring, walls, as well as wooden ceiling beams create an all-natural ambience that relaxes the mind of anyone who steps within. Sheer white curtains and clean furnishings with an inherent warmth give a modern crispness that follows the Scandinavian design style. Spotlights and indirect lighting create an elegant and modern space that is bound to inspire anyone who views it.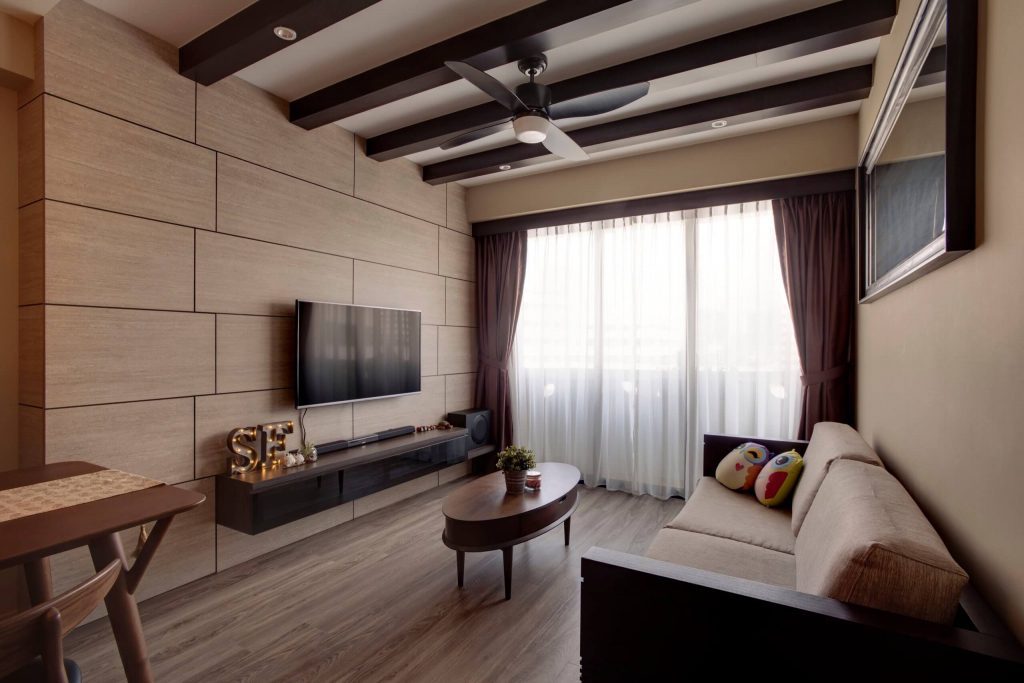 The kitchen interior design also depicts the same aesthetics as that of the living room with the natural elements of wooden shelves and cabinets. The floors and walls are white and shiny which is typical of a Scandinavian theme. The black countertops with modern lighting add an element of style and elegance to this space.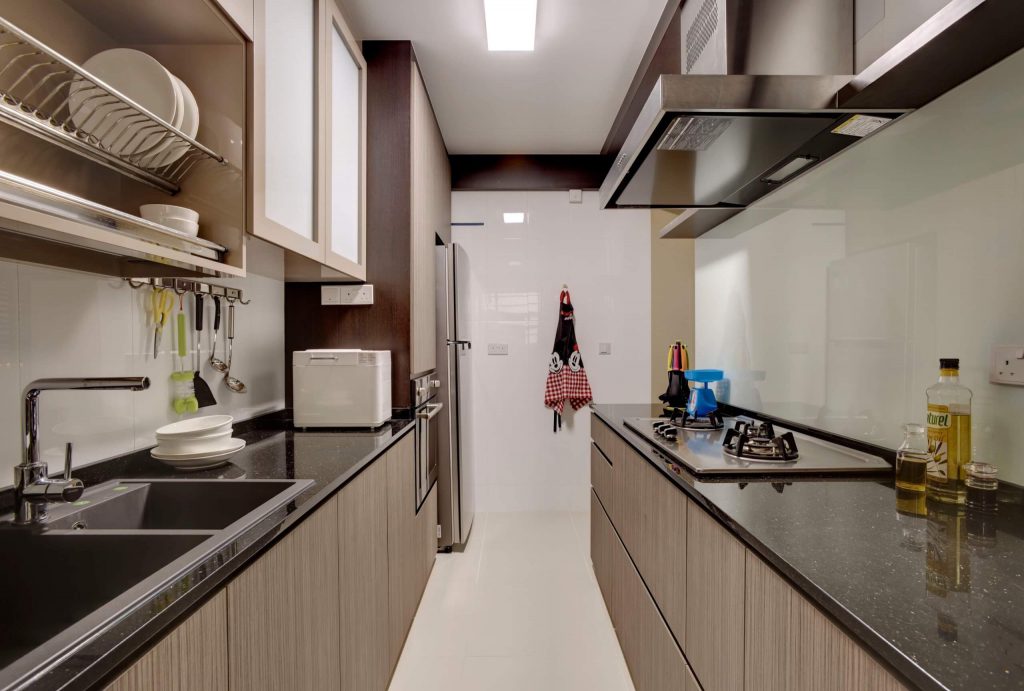 When we view the dining space, it shows class and sophistication in each of its elements. The wood-panelled partition adds the touch of nature along with the wooden dining table and chairs. The light-toned wooden floor also helps to create a natural space. A little touch of Scandinavian is added in the form of light beige walls that again depict a brick wall pattern which helps to combine the old with the new in this room. Modern hanging lamps in addition to the warm indirect lighting help to bring together the earthly and modern elements in a beautiful amalgamation that can leave anyone awestricken with its beauty!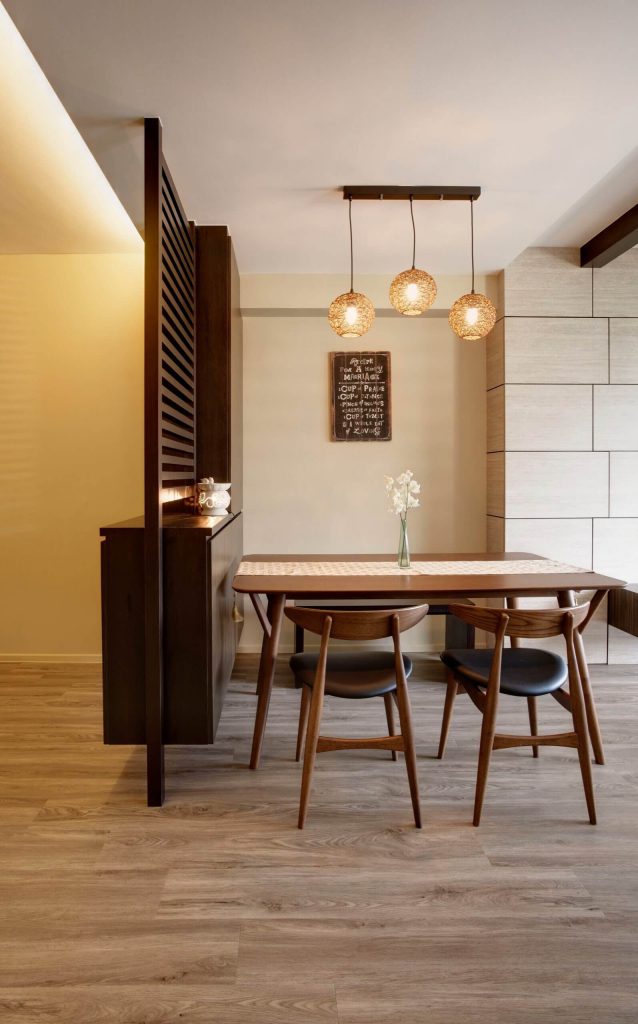 A balanced and harmonious usage of colours and textures is like music to one's ears when it comes to Scandinavian interior design. Whether you lean towards Scandinavian, Contemporary or Modern Minimalist design, our designers are flexible enough to cater to every homeowner's personality. We provide services for both condo interior design and landed interior design for homeowners as well. Start building your dream house with us today!
Check out our other blogs: