9 Modern Interior Design Tips for a Refreshing Home Makeover
Whether you own a small HDB flat or a large, landed property, you would want your home to be as comfortable as possible while still looking beautiful and pleasing to the eye. When designing or renovating your home, you can come across various interior design styles and themes such as modern mid-century design style, colonial-style interior design, balinese design style, and rustic interior design theme. All these options can become somewhat overwhelming if you are not aware of their various types and specifications.
Here, we will describe one of the most famous styles that are trending these days: modernist interior designs. Like all other styles, the modernist theme comprises certain specific features and styles that help to create that modern look while still maintaining harmony among all the elements. There is a kind of simplicity in this theme that features crisp and clean lines with earthly tones and geometrical shapes. Together, all the elements mold to create everlasting relevance and beauty.
Discussed in detail below are 10 of the most prominent tips that you can use to create a beautiful modernist interior design whether it is an HDB flat, condo, or landed property.
1.  Keep The Walls Neutral
There are some interior design styles that feature bold wall colours or wallpapers which add to that particular theme and style. However, in modernist themes, the walls are kept neutral, usually of earthly tones and pastel shades. White, off-white, grey, beige, and their hues look perfect in a modernist style. This holds true for the interior as well as the exterior of the house.
Consider the following living room interior at Sophia Residence completed by us. Notice how the walls are kept neutral in this modern design which go well with the other earthly tones in the room.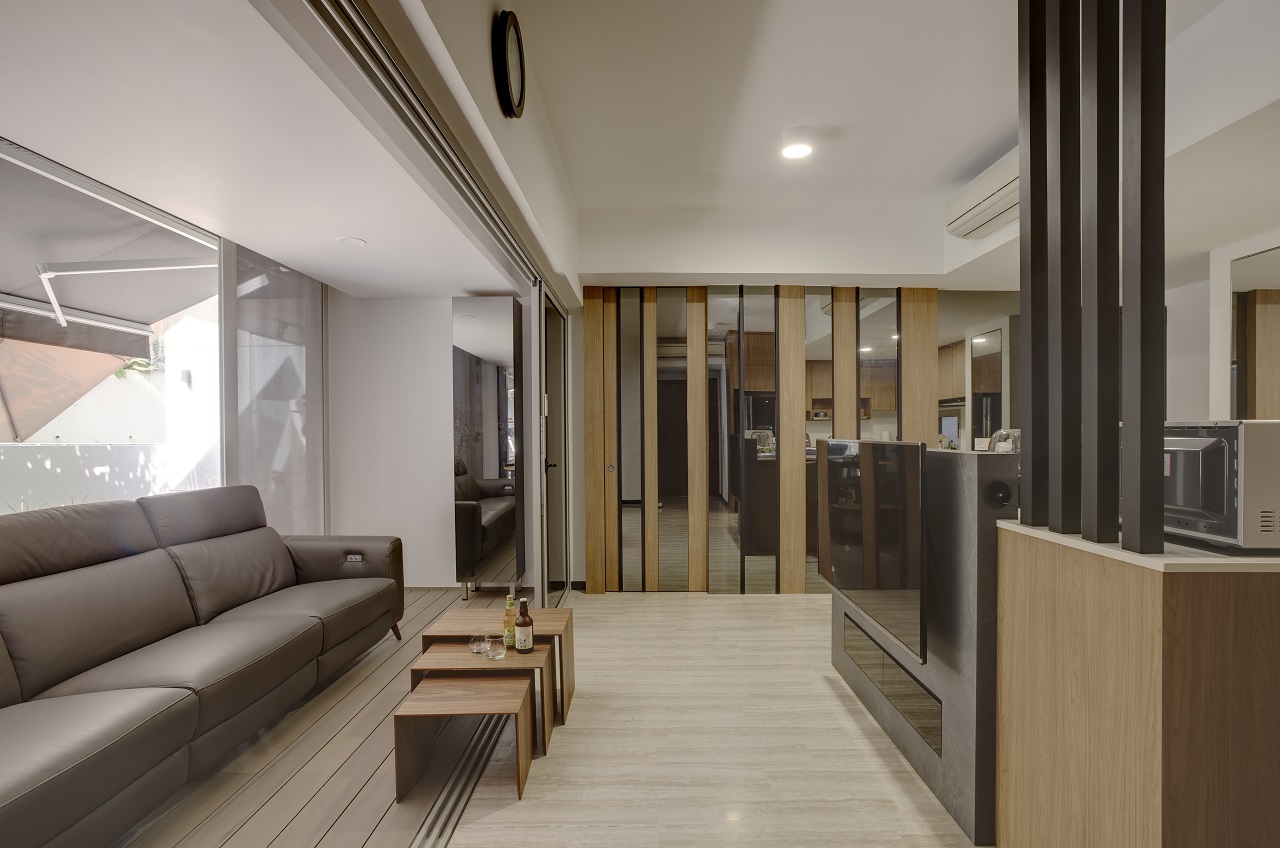 2.  Use Simple Clean Lines
Modern style is all about simple clean lines. Whether it is the furniture or décor items, all echo strong vertical and horizontal lines. It also features geometrical shapes and figures which can be incorporated in the form of furniture, wall art, or other décor items. These lines and geometrical shapes create an environment where a lot of accessories or ornaments are not required. The furniture is kept simple, usually in geometrical shapes and tones. When combined with the neutral walls and wooden textures, the result is a beautiful and pleasing environment.
A perfect example of using such lines and shapes is in the following HDB interior design project at Joo Chiat in Singapore.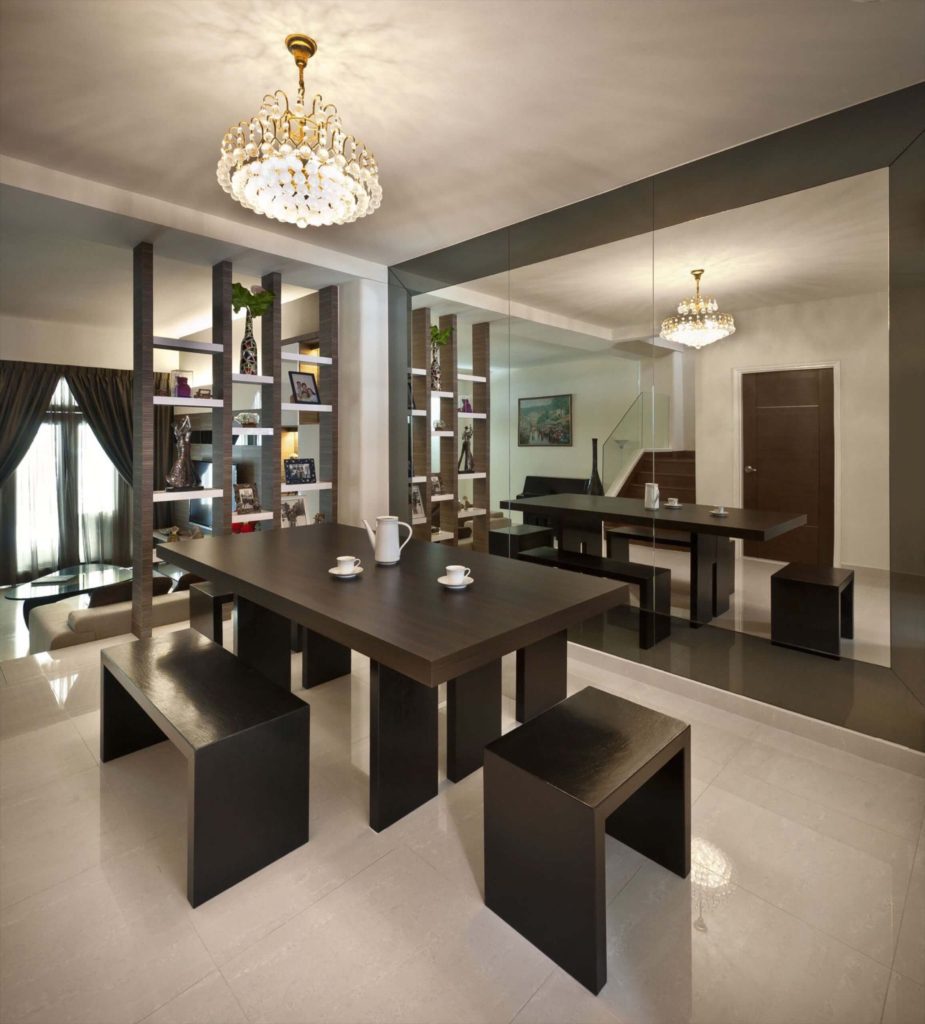 3.  Keep The Area Clutter-Free
Another important feature of the modernist design is to keep fewer things so that the area appears clutter-free. Any house which has too much of anything whether it is extra furniture, extra decoration items, or too much wall art, will create visual clutter that will not be pleasing to the eyes. However, any house is bound to have some necessary stuff that needs to be stored in order to keep the area clean.
This storage could be in the form of a storage room if available. Otherwise, you would need to incorporate hidden storage inside the functional elements of the house. This could be in the form of ottomans, sitting benches, sofas, and other items that double as storage areas.
Consider the following image of a Japanese modern interior design at Cantonment Rd, Singapore that features hidden storage that helps keep the area clean and tidy.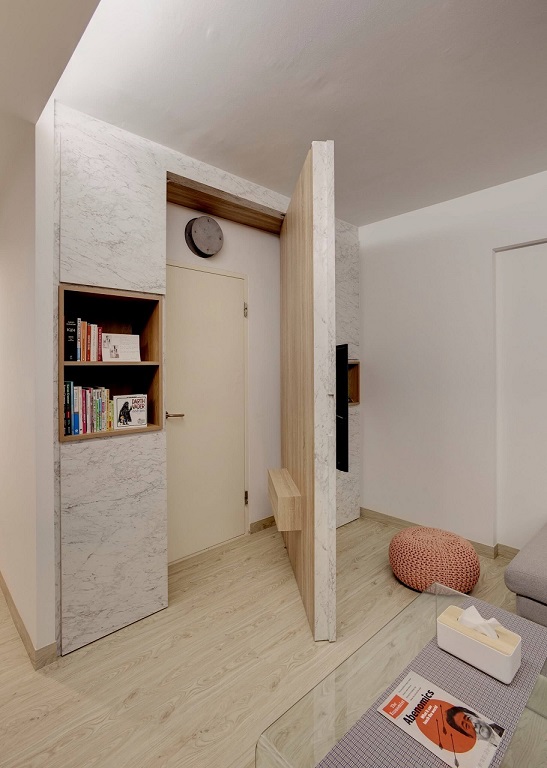 4.  Keep An Open Plan
Another important characteristic of a modern interior design is an open and airy plan. The open architecture of the home helps in creating greater visual space that makes the area appear much larger. It also helps in creating a brighter and airy environment that is not constricted by unnecessary structures. This can be achieved by keeping the kitchen, dining area, living area, and sometimes even the entry hallway in one area. When there are no dividing walls, a sense of visual continuity, natural light, and air circulation is felt.
As an example, consider the following open floor plan of a beautiful modernist home where the kitchen, hallway, and living area are not divided by any walls to create a visual balance and spacious effect. You can find 9 amazing open-concept kitchen design ideas in our article.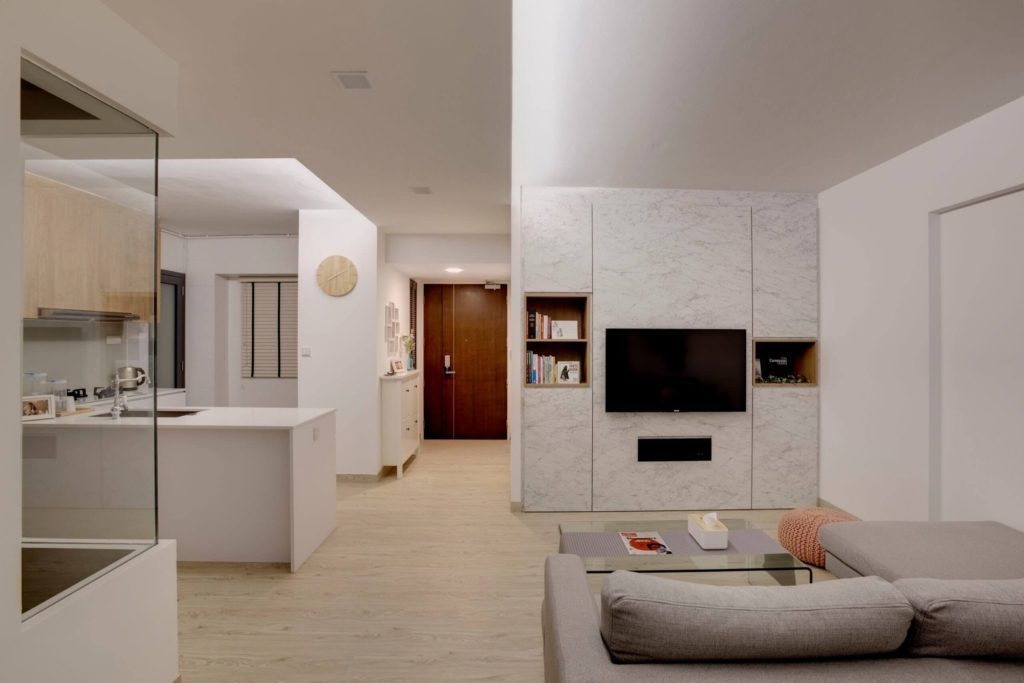 5.  Use Iconic Furniture
Another way in which you can incorporate a modernist design in your home is to use iconic furniture from the first half of the 20th century that showcases the typical modern styles and themes. Examples include Mies van der Rohe's Barcelona chair and the butterfly chair which have become iconic for any home that wishes to have a modern design. The furniture can also contain straight lines and restrained use of decoration to achieve a similar modern effect. The idea is to avoid bold patterns or prints and keep things simple with plain fabric.
Notice in the following image a beautiful modernist interior design project at a condominium at The Clement Canopy. The balcony features a variation of the butterfly chair and the living room sofa is kept simple and neutral to give a combined modernist effect. Check out more condominium interior design ideas in our blog post.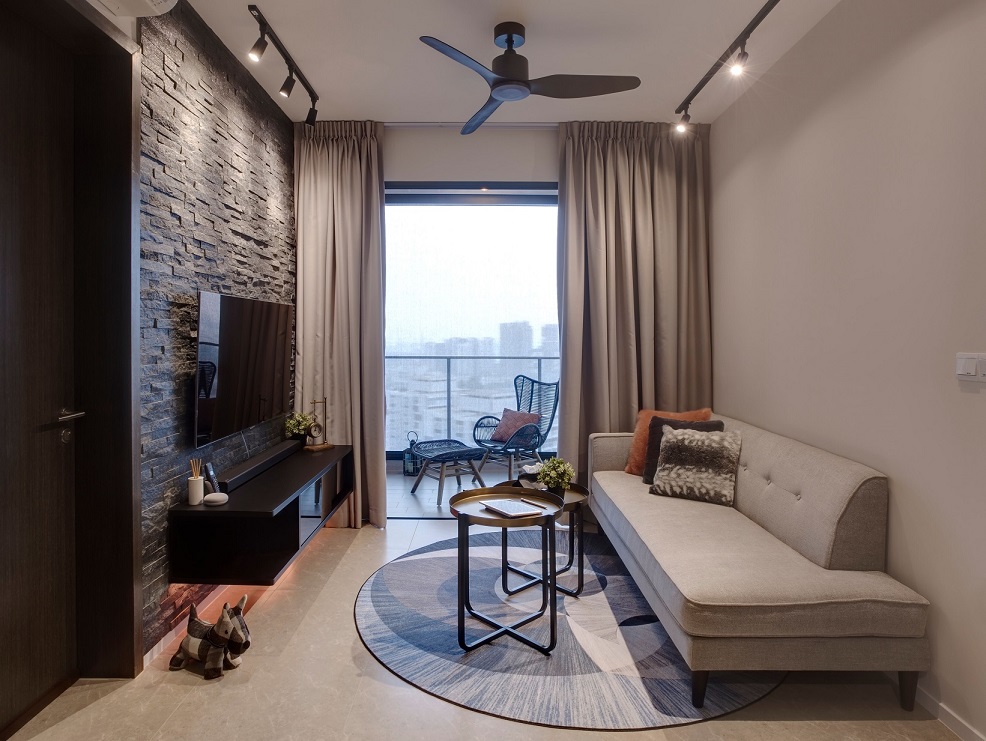 6.  Incorporate Large Windows In The Design
Large windows should be a part of any design which you are incorporating into your home as it allows a lot of natural light to flow in. The modernist theme also features large windows for as many rooms as possible since the larger amount of natural light will automatically enhance all the other design features. Lots of natural light makes any room appear much bigger, spacious, and airy. It also helps to make the area brighter and uplift your mood.
Take the following example of a living room interior design at The Rainforest. The huge window helps in brightening up the space to create a perfect contrast with the other earthly-toned elements.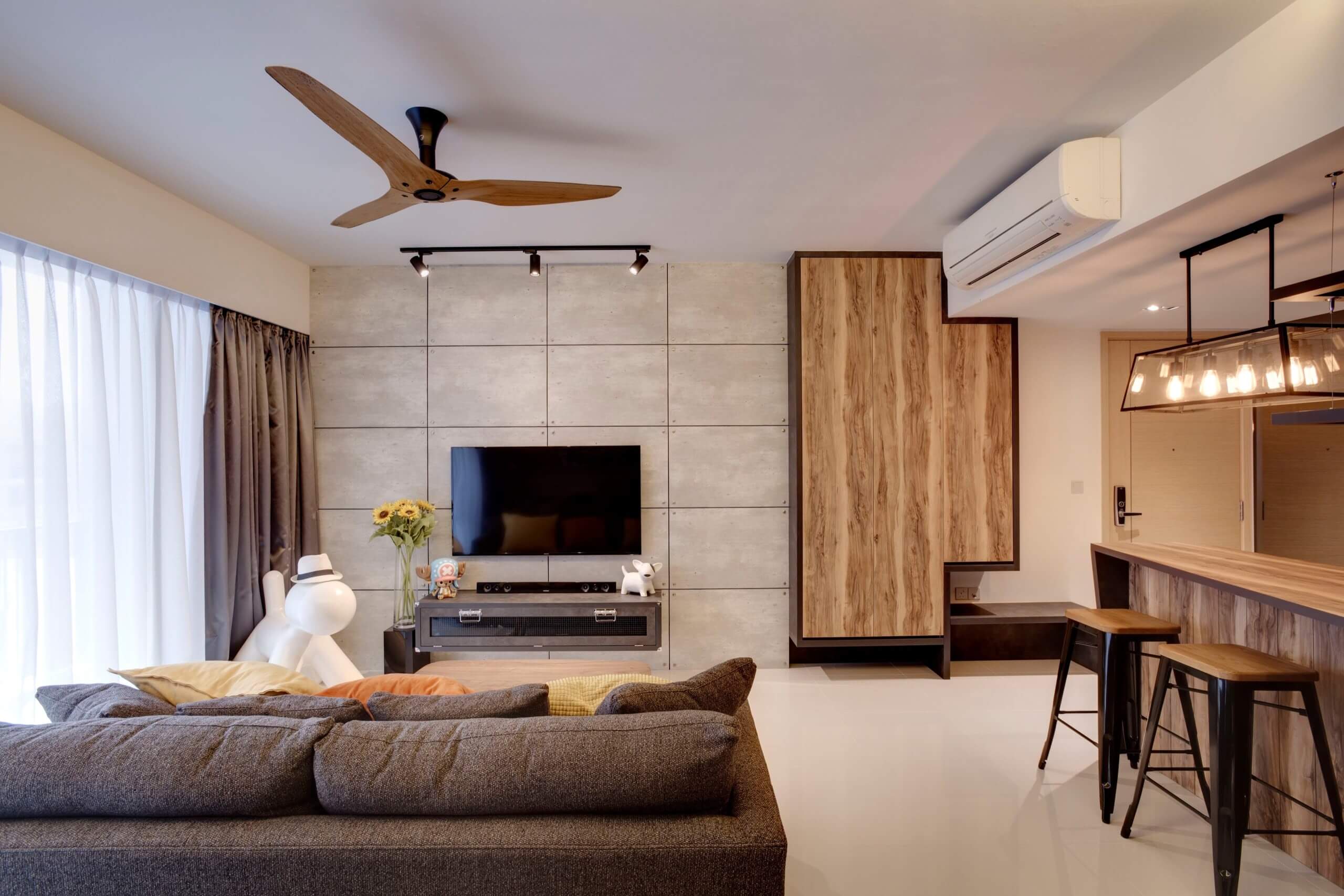 Collectors of Scandinavian Chic @ The Rainforest
7.  Add Wood And Earthier Elements
Modernist interior design features wooden and earthier elements that work together with other simple and neutral items to create the perfect harmony of elegance, beauty, and functionality. The main colour palette of the modern style includes white, grey, beige, and black tones. Since neutral shades can create monotony, black or a few dark colours can be used to break the neutrals. Such tones help create a soothing, relaxed, and softer environment which looks modern and trendy.
The modern theme also features natural materials such as wood, leather, steel, grass, or fur. Consider the following bedroom interior design of a house at Sophia Residence, Singapore. Notice how the wooden furniture and headboard of the bed combined with the wooden floor and brown curtains create the perfect balance.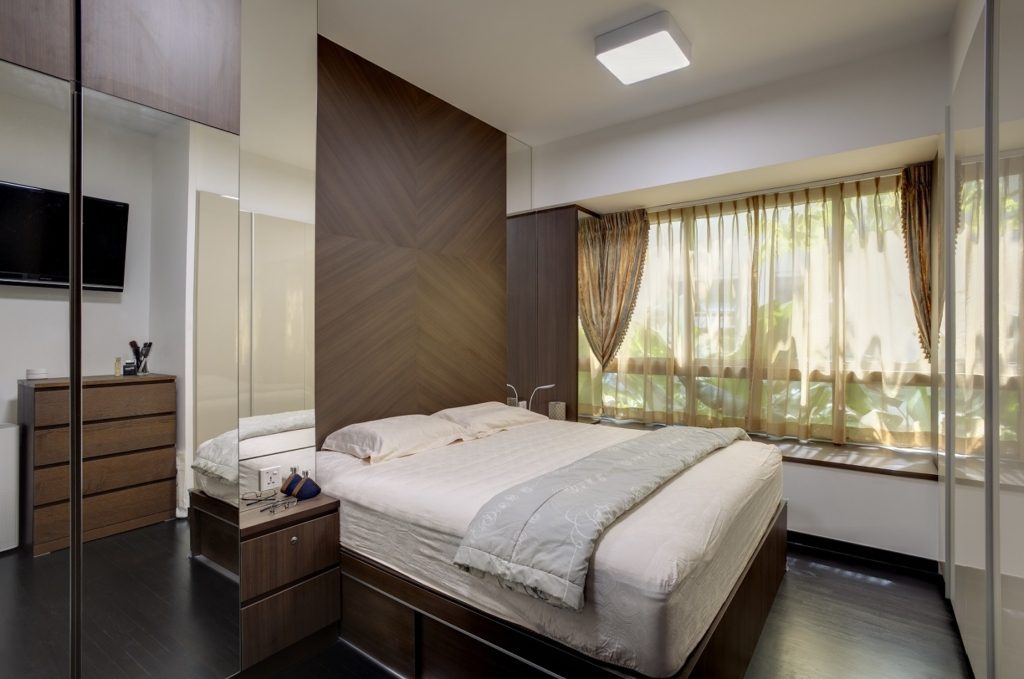 8.  Add Modern Art To The Space
Another important tip through which you can add modernism to your design is to add modern wall art or paintings. Such art can immediately create a modern and elegant outlook for any room. Although a modernist theme features neutral colours and tones, you can add bright and bold wall art to balance the interior.
Modern art usually features abstract paintings, geometrical patterns, and bright colours. This can be seen in the following living space at High Park Residence where a huge image of the Eiffel Tower along with a modern painting of bold colours helps to create a modern design.
9.  Create Harmony Among Elements
Probably the last most important feature of a modernist design is to create harmony among all elements of the design. You want to create a harmonious optical sensation of décor that gives you a feeling of tranquility and happiness when you enter the house. The most important aspect of harmony is to choose colours wisely. Try to choose a couple of tones to set the mood and add a few other colours here and there to complement them. Keep the main theme neutral and add just a few colours to add pop to break the monotony.
The following living room image of a house at Cantonment Road, Singapore is a perfect example of harmony in a colourful yet modern design. The wooden floor along with grey and white walls work perfectly with the colourful furniture to create balance and beauty.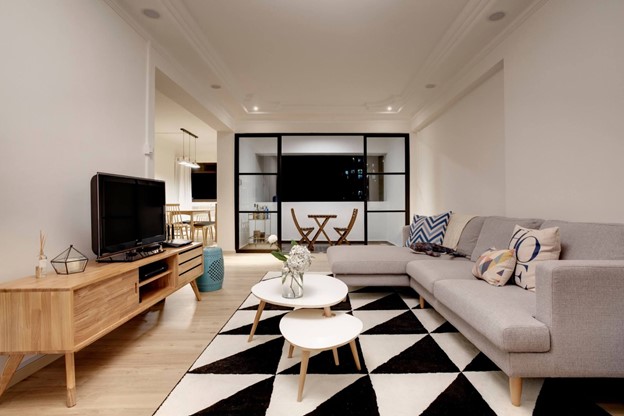 Examples Of Modern Interior Design Houses
Rustic Cotton Candy With White-Toned Variations
This condo features various white-toned design elements spread in a Scandinavian theme. Various vintage and modern elements are combined together with white as the main theme and other pastel cotton candy colours as the undertones. These choices of colours create a fresh and lively ambience that is bound to match any sort of decorative elements of the design.
The bedroom has traditional hardwood floors which contrast beautifully with all the other elements of the room which are predominantly white. One wall features a white-toned vintage wallpaper while all the other walls are plain. The furniture is also off-white coloured. The Scandinavian plus minimalist design is evident in the bedroom where everything is kept simple and elegant.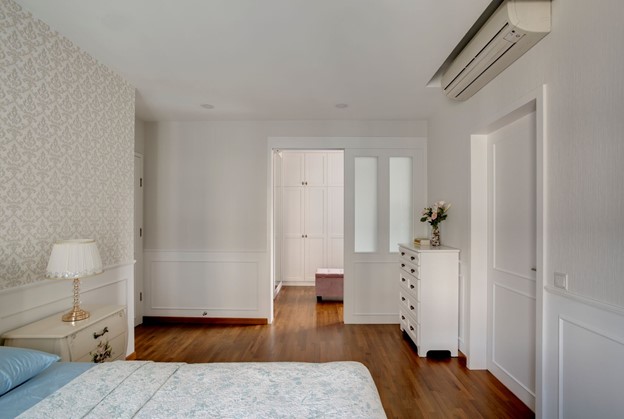 Scandinavian White Bedroom @ Bedok Reservoir
The attached walk-in closet shows vintage elements in a modern place. The cabinets and shelves have glass doors that help to visualize the collection in the room. Spotlights and mirrors help to bring functionality to the closet while still creating a modern ambience.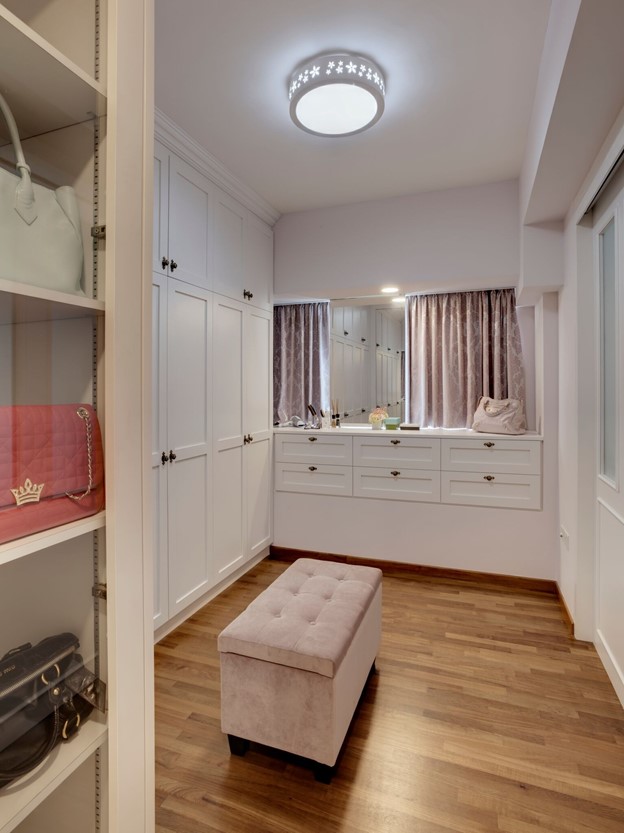 Modern Walk-In Closet @ Bedok Reservoir
The kitchen again depicts a cotton candy-themed white interior contrasting beautifully with a pastel shade of blue that helps to uplift the white in the interior. The kitchen tiles are floral-themed with shades of white, grey, and blue. These patterned tiles help to enhance the otherwise plain and dull solid-coloured interior. The floor tiles are slate shaded with no patterns at all. All cabinets are blue with white countertops to create a clean and decent appearance. Interior designs of HDB in Singapore with a bright theme are excellent for people who are living in clustered areas that receive little sunlight.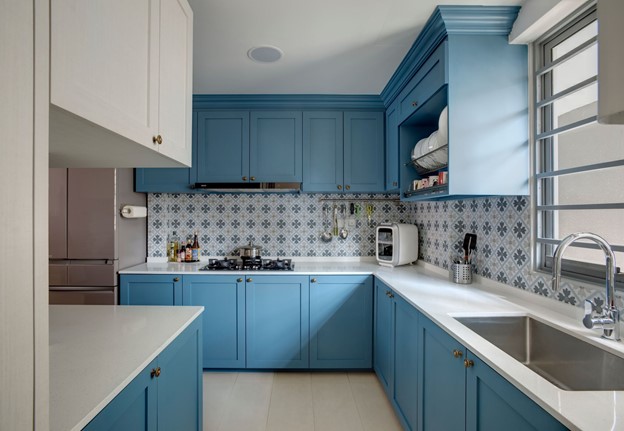 Elegant Kitchen @ Bedok Reservoir
The lounge is predominantly white with white floors, walls, shelves, TV consoles, and window blinds. Using so much white can make the area look too washed out. To cater to such a problem, a pastel-coloured sofa and cushions are added. The black TV and home theatre system adds a striking contrast to the white. Similarly, small picture frames and decorative items of various different colours are added to the shelves which help to balance out the overall white theme. Such a lounge creates a fresh and lively space in the morning with lots of sunlight bouncing off the white elements whereas, at night, the various forms of recessed lighting and spotlights create a dramatic and elegant effect.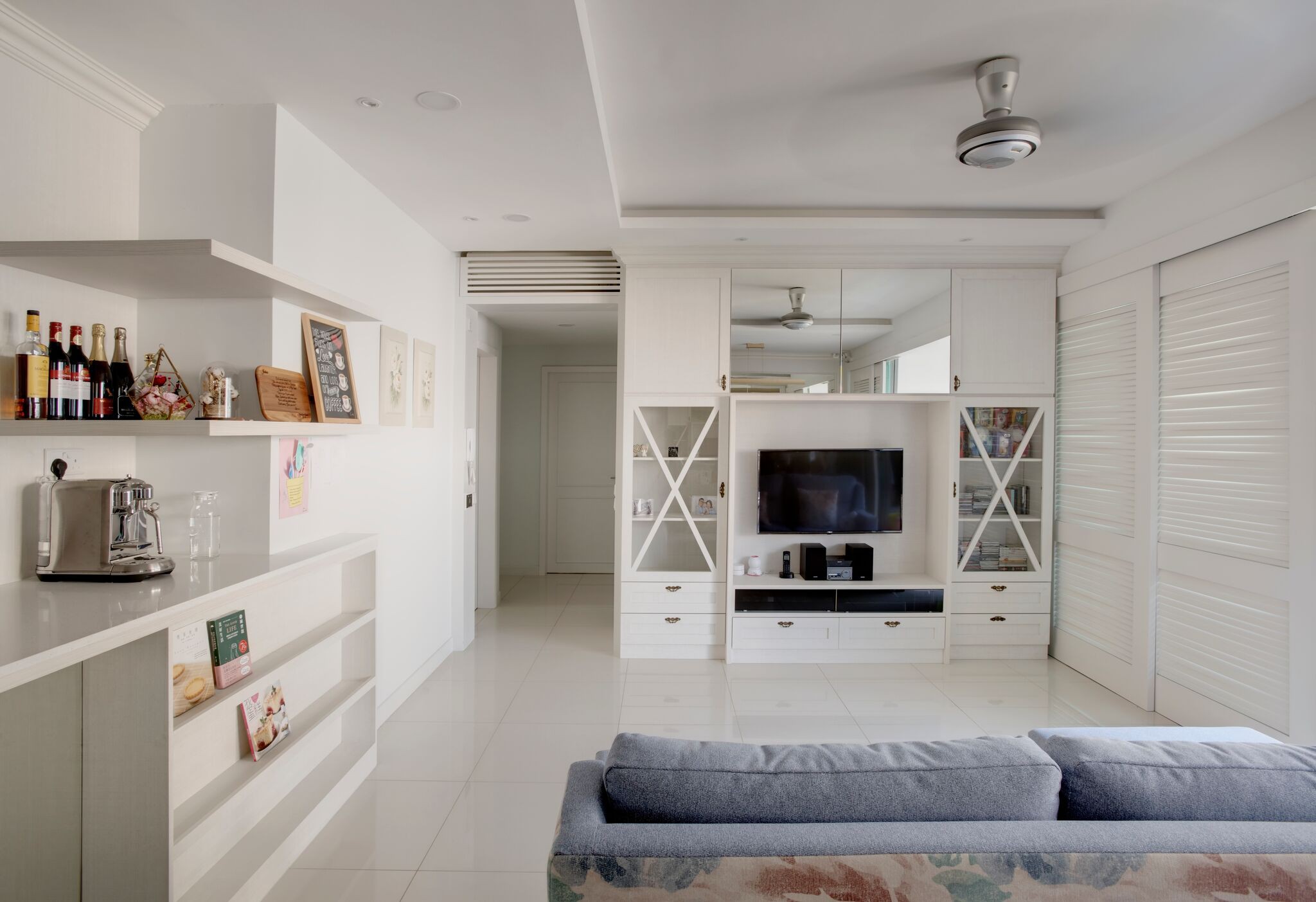 White-Themed Lounge @ Bedok Reservoir
All Neutral Look At River Bank
This executive condo designed by Space Factor is another example of how using different hues of white you can achieve an all neutral look with a touch of contemporary interior design for a classic and sophisticated look. The benefit of choosing these neutral hues is that it allows you to play around with a number of options and offers you flexibility in interior design. Keeping the background neutral, you just change the accents in the foreground to completely transform and revamp the appearance.
The lounge in this condo uses a white/off-white background which is accentuated by adding various accents of Oakwood colour and texture. The sofa is slate-coloured which is the same shade as that of the curtains. Wooden textured cabinets and wall panels help to complete the all-neutral look while still making the space appear bright. A small dining table and matching chairs are all the shade of Oakwood. A few indoor plants and floors add just the right amount of colour to this neutral palette. Recessed lighting and indirect lighting add an elegant and sophisticated touch. Giving a natural theme to landed property design makes them feel like a cabin in the woods! For more landed property interior design ideas, check out our article.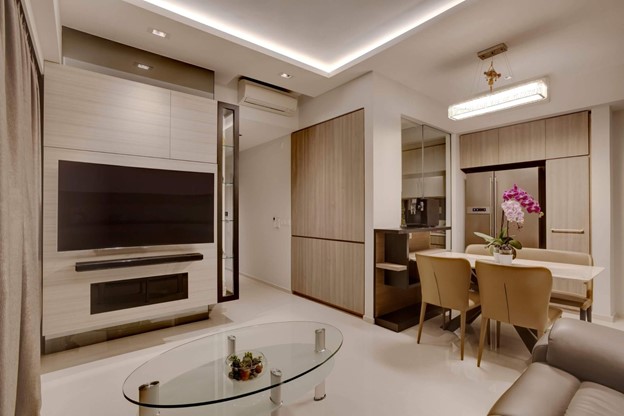 All-Neutral Lounge @ River Bank
One of the bedrooms goes after the white theme with an off-white platform bed that has an attached study table to maximize functionality. The headboard of the bed also has hidden storage areas to maximize the usage of any available space. The platform bed has drawers underneath which again help in storage and keep the space decluttered. The curtains are a soft shade of beige which goes with the overall neutral theme of the room. The floors are light Oakwood colored which completes the all-neutral look.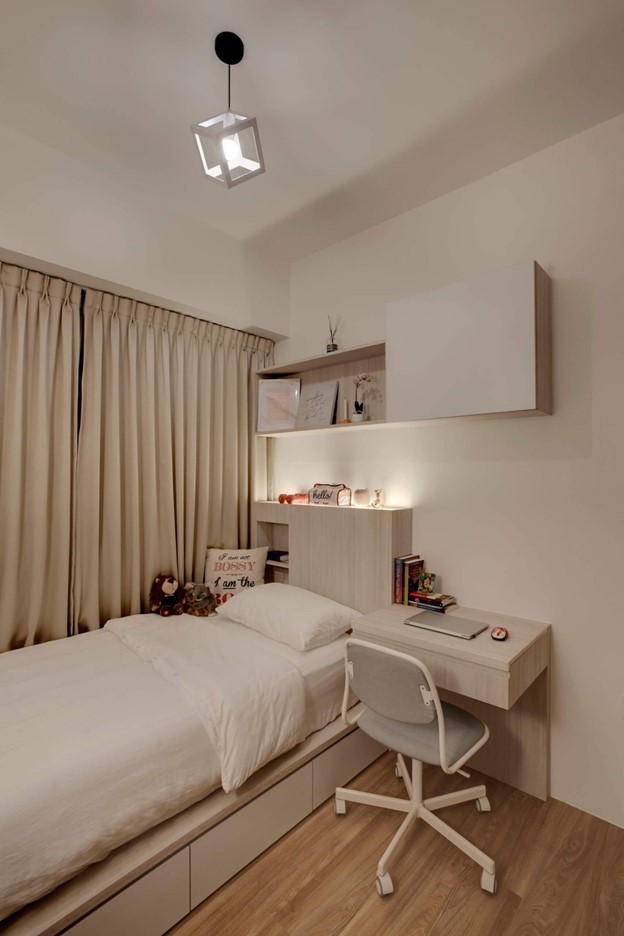 For the other bedroom, the designers went with a relatively darker choice of color by contrasting dark brown with the off-white theme. The walls are kept simple with no wallpaper and of cream shades. The platform bed is of dark brown color and it has an attached nightstand with it. The room also features a study table and chair which have been designed to take up as little space as possible. Finally, everything is brought together by adding curtains of two tones: dark brown and cream.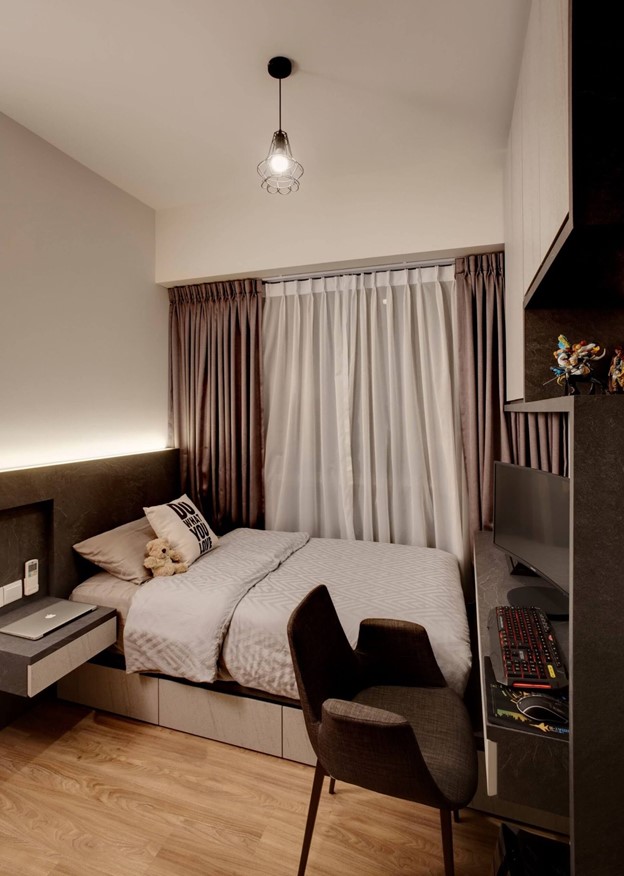 The Land Of Dreams At Hill View
The designers at Space Factor have rightly named this project of theirs as the land of dreams since it offers a comfortable, sophisticated, and unique interior design for its dwellers. The predominant theme of this condo is again white and its hues. However, certain touches of different colours in different rooms make the space come alive in a unique and fun manner.
There is an open-concept kitchen with a dining area that flows beautifully into the living room. The floors are tiled with off-white coloured ceramic tiles. All the wall panels and consoles are of a similar colour to laminate wood. The accents in the panels are of a deep shade of grey which blends perfectly well with the off-white elements. The dining area also features laminate wood stools and a counter with black iron stands to contrast with it. Spotlights and recessed lighting bring a touch of style and elegance to this space.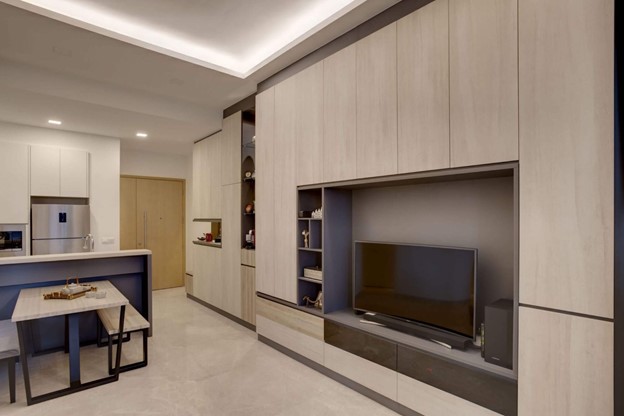 Open-Concept Kitchen Flowing In The Living Room @ Hillview
The living room may look spectacular in this condo but the real magic happens when you enter the kids' room! The walls are painted in a pastel baby pink colour which immediately makes the room appear cute and fun. But the design takes it to another level. A small doorway covered with a curtain leads you to a small area where a mattress is placed on the floor and it has shelves and a storage area next to it. This seems to be a perfect nook for an imaginative girl. However, on top of this nook behind this area are stairs that lead to an upper area where there is a small living space for another girl. The designers have done a splendid job of creating bed spaces and comfortable nooks for two children in such a small space. And the overall design and theme of this kids' room make one want to stay here forever.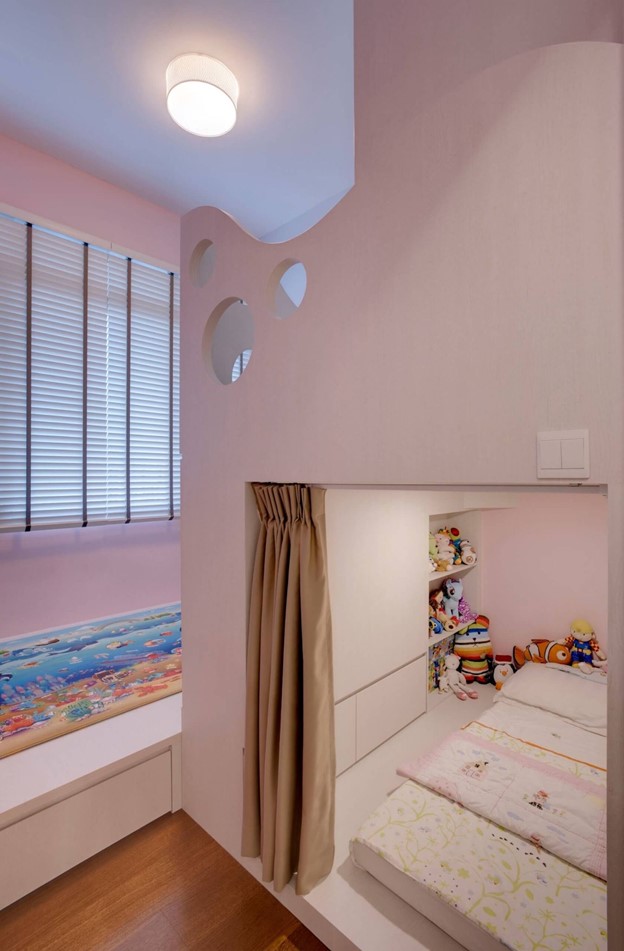 Magical Children Bedroom @ Hillview
Brighten Up The Space With Some Color
Although a modern interior design is dominated by cool and neutral colours, the space may become a little too dull. To add that extra wow factor to a modern interior, brighten up the space by adding some colour to the elements. Of course, this colour should only be used sparingly since we do not want it to become too much for the eyes. The idea is to add a pop of colour to two or three elements of the room and balance them with some other neutral or solid colour. As an inspiration, consider the following portfolio design where a modern interior can be viewed that features a typical modern interior in neutral colours and geometric patterns. However, just a pop of colour is added in the form of two teal and mustard cushions which also bear a harmonic contrast to wall art in shades of blue and yellow. Notice how the use of these colours brightens up the space without making it a sore for the eyes.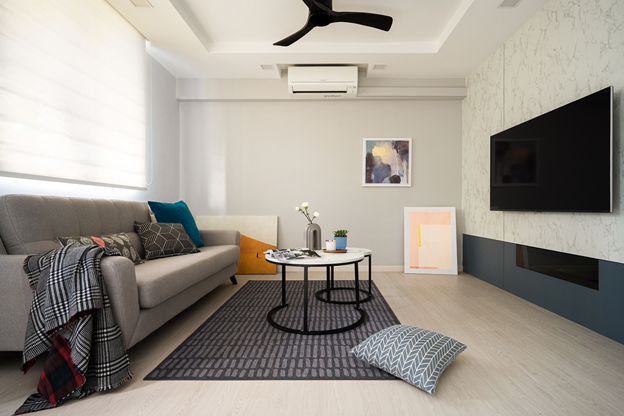 Add Some Industrial Elements
You may wonder how adding industrial elements to a modern interior design will make it more modern and not industrial? Well, hear us out. An industrial interior design is dominated by elements that exhibit raw natural elements such as metal, glass, concrete, pipes, and similar things. Where these elements make an interior a specific warehouse theme, you can still add a few of these elements into your modern interior and give it an uplift in appearance. You can add glass doors with metal frames or give the effect of concrete to the walls of the bedroom while keeping everything else modern. You can add metal beams to achieve a similar effect. As can be seen in the following image, vertical beams mimic metal beams whereas the TV console mimics a concrete fixture. Notice how both these industrial elements enhance the elegance and modernity of this interior.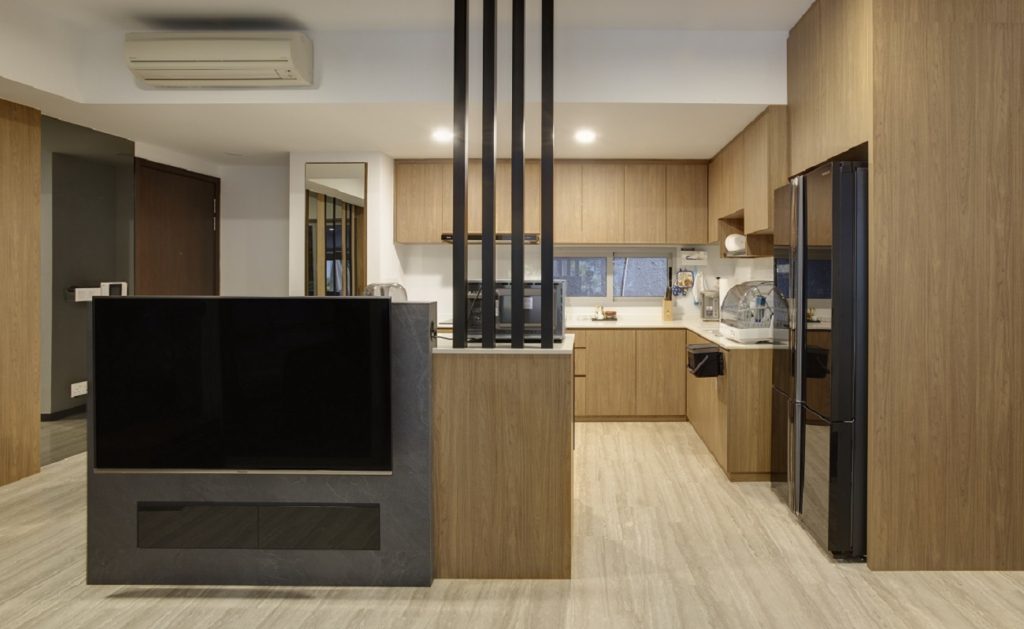 Various Forms Of Modern Lighting
​​Probably the easiest and most satisfying way to bring a modern touch to your interior is to add different forms of modern lighting. By mixing and matching different forms of lighting in any room, you can uplift its appearance manifold. Clever lighting can be used to enhance the stronger elements in your interior while shadowing the not-so-important ones to create a beautiful and amazing aesthetic. As an inspiration, consider the following image where we see various types of lighting that are giving the interior a modern and elegant appearance. Indirect lighting in the ceiling crevices creates a dramatic effect whereas spotlights reflect beautifully from the glossy floors. We can also see an LED chandelier that is the epitome of beauty and modernism.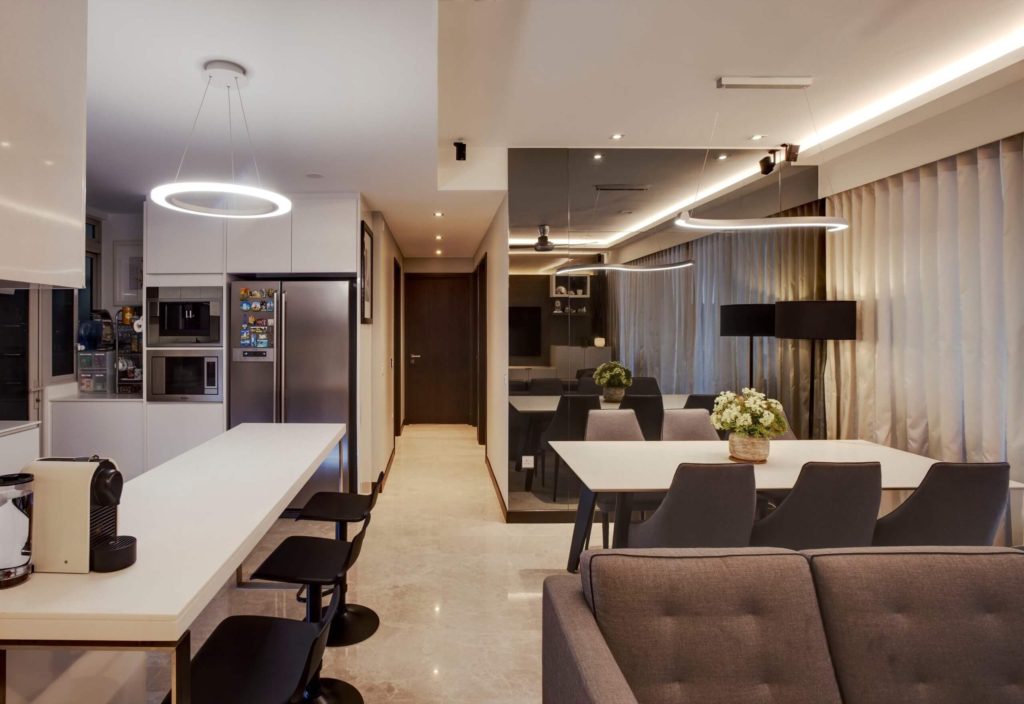 Flaunt Your Floors
Gone are the days of using carpets and rugs to beautify your space. Modern interiors focus more on simplicity and minimalism and this includes flaunting your beautiful marble or hardwood floors the way they are. You can choose the same floor for your complete house or choose different types and colours for different rooms. In the following image, we see a traditional marble floor that the designers are showing off without any carpets or rugs on it.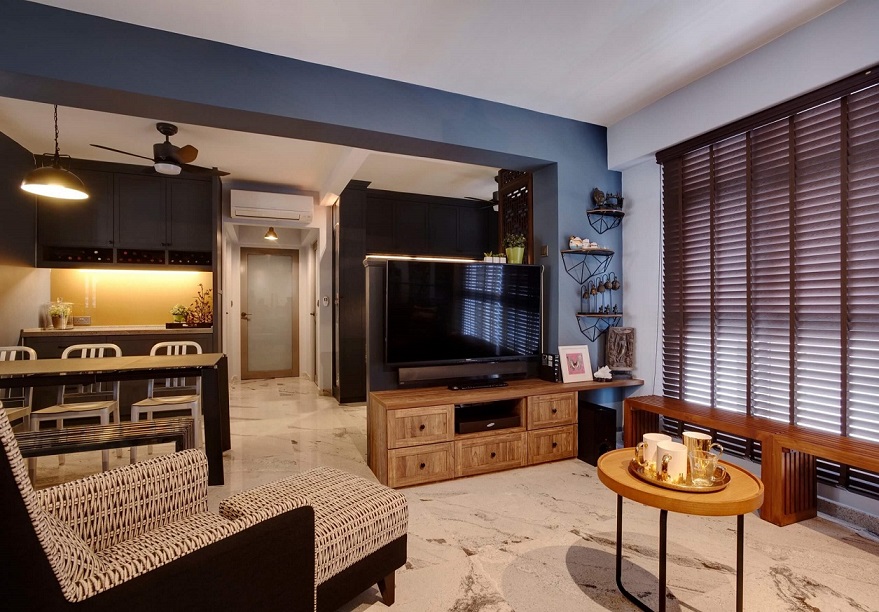 Make An Exquisite Kitchen
Often during home renovation, we focus on the living room and bedrooms but don't pay much attention to the kitchen interior design. But in reality, the kitchen needs to be modern and exquisite if you want to have a generalized modern theme for your home. And this is even more important in an open-concept plan because the kitchen is always visible the moment you enter the house or when you are in the living room. So the idea is to use all kinds of modern elements that you would otherwise use in the living room or the bedroom in the kitchen as well. This involves various forms of lighting, a cool neutral colour theme, some touch of wood and nature, and a clean decluttered space. This can be seen in the following image where hanging lamps and indirect lighting add a dramatic effect to the kitchen. The open-concept kitchen theme is glossy white with a light oak wood island and stools. The verdict? Simply exquisite and modern!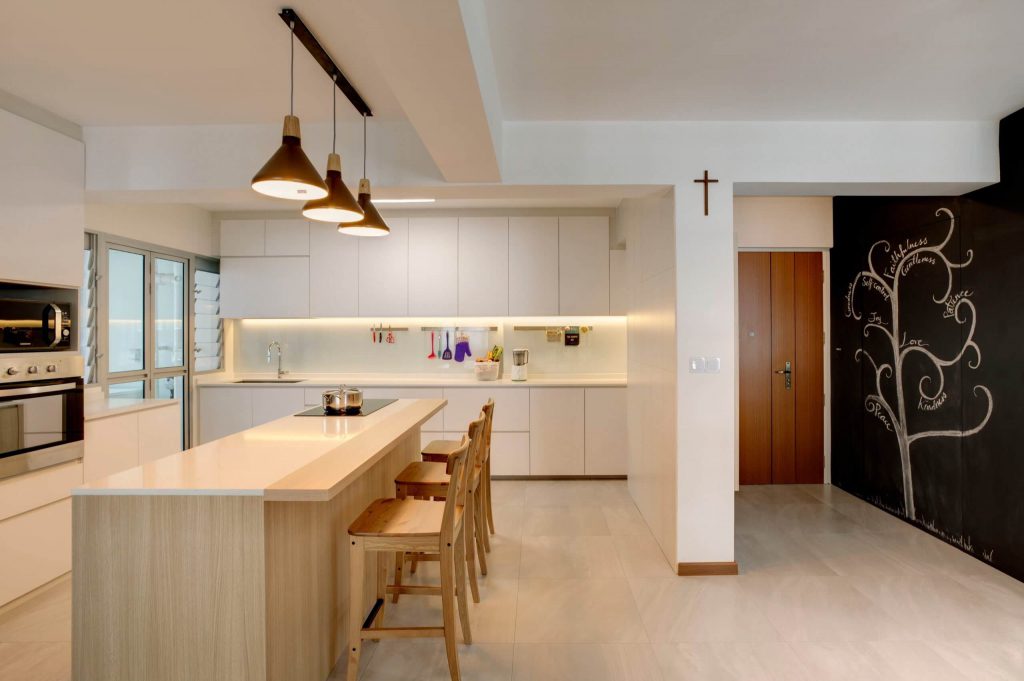 For My Sweet Child @ Sumang Lane
Exciting Bathroom Designs
So once you have decided to make a modern interior in the living room, bedrooms, as well as kitchen, then why leave the bathroom behind? Creating amazing and exciting bathrooms will immediately enhance the overall outlook and aesthetics of your home. Try to add exquisite elements in the bathroom such as glass partitions, glossy walls, and shiny immaculate toilet fixtures to achieve the required effect. In the following image, we can see a beautiful and modern bathroom that is dominated by a white colour theme. However, the black border of the glass partition adds a sharp contrast to the white while also adding depths of colour perception to the design. The bathtub is in a modern oval shape that looks immaculate along with the shiny floors and a textured accent wall. A warm yellow indirect lighting acts as the final modern element in the interior.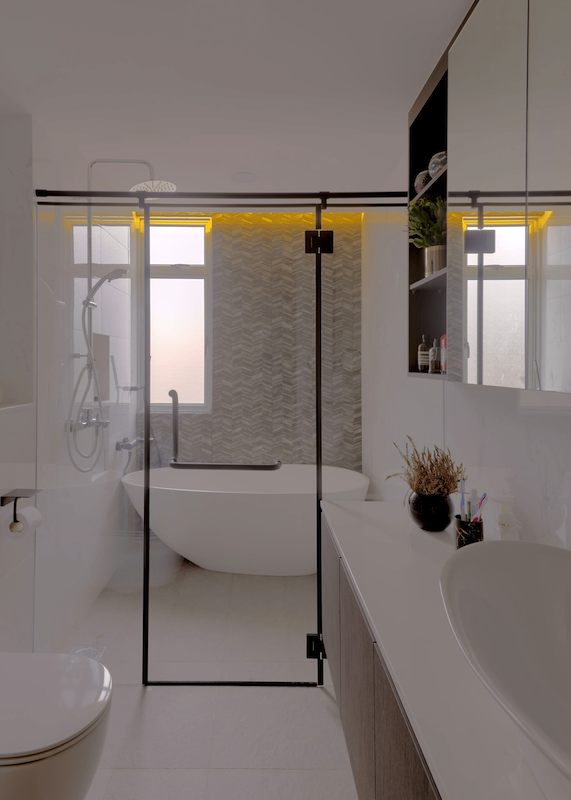 Practical Luxury @ Faber Garden
Walk-In Closets
​​Another simple yet effective way in which you can add a modern touch to your interior is to create a walk-in closet. Walk-in closets appear grand and luxurious but adding them to your interior design is not a very difficult task. If you believe that you don't have a designated space for the walk-in closet, you can even incorporate it into your study room as has been done in the following design portfolio. Notice how they have created a walk-in/open-concept closet that stores clothes, boxes, shoes, as well as bags. A study table in one corner and the huge windows shadowed by the blinds create an office sort of appearance that brings about a different and unique element in the interior.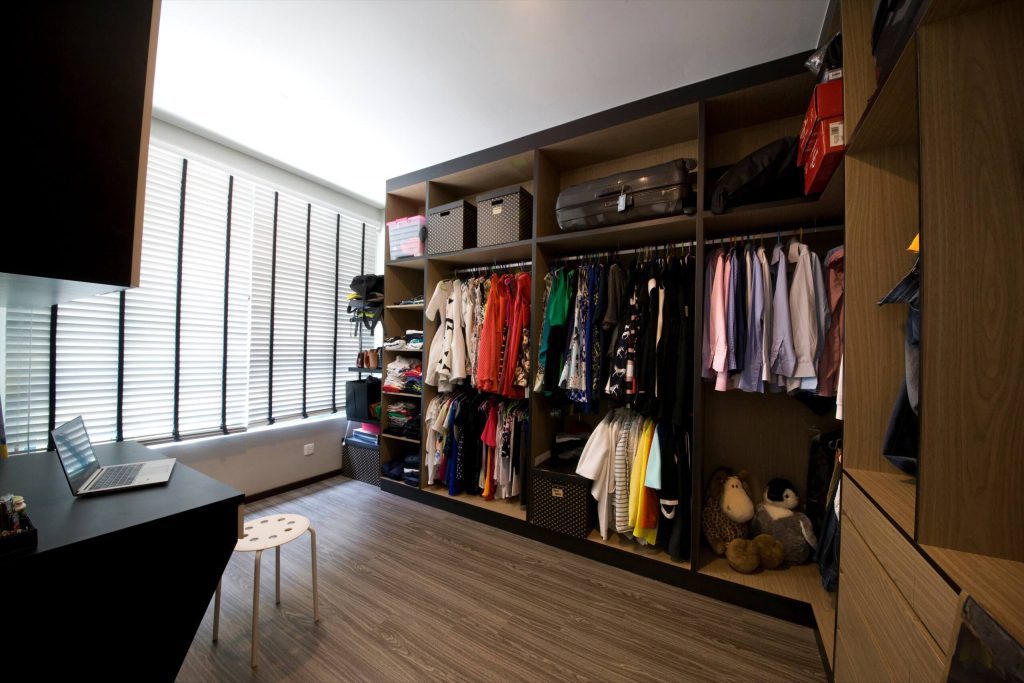 Contemporary Practicalities @ Butterworth View
All these above-mentioned tips can help you incorporate modern elements into your home to create a perfect modern, elegant, and trendy abode. We, the professional designers at Space Factor provide the best interior style that can help you transform your boring house into a modernist interior design spectacle! View more of our HDB interior design ideas on our portfolio page today.
You can also find HDB BTO interior design ideas, 3-Room HDB design ideas, 4-Room HDB interior design styles and 5-Room HDB design styles on our blog pages.
Check out our other articles: