9 Best Tips For Creating A Beautiful Modern Interior Design
Whether you own a small HDB flat or a large, landed property, you would want your home to be as comfortable as possible while still looking beautiful and pleasing to the eye. When designing or renovating your home, you can come across various design styles and themes. All these options can become somewhat overwhelming if you are not aware of their various types and specifications.
Here, we will describe one of the most famous interior design styles that are trending these days: modernist interior designs. Like all other design styles, the modernist theme comprises certain specific features and styles that help to create that modern look while still maintaining harmony among all the elements. There is a kind of simplicity in this design theme that features crisp and clean lines with earthly tones and geometrical shapes. Together, all the elements mold to create everlasting relevance and beauty.
Discussed in detail below are 10 of the most prominent tips that you can use to create a beautiful modernist interior design whether it is an HDB flat, condo, or a landed property.
1.  Keep The Walls Neutral
There are some interior design styles that feature bold wall colours or wallpapers which add to that particular theme and style. However, in modernist design, the walls are kept neutral, usually of earthly tones and pastel shades. White, off-white, grey, beige, and their hues look perfect in a modernist style. This holds true for the interior as well as the exterior of the house.
Consider the following living room interior at Sophia Residence designed by us. Notice how the walls are kept neutral in this modern design which go well with the other earthly tones in the room.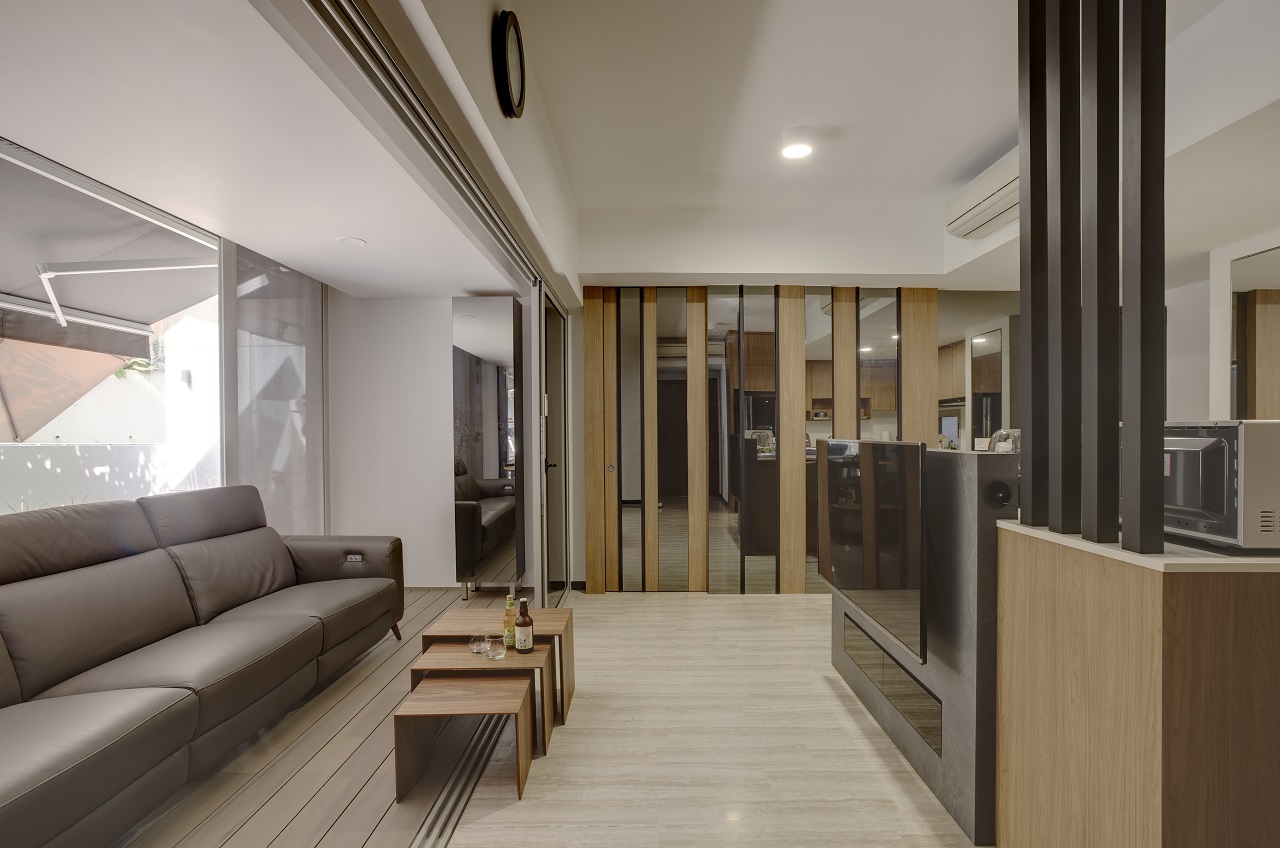 2.  Use Simple Clean Lines
Modern interior design is all about simple clean lines. Whether it is the furniture or décor items, all echo strong vertical and horizontal lines. It also features geometrical shapes and figures which can be incorporated in the form of furniture, wall art, or other décor items. These lines and geometrical shapes create an environment where a lot of accessories or ornaments are not required. The furniture is kept simple, usually in geometrical shapes and tones. When combined with the neutral walls and wooden textures, the result is a beautiful and pleasing environment.
A perfect example of using such lines and shapes is in the following HDB interior design project at Joo Chiat in Singapore.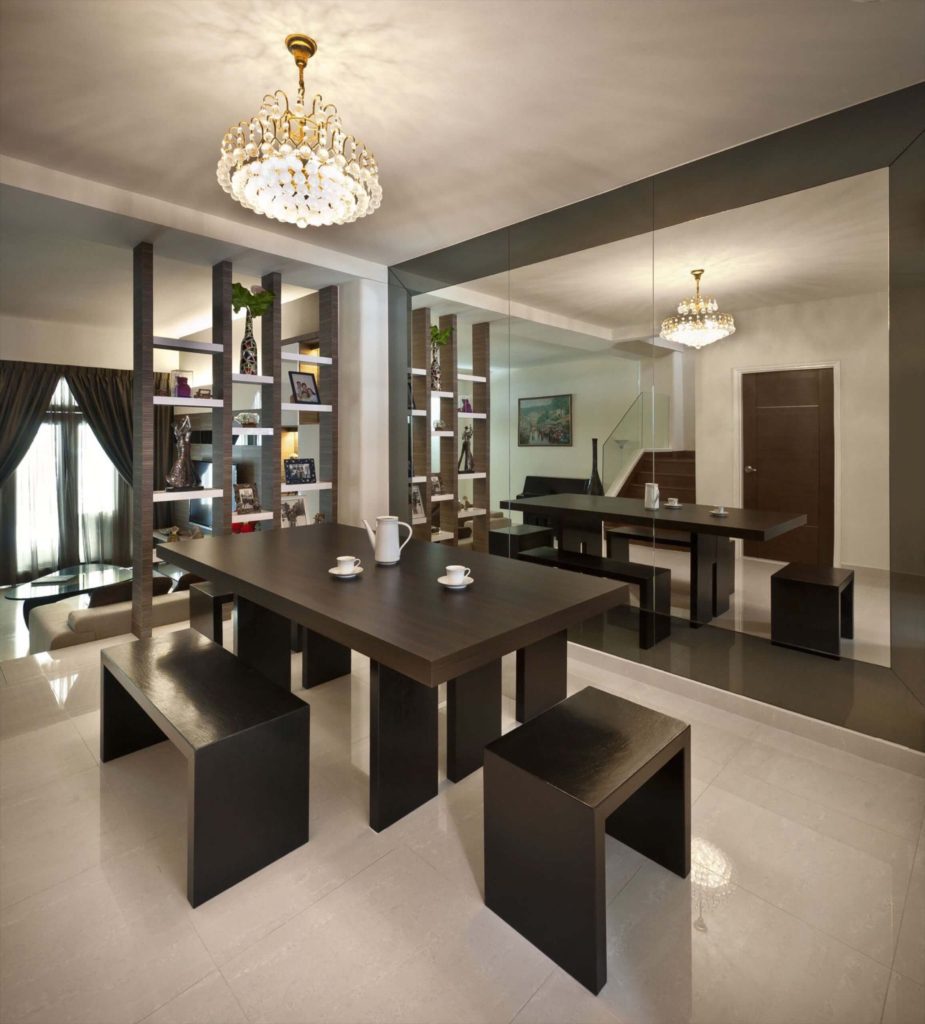 3.  Keep The Area Clutter-Free
Another important feature of the modernist design is to keep fewer things so that the area appears clutter-free. Any house which has too much of anything whether it is extra furniture, extra decoration items, or too much wall art, will create visual clutter that will not be pleasing to the eyes. However, any house is bound to have some necessary stuff which needs to be stored in order to keep the area clean.
This storage could be in the form of a storage room if available. Otherwise, you would need to incorporate hidden storage inside the functional elements of the house. This could be in the form of ottomans, sitting benches, sofas, and other items that double as storage areas.
Consider the following image of a Japanese modern interior design at Cantonment Rd, Singapore that features hidden storage that helps keep the area clean and tidy.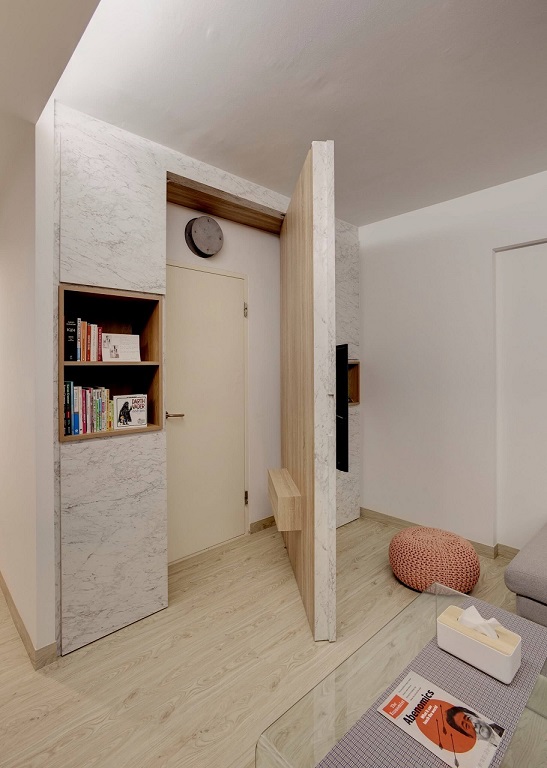 4.  Keep An Open Plan
Another important characteristic of a modern interior design is an open and airy plan. The open architecture of the home helps in creating greater visual space that makes the area appear much larger. It also helps in creating a brighter and airy environment that is not constricted by unnecessary structures. This can be achieved by keeping the kitchen, dining area, living area, and sometimes even the entry hallway in one area. When there are no dividing walls, a sense of visual continuity, natural light, and air circulation is felt.
As an example, consider the following open floor plan of a beautiful modernist home where the kitchen, hallway, and living area are not divided by any walls to create a visual balance and spacious effect.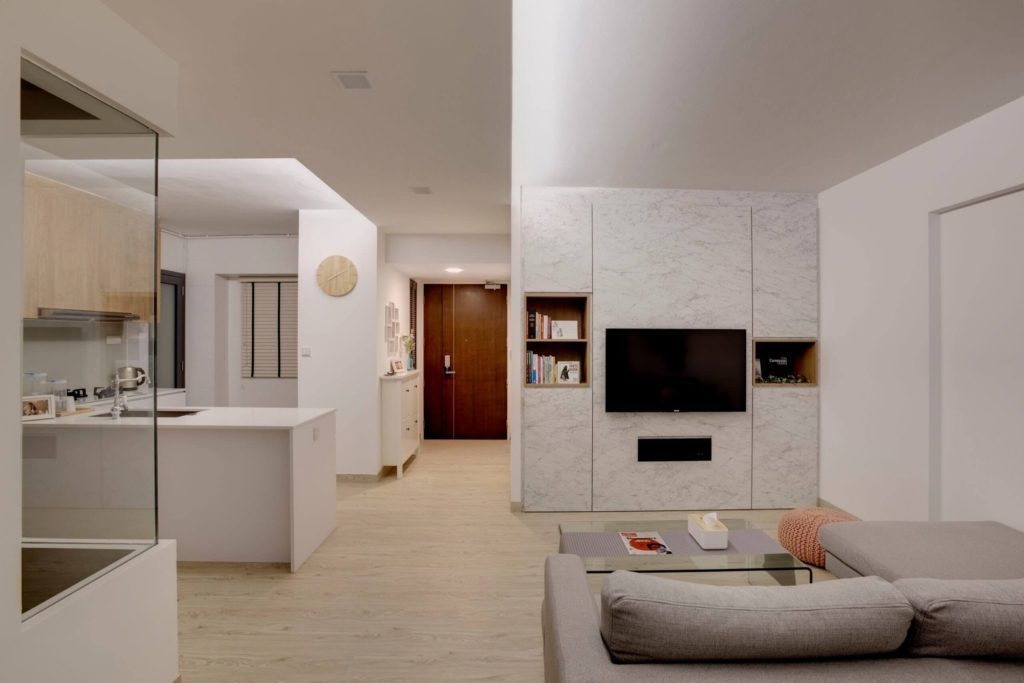 5.  Use Iconic Furniture
Another way in which you can incorporate a modernist design in your home is to use iconic furniture from the first half of the 20th century that showcases the typical modern styles and themes. Examples include Mies van der Rohe's Barcelona chair and the butterfly chair which have become iconic for any home that wishes to have a modern design. The furniture can also contain straight lines and restrained use of decoration to achieve a similar modern effect. The idea is to avoid bold patterns or prints and keep things simple with plain fabric.
Notice in the following image of a beautiful modernist interior design project at a condominium at The Clement Canopy. The balcony features a variation of the butterfly chair and the living room sofa is kept simple and neutral to give a combined modernist effect.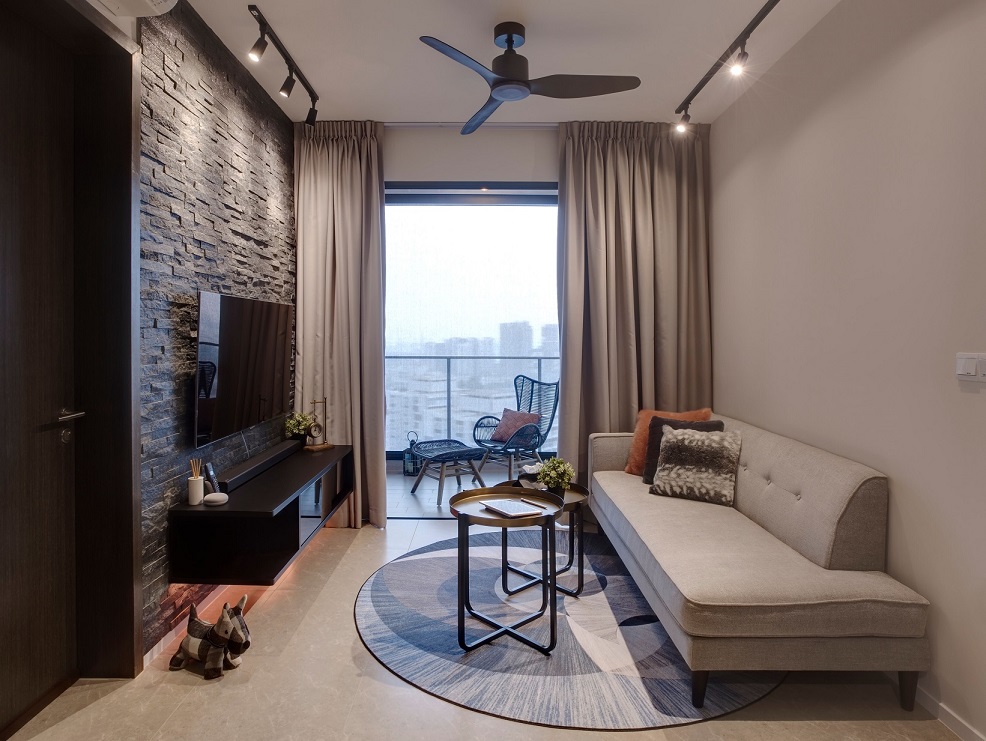 6.  Incorporate Large Windows In The Design
Large windows should be a part of any design which you are incorporating in your home as it allows a lot of natural light to flow in. The modernist design also features large windows for as many rooms as possible since the larger amount of natural light will automatically enhance all the other design features. Lots of natural light makes any room appear much bigger, spacious, and airy. It also helps to make the area brighter and uplift your mood.
Take the following example of a living area at Joo Chiat Avenue. The huge window helps in brightening up the space to create a perfect contrast with the other earthly toned elements.
7.  Add Wood And Earthier Elements
Modernist interior design features wooden and earthier elements that work together with other simple and neutral items to create the perfect harmony of elegance, beauty, and functionality. The main color palette of modern design includes white, grey, beige, and black tones. Since the neutral shades can create a monotony, black or a few dark colors can be used to break the neutrals. Such tones help create a soothing, relaxed, and softer environment which look modern and trendy.
Modern design also features natural materials such as wood, leather, steel, grass, or fur. Consider the following bedroom image of a house at Sophia Residence, Singapore. Notice how the wooden furniture and headboard of the bed combined with wooden floor and brown curtains create the perfect balance.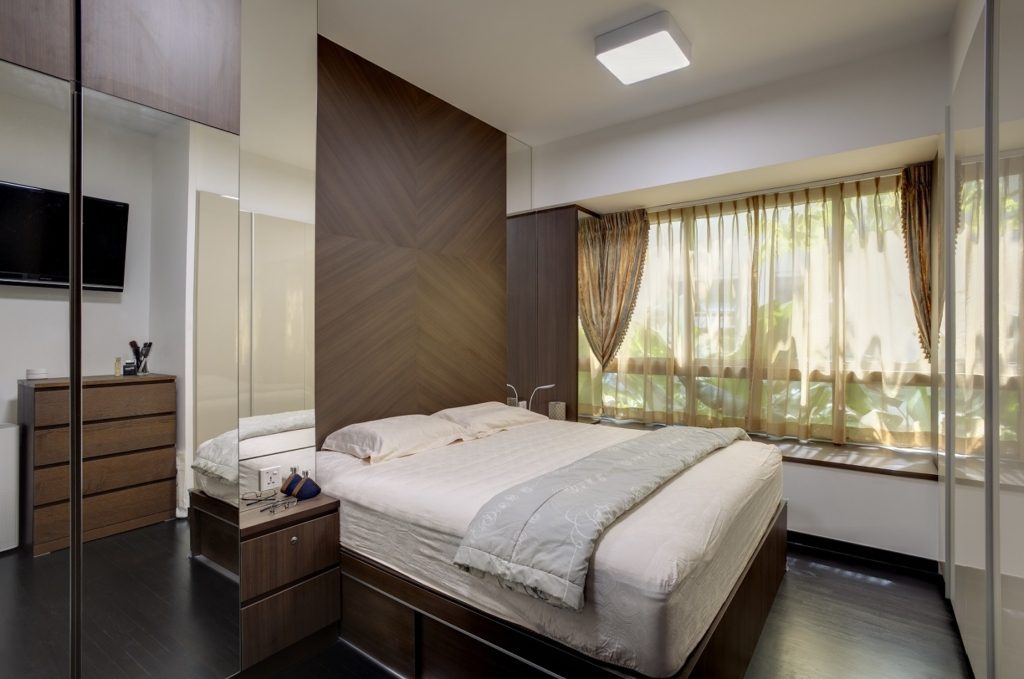 8.  Add Modern Art To The Space
Another important tip through which you can add modernism to your design is to add modern wall art or paintings. Such art can immediately create a modern and elegant outlook for any room. Although a modernist design features neutral colours and tones, you can add bright and bold wall art to balance the interior.
Modern art usually features abstract paintings, geometrical patterns, and bright colours. This can be seen in the following living space at Toa Payoh, Singapore where a huge image of the Eiffel Tower along with a modern painting of bold colours helps to create a modern design.
9.  Create Harmony Among Elements
Probably the last most important feature of a modernist design is to create harmony among all elements of the design. You want to create a harmonious optical sensation of décor that gives you a feeling of tranquility and happiness when you enter the house. The most important aspect of harmony is to choose colours wisely. Try to choose a couple of tones to set the mood and add a few other colours here and there to complement them. Keep the main theme neutral and add just a few colours to add the pop to break the monotony.
The following bedroom image of a house at Joo Chiat, Singapore is a perfect example of harmony in a colourful yet modern design. The wooden floor along with grey and white walls work perfectly with the colourful furniture to create balance and beauty.
All these above-mentioned tips can help you incorporate modern design elements into your home to create a perfect modern, elegant, and trendy abode. We, the professional designers at Space Factor provide the best interior design that can help you transform your boring house into a modernist interior design spectacle! View more of our HDB interior design ideas at our portfolio page today.