Industrial Interior Designs for A Modern Lifestyle
Ever think of designing your home in a unique way that is differently beautiful? If yes, then industrial interior design might be the one you are looking for. When you are about to embark on the journey of redesigning your home, it is always a good idea to explore the different interior design styles such as warehouse interior design and then choose the one that you like the most.
Here, we will go into the details of the industrial interior design theme, where it originated from, what its salient characteristics are, and some inspirational ideas for implementing this theme into your interior.
Looking for more interior design styles? Find themes such as colonial-style interior design and balinese design style on our blog pages. You can also find HDB BTO interior design ideas, 3-Room HDB design ideas, 4-Room HDB interior design inspirations, 5-Room HDB design inspirations, condominium interior design theme ideas, and landed property interior design theme inspirations.
History of Industrial Design
Industrial interior design is all about exposed pipes and ducts, brickwork, concrete floors, and other raw and unfinished elements that although may seem like too rugged an interior design for a home, but in reality can be beautiful as well as functional. Industrial interior design originated during the 18th and 19th centuries during the industrial revolution.
In the first industrial revolution, factories were set up constructed from bricks with lofted floors and large windows with grills. These features inspired homeowners to incorporate some of these characteristics into their interior design styles.
During the next industrial revolution, more sophisticated industrial structures and factories came into existence. These structures were manufactured with stronger building materials like steel and concrete since they housed large operations under one roof. These factories also used the characteristic industrial lighting for the first time that comprised the Edison light bulb. To date, these Edison light bulbs are an important feature of the industrial design style.
After the industrial revolution came the mid-century era which showcased modern mid-century and classical interiors. However, the 21st century saw people embrace simplicity and minimalism as they wanted some change from the luxurious and modern interiors. This is where the industrial interior design for homes started gaining popularity.
Characteristics of the Industrial Design Theme
Just like every other interior design style, the industrial design interior also features certain characteristics that give it its unique identity and character.
Exposed structures
One of the most prominent features of this design style is exposed structural elements like pipes, ducts, and other metallic structures. These exposed architectural elements make the interior reminiscent of the industrial era so that anyone entering the premises should immediately feel as if they have entered an industrial building or factory.
Just as important a feature is brickwork in the form of brick walls. Walls could be fully covered in bricks or the bricks may be showcased in abstract or geometric patterns to give a contemporary touch to the interior.
Main colors
The main colors used in an industrial interior are neutrals such as grays, browns, whites, and blacks. Depending on whether you want a strictly industrial look or a more industrial-chic look, your choice of accent colors could be changed. Choose colors like brick red, rust and orange for the former look whereas for the latter look, you can add a few pops of vivid colors. However, these accents are used sparingly so as to primarily keep the color palette neutral and monochromatic.
Lines and contours
There is some form of minimalism in the industrial design style which is also depicted in the form of clean lines and form throughout the space. Straight lines and smooth, curvy contours are all evident in the space.
Furniture and accessories
The furnishings and accessories used in an industrial home are also inspired by the main construction materials: metal and wood. Thus, you would see lots of vintage wood and wrought iron furniture in the interior like kitchen bar stools and comfortable sofas. Modern furniture from the mid-century modern era, as well as artistic accessories like vintage photographs, wall paintings, and other forms of abstract art, can be used to enhance the aesthetics of this interior.
Concrete floors
Another important feature of the industrial interior design style is concrete floors and high ceilings. For a more contemporary look, you can choose polished concrete floors, otherwise stick to the traditional concrete floors for a more raw and rugged appearance.
Natural light
The industrial landscape is illuminated with lots of natural light that enters the premises through the large windows with metal panes and grills. Other forms of lighting can include track lights, rustic chandeliers, and most important of all, Edison bulbs.
Natural textiles
Lastly, an industrial interior design is largely dominated by natural textiles and fabrics like jute, weathered leather, wool, cotton, and linen. All these natural textures bring a degree of warmth and coziness to the interior.
Pros and Cons of Industrial Design
Before finalizing an interior design style for your home, it is always a good idea to go through its pros and cons to have a better idea if the interior will be a good fit for you or not.
Some of the advantages of using an industrial interior for your home include:
This style brings you closer to nature through the use of raw and unfinished elements, along with the use of earthly tones and natural textiles.
This interior can be achieved on a budget since it does not require very expensive and luxurious decorative items to be displayed.
The industrial theme can be achieved by using minimal furniture and accessories, so it is easier to maintain.
It is a versatile design theme where you can incorporate other design styles to create unique interiors, for example, retro industrial, industrial chic, contemporary industrial, and rustic industrial interior designs.
Since the majority of the elements used in this interior are natural, this design style is more environmentally friendly.
As always, with every advantage, there are certain disadvantages as well.
Since an industrial design style focuses mainly on raw and rugged elements, it may look dirty and unhygienic if not cleaned properly.
The industrial design style is only feasible for large homes, a small HDB may look cramped and untidy in this design theme.
There is a very fine line between rugged and bland in this interior, so needs more contemplation to avoid making the space appear dull and boring.
Industrial Design Style Inspiration
Now that we have a clear understanding of what industrial design entails and its pros and cons, let's dive into some design portfolios by Space Factor. These portfolios can give you great visual dynamics of how an industrial style can be incorporated into your home and whether it will go with your personal preferences and requirements.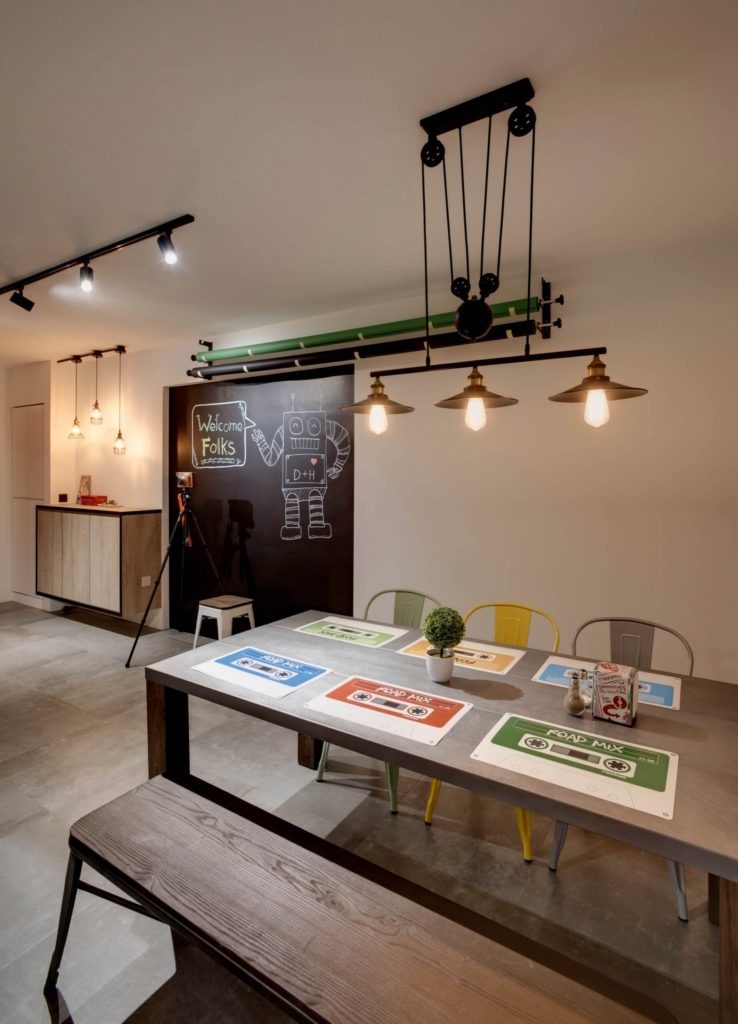 The first industrial interior design portfolio that we are discussing features a beautiful space that has dominating industrial characteristics with a touch of sophistication to create a Scandinavian industrial interior design. To give a pop of color to an otherwise bland interior, cool pastel colors are used along with some artistic elements to give a fun twist to this design theme.
Consider the following living room/dining area where the exposed metallic ducts instantly give an industrial appearance. The metallic pulley-work with hanging Edison lamps is also in line with the design theme. Now comes the fun aspects of the design. Colorful table mats create a fun aesthetic in the space whereas the colorful chair further enhances this look. Coming to one of the walls, we can see a blackboard that can be used to create fun doodles and art to brighten up the space. The track lights and hanging lamps make the interior a mix of Scandinavian and industrial.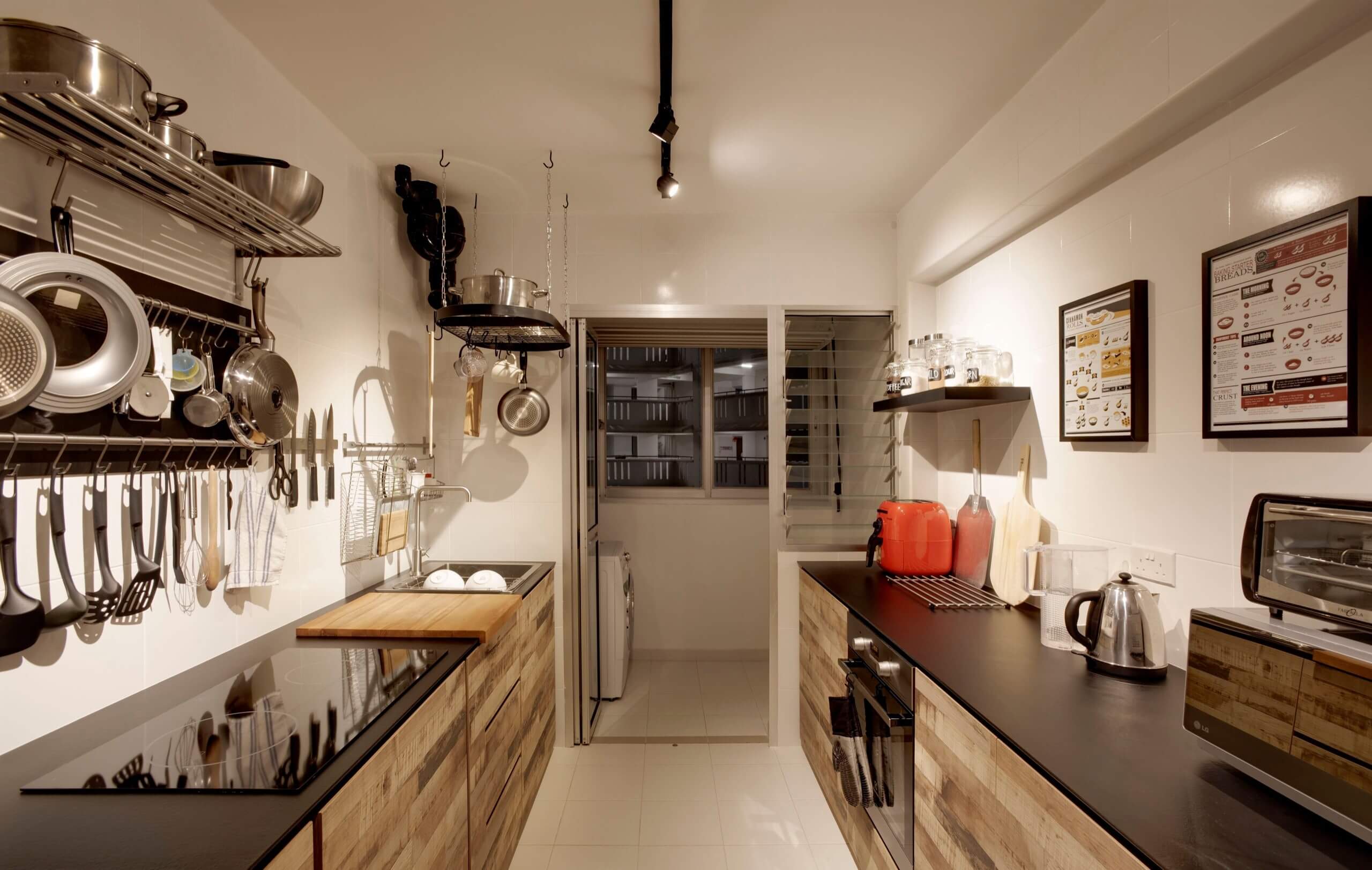 Now coming to the kitchen. The kitchen interior design itself is an embodiment of elegance which is a feat to achieve in an industrial design. Again, you can see a mix of Scandinavian in the interior with the wooden, polished cabinets and contemporary kitchen fixtures. However, the matte black countertops and the black track lights on the ceiling immediately bring back the industrial essence. The metallic, exposed shelves are another brilliant idea to bring in the industrial touch with elegance in the kitchen. Although these shelves are silver, you can even keep them black to further accentuate the effect and create color contrasts in the space. A few wall hangings and some exposed wooden shelves bind all the elements together to produce an elegant industrial kitchen.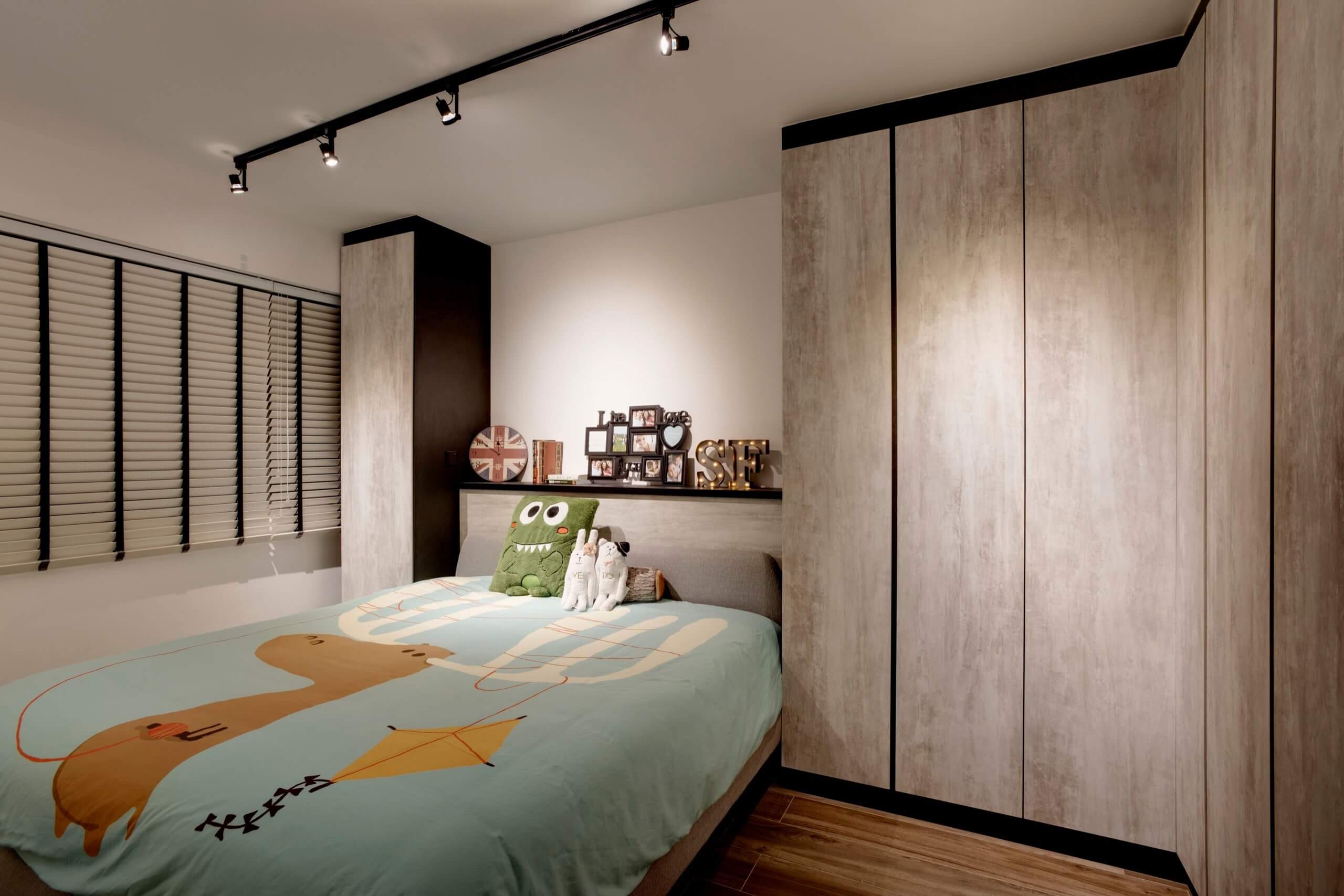 When it comes to an industrial-themed home, we often see the kitchen and living room interior designed with industrial characteristics but the bedroom often depicts some other interior design style. This is because the bedroom is considered to be a place of rest and relaxation. Since the raw and rugged elements of an industrial design are too crude to provide a sense of coziness, the bedroom is often left out.
However, this portfolio shows how you can incorporate industrial characteristics into a bedroom interior design without losing its comfortable and relaxing aesthetics. The black exposed track lights can safely be added to the room to give an industrial touch. Instead of adding any exposed ducts and pipes, opt for furniture and cupboards that have thick black borders to give the illusion of black pipes and ducts. This can be seen in the following image where the cupboards and window blinds exhibit the contrasting colors of black and beige. Add some comfortable bedding and fabrics with a few artistic pieces, souvenirs, and mementos to add a vintage twist to this interior.
This second design portfolio that we are discussing exhibits industrial characteristics along with contemporary, chic features in beautiful balance and harmony. Not many people can pull off a strictly speaking "industrial design theme" as it requires them to embrace its rawness with open arms. However, for other individuals who like the industrial elements but think that they are a little too much to handle, a very stylish and elegant alternative would be the warehouse chic or industrial chic interior.
The following design portfolio can give you amazing design goals to create the perfect industrial home for yourself in style.
At first sight, the living space is undoubtedly industrial with exposed, black ductwork and hanging metallic lamps. The black metallic fan and the wooden cupboards with the black, metallic frames all exhibit industrial characteristics.
On more careful observation, one can see that industrial characteristics are added in other elements as well. The simple, old dining table and the small wooden coffee table with the wrought iron frame are in line with the industrial requirements of using metal and wood. However, the polished tiled floors and the contemporary window blinds add a chic touch to the room.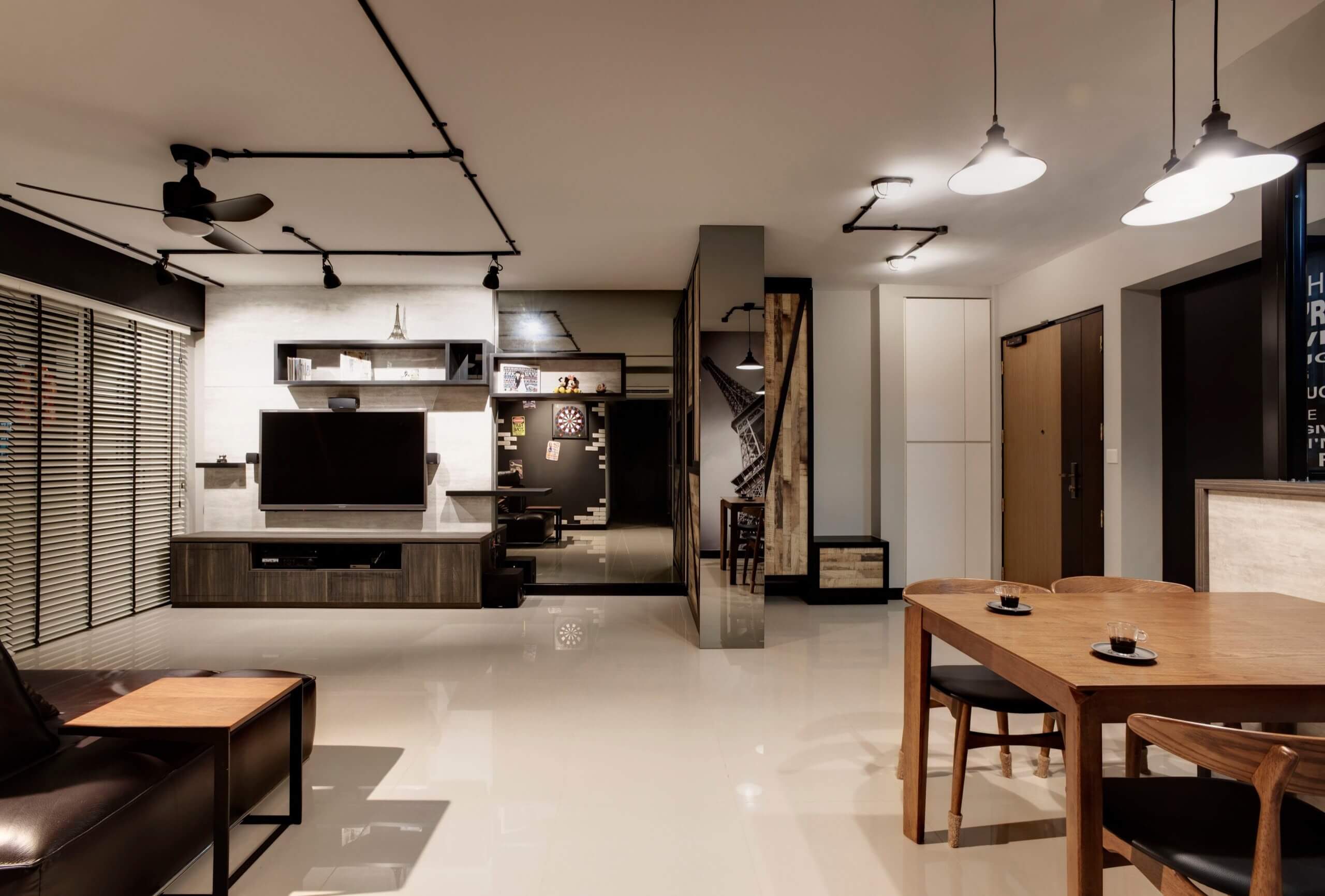 Another angle of the living room interior design shows wooden/metallic frame shelves which give a mixed industrial-barn style look. This adds more depth and versatility in the interior. One wall of the living room shows brickwork which is quite different from what you would normally expect. Instead of red, brown, or rust brickwork, we see off-white bricks arranged on the wall. Again, contrary to a usual industrial theme that features a complete wall of bricks, here we see bricks sparingly displayed in a haphazard manner. This creates an abstract design and brings a touch of elegance and style in this rugged interior. Moreover, the art displayed on that wall along with a dartboard, and a vintage bicycle showcased in the living room all work together to create an interior that is timeless.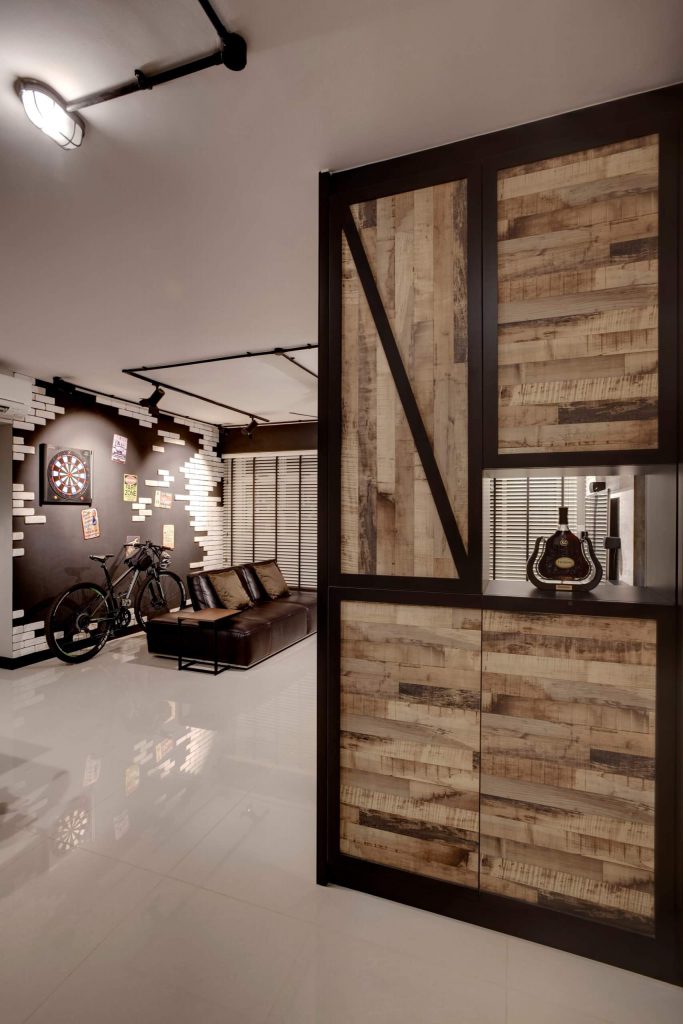 Moving on to the bedroom of this home, we again see the same level of sophistication along with the rawness. The polished hardwood floors create a contemporary look whereas the black ceiling track lights add the industrial essence. A beautiful walk-in closet is also designed on the same lines with wooden construction and black metallic borders. The full-length mirrors also exhibit a natural and earthy aesthetic along with the dark-colored wood. Moreover, different forms of modern lighting further accentuate the significant characteristics of the interior to produce a powerhouse interior.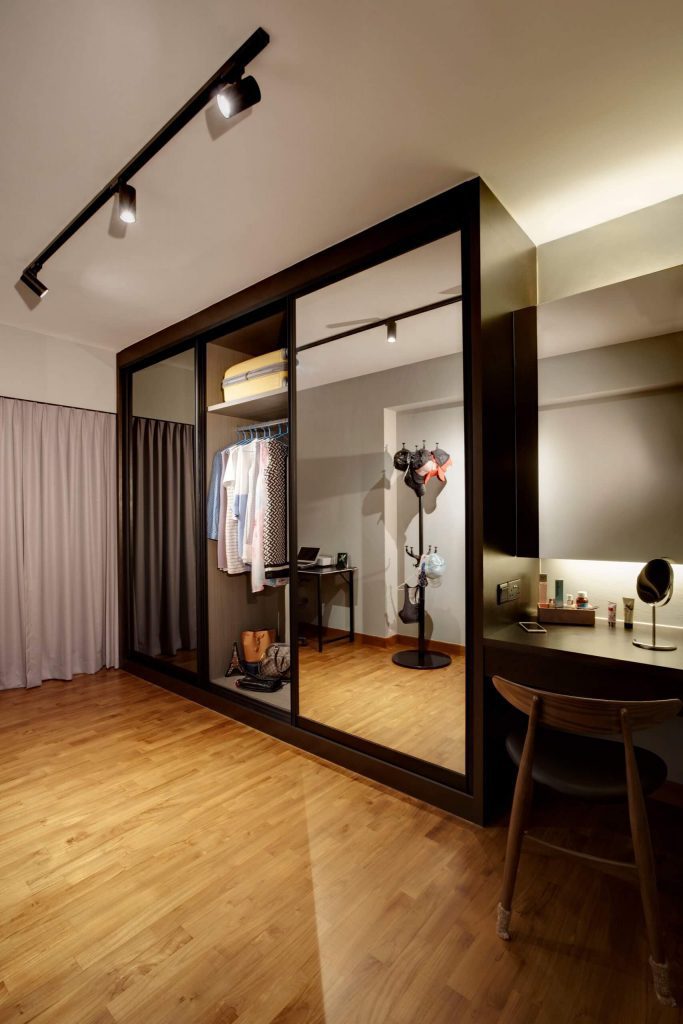 Whether you like the raw industrial design theme or are more inclined towards a chic and contemporary fusion of industrial style, these portfolios can help you inspire to create the perfect industrial interior design theme in your home. For more advice and inspiration, contact Space Factor today and get the home of your dreams.
Check out our other articles: