Kitchen Design Ideas 2023: Latest Trends for Stylish and Functional Spaces
Whether you spend hours upon hours on a daily basis cooking up meals for the entire family, or you take a measly 20 minutes to make yourself a sandwich 3 times a day, the kitchen represents an integral part of your household. Other areas of your home may be formatted to reflect your taste and design concepts, but in the kitchen, substance over style matters. While this is not to say that your kitchen shouldn't be stylish, maximising efficiency and easy access makes cooking meals much less of a hassle than it has to be.
Are you renovating your home? Whether you're looking for HDB BTO interior design ideas, 3-Room HDB interior design ideas, 4-Room HDB design style inspirations, 5-Room interior design inspirations, Condominium interior design ideas or landed property interior design ideas, we've got you covered! Find common interior design styles such as Scandinavian design, minimalistic interior design, modern interior design, and industrial design styles as well as exotic interior design themes like Balinese interior design, modern mid-century interior design, colonial-style design, warehouse interior design theme and rustic design styles in our blog pages.
What is the best efficient kitchen design?
The one essential factor that must be considered while designing a kitchen so that it offers functionality and space efficiency along with style and grace is practicality. Think about all the things and appliances you will be using the most in the kitchen and how you can seamlessly move around them. Designate spaces for the larger appliances and fixtures like the refrigerator, sink, and stove and plan everything around them. Use the gallery layout for the kitchen if you have a smaller space and want to maximize storage and counter space. You can also opt for an open-concept kitchen design which can make your entire home look spacious.
For kitchens that are bigger, a U-shaped or L-shaped layout offers maximum efficiency as everything seems to flow from one place to the other. For even bigger kitchens, an island or peninsula layout helps designated stations for different tasks, further organizing the space and maximizing functionality.
Apart from choosing the best interior design layout for the kitchen to maximize efficiency, there are certain tips that when applied in any type of kitchen, can help you achieve the desired results of efficiency and functionality. And who knows? Maybe following these 5 tips and maximising both the design aspect as well as the efficiency of your kitchen would make you want to cook a whole lot more than you currently do.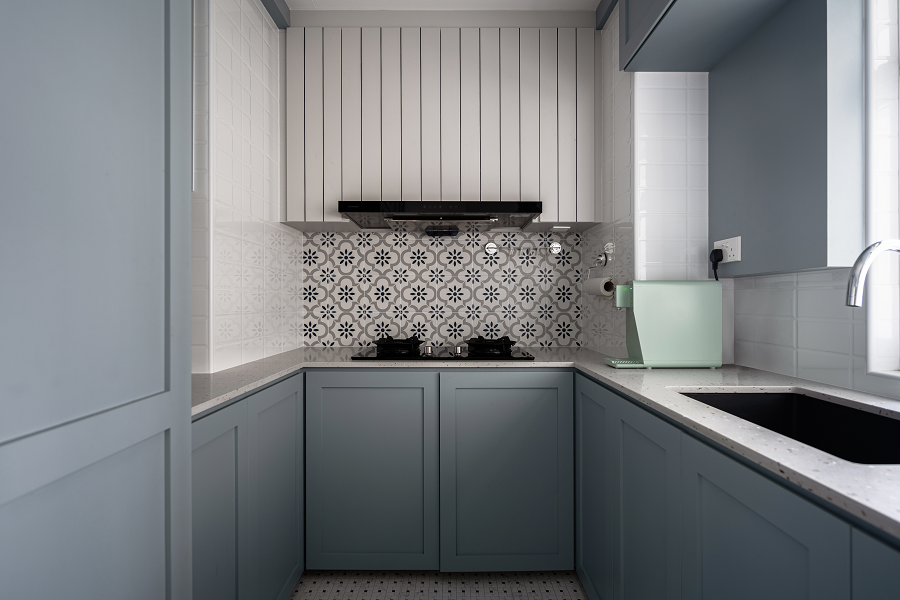 Kitchen Traffic
Other people getting in your way while you're cooking up a feast ranks highly on the list of most irritating things that happen on a daily basis in our opinion. What's more annoying than your partner standing in the way of your simmering pot of laksa or curry while you're trying to finish cooking it? Scheming and executing a well-organized kitchen floor plan is crucial to eliminating this factor entirely. Not only that but ensuring all appliances and ingredients that have a correlation to one another are placed nearby can also shorten your time spent in the kitchen, especially in the early mornings before you'd need to leave for work. One example could refer to keeping all your coffee and breakfast essentials in a cabinet close to the pot or flask that you use for your morning coffee.
We recommend ensuring that the pathway within your kitchen is wide enough to fit more than one person and that you have designated social and working areas of the kitchen to ensure that no one needs to be in your space while you're cooking. Placing your refrigerator in an area where people can reach it without compromising your cooking is another tip that could pay dividends in the future.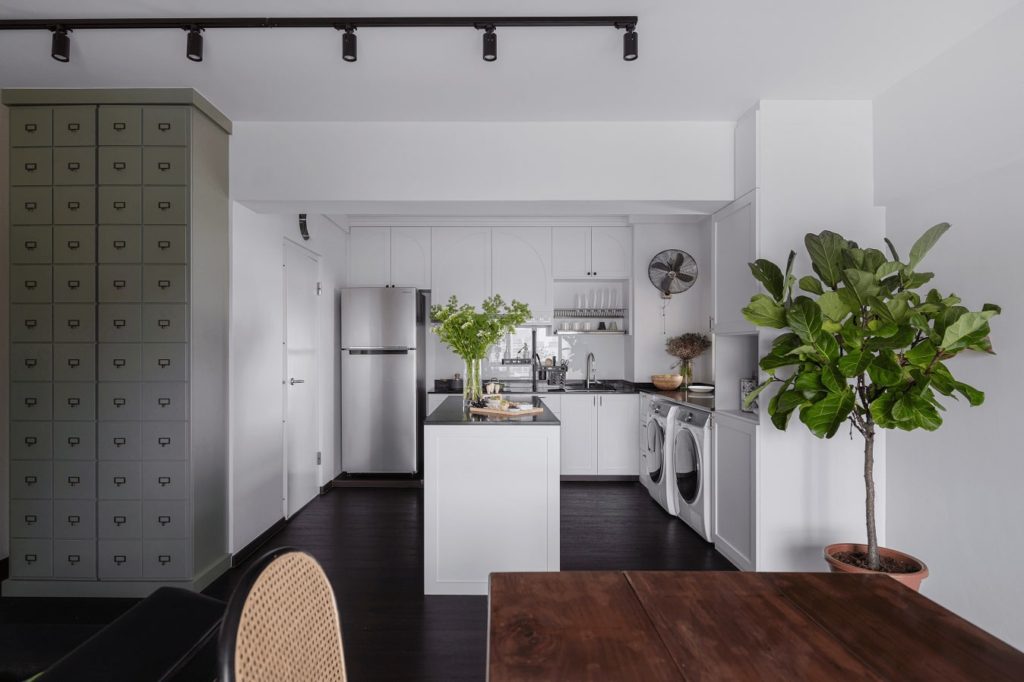 Appliances and their Placements
It may be tempting to place your burners smack in the centre of your kitchen and everything else around them, but there is more to how you design and place your appliances than meets the eye. In terms of safety at the very least, it would be prudent of you to ensure that there is sufficient space around each cooking appliance, namely your burners, oven, microwave and kettle so that hot food can be set to rest nearby after the cooking process is completed. Having no space in and around your kitchen appliances could potentially lead to burns or mishaps during and after cooking your food.
Ensuring that your commonly used appliances are at a good height for you to easily reach them is also key in planning a kitchen's interior design and functionality. No one wants to have to tiptoe or squat to reach their toast in the early morning hours. We recommend describing how you want your kitchen to operate to your interior designer before starting your renovation plans.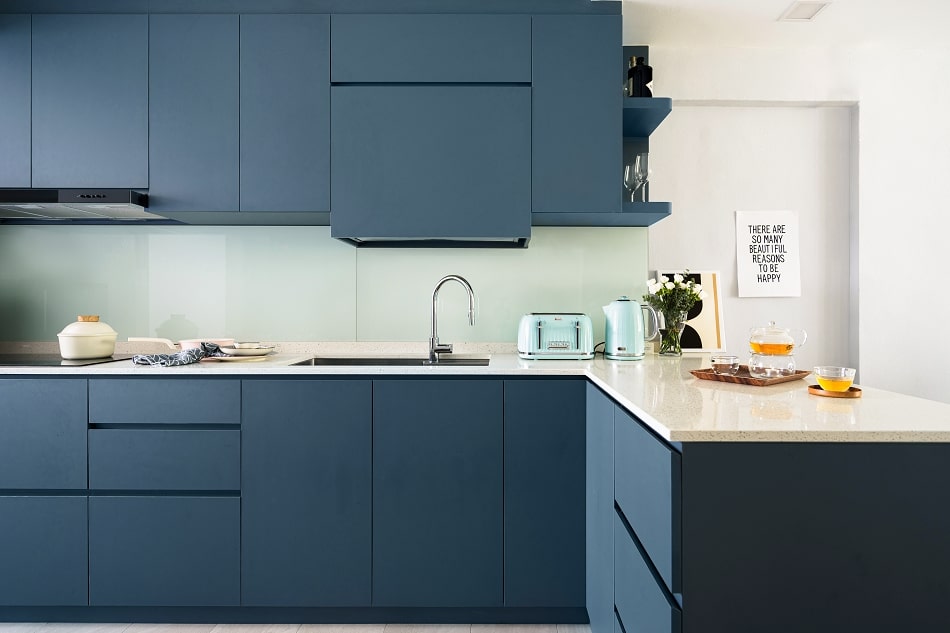 Storage
Establishing storage space before the kitchen is completed is crucial to designing a well-organized workspace. While we stand by the fact that more is always better, especially if it'll save you time in installing more stage units in the future, unnecessarily cluttering your kitchen is not an ideal way to go about doing things. There are ways to creatively store objects and tools that can help improve the design of your kitchen as well. For example, installing wall hooks and hanging your pots and pans instead of storing them in a cupboard not only gives you easy accessibility but allows them to dry more effectively and can give your kitchen a restaurant aesthetic design-wise. This element can also be used in terms of cutlery, whereby you install a holder to both store and dry your cutlery simultaneously without having to use a separate drawer or cupboard.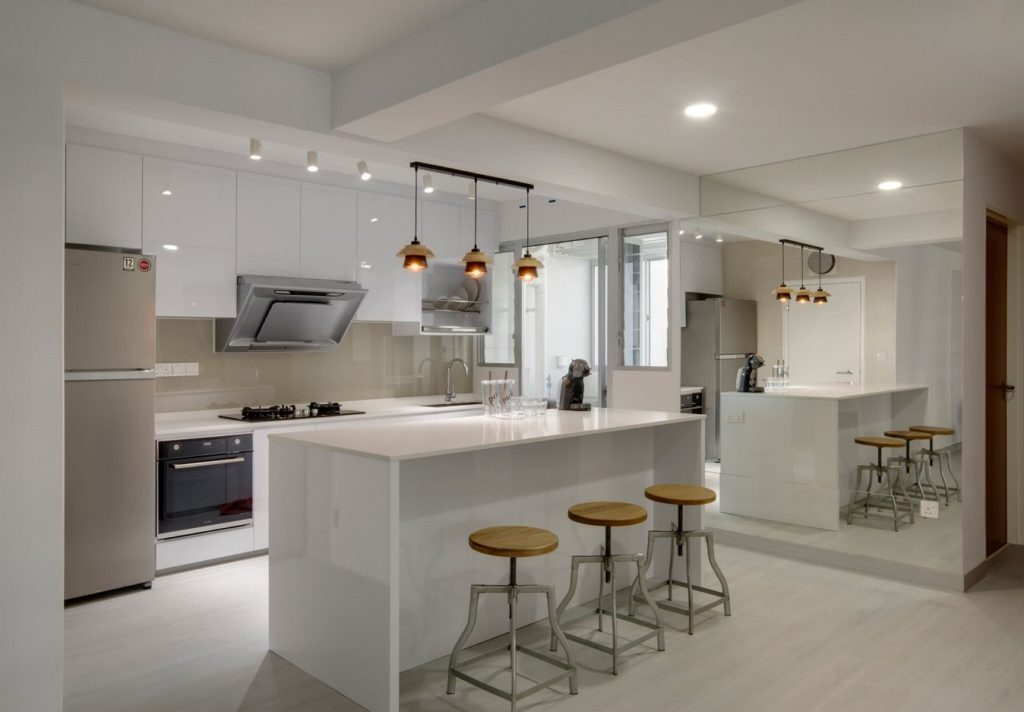 Different Sources of Lighting
Just as much as you would consider the lighting in your bedroom, your bathroom, or your porch, carefully calibrating and deciding on lighting sources in your kitchen can both help in your cooking and impress your guests. Different parts of the kitchen require different forms of light to aid in different processes or functions. Proper illumination can assist in the design factor, but more importantly safety. No one wants to be cutting onions without really being able to see them. We recommend using a mixture of warm and harsh white light in different areas to bring out the best of your kitchen's design while aiding in the efficiency of your cooking processes.
For example, using a harsher light source in an area where you would cut vegetables and cook food while using a softer, warmer light in an area where you would either present or eat your food would maximise both the design aspects and efficiency of your kitchen.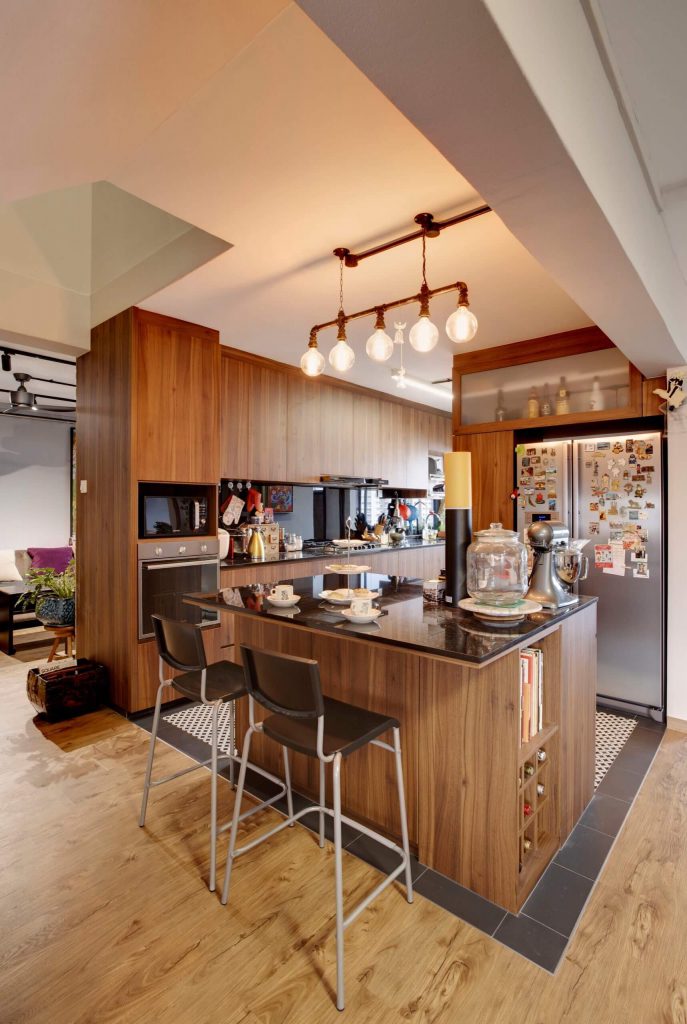 Keep the counters clean
Keeping the counters clean and clutter-free is one of the fundamental requirements for an efficient and productive kitchen. Essentially, the kitchen counters should be completely clear except for the very frequently used items such as knives, spoons, or spatulas. And these items should also ideally be hung on the back splash above the counter. Try to keep appliances stored away at a handy distance, so that whenever you require them, you can immediately get them, use them, and stow them away again. For bigger appliances that are very seldom used, you may wish to store them in some other storage area. A clean and clutter-free counter allows for more efficiency in the kitchen and helps you avoid unnecessary accidents, spillovers, and breakage. A clutter-free counter also adds to the elegance and style of the kitchen.
The rule of thumb is that only the very essential items that are used frequently should occupy some space on the counter, otherwise they need to be stored somewhere else.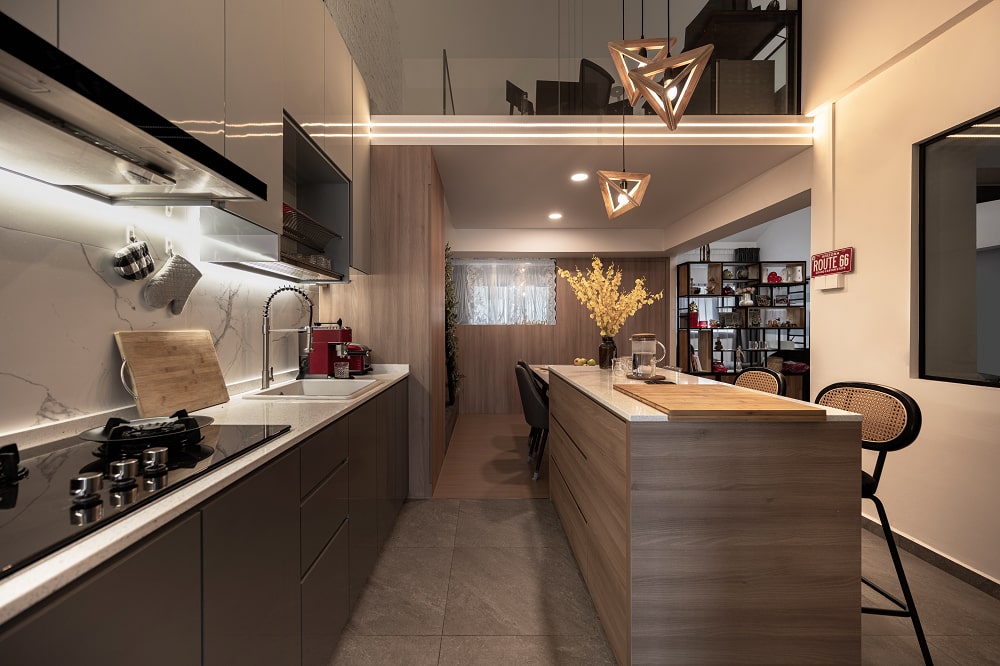 Add pops of color
Normally when it comes to the kitchen, you often stick to a neutral or a very set pattern of colors for the interior design. Although such a color palette may look elegant in the kitchen, it may lack some brightness and hence, may make the kitchen appear too dull. However, whenever you work in any environment, you want it to be conducive so that it keeps you committed and helps improve your efficiency and productivity. So why should it be any different for working in a kitchen? Your kitchen should be bright, lively, and fun so you enjoy it as you cook away!
Adding a few pops of colors in the kitchen can help you achieve this goal. You can paint one wall of the kitchen in a bold, bright color and keep the other color theme neutral and muted. Or you can add a few accessories or decorative items that are brightly colored to add that touch of liveliness into the interior design of the kitchen. This not only helps to maximize style in your kitchen but maximizes efficiency as well.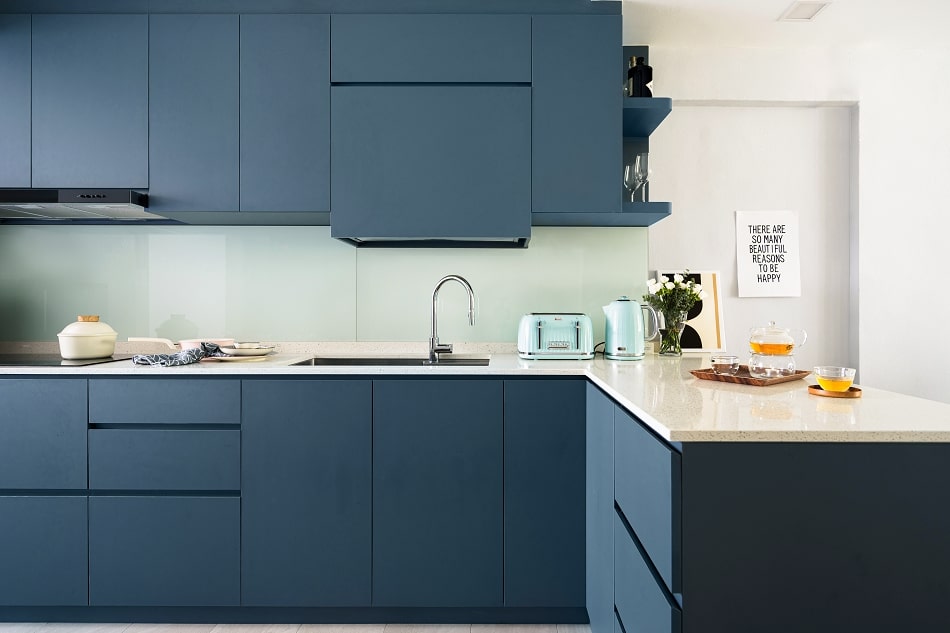 Bring some nature in the kitchen
Just like adding a pop of color can go a long way in maximizing style and efficiency in your kitchen's interior design, adding an element of nature in the form of green plants or colorful flowers can help you achieve the same. You can place fresh indoor plants on window sills or counters in the kitchen or alternatively, you can also use artificial plants for this purpose. Not only is the space beautified by this, you are able to work in a fresher and healthier environment.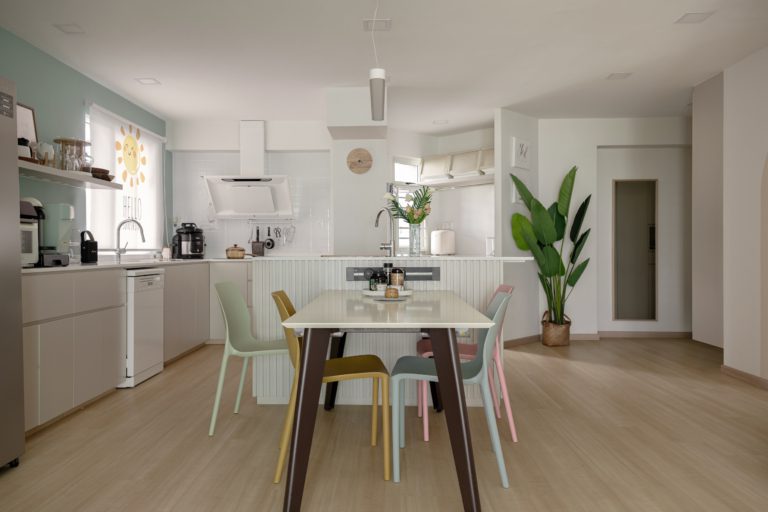 Keep the kitchen clutter-free
A very simple yet often ignored tip while working in the kitchen is to keep it clutter free. This tip is basically an extension of the tip discussed above about keeping the kitchen counters clutter-free. Just as you should keep the counters clean and organized, the same goes for the whole kitchen. Do not bombard your kitchen with appliances, dishes, and other items. Only keep the essentials in plain sight, otherwise everything else should be stowed away in storage. Make efficient use of storage spaces where the least frequently used items should be pushed at the back and more frequently used items should be in immediate reach. Clear away mess as you work instead of putting it off till the end of the day. Mop the kitchen floor often especially during frequent working times to give the visual appearance of a clean and tidy kitchen. This is an essential element to maximize efficiency and style in the kitchen.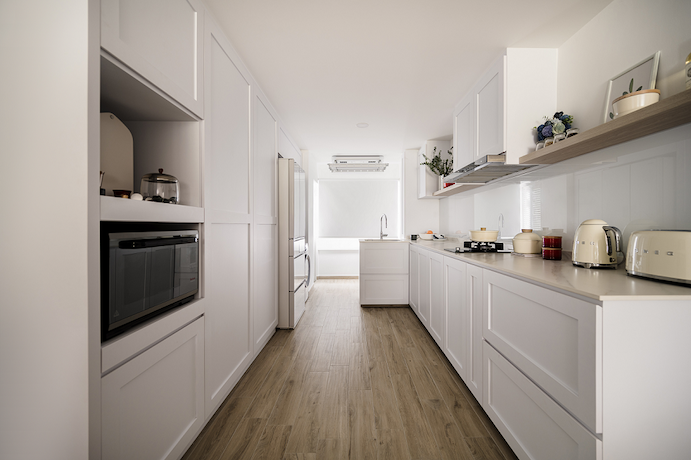 Add a kitchen island or peninsula
When working in the kitchen, the more counter space and storage area you have, the better. If you have enough space in your kitchen, adding a kitchen island or peninsula can not only give you more counter space, but it will help increase functionality by providing more storage. Moreover, a kitchen island or peninsula can serve more purposes as well. For example, they can be used as a table for dining or studying while sitting on kitchen stools placed with the island. You can incorporate several cabinets and drawers in the island to allow for additional storage. A kitchen island or peninsula, therefore, not only looks beautiful but maximizes efficiency in the kitchen by providing more functionality and storage.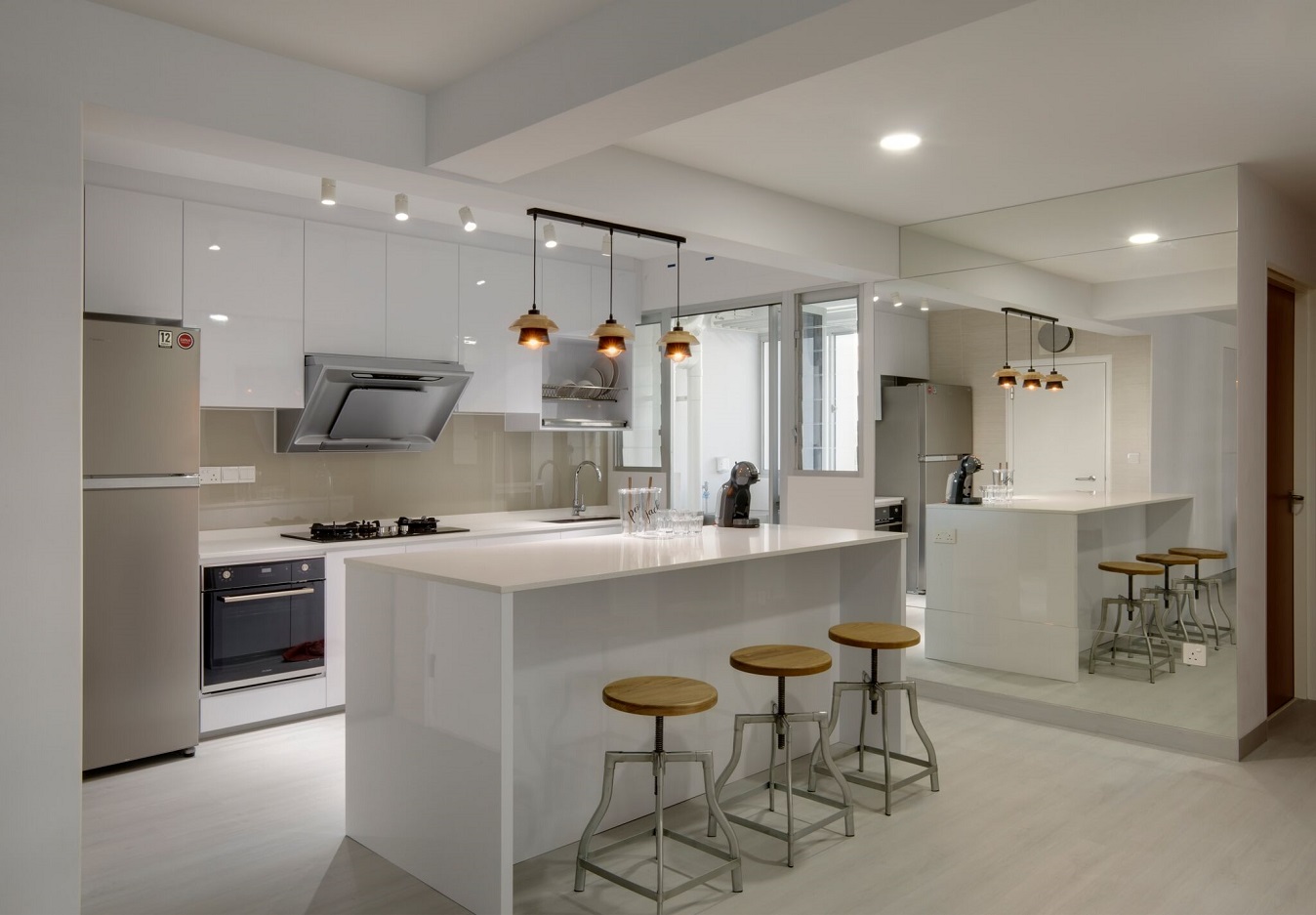 Use open shelves
Another great kitchen interior design idea that helps promote efficiency and productivity is to use open shelves. This is a convenient idea for smaller kitchens as well since closed shelves and cabinets can make the area look cramped and congested. When you have open shelves, you still get all the storage but they create an open flow in the kitchen to make it appear spacious and airy. By meticulously organizing these shelves and decorating them in elegant ways can help you maximize style in your kitchen. And when everything is in close proximity to you as you work in the kitchen, you can simply grab the stuff that you want from the open shelves, resulting in better efficiency.
Another way in which you can maximize style with these open shelves is to incorporate a hanging open shelf on top of an island or a peninsula. This is a unique kitchen interior design style that is sure to wow your guests. And the ease with which you can get anything from these shelves as you work on the island or peninsula improves functionality and efficiency.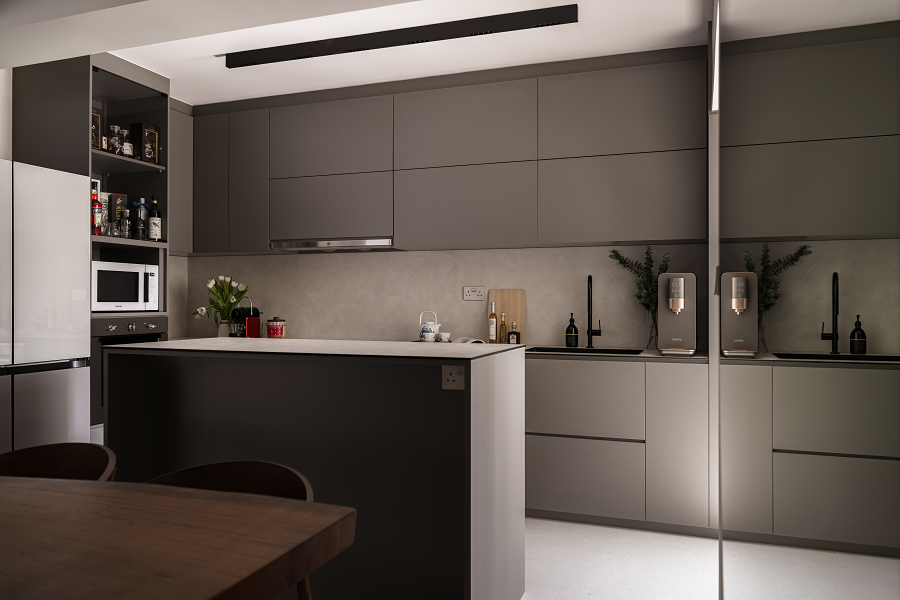 Add drawer organizers
When you talk about efficiency and productivity in any working area, keeping it clean and organized is the first and foremost requirement for improved efficiency. While working in the kitchen also, you should have a clean and organized environment to improve efficiency and avoid unnecessary accidents. One amazing kitchen interior design idea is to incorporate drawer and cabinet organizers in the design. Think of all the types of things you would place in a particular drawer and get custom-made organizers with defined dimensions. Alternatively, you can also use organizers whose dimensions can be changed dynamically as and when you require them. Even if you did not have fixed organizers during the renovation or building process, you can get them made according to your requirements later and place them inside the drawers and cabinets. This helps keep everything organized, you know exactly where everything is, and you don't waste time by shuffling through the mess in a typical cabinet or drawer and can immediately get what you want.
Use kitchen stools or chairs
To improve efficiency in a kitchen, you need to create an organized yet relaxing environment where you do not get tired while working for hours straight. One way in which working in a kitchen gets really tiring is when you have to keep standing to carry out all the jobs. But when you think about it, almost half of those tasks could also be done sitting down. So why not add some kitchen stools or chairs in the kitchen? These stools can be utilized for sitting as you chop your vegetables or knead that stubborn dough. Or they simply be used by you to take a break and relax your feet as you wait for that oven timer to go off.
If you have a kitchen island or peninsula, then these stools can simply be placed with them to create a small sitting area. Alternatively, you can just place a couple of stools with one of the kitchen counters and designate that space. If you have space under the counters, you can get smaller stools that can be pushed underneath the counter when not in use. This helps improve functionality and keeps the area decluttered and spacious.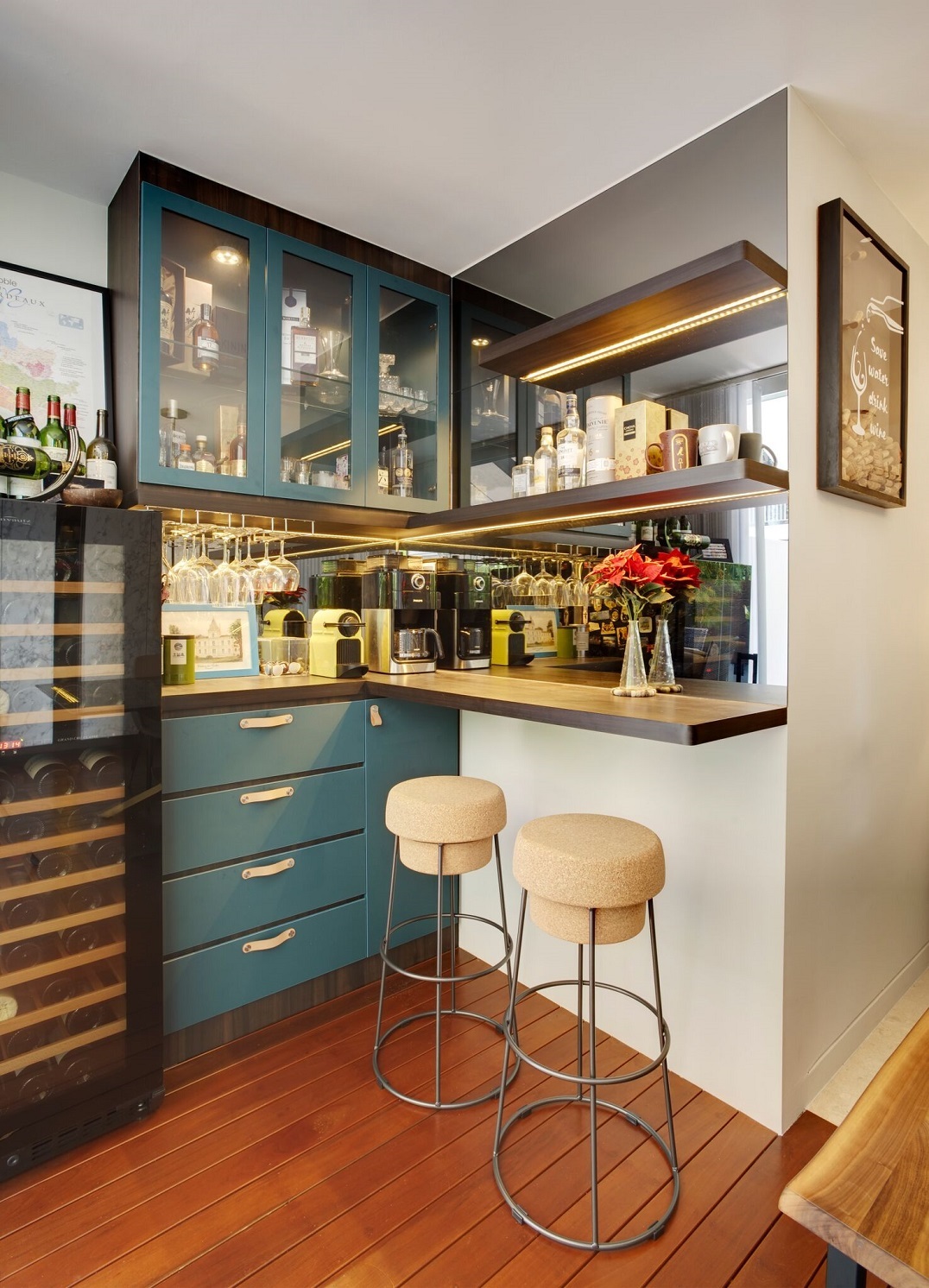 Incorporate folding counters and chopping stations
Another kitchen interior design idea for improving efficiency and style in the space is to add some sort of folding counters that can be opened when required and folded back to their original position when not in use. This helps save valuable space as the counter is visible only when required, otherwise stowed away. This folding counter can be used as a chopping station or for increasing counter space when cooking away for a party.
Alternatively, you can also incorporate built in chopping stations into the cabinetry. Such chopping stations can be pulled back from the cabinets just like you would open a drawer, chop what you want, clean it, and then push it back into the cabinets to save space and increase functionality.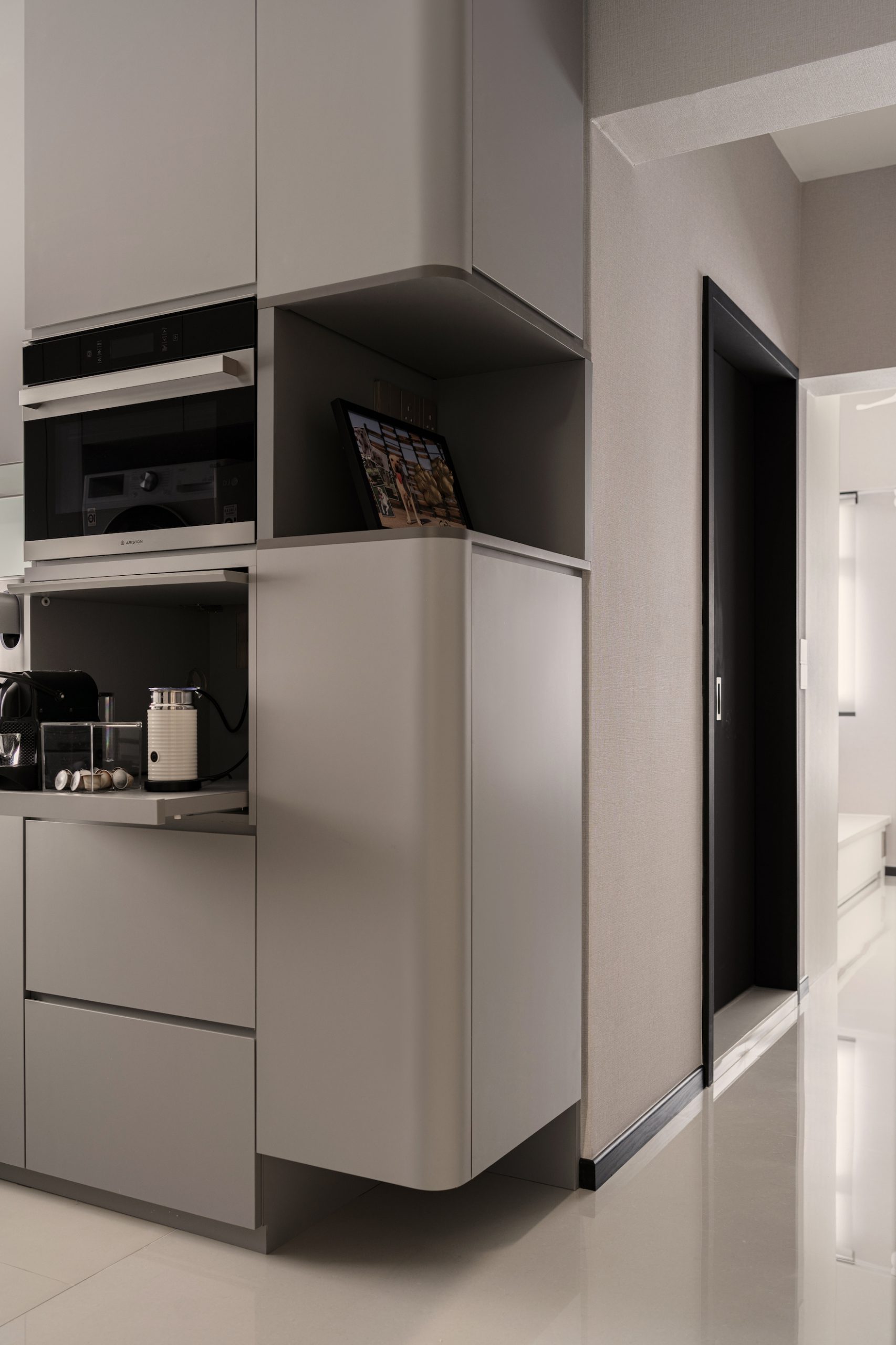 VENTILATION
Lastly, but certainly one of the most important things to note while designing your kitchen, is ventilation sources. You could be a Michelin-star chef and your kitchen could look impeccable to any guest that walks through your door, but without proper ventilation, your dining experience will not be as perfect as it potentially could be. Ensuring that you invest in proper ventilation units is a key element to kitchen interior design and functionality. Even if you have a range hood to dispose of access smoke and odours, installing external units may be necessary, especially if you operate in a windowless kitchen. Splatter screens, external fans, and air purifiers can all be used in tandem to eliminate unpleasant smells and aromas quickly. These can also act as additional elements in your kitchen's interior design scheme, filling up empty spaces with functional units. For example, installing an air purifier with a wood finish, can complement your hardwood flooring or act as a contrast if you have a marble floor.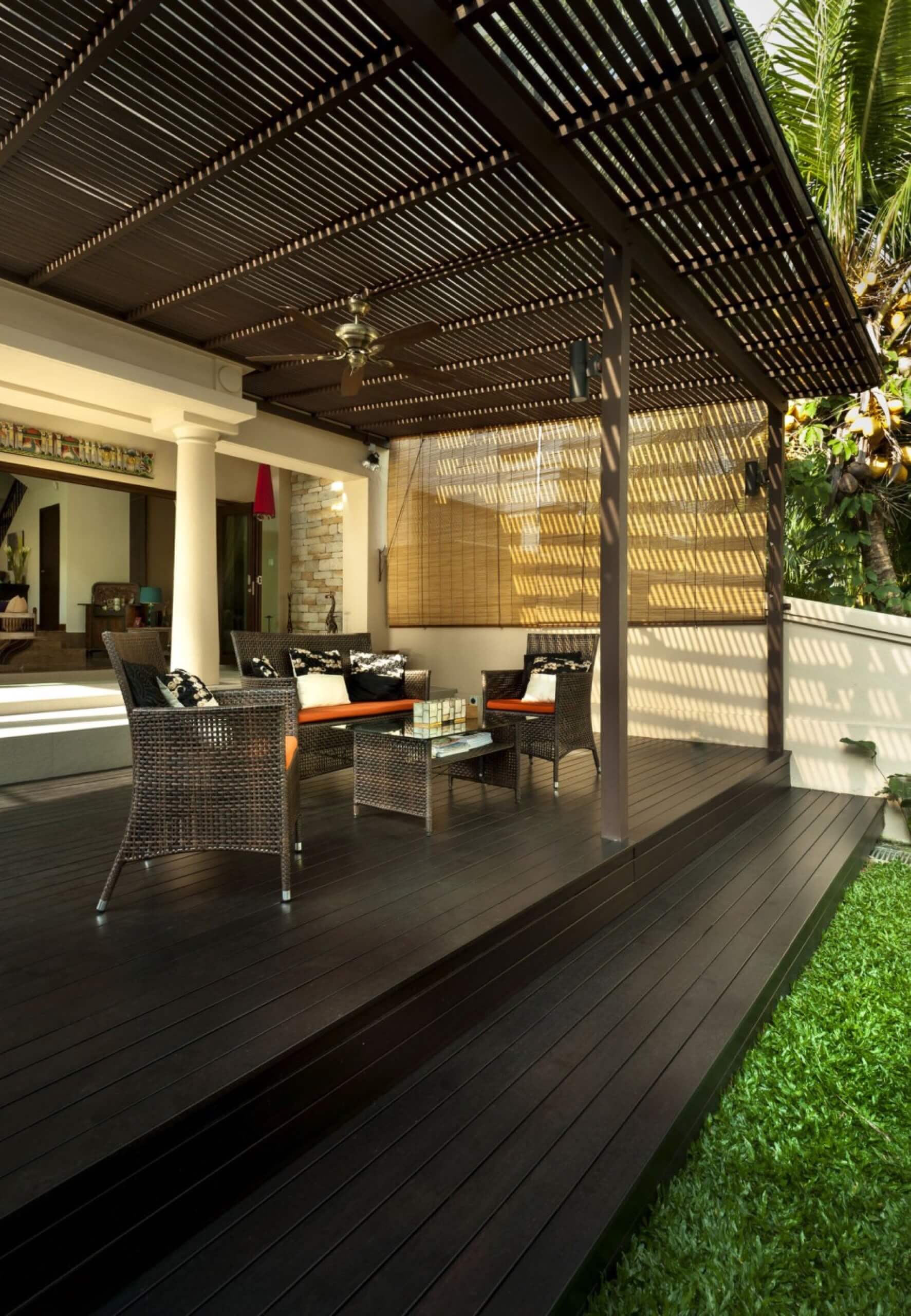 There you have it, some amazing tips to both improve your kitchen's interior design aspects, as well as its functionality. While these will all help in designing your kitchen, we still highly recommend contacting an established interior designer such as Space Factor to assist you in creating your dream kitchen. The kitchen can represent the soul of a home to many people, and we want to ensure that you're as happy as you can possibly be with how your kitchen looks and feels after renovation. Contact us now, and let us handle your kitchen's interior design.
Check out our other articles: