Crafting Nostalgia With Vintage Interior Design
Whether you own a house or rent a place, it is everyone's dream to create an exquisite and amazing home that only looks pleasing to the eye but also shows warmth and comfort. But the concept of comfort, warmth, and beauty may be different for different people. For this reason, over the course of history, people have come up with many different interior design styles and themes to cater to the different requirements and preferences of individuals.
Among all these interior design styles is a particular style that takes its roots from an earlier period of time and when incorporated correctly in the house, can evoke all the nostalgic feels and emotions of that time period. Yes, you guessed it right! It is a vintage interior design. Vintage interior design can be considered a classic design theme that helps create a timeless space that is bound to make anyone go 'Wow!'.
So let's go through the details of what exactly constitutes a vintage interior design and how you can achieve this look in your home.
Characteristics of Vintage Interior Design
Vintage interior design is often confused with retro interior design as they are thought to be the same. The reality is that they are quite different in the kind of outlook they give and the materials and elements used in each style.
Vintage interior design refers to the design styles adopted in homes at least 20 years ago and go back from 50 to 100 years. If you want a vintage interior theme in your home, you have to select a particular era during this period and add actual artifacts, furniture, and design elements from that era into your current home. On the contrary, retro interior design aims to achieve the same vintage look from olden times but it is done by using elements and furniture pieces that have been manufactured to give old yet groovy and eclectic feels. In reality, all the elements are new. Moreover, retro interior design can span time periods even before 100 years ago whereas vintage only classifies for the period from 100 years ago to 20 years ago.
So coming onto vintage interior design's characteristics, the following features make up the basis of this design theme.
Colors
Vintage interior design is often characterized by a neutral and pastel color palette since the overall outlook of this design style is soft and sophisticated. The most ideal choice of colors are neutral shades like white, cream, and beige whereas pastel shades like pale blue, gray, pink, lilac, and mauve can also create an elegant vintage interior. Some accents may be added in the space to create depth and texture. These accents could be in the form of a solid, deep color or a decorative item that is somewhat darker colored. However, these accents should be used sparingly so as to overly darker the interior; the main color palette of the space should remain soft and neutral.
Furniture
Vintage interior design is classified by statement furniture from the bygone era which was characterized by wooden materials and curved structures. Furniture that looks aged with a few rugged corners and grooves is the perfect element to be placed to achieve a vintage look. Wooden furniture in different shades of wood is quite in trend nowadays to achieve an elegant and classic look. Moreover, vintage furniture often comprised intricate carvings, so such carvings should be visible in the sofa, tables, chairs, and any other form of wooden furniture.
Decorative elements
Decorative elements from the past play a major role in creating the perfect vintage outlook in any space. Antique items and family heirlooms that have been passed on through generations are a good fit to be displayed in the interior. Similarly, old photos that trigger nostalgia can be displayed on walls as decoration. These photos could be memories of old family trips taken together and other photos that capture memorable moments in one's life.
Moreover silverware, carved decorative items, and ceramic vases all create vintage feels in the room. Thus, anything from the past that has aged well is the perfect accessory to be used as decoration in this interior design. Popular choices include candlesticks, old books, paintings, and antique clocks.
Textures and patterns
Vintage interiors also featured distinctive patterns like floral, paisley, and motifs in different fabrics used in upholstery and curtains. Although you should keep in mind these patterns while choosing fabric for your interior, such patterns may also be used in other elements like wallpapers and carpets. For the bedroom, you can choose similar patterned bed linen.
Lighting
Lighting is an important element of all types of interior design styles and the same is true for vintage interior design. An important characteristic of this interior design is lots of sunlight that flows in through the windows and highlights all the antique pieces in the room. For artificial lighting, fancy and ornamental chandeliers are used with arm light bulbs to give the effect of sunlight. Hanging lamps and table lamps with shades made from patterned materials can also be used. The shades may further be embellished and decorated by using ruffled tassels to further add a touch of beauty and luxury in the design.
Advantages and Disadvantages of Vintage Interior Design
There are several pros and cons associated with vintage interior design. Having a clear understanding of aspects of an interior design can help you decide on whether that interior design is for you or not. So let's discuss the advantages of vintage interior design first.
This design style gives such a classic and timeless appearance that it is bound to be loved by anyone who sees it.
It gives you an opportunity to showcase your beloved family heirlooms proudly.
Vintage furniture and accessories are often made from strong and solid materials, thus, they last longer.
By repurposing old items, you play your part in reducing your carbon footprint by avoiding manufacturing new items.
Apart from these advantages, this design style also has certain shortcomings:
Vintage furniture and accessories are often priced much higher than their counterparts manufactured during the current times. Therefore, designing such an interior will cost you more.
You may risk creating a chaotic visual space by adding too many vintage accessories and furniture in the room.
You may need to repair or restore old vintage furniture in order to use them.
Inspirational ideas on how to achieve vintage look in your home
Vintage interior design has become quite popular in recent years owing to its unique look and the nostalgic vibes it creates. Homeowners often create a modern vintage interior design look that combines old and new elements into a beautifully harmonious and balanced interior.
Here, we will discuss some amazing vintage interior design portfolios from Space Factor that will give you inspirational ideas on how you can recreate this look in your homes.
This beautiful, timeless interior comprises all the classic features of a vintage design to create a welcoming and comfortable environment. The interior design of the living room features a vintage color palette of creams and off-white with a few shades of pastel blue. The TV console depicts a cottage-style construction of olden days. With the comfortable sofa and nostalgic elements of the past, the overall environment is cozy and relaxing.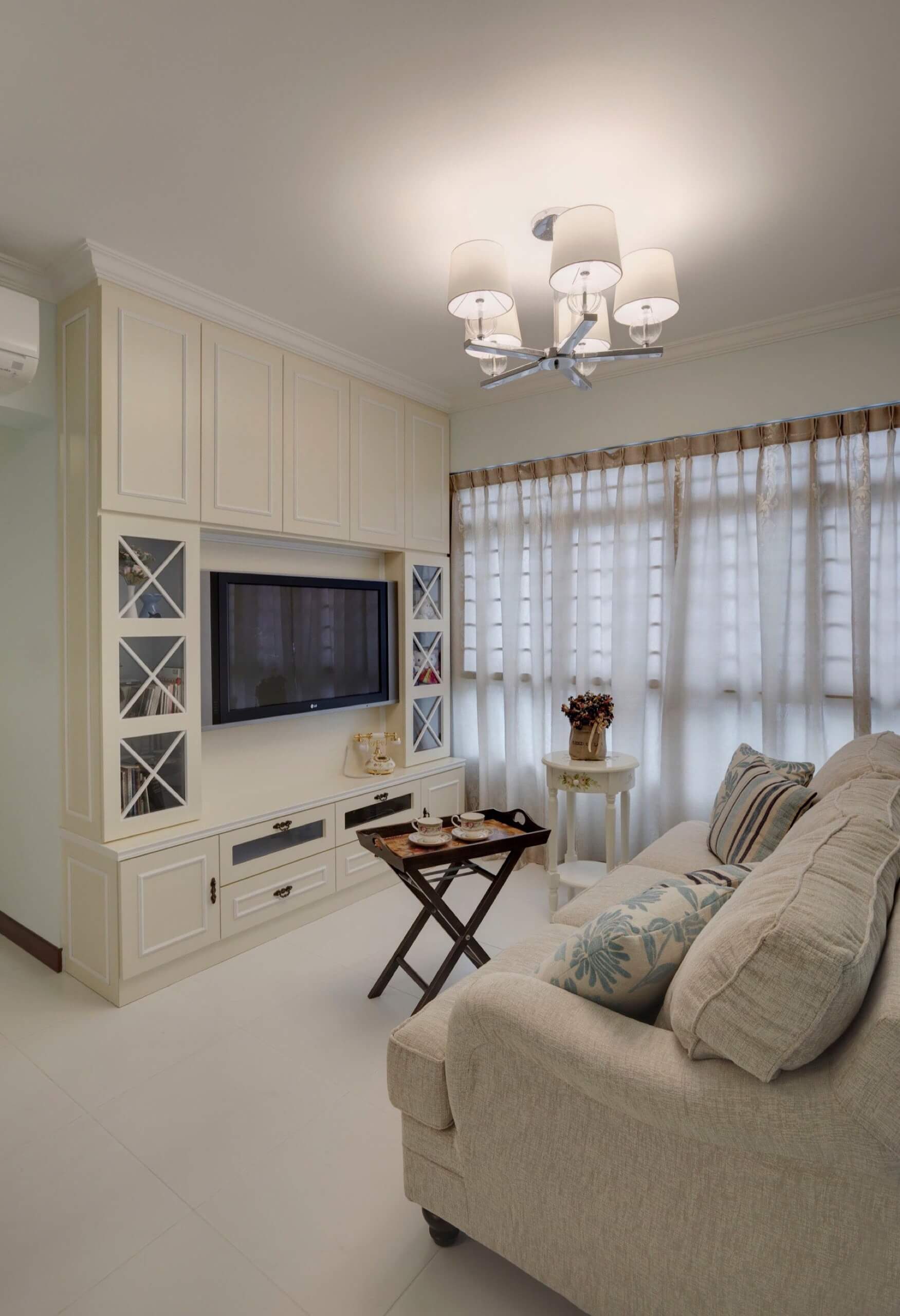 Similarly, the dining area comprises white wooden chairs, table, and a bench stool that are very clearly inspired from vintage patio chairs and benches. Again, the neutral color palette and the soft, pastel flowers on the table evoke vintage feels.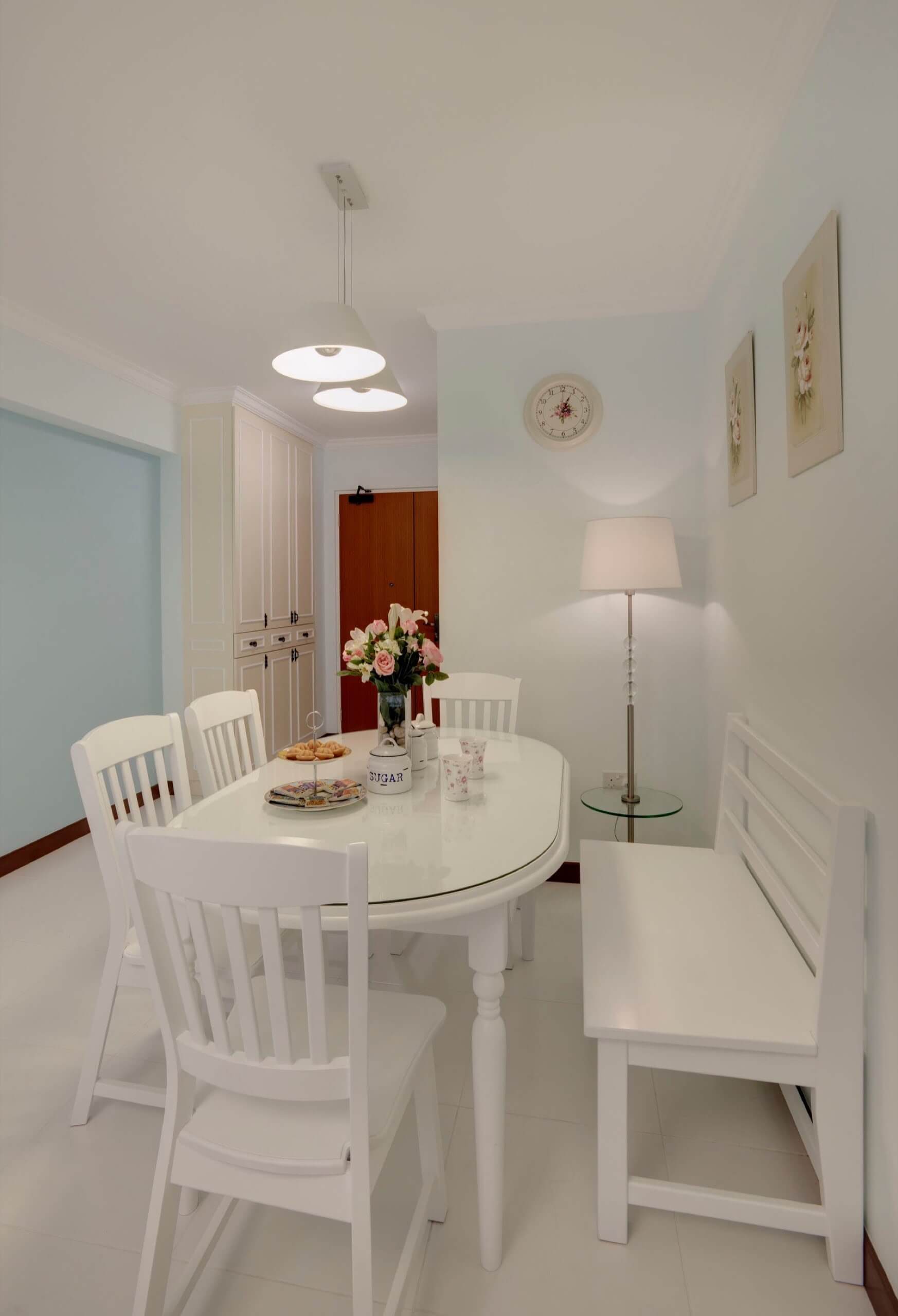 When we look at the bedroom of this portfolio, it immediately gives very comforting and welcoming vibes from the old, Victorian eras. The floral wallpaper and the floral bedspread complement each other beautifully. The antique furniture in the form of bedside tables, lamps, and a chest of drawers further accentuates the vintage outlook. The cool pastel color palette is the perfect choice for a vintage bedroom.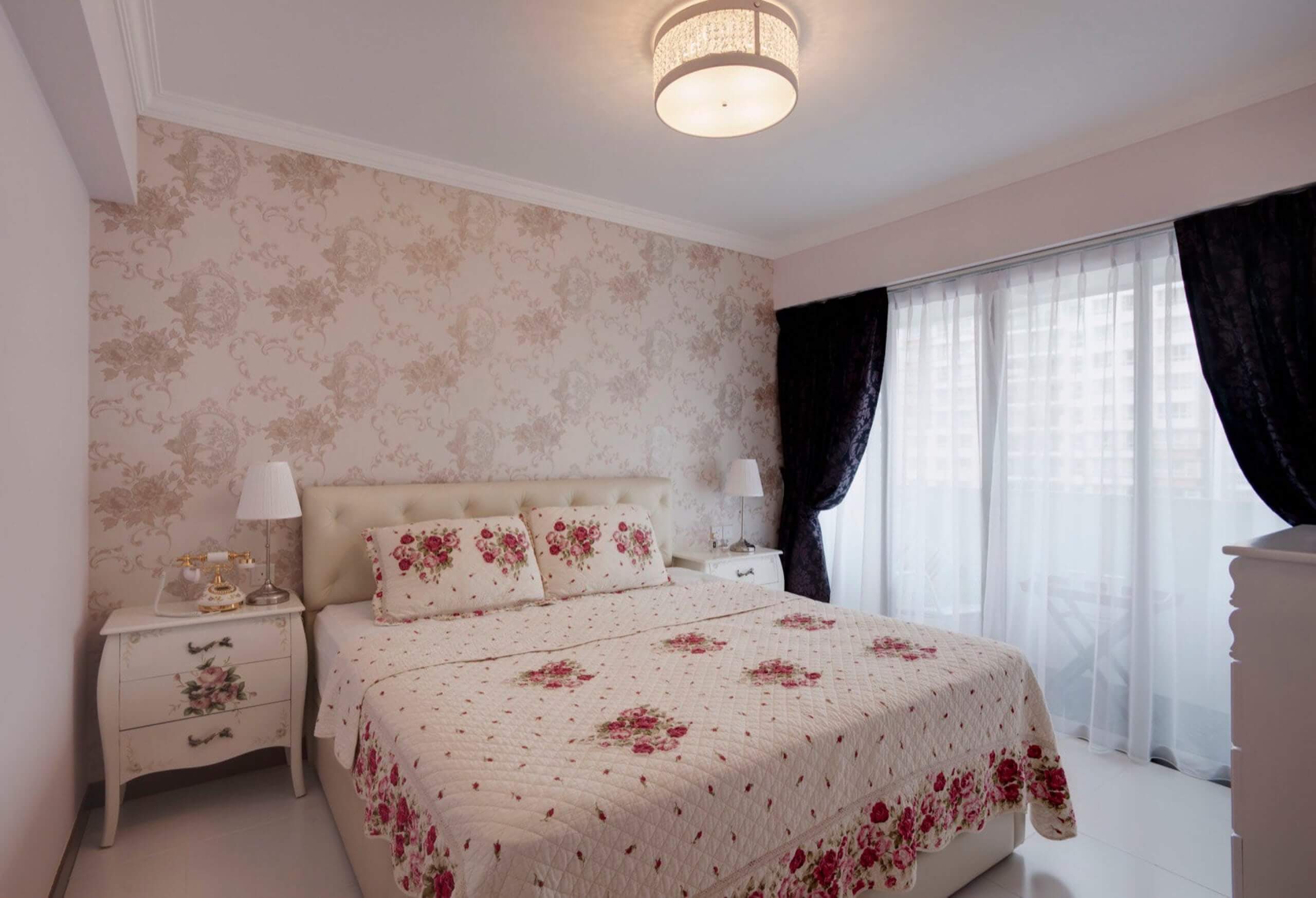 This particular design portfolio by Space Factor depicts a modern vintage interior design with some elements creating a vivid vintage image while other elements manifest in a contemporary outlook. The living room features a vintage barn-style sliding-door TV console that gives a vintage effect in an otherwise contemporary home. The color palette is predominantly neutral with cream and beige shades. Accents in the form of subdued blue barn doors enhance the overall color spectrum of the interior.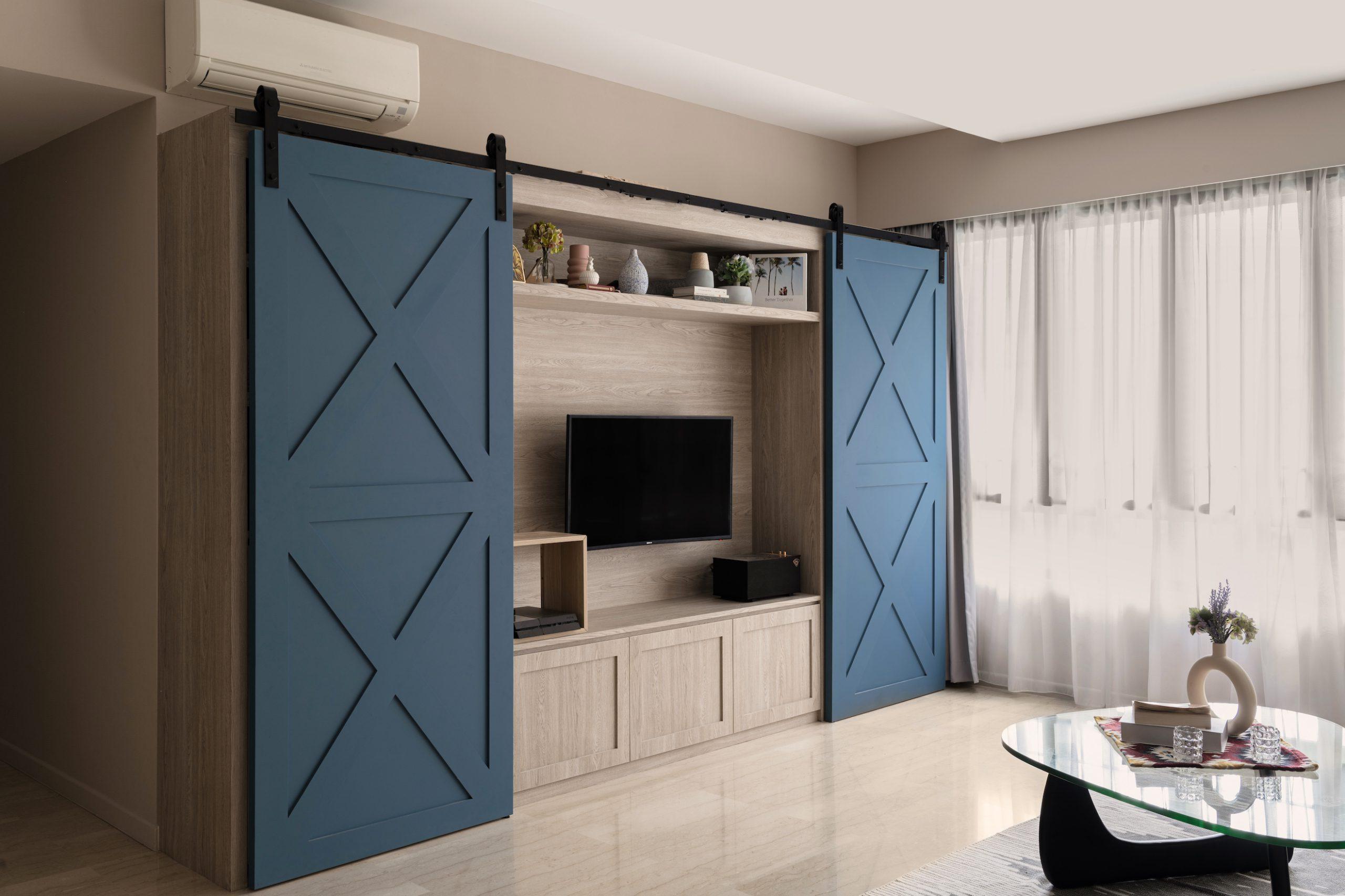 The kitchen interior design features vintage metal stools and distinctive hanging lamps with metal shades. These lamps feature edison bulbs through which the filament is clearly visible and which take you back in time to re-live those olden days. Although the cabinets are constructed in a contemporary manner, the golden metal door knobs on them add that vintage effect to the area.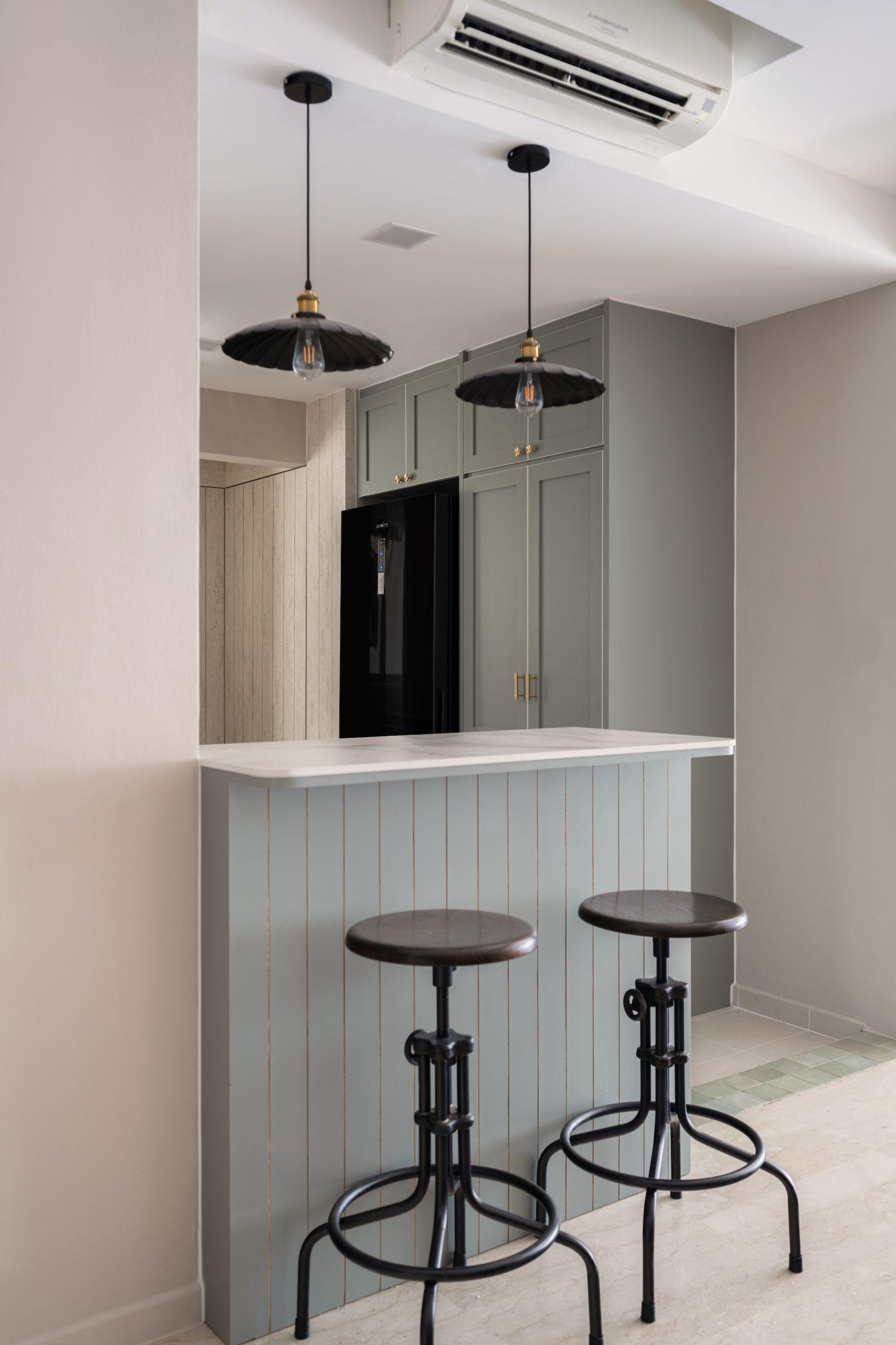 This is another beautiful interior design portfolio by Space Factor that creates nostalgia through its vintage elements and accessories. The bedroom interior design includes all the necessary elements of a luxurious vintage interior. The walls are adorned by an intricately designed wallpaper with motifs all over. The walls are all off-white along with the doors and their frames that were typical of the Victorian times. The dark hardwood flooring creates a sharp and beautiful contrast with the rest of the neutral color palette. The furniture of the bedroom is also vintage including the bed, side tables, and the chest of drawers. Every other accessory that you see in the bedroom including the table lamp and the display vase is clearly inspired from olden times.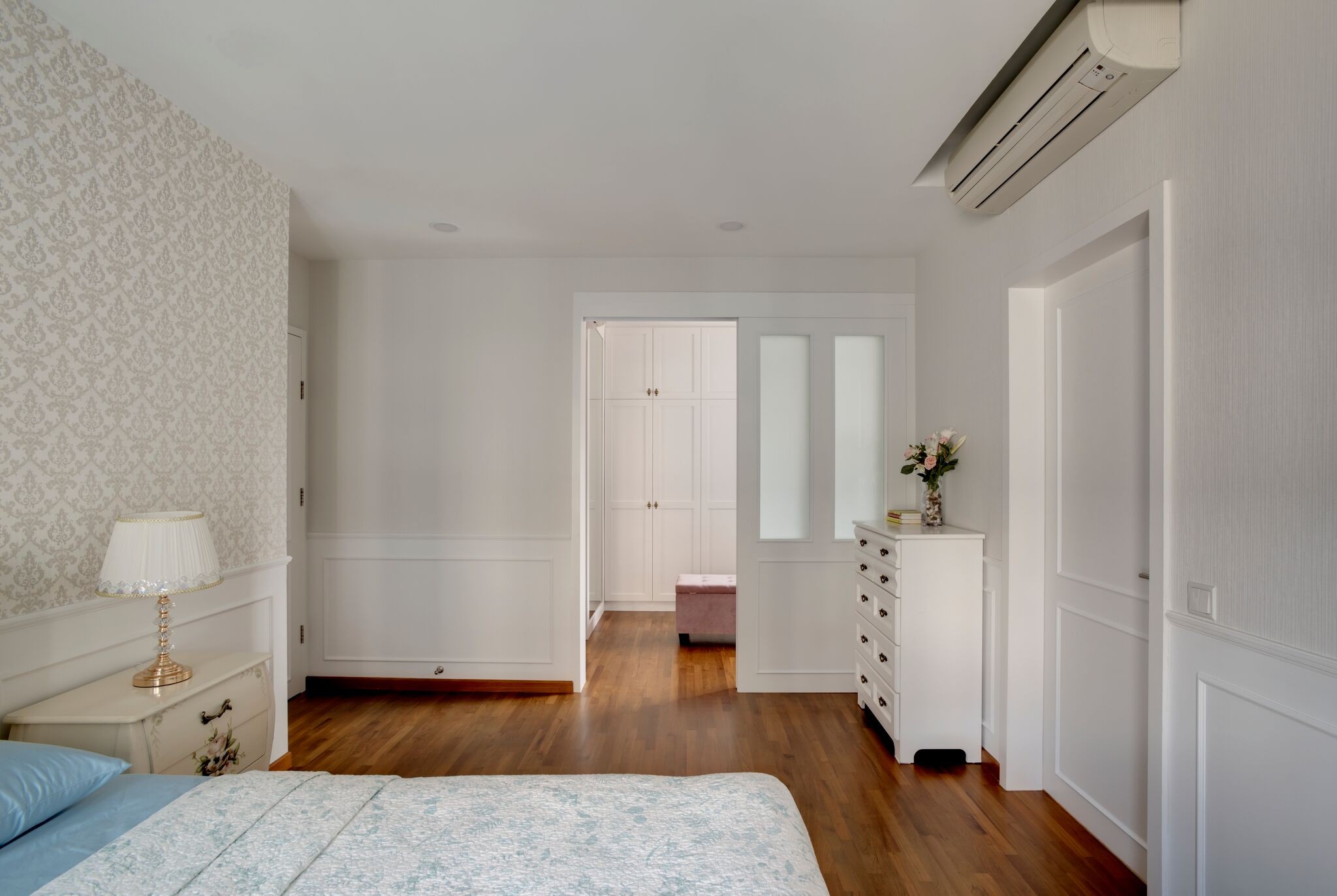 Attached right next to the bedroom is the beautiful vintage walk-in closet. In the luxurious homes of the Victorian era, you would normally see such a walk-in closet that would house all their dresses, shoes, and other accessories. In this modern vintage walk-in closet, we can see beautifully crafted cupboards, some having glass doors to showcase favourite accessories.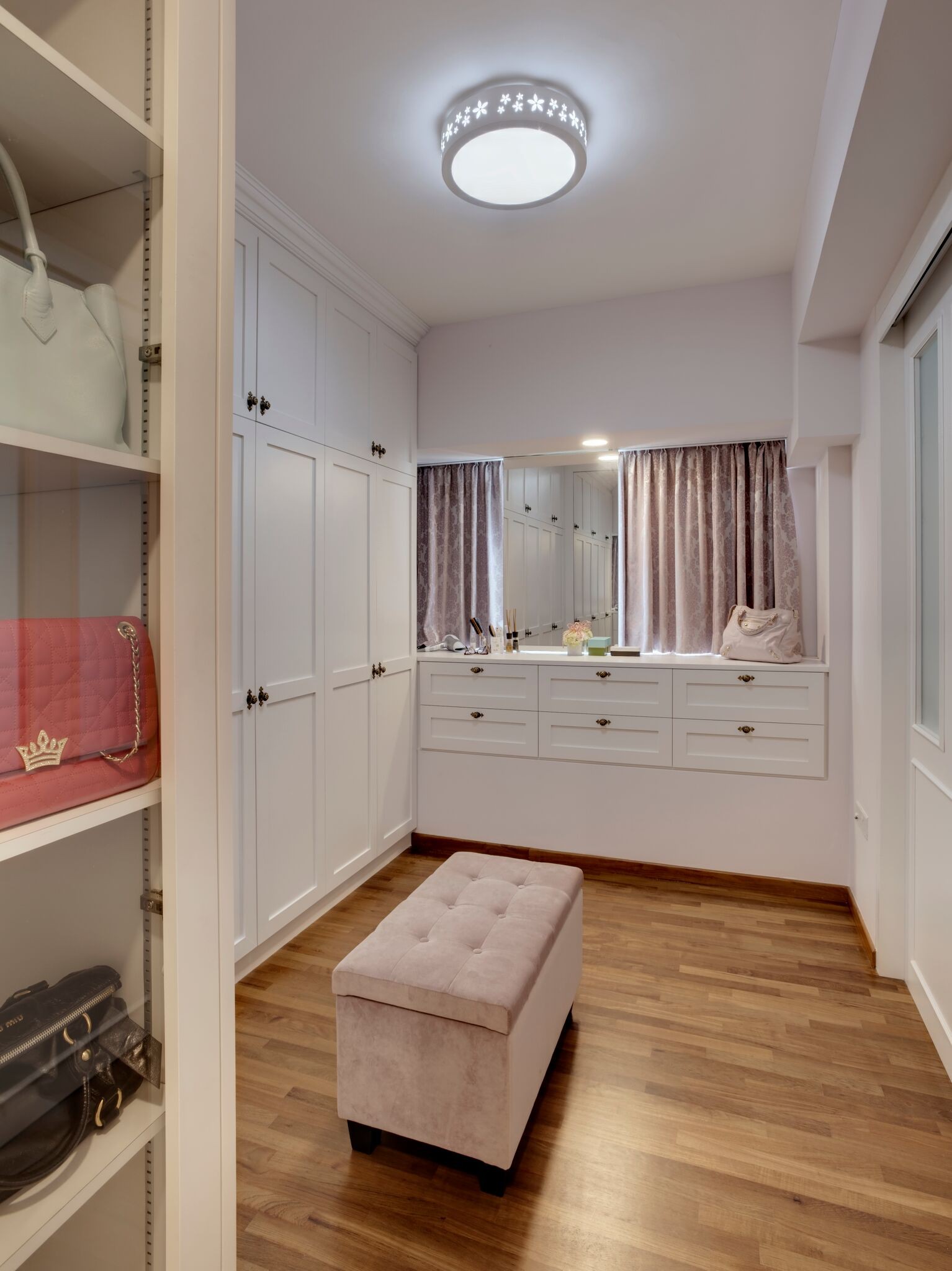 The small study nook is also a clear manifestation of the vintage interior depicted by the use of a white and pastel green color palette. The study table and chair have oakwood wooden legs that create a nostalgic feel. The other accessories such as books displayed in the shelves and the antique wall clock all help in creating the perfect vintage look in this house.
From these ideas, you can draw inspiration on how to incorporate the vintage look into your home. A vintage home can have a very comforting, relaxing, and luxurious feel if done right. Although a vintage interior design is quite the opposite of a contemporary interior, you have the option to mix and match elements from both these design styles to create a unique outlook. Looking for other interior design styles? Check out our Scandinavian interior designs, Minimalistic design style, Balinese interior design and more in our blogs. Contact Space Factor today.