Create a Nostalgic Haven With Retro Interior design
Interior design is all about choosing the right design theme and accessories to create the perfectly amazing space. When it comes to home interior design, the chosen design theme speaks a lot about its residents, their preferences, and how they want their guests to feel when they visit.
While each interior design style has its own distinctive features and characteristics, retro and vintage interior design give a strikingly unique yet beautiful ambience. When we talk about these interior design themes, often they are used interchangeably. But are they really the same or different? Here, we will discuss in detail what retro interior design is, its salient features, pros and cons, and some great inspirational ideas to get an amazing look in your home.
Are retro and vintage interior design styles the same?
Before moving on to discussing the fine details about retro interior design, let us answer the very common question of whether vintage and retro are the same in interior design? Plainly speaking, no. Retro interior design and vintage interior design are different from each other in that the vintage interior design houses original pieces and design styles from the 20th century whereas retro interior design focuses on recreating a somewhat older style by using new elements that have been designed to create vintage feels. On the outlook, both interior designs may give a similar vibe but on contemplation, one can see that they both are different in the kind of furniture, style pieces, and general theme incorporated.
So let us dive into the details of retro interior design and how you can incorporate this theme into your home.
Retro interior design style
The retro interior design style takes its roots from after the industrial revolution when new elements and pieces were designed to replicate the styles of various past eras. A retro design is one that has been inspired from the past to recreate a past era. How far back in time you want to go to revive it depends on you; there are no fixed requirements in that matter. The main idea is to create nostalgia for a particular era of your choice.
Retro interior design is a popular choice among homeowners in Singapore as it creates a getaway from the modern interior designed homes one sees around so abundantly. It creates a nostalgic feeling which one can cherish and relive all the past moments. Mid-Modern Centruy designs and Modern retro interior design is also a popular version among homeowners where they can combine old and new elements in beautiful balance.
Significant Features
Retro style's main hallmark is a fine and lively outlook which is achieved by using just the right type of furniture, colors, and statement pieces.
Furniture
Retro furniture is often whimsical with bright and bold colors that give a very lively outlook. The furniture may be angular with curves; the idea is to have them in unusual shapes that look fun. Moreover, furniture inspired by the olden eras with a fun twist can create an interesting focal point in a retro interior.
Colors
The colors used in a retro interior are often bold and not quite bright. The reason is that even bold incompatible colors are used in the space, if they were bright, it would have created visual chaos. So, stick to bold colors with less saturated hues to get just the right amount of color and balance in the space.
Patterns
Interiors of the olden eras often used intricate patterns and motifs in different design elements. Therefore, a retro interior focuses on recreating that vintage vibe by adding patterns on the walls and floors. This look can be achieved by choosing heavily patterned wallpaper for the walls. For the floors, you can either choose hardwood flooring with very clear grains and wood patterns or use a rug with bold, vivid patterns. This eclectic mix of elements creates a stylish yet interesting visual space.
Textures
Another significant feature of retro interior design is the use of textures in solid colored spaces to bring life to them. Thus, for furniture upholstery, you can use textured solid colored fabric that creates a funky yet bold ambience in the interior.
Statement pieces
Since a retro interior is the revival of the eras gone by, it cannot be complete without a few nostalgic pieces from the past. These could be old pictures, an heirloom displayed on a shelf, or any piece of art that makes you nostalgic and makes you remember the good old days.
Pros and Cons
There are several advantages of choosing retro interior design theme for your home:
You have the freedom of choosing different colors together that may not seem compatible apparently, but if you play around with them, you could create a funky and eclectic appearance.
A retro interior comprises furniture that may appear unusual and fun, but is essentially functional as well. Thus you get furniture that not only appears cool to the eye but also provides you with comfortable and relaxed seating.
Such an interior triggers a nostalgic flair through the use of such elements and accessories that help you recall the olden days. Examples of such accessories can be old rotary phones, old radios, big boxed TVs, scoop stools, and others.
Apart from these advantages, there are a few disadvantages associated with retro interior design:
The vast choice of colors may become confusing when choosing just the right amount of color and hues for the interior.
Since there are not many rules to this interior design theme, you have to be careful in the kind of accessories, elements, and colors you use. Otherwise, you may risk creating a chaotic space that is a bit too much for the eyes.
The retro interior design may not sit very well with your visitors especially for those who are very much accustomed to the modern and contemporary interiors.
At Space Factor, we take pride in creating amazing interior design styles in your homes to make them the home of your dreams. One such inspirational portfolio at Guan Chuan recreates the times of olden days by incorporating retro themes in all rooms of the house.
For the living room, the retro theme is added in the interior by using a wooden frame sofa with leather seats and back. The simple yet functional shape of the sofa immediately takes you back to the old country house and triggers a feeling of nostalgia. The sofa cushions also feature the distinctive patterns of the past which help recreate the vintage look. Also notice the little Japanese interior design details like the frosted paneled windows and the big bowl shaped center table. Together, all elements create a fusion of Japanese and modern retro interior design.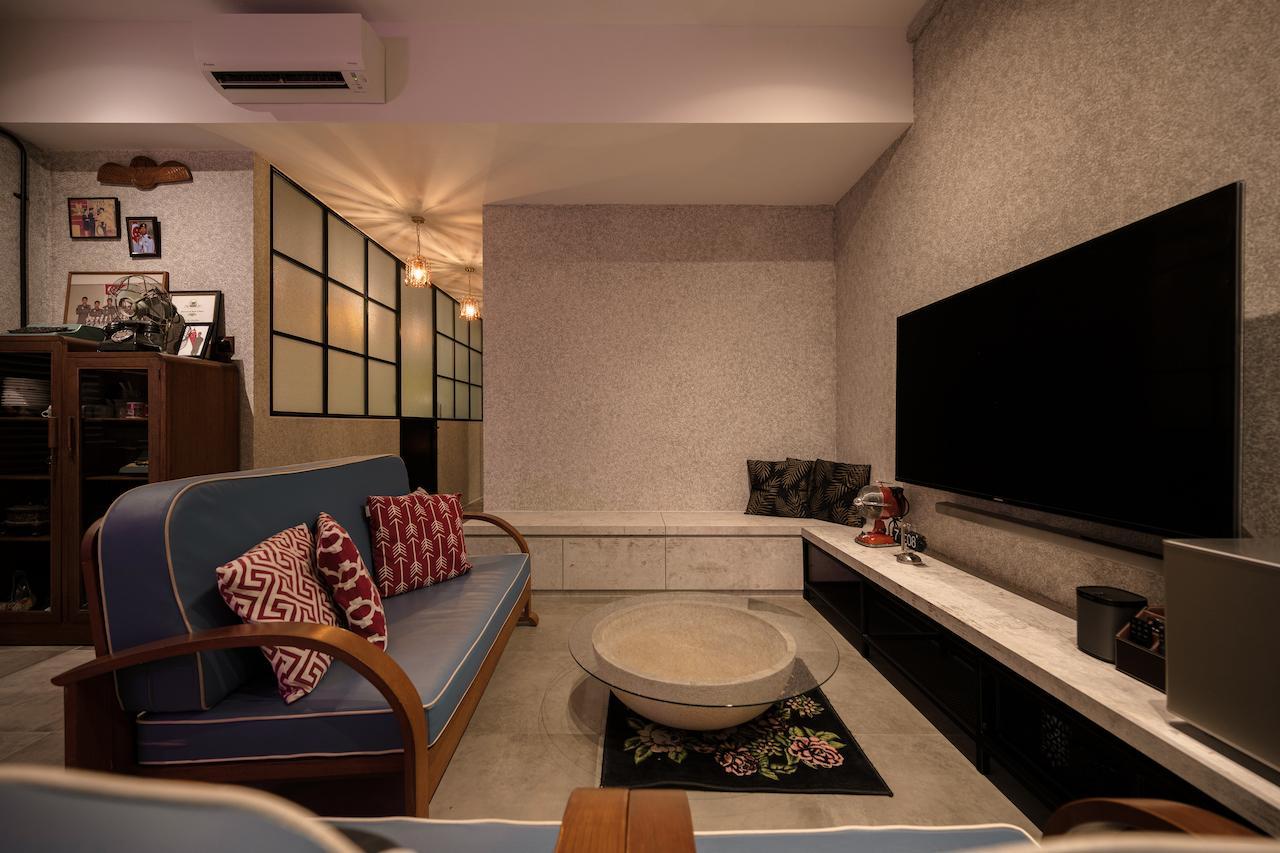 Coming towards the hallway, we can see the distinctive brickwork that may at first glance give the illusion of an industrial themed home but when looked in connection with the displayed wall art and other decorative pieces, it manifests as part of a retro-vintage theme. The old photos displayed on the wall along with small decorative elements that trigger nostalgia, all create a very meaningful retro interior.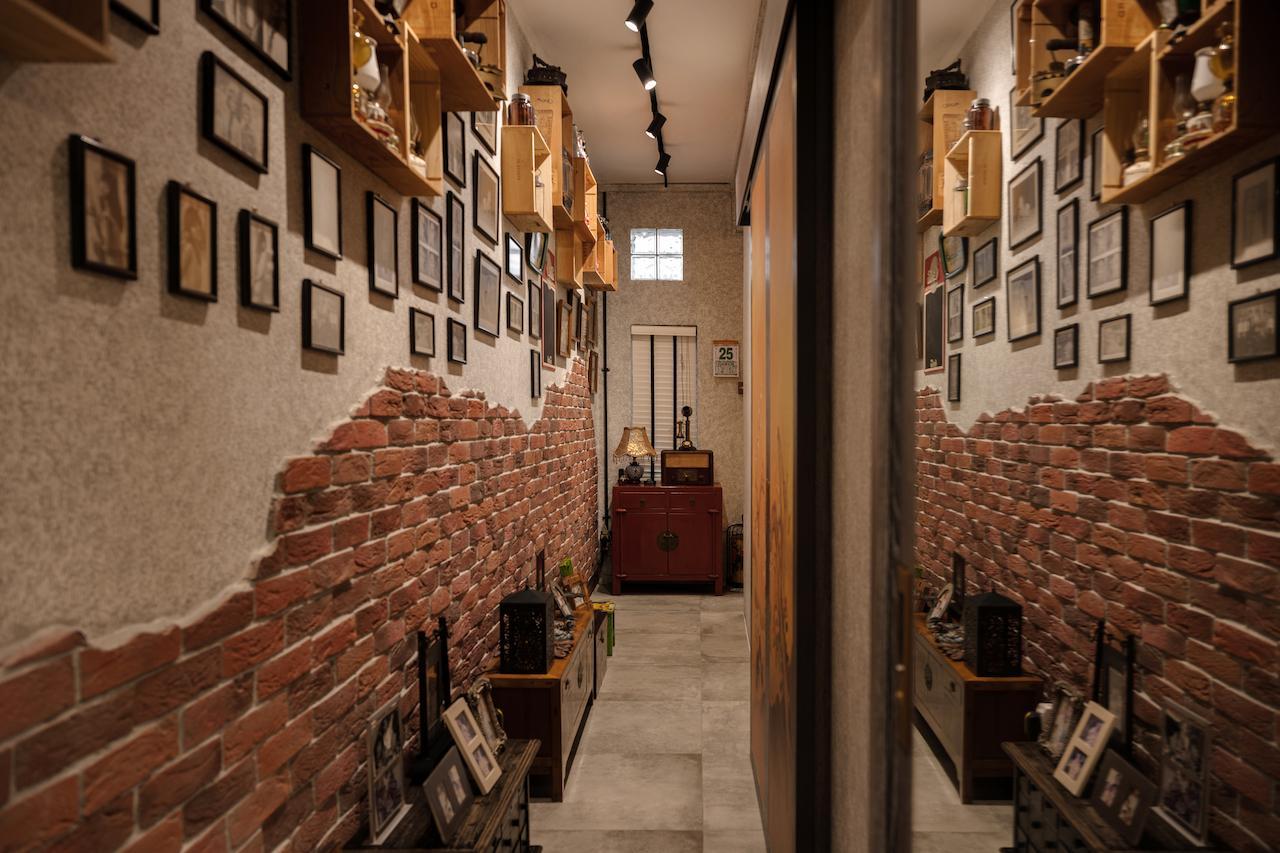 The staircase also depicts the retro style through the motif patterns that are printed on them. The varying patterns on each stair adds a touch of versatility in the design without making the patterns repetitive. The patterns are in black and white colors which are uplifted through warm bulbs and a neon light installed above. Since a retro design features bright and bold colors, neon lights make up an important part of modern retro interiors. Bright magenta, orange, green, blue, and red neon signs bring an eclectic and whimsical touch to the interior. Moreover, a mirror with a carved iron frame installed on the front wall adds the finishing touches in recreating the mid-20th century feels.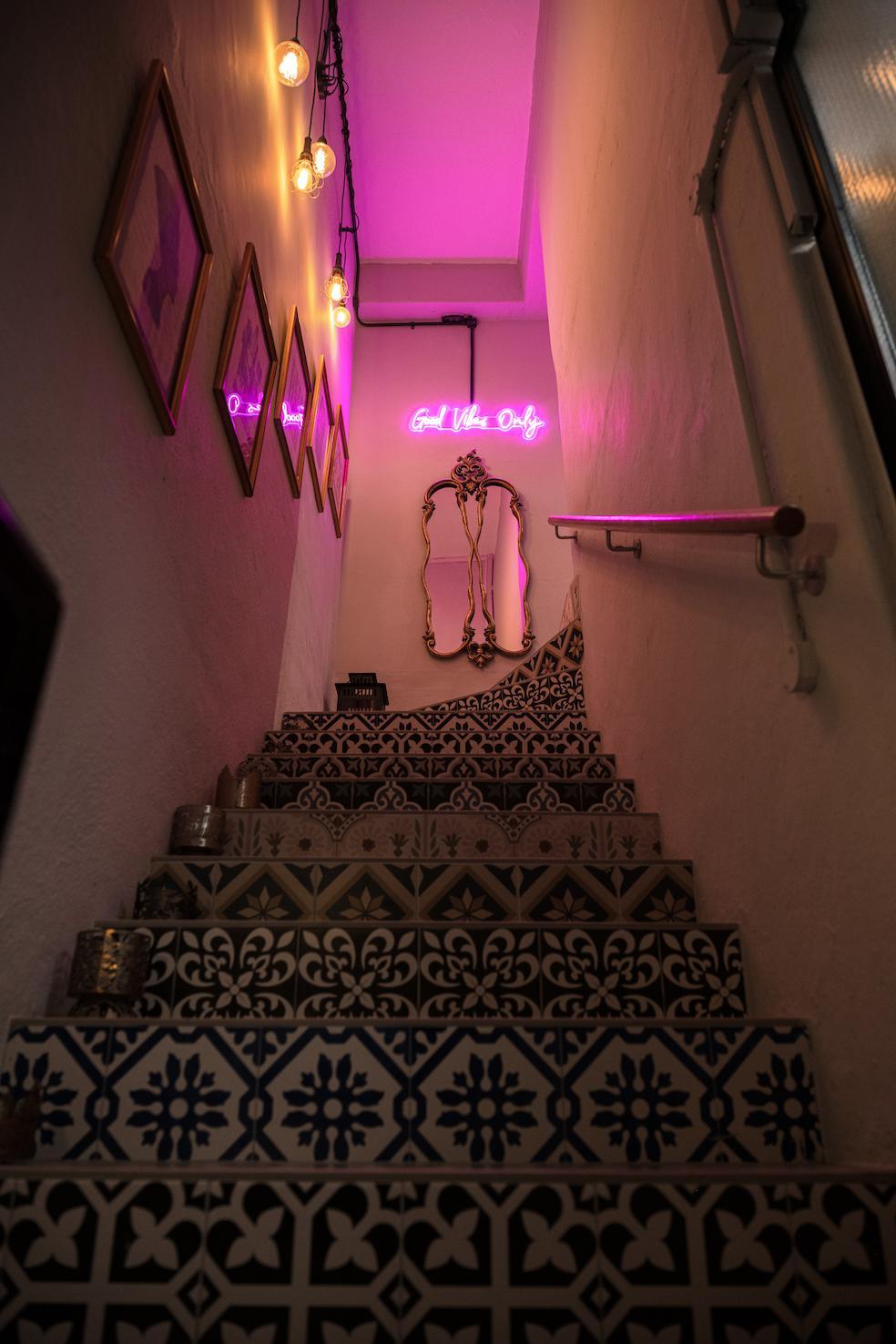 The bedroom in this home depicts a mix of Japanese and retro interior with the beautiful sakura-pattern wallpaper on a dark background that creates a kind of retro look. The simple wooden side tables and ceramic decorative bowls on them all add to the Japanese retro look.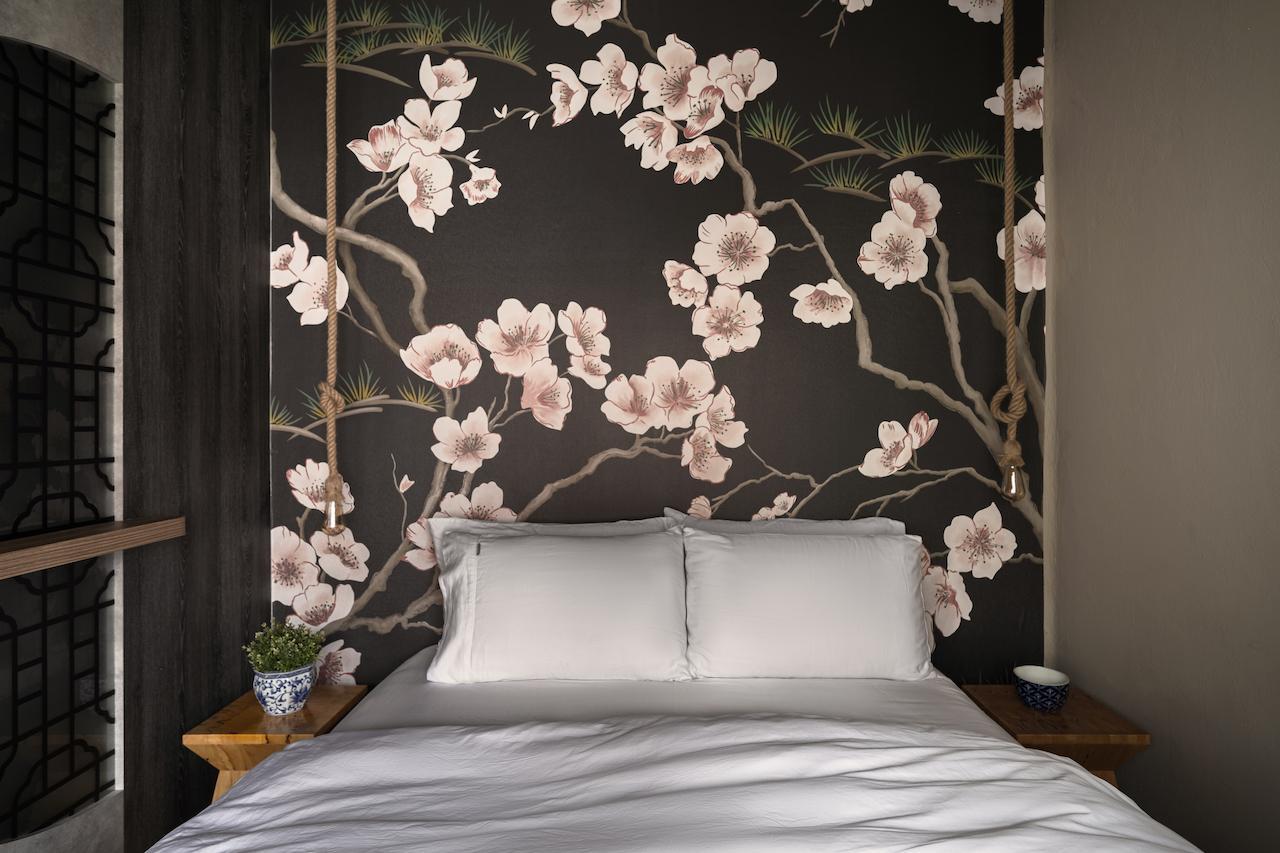 Consider the following image which shows the bathroom of this portfolio. The bathroom starts giving you vintage-retro vibes the moment you enter into it. The floors are covered in black and white checkered patterned tiles that are distinctive of the 20th century. The wall tiles are an earthly green shade installed in a rugged manner to give old feels in the interior. Although the vanity is a modern, wooden structure, the faucet and sink bowl again give nostalgic vibes. Notice the unusually shaped golden faucet and the sink bowl crafted in an intricate motif design. A corner shelf displays some artifacts that amplify the retro look of the bathroom.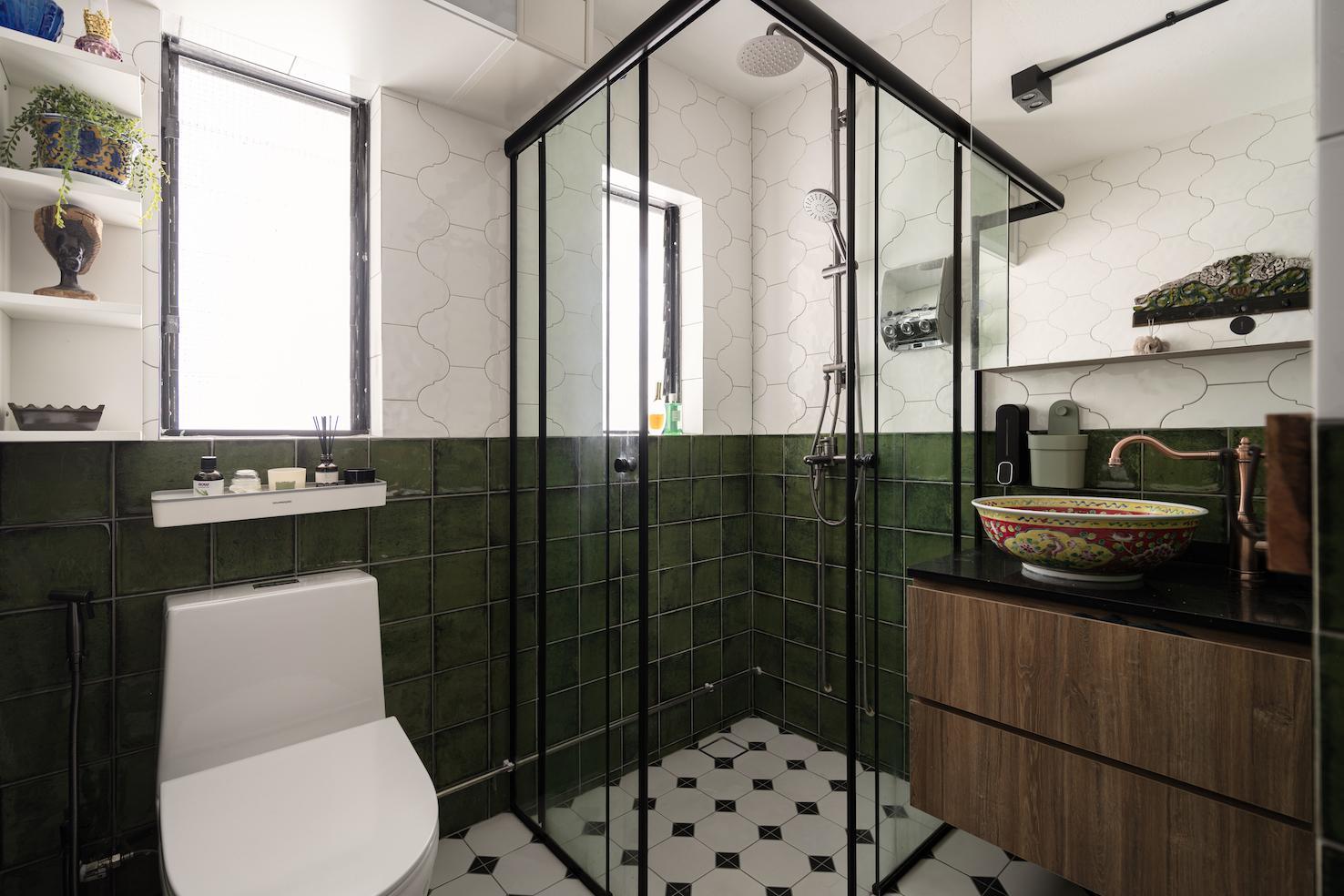 Another hallway of the house shows how a contemporary and retro design theme can be incorporated together in any space. The floors depict a seamless pattern in tiles that bring the retro effect to the space. The frosted glass paned windows on both sides of the hallways are a clear manifestation of Japanese architecture. The intricately-carved iron hanging lamps help illuminate the space while also bringing together the retro look.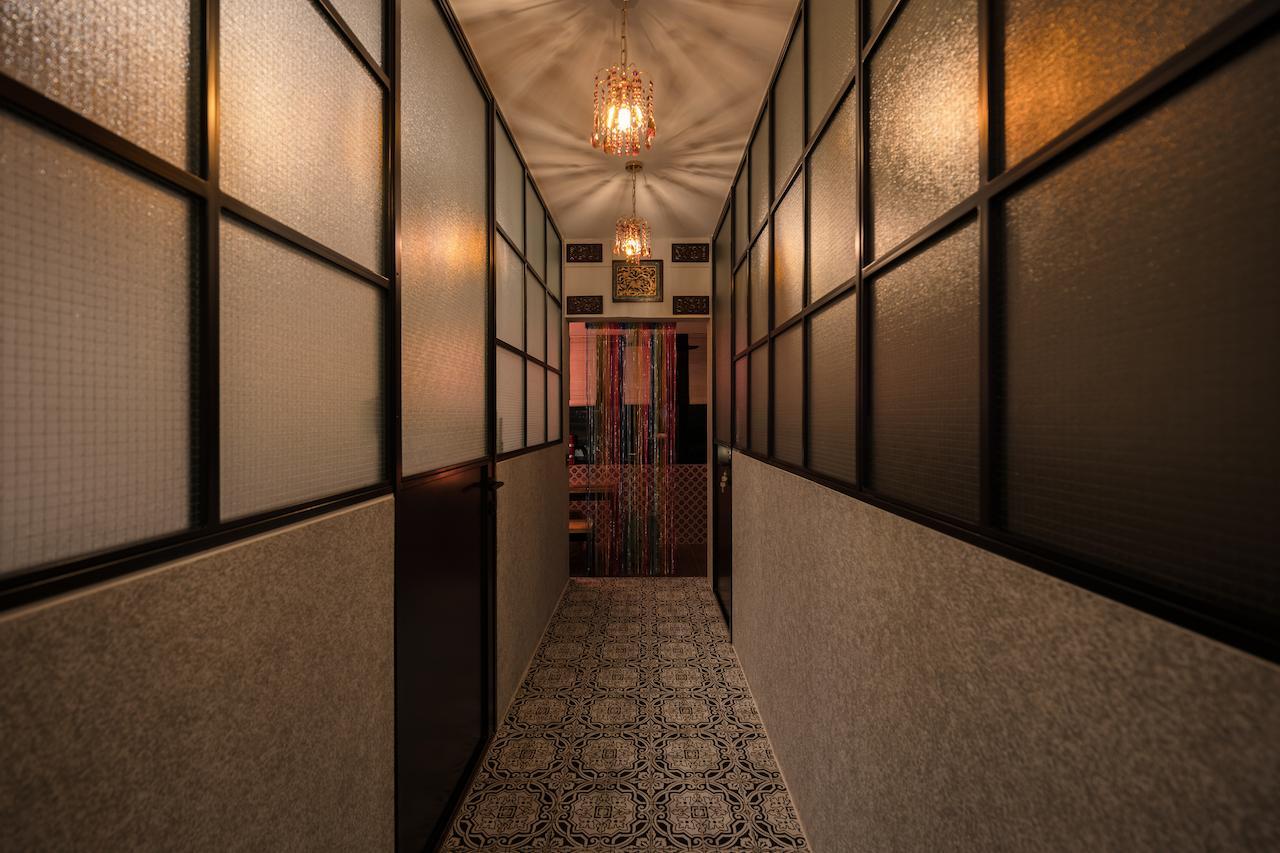 Lastly, we check another sitting area in this house which cannot be called anything other than an eclectic and retro design style. Each element in this room speaks volume about the retro design theme. The hanging lamps in yellow and pink colors give off this neon light that shines on all elements in the space. The tables, chairs, and benches all take you back to a past era where furniture was predominantly wooden in simple, carved structures. All the decorative elements make a statement in ensuring that you get nostalgic feels. All these furniture pieces and decorative items together with the retro lighting create an eclectic atmosphere that is fun, lively, and nostalgic at the same time.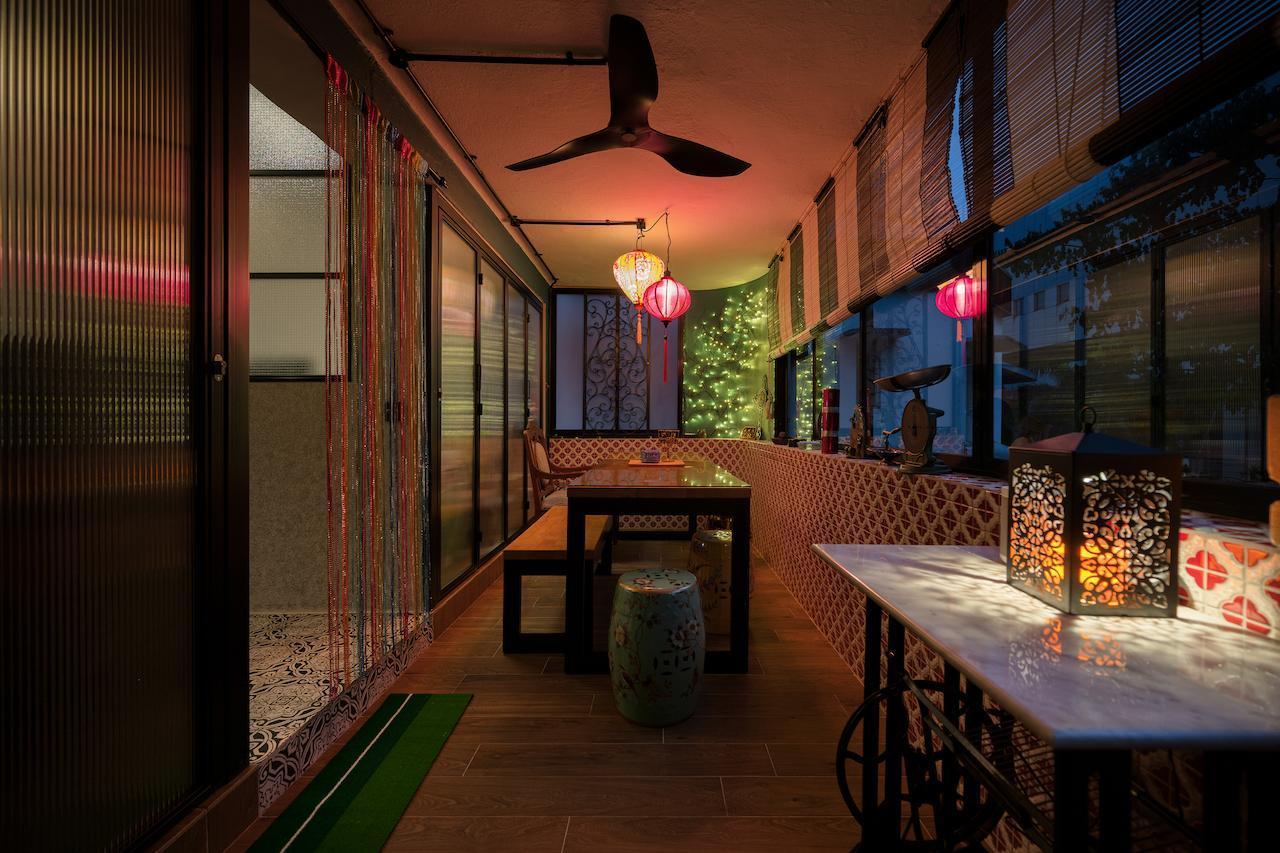 Retro interior design has its own distinctive outlook that creates a unique and fun space using a mix of old and new elements. With a touch of nostalgia, this eclectic space is sure to wow anyone who visits your home. If you're looking for more interior design styles, you can check out more exotic design styles like Balinese interior design, Rustic interior design style and Colonial design theme.