Mistakes To Avoid In A Landed Interior Design
A good interior design encompasses all the elements and personalisation's that will make your house the home of your dreams. It creates the perfect ambience that helps you feel comfortable and relaxed in your humble abode. There are many different interior design styles and themes which you can choose according to the house you want to design. The type of the house or flat, its location, and its size all play a role in what design elements will look in them and which ones will not.
If you own a landed house, you get to have a bigger area and space to play around with. It broadens your horizons of interior design and your choices are not limited as is the case with small HDB flats or condos. However, having a large area of a landed house does not mean that you can choose any design, style, and other elements and it will still look good. There are many mistakes which you need to avoid even in a landed house interior design so that you do not create an unappealing and unpleasant outlook. The interior design needs to be functional, comfortable, and beautiful even in a landed property. It is important to avoid some of the most common interior design mistakes which are discussed in detail below.
Choosing The Wrong Furniture
The selection of the right kind and size of the furniture is one of the most important things to consider when designing your landed home. In such a property, chances are that you have bigger rooms and area. Choosing the wrong furniture which is either too small or too big will completely ruin the room's appearance. Too much furniture will make even a big room appear small.
On the other hand, too little furniture will make the room awkwardly empty and will not create an appealing visual sensation. Similarly, the furniture should be according to a particular theme. If you place plush luxury furniture in one corner of the room and place some rustic and raw furniture in the same room, the elements will clash with each other and not appear beautiful.
Consider the following image of a living room at Gangsa Rd. Notice how the furniture completely complements each other. The theme is Scandinavian style and each element of the furniture whether it is the sofa, coffee table, or the TV shelf go with each other in style, size, and number.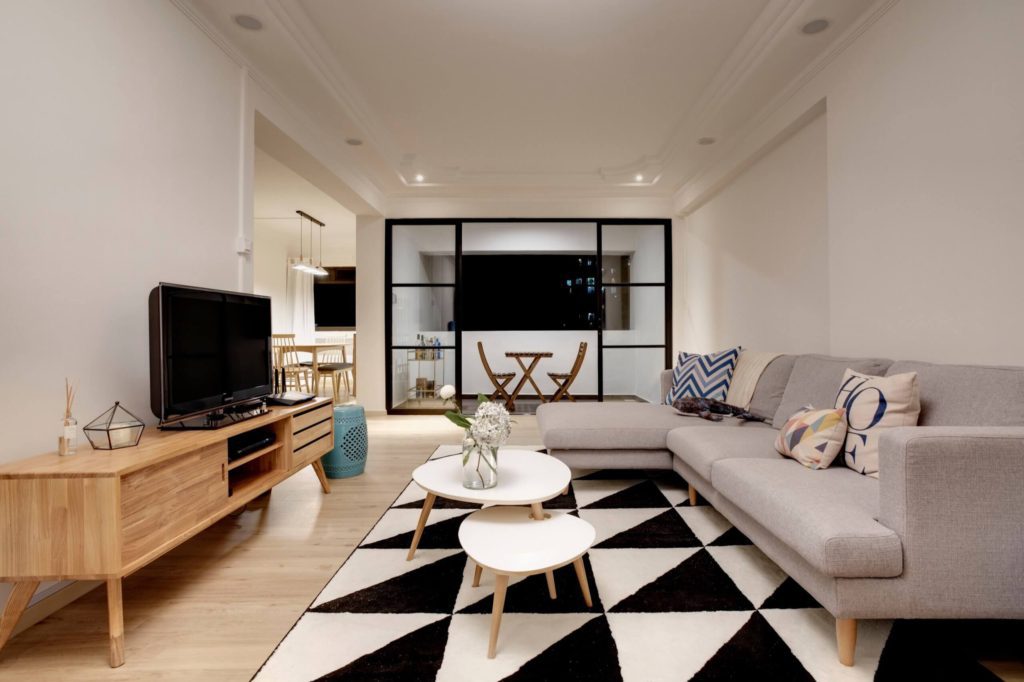 Not Having Enough Light
Natural and artificial light is probably the most important element of any interior design and not having enough of them will create a visual imbalance and unpleasant outlook. No matter how beautifully your house is designed and decorated if you do not have sufficient and the right kind of lighting, the design and decoration will go in vain. If there is not enough light coming in a room, even a bigger room of a landed property will appear smaller, cramped, and gloomy. Having large windows that allow greater amounts of sunlight to enter will immediately brighten up the appearance of any room.
Apart from natural light, using different types and fixtures of artificial lighting will allow you to set the mood and ambience of any room. You can use track lighting or accent lighting to enhance or highlight particular elements of the room which will be pleasing to the eyes. Using recessed lighting will create a more dramatic and cosy outlook.
The following image of a house at Eco, Singapore showcases beautiful lighting and fixtures that add to the beauty. We can see a large window through which lots of natural light flows inside. Several types of lightings and its fixtures highlight elements of the home to create an appealing outlook. A large mirror on one wall also helps the light to reflect and bounce off in the room to create a more spacious and bright look.
Choosing The Wrong Color Themes
Colour themes are another important element of any interior design. In case of a landed property, the sizes of the rooms will most probably be big. So, you don't want to choose the wrong colours that will make even the bigger rooms appear smaller. Choose light and neutral shades for the walls to give a bright and airy appearance. If you want to choose a darker shade for a wall, limit it to just one wall and balance it out with other contrasting elements and proper lighting.
Another mistake that many people make while choosing colours is that they try to match all elements of a room based on their colour. This unnecessary matching of colour creates monotony and boring appearance. Don't be afraid to mix and match colours. Using contrasting colours or hues of the same shade will create a perfect balance of harmony and style.
In the following portfolio at Punggol, Singapore, notice how the designer has used different shades of cool colours that go together beautifully. Green, yellow, orange, blue, and grey all work together along with the pastel-coloured walls to make a comfortable and appealing home.
Unnecessary Clutter Of Accessories
When you are designing and decorating your home, you may be inclined to go overboard while purchasing different accessories and decor items. However, too much of anything will do the opposite effect of what you are trying to achieve. Not only will you spend so much extra on these accessories but together, they will look absolutely unappealing and cluttered. Too much of these things will create both sensory and functional overload.
For example, consider a sofa that you want to put cushions on. You need only a few cushions to add comfort or a pop of colour to the interior design. If you go overboard and cover the whole sofa with a lot more cushions, they will not be functional any more. The sofa will look cramped and cluttered and will create an unpleasant outlook. Similarly, decorative items everywhere will take away from the beauty of the composition instead of enhancing it. A cluttered house, therefore, is difficult to maintain, looks unappealing, and appears much smaller in size.
Consider the following example of a landed property. Notice how, regardless of the large space, the living room area and entryway does not contain unnecessary clutter. A few decorative items and accessories here and there help to keep the area beautiful as well as harmonious.
Choosing The Wrong Types of Rugs
Rugs are an important functional and decorative item. With the right kind, colour, and size of a rug, you can completely transform the image of a room for the better. Conversely, a wrong rug will completely undermine the appearance of any room or house. You should choose the type of rug based on the overall theme of the room. Placing a luxurious rug in a room with a contemporary theme will look out of place. Similarly, if you put a simple rug in an otherwise luxuriously decorated room will not do justice to the overall design.
For example, for a living room, placing the rug close to the sofa and leaving space in front of the TV or fireplace that does not inhibit access will make the place look cosy and warm. The rug should complement the overall theme of the living room; usually, it is kept neutral. This is exactly what has been done in the following image of a living room at Thomson Grand.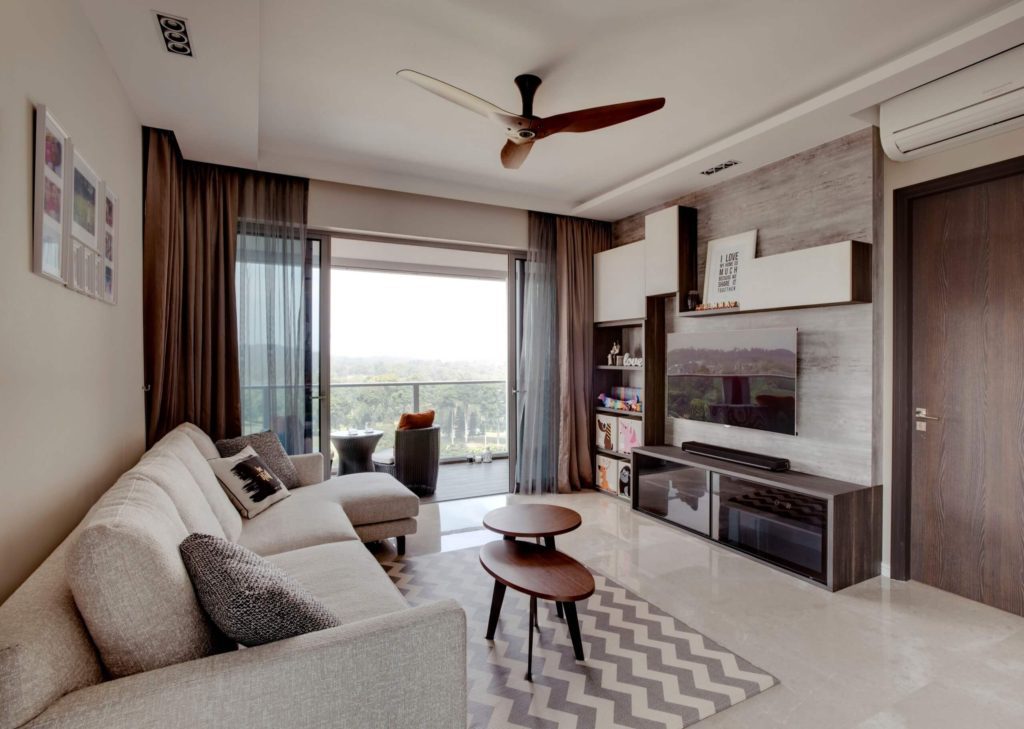 Similarly, for a children's room, the idea is to keep the rug small and close to the bed so there is ample space left for the children to play around without the fear of getting the rug dirty. The children's room drug should be fun and bright so as to give a pop of colour. This is showcased in the following children's bedroom at Thomson Grand.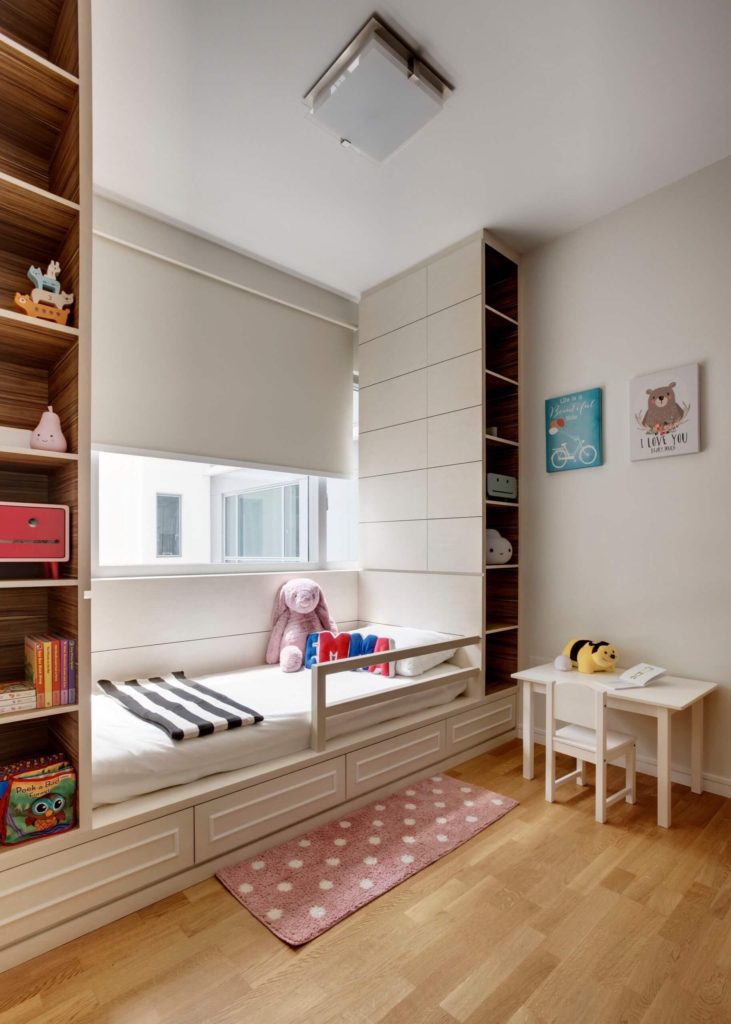 These are just some of the mistakes that one should be careful to avoid landed property interior design projects. There are many other things to consider when designing and decorating your home. But if you steer away from these simple and common mistakes, you are sure to get the house of your dreams and avoid major interior design disasters. We, the professionals at Space Factor provide Singapore interior design to help you design your dream house in the best possible manner.