Bring in The Vacation Vibes with a Resort-style Landed Property Interior Design
Nowadays, office workers wait eagerly for that long-awaited summer holiday. Of course, there are plenty of resorts and places to visit. However, most of the time, it's the vibe that makes us feel relaxed and recharged. After all, the comfort and luxury of the resorts are what make them unique. But why not bring the feel to your landed property?
If you love to indulge in the luxe of world-renowned hotels, you'd like to bring this style to your home. There's ample inspiration to get and lots of space to experiment, too. What's more, your landed home will allow you to relive the resort experience without breaking the bank.
In Singapore, such an elegant interior style may look too lavish. Still, it's relatively easy to achieve, especially if you follow our guidelines. Ultimately, you'll bring the vacation vibes in a breeze.
Set the Tone
Firstly, you'd want to set the tone with some resort-like colors. So what's the typical color palette for a resort? Generally, it can be any scheme that will induce a vacation mindset.
Whether it's Mediterranean, Tirolean, or colonial style, make sure you achieve an upscale, modern feel. For example, you can try some stylish hues like taupe, espresso, and pewter. Create contrast with some tropical wallpaper or other wall treatments with natural finishes.
Bring in Some Statement Pieces
Next, you'd want to implement some accent pieces in every room. Similar to a high-class resort, you should complete your landed property interior design with at least one bold accent piece. Surely, you'll want your interior to draw immediate attention.
In such cases, your best shot would be a large piece of art or tapestry. An oversized wall painting will enliven your space without overwhelming it. Moreover, such addition will work as a design centerpiece and an expression of personality.
Let the Outdoors in Your Landed Property Interior Design
Arguably, one of the signature elements of every high-end resort is the selection of tropical textiles. You've probably seen one of these rattan and bamboo sets of outdoor furniture. Perhaps, you could quickly bring them inside.
If you have a patio, you can add a set of hanging chairs, a hammock, or a bamboo bed. Either way, you'll enhance the tribal feel and make your landed property interior design feel like a resort. Also, don't forget to put some oversized plants here and there. A pair of banana trees or dracaena will make your home look like you're on a tropical island.
Use Crisp and Natural Fabrics
Also, you'd want to transfer the feel to your bedding as well. Generally, you should stick to the standard scheme of white linen or luxe fabrics. What's more, you can safely immerse yourself in the sea of tropical hues and earthy tones.
If you want to make your bedroom feel like a Greek island resort, bring in a canopy bed. Moreover, you should adorn it with some airy fabrics and heavy, high-end curtains. It's a signature part for every resort-like interior. Therefore, it's essential for your landed property interior design.
Bet on Soft and Luxury Lighting to Complete the Resort-like Look
Perhaps, you've seen the elegant chandeliers in the hotel foyers. Adding one luxury piece will help set the mood right from your home's entrance. Also, you should complement your walls with some soft-light sconces. Try to layer the lighting with some additional bedside lamps for a light-filled space.
Usually, five-star hotels feature sleek recessed lighting and ample sources of natural light. You should make sure you provide gentle illumination, too. Ultimately, you'd want to go for some fluorescent lighting. In the least, you should opt for an oversized natural-fiber pendant.
Add the Finishing Touches in Your Spa-like Bathroom
Of course, don't forget the bathrooms. Since you can't make your restroom overlook the Adriatic, you can at least add some spa-like features. Instead of the standard showerhead, you can get a rain one and throw in some bamboo mats. If you have the budget, you can add a terrazzo-style tiling with subtle lighting strips.
Last but not least, you'd want landed property interior design to look, but also smell like a resort. Therefore, you should buy some tropical candle scents to greet your guests properly. Besides, you can always add some soaps and room sprays for a soothing fragrance. Just don't overdo it.
Get a Resort-style Landed Property Interior Design
At last, you don't need to live in a luxurious penthouse to evoke the desired look. Arguably, our designers at Space Factor know how to pull off a resort-style landed property interior design. Our Park Villa Rise project highlighted the most immediate details for the style. Most of all, we have made sure the owners will feel like they're on a tropical island.
Outside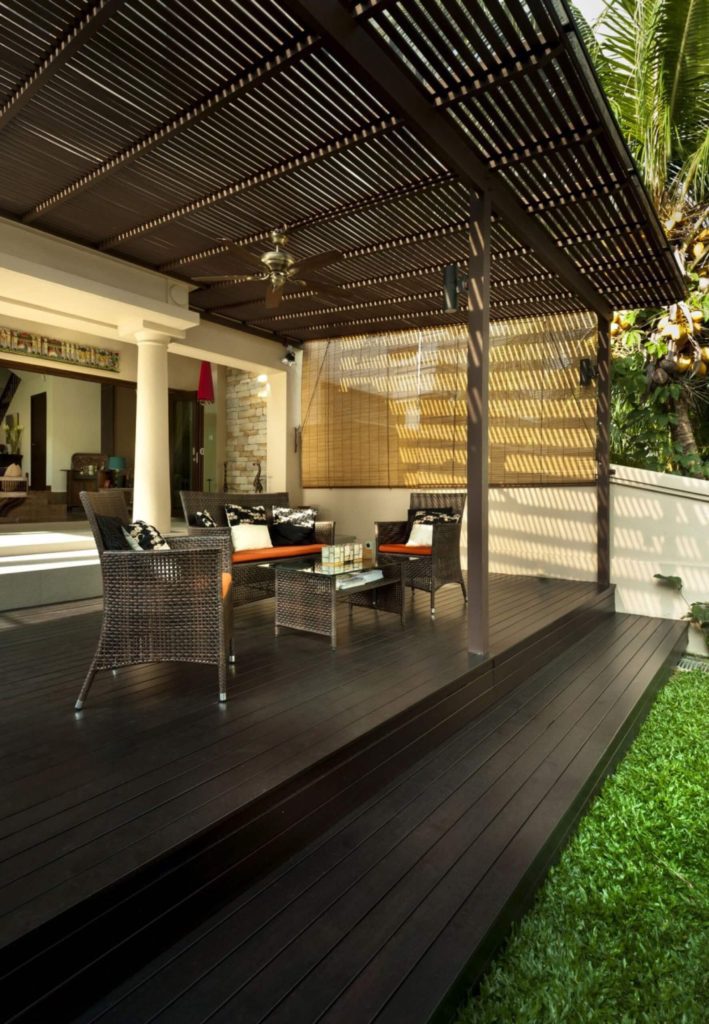 Resort Living @ Park Villas Rise
You can feel the vibes right from the entrance. There you can see some plants and rattan adornments. While the front yard boasts broad tile flooring, the back patio uses contrasting dark-brown wooden floors. Of course, the patio uses a set of rattan coffee table and chairs of similar color to the flooring.
Inside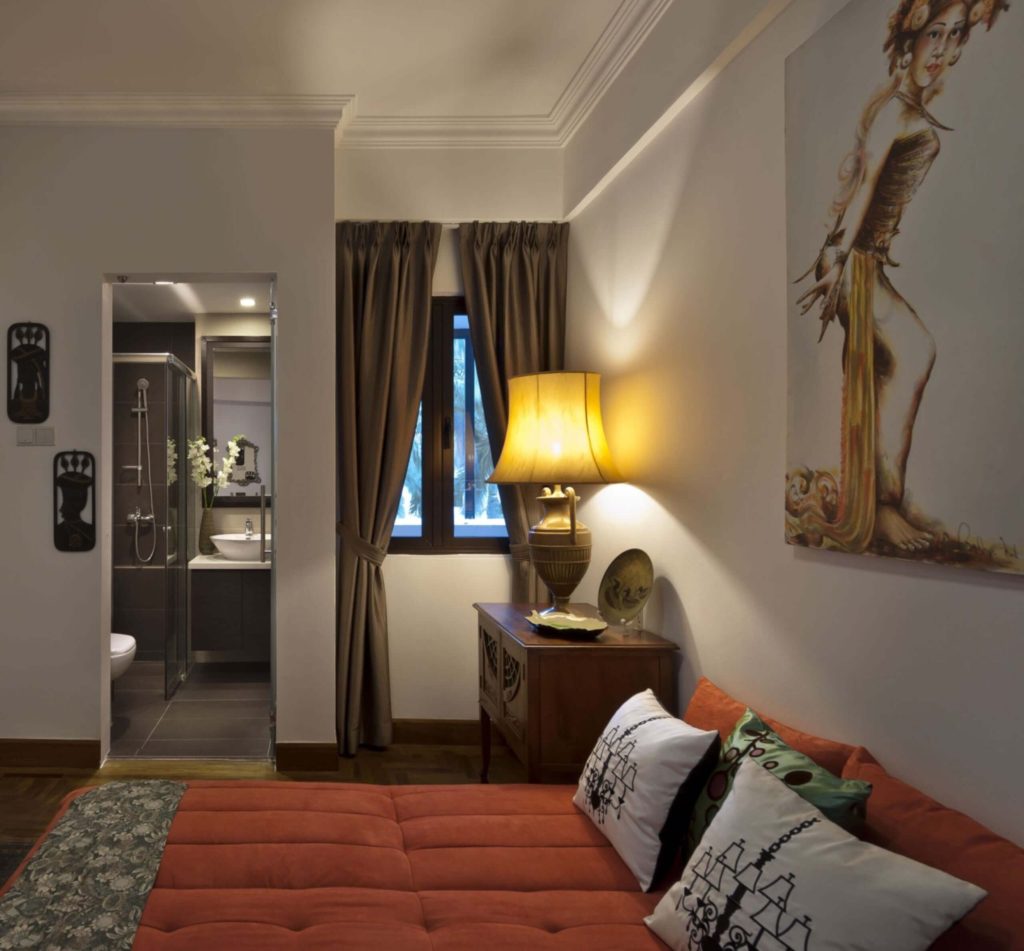 Resort Living @ Park Villas Rise
When you enter the home, you'd feel an instant surge of colonial-style interior design. Perhaps, the combination of soft lighting, terrazzo flooring, and the standout foyer table will mesmerize you right from the start. Of course, there's the luxurious chandelier and the white furnishing that creates a subtle contrast. Also, don't forget the tropical-style cushions and subdued-tone rug that complete the alternating composition.
As you can imagine, there is plenty of strip lighting in the bathroom and kitchen. The premises integrate seamlessly with the cohesion of dark-brown cabinets and marble countertops. In the bathrooms, you can see the popular vessel sinks along with some Marrazzo single-wall adornments. As expected, the designers have replaced the generic shower heads for rain ones.
If you've ever dreamed of a canopy bed, we can do the magic for you. The bed in their landed house interior design fits all requirements for a resort-like bedroom. Moreover, you'd love the soft layering of the luxe bedside lamps and subtle ceiling lighting. Don't forget the massive and luxurious floor-to-ceiling curtains that will ensure you get quality sleep. Also, there's a large piece of art above one of the beds.
Final Thoughts
After all, you don't have to fly across the world to experience the fancy island bungalow feel. We have the experience in creating resort-like landed property interior design. And not only – we have a vast portfolio of HDB renovation project ideas, condo renovation, commercial and landed interior designs. Why not try and step it up a notch with your unique feel to it?