18 Interior Design Tips To Create The House Of Your Dreams
Who does not want to transform their home into a functional yet comfortable abode? A place where they can leave all their worries behind and free their minds from the stressors of life. However, it may not be such a simple task for everyone. There are so many modalities involved when one wants to redesign or renovate his/her house. There is the choice of colours, selecting a style, choosing a particular theme for the interior design, choosing various design elements, the types of lighting, and whatnot. All these choices can become overwhelming for the vast majority of people who can be considered laymen in this regard.
Here, we will describe some of the most common yet essential design tips and ideas that are a prerequisite for anyone who wants to transform their house into the home of their dreams. All these tips are taken as inspiration from various design portfolios by us. All these examples show the important tips and tricks that one can adopt to revamp their home.
1.  Maximize Functionality In A Single Room
Don't be afraid to add multiple types of functionalities in a single room. Often we have a room that serves a particular purpose, but still, it has enough room to be functional in another way. This is where you should not hesitate to mix and match the various functionalities in a single room. As an example, consider the following design portfolio where a single room has been converted into a study plus a walk-in closet because why not? The study table would have taken just a small space and the rest of the room would have been empty. So the designers utilized this extra space by incorporating a walk-in closet. The result is that the owners get a walk-in closet without using an extra room!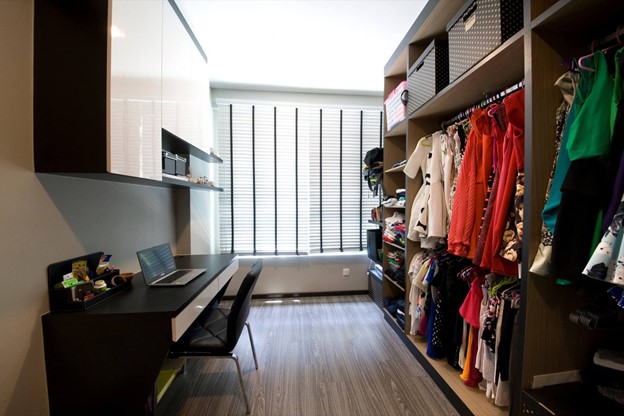 2.  Identify Your Deal Breakers
This is also one of the most important tips when designing a house. You may not know what different design elements might look good in your home but there are definitely certain things for everyone which they consider to be deal-breakers. Whether that is a particular colour, design theme, decorative items, furniture, or any other design element, identifying them at the start will enable you to steer away from them and focus only on the important things.
3.  Incorporate Feature Walls
When designing a house, the walls play a very important role in uplifting and enhancing a room's appearance. However, the usual choices for walls are either painting them or adding wallpaper to them. To add an extra character to your home, don't be afraid to incorporate a feature wall in some room. This is basically a complete wall that features a full length and width picture. The picture can be of your choice whether it is the skyline of a city, an abstract painting, or a famous monument. This is exactly what has been done in the dining room of a condo designed by us. Notice how the whole room appears to come to life because of its feature wall.
4.  Mix Old And New Design Themes
Another important trick in creating a unique but comfortable haven for yourself is to mix old and new design themes. Do not be forced to use a particular element of a design if you are not comfortable with it. Add in some elements from another style and theme without the fear of whether they will match or not. When you will play around with things, you will be able to find exactly what you are looking for. In the following example of a project, we can see how beautifully the old and new elements merge together. The side table and chest of drawers have a Victorian element to them whereas the bed, lighting, and wallpapers are modern. This creates a beautiful mix of old and new.
5.  Step Up Your Game By Choosing The Proper Lighting
Lighting plays a pivotal role in any interior design project. Even if the other elements of the room are plain and dull, proper lighting can immediately enhance the room's appearance to a whole new level. And this does not mean sticking to just one or 2 forms of lighting in a particular room; you can go overboard in that too. In the following living room designed, we can see at least 5 different types of lighting in a single room: recessed lighting, track lights, directed lighting, spotlights, and general lighting. The result? A beautiful and elegant living space!
6.  Use Rustic Furniture
Rustic furniture has a very exotic feel when placed in a modern setting especially for condominium interior designs in Singapore. It creates a dramatic effect where one feels style, grace, and beauty in one place. In the following design portfolio, various pieces of rustic furniture are added to the space which is highlighted by modern lighting and other decorative elements. The results are a beautiful mix of vintage and modernism in one place.
7.  Add A Bar
Apart from creating a functional and comfortable abode, you may also want to add an element of style to your design. A unique way to achieve this is to add a bar to your interior design. The design of the bar can be made industrial to make it stand out among other types. In the following example of a project by us, an industrial theme bar has been added to the living space which adds a wow factor to the ambience.
8.  Incorporate Lines And Symmetry In The Space
Adding lines and symmetrical elements in the interior design also help to uplift the room's appearance. It automatically puts one's mind at ease and helps to create better visual lengths. Clean, crisp lines are the epitome of simplicity and elegance and these should be added in different forms in a design. We utilized this approach by adding lots of vertical lines and panels in this bedroom. Notice how different hues of brown when used in vertical lines accentuated with proper lighting create a spectacular view in the following bedroom at Katong, Singapore.
9.  Play With Textiles And Textures
Another easy yet effective way of adding some character to any space is to add different types of textiles and textures by playing around with them to see what goes best together. For example, you can use leather upholstery for one sofa and plush velvet for the other. You can use a non-woven rug with plush curtains to add extra character to the area. As an example, consider the following living room at Rama Rama, Singapore where the designers have mixed and matched several different types of textiles and textures. The rug is a plush, luxurious one whereas the sofas are casual leatherites. The TV console has textures of wood that blend well with the green grass carpet on the balcony.
10.Choose Your Curtains, Drapes, Or Blinds Wisely