The Do's and Don'ts of Rustic Interior Design
THE DO'S AND DON'TS OF RUSTIC INTERIOR DESIGN
Rustic interior design is one of the interior styles that will always be trendy. Because of the authentic and warm look it provides, it has been a popular choice among homeowners for quite some time. Whether you live in an old building and you're just taking advantage of the given resources or you like the idea of going back in time, the charm of the rustic style is undeniable.
What's more, you can always add a pinch of modern looks to blend in for cosy and authentic interior design. Depending on your goals, there are some do's and some don'ts that have to be taken into consideration before taking on the challenge of transforming your home into a rustic sanctuary. Here is a list of some of the rustic style hacks as well as some tips on what to avoid.
Use Wood but Not Too Much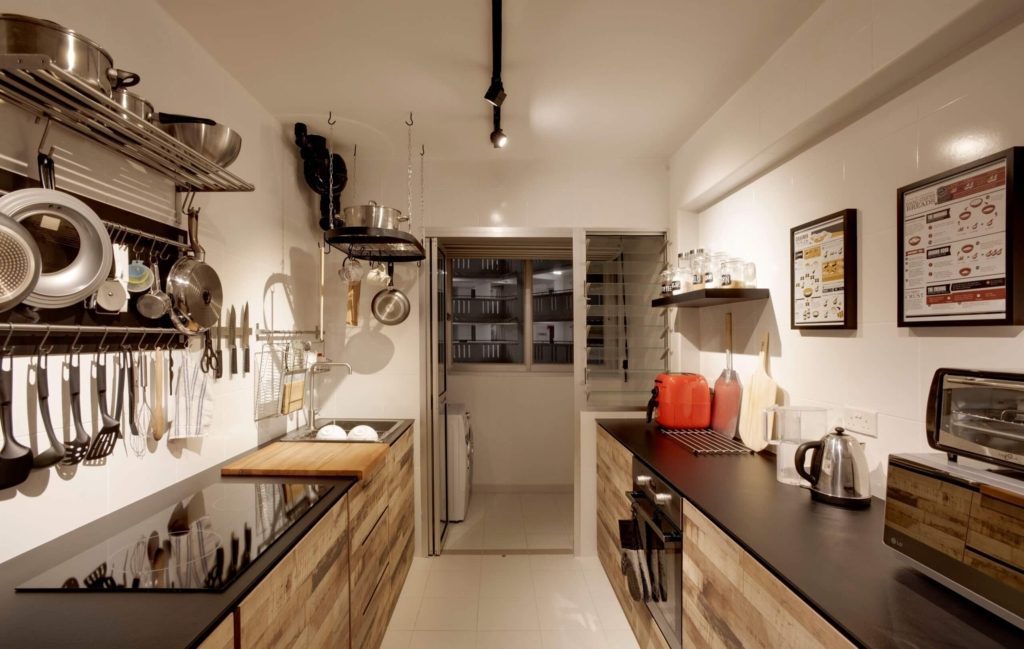 INDUSTRIAL MAKEOVER @ FERNVALE LINK
First and foremost, if you have decided to go for a rustic interior design style, then you must be aware that wood and wooden details are essential. Everything from bare wooden furniture to wooden kitchen cabinets and flooring is welcome as these are the hallmark of the rustic style. Otherwise, your interior will be plain and outdated.
Usually, the best type of wood is pine, but you can make good use of any other type, depending on your preferences. For example, you can go for dark cherry or mahogany. One of this year's trends is dark-painted doors and it may work out well if you combine some wooden furniture of dark colour with your dark-coloured door.
If you prefer brighter colour palettes, beech is a paler but also a popular option. If you are on a budget, you can go for furniture from reclaimed wood. The main idea is to have pieces that look old and worn, even if they are brand new.
However, as much as they are important, wooden elements shouldn't cramp up your living space. Too much wood can be quite overwhelming and it may leave no space for other furniture and décor. For this reason, it is important to preserve the balance between wooden details and other materials like glass, metal and etc. For instance, you can mix wooden legs with a glass surface for your coffee table or go for an armchair with a wooden structure and ornaments that is upholstered with leather.
Ultimately, you will showcase a good diversity that'll create a natural look.
Remember that no matter what type of wood you choose, you should make sure that it represents your own individuality. It will be an essential part of your home's aesthetic look so you should do your best to include wood in your design without overdoing it.
Implement Softer Elements Where Possible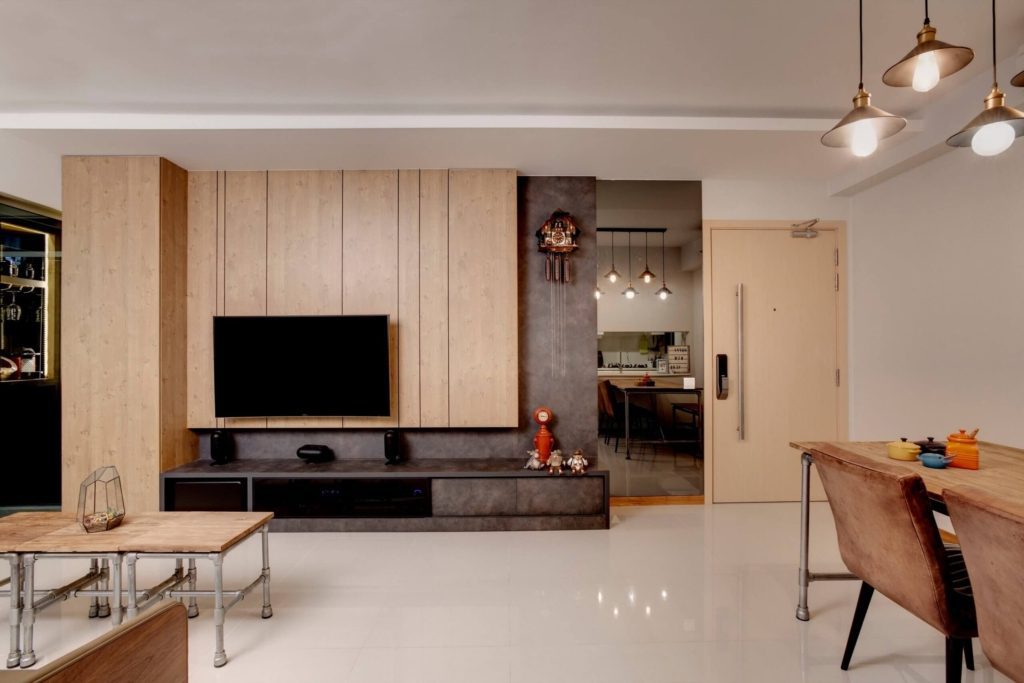 LIFE'S LITTLE PLEASURE @ TREASURE COVE
Incorporating all these wooden elements just to create a distinctive rustic interior design will definitely make your décor look rough. The unfinished and raw look of wood is part of the whole style that you are going after.
However, overdoing it may result in creating a bland and boring atmosphere. To avoid this, you should implement softer elements that will break the ice.
For example, you can place cushions, throws and chair covers. Actually, all textile additions with bright and warm patterns are welcome and you can even experiment.
One thing that can ruin a good rustic design is the lack of a fireplace. Of course, it's still possible to pull off an excellent rustic décor without a fireplace. But if you really want to commit to this style, then get one. Just like the need for softer elements, a fireplace is an essential and final touch to every rustic design. If possible, you should consider adding one. If it is out of your budget, then a wood-burning stove might be a good substitute.
Rustic Look Opts for Regular Cleaning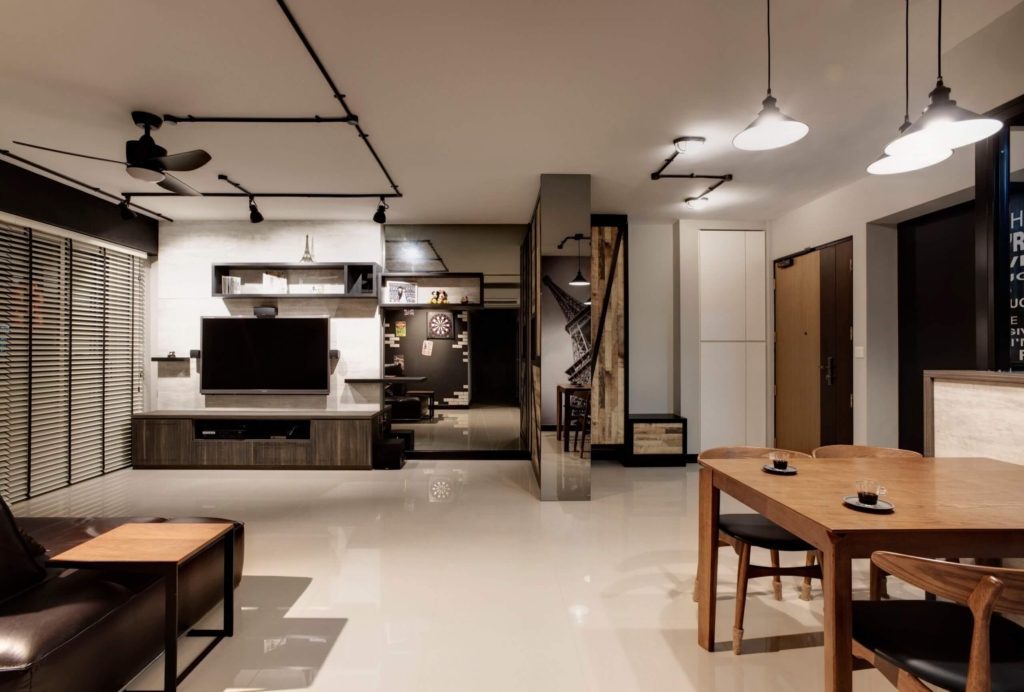 WAREHOUSE CHIC @ PUNGGOL DRIVE
Clearly, the raw and natural look for rustic interior design is truly authentic and warm, and this is why it requires extra attention when it comes to maintaining it. This goes for every piece of slate, unfinished wood or any other elements that bring out the "raw" charm of the style. The lack of coating and any stain resistance makes this type of furnishing vulnerable to external conditions.
And there is only one way to deal with this – pick your furniture wisely. This involves careful consideration of whether the piece fits your interior style. If you still think it fits your interior perfectly, then you should ask yourself if it's easy to maintain. The reason you should carefully consider your furniture choices is that not only it is important to create a stylish and cosy interior, but also to be able to keep it in good condition at all times. And you do not want to have to clean a bunch of wooden pieces of furniture every single day, right?
Colour Still Matters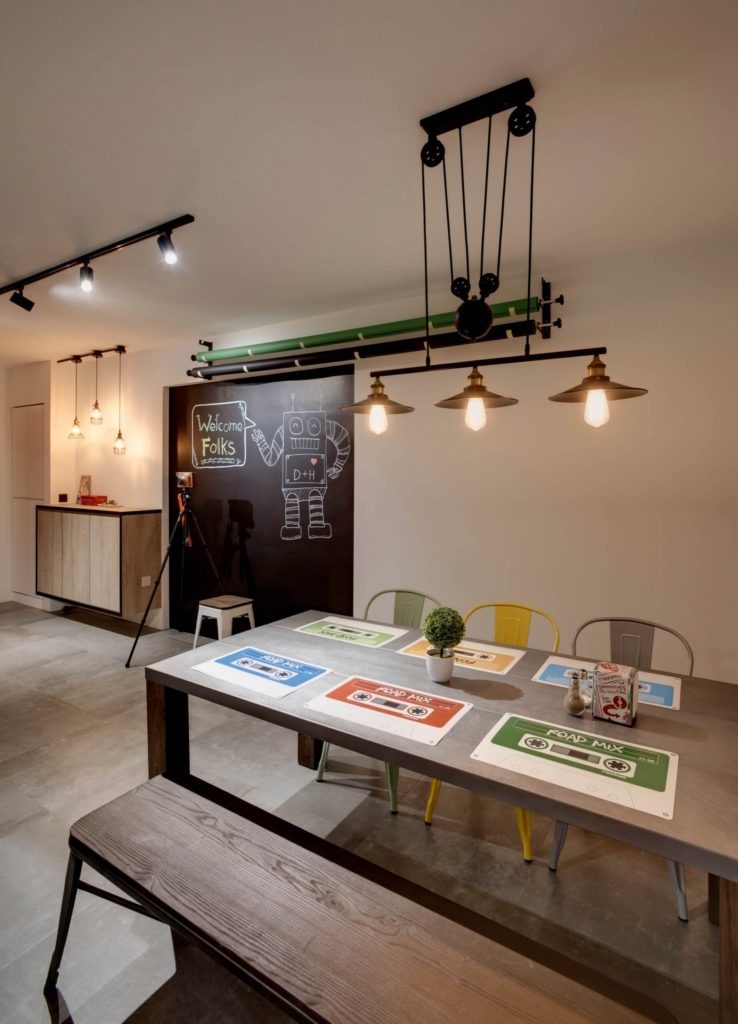 INDUSTRIAL MAKEOVER @ FERNVALE LINK
Contrary to popular belief, rustic décor employs a good amount of colours. In other words, do not overdo the neutral and "earthy" theme because nobody likes when something's constantly put right in front of their face. Of course, going for bold colours is not acceptable either.
To find the perfect balance, you can add a splash of a brighter colour here and there. Besides, you can use this technique to cover up some metal or plastic elements but this is not necessary if it complements the desired style.
There's a popular misconception about the colour a "natural" colour palette represents. To many people, this is brown, beige and cream. However, various "earthy" hues and shades of red, blue and green can also be considered "natural".
For this reason, when painting your rustic walls, make sure the colours match the overall style of the room rather than going for plain white or cream wall paint. As long as you achieve the warm and natural aesthetic of the rustic interior design style, there are no limitations to what colour you will pick.
Why You Should Choose Rustic Style
To conclude, rustic interior design is a design for people who love natural looks. Those who wish to embrace the charm of the authentic and vintage-looking style will have to make more than a few changes. This style requires a careful and precise pick of furniture and decoration, all complying with a strict set of colour and material palette.
Of course, the rustic style has its perks and one of the biggest ones is that you don't have to overcomplicate things. Instead, you should just flow with the "raw" and natural look of the wooden elements. There's no better way to integrate an organic feel into your home interior.
Final Thoughts
If you're interested in applying this style to your home, these tips may prove helpful and trustworthy. Moreover, you can seek professional help as it will save you from any designing troubles that you will inevitably have to face when you start your project.
Space Factor is a professional interior design company from Singapore that specializes in all kinds of interior design services, including décor and renovation projects. Our interior designers are well-trained and will provide expert advice so you can pull off an original and memorable rustic interior design.
We provide HDB interior design, landed interior design and condo interior design services, feel free to browse our portfolio residential and commercial portfolio and call us for a free consultation today.