5 Ways to Maximise Efficiency and Style in your Kitchen's Interior Design
Whether you spend hours upon hours on a daily basis cooking up meals for the entire family, or you take a measly 20 minutes to make yourself a sandwich 3 times a day, the kitchen represents an integral part of your household. Other areas of your home may be formatted to reflect your taste and design concepts, but in the kitchen, substance over style matters. While this is not to say that your kitchen shouldn't be stylish, maximising efficiency and easy access makes cooking meals much less of a hassle than it has to be. And who knows? Maybe following these 5 tips and maximising both the design aspect as well as the efficiency of your kitchen would make you want to cook a whole lot more than you currently do.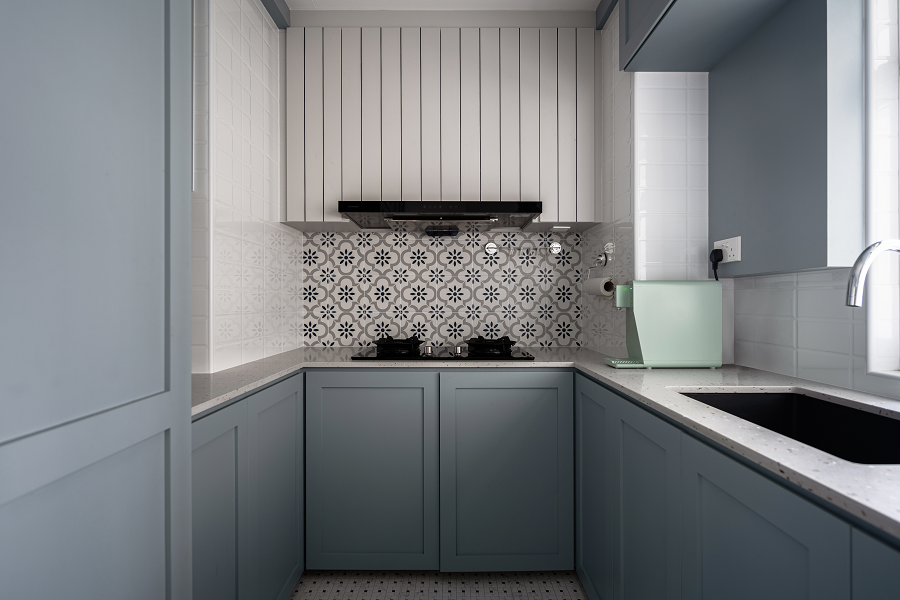 Kitchen Traffic
Other people getting in your way while you're cooking up a feast ranks highly on the list of most irritating things that happen on a daily basis in our opinion. What's more annoying than your partner standing in the way of your simmering pot of laksa or curry while you're trying to finish cooking it? Scheming and executing a well-organized kitchen floor plan is crucial to eliminating this factor entirely. Not only that but ensuring all appliances and ingredients that have a correlation to one another are placed nearby can also shorten your time spent in the kitchen, especially in the early mornings before you'd need to leave for work. One example could refer to keeping all your coffee and breakfast essentials in a cabinet close to the pot or flask that you use for your morning coffee.
We recommend ensuring that the pathway within your kitchen is wide enough to fit more than one person and that you have designated social and working areas of the kitchen to ensure that no one needs to be in your space while you're cooking. Placing your refrigerator in an area where people can reach it without compromising your cooking is another tip that could pay dividends in the future.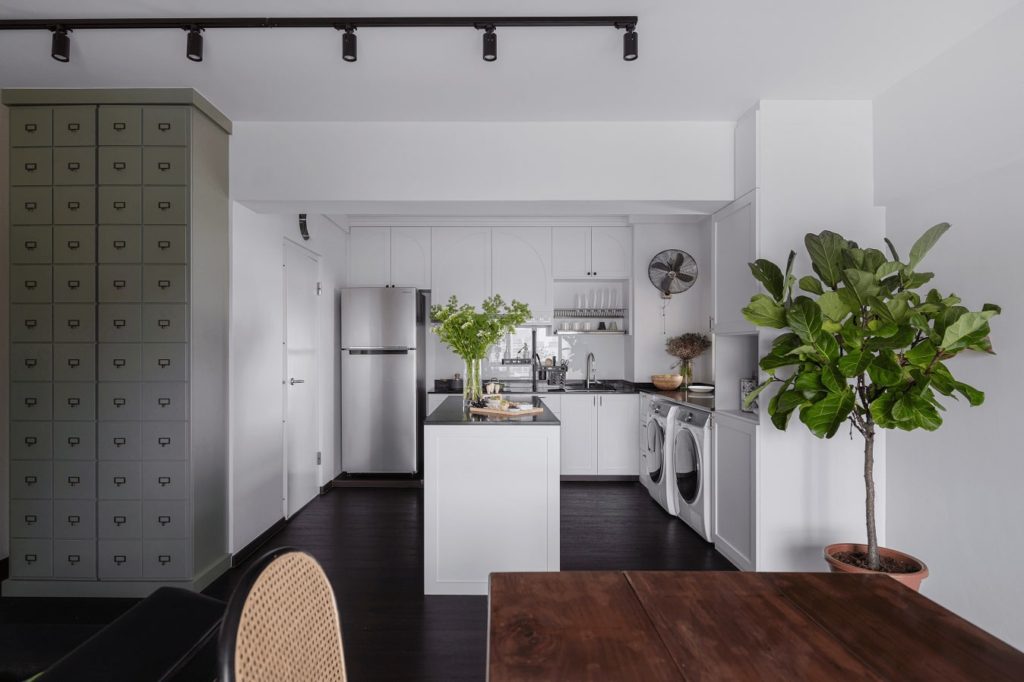 Appliances and their Placements
It may be tempting to place your burners smack in the centre of your kitchen and everything else around them, but there is more to how you design and place your appliances than meets the eye. In terms of safety at the very least, it would be prudent of you to ensure that there is sufficient space around each cooking appliance, namely your burners, oven, microwave and kettle so that hot food can be set to rest nearby after the cooking process is completed. Having no space in and around your kitchen appliances could potentially lead to burns or mishaps during and after cooking your food.
Ensuring that your commonly used appliances are at a good height for you to easily reach them is also key in planning a kitchen's interior design and functionality. No one wants to have to tiptoe or squat to reach their toast in the early morning hours. We recommend describing how you want your kitchen to operate to your interior designer before starting your renovation plans.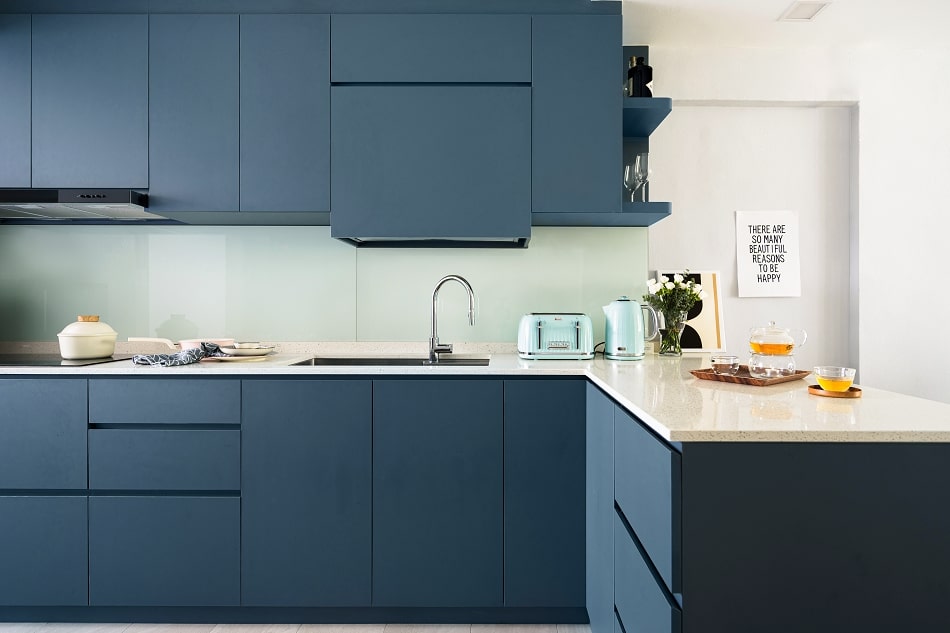 Storage
Establishing storage space before the kitchen is completed is crucial to designing a well-organized workspace. While we stand by the fact that more is always better, especially if it'll save you time in installing more stage units in the future, unnecessarily cluttering your kitchen is not an ideal way to go about doing things. There are ways to creatively store objects and tools that can help improve the design of your kitchen as well. For example, installing wall hooks and hanging your pots and pans instead of storing them in a cupboard not only gives you easy accessibility but allows them to dry more effectively and can give your kitchen a restaurant aesthetic design-wise. This element can also be used in terms of cutlery, whereby you install a holder to both store and dry your cutlery simultaneously without having to use a separate drawer or cupboard.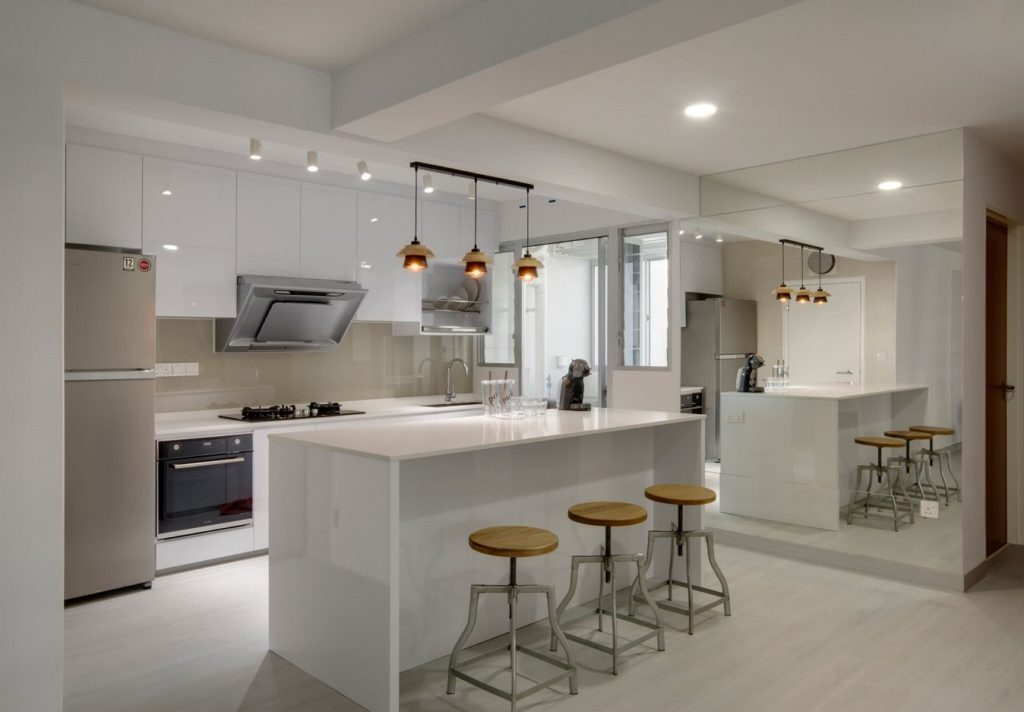 Different Sources of Lighting
Just as much as you would consider the lighting in your bedroom, your bathroom, or your porch, carefully calibrating and deciding on lighting sources in your kitchen can both help in your cooking and impress your guests. Different parts of the kitchen require different forms of light to aid in different processes or functions. Proper illumination can assist in the design factor, but more importantly safety. No one wants to be cutting onions without really being able to see them. We recommend using a mixture of warm and harsh white light in different areas to bring out the best of your kitchen's design while aiding in the efficiency of your cooking processes.
For example, using a harsher light source in an area where you would cut vegetables and cook food while using a softer, warmer light in an area where you would either present or eat your food would maximise both the design aspects and efficiency of your kitchen.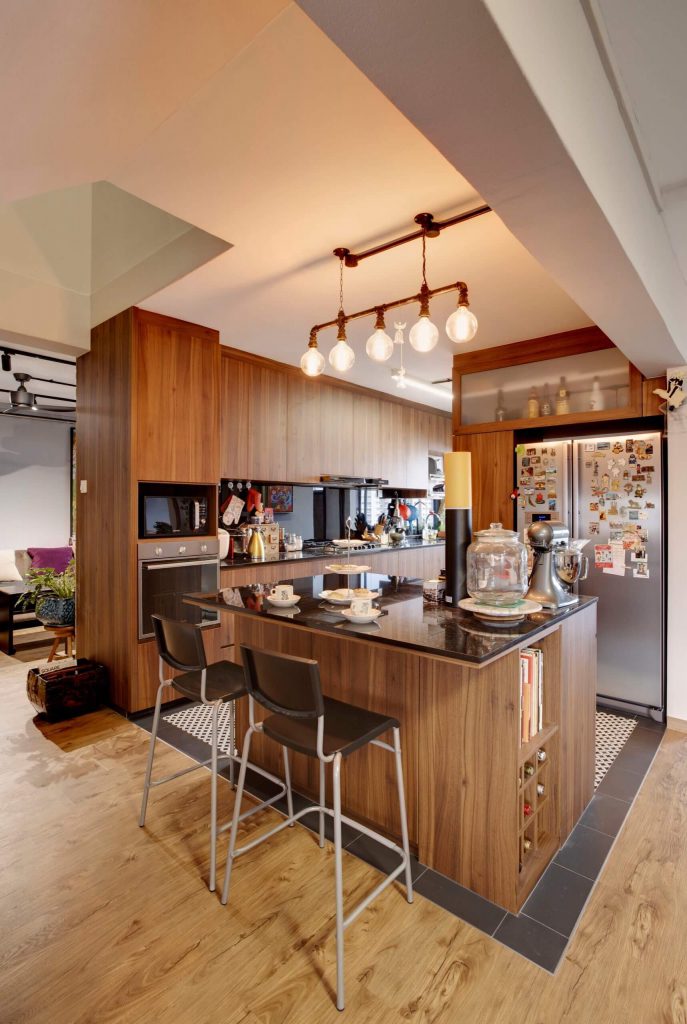 Ventilation
Lastly, but certainly one of the most important things to note while designing your kitchen, is ventilation sources. You could be a Michelin-star chef and your kitchen could look impeccable to any guest that walks through your door, but without proper ventilation, your dining experience will not be as perfect as it potentially could be. Ensuring that you invest in proper ventilation units is a key element to kitchen interior design and functionality. Even if you have a range hood to dispose of access smoke and odours, installing external units may be necessary, especially if you operate in a windowless kitchen. Splatter screens, external fans, and air purifiers can all be used in tandem to eliminate unpleasant smells and aromas quickly. These can also act as additional elements in your kitchen's interior design scheme, filling up empty spaces with functional units. For example, installing an air purifier with a wood finish, can complement your hardwood flooring or act as a contrast if you have a marble floor.
There you have it, 5 tips to both improve your kitchen's interior design aspects, as well as its functionality. While these will all help in designing your kitchen, we still highly recommend contacting an established interior designer such as Space Factor to assist you in creating your dream kitchen. The kitchen can represent the soul of a home to many people, and we want to ensure that you're as happy as you can possibly be with how your kitchen looks and feels after renovation. Contact us now, and let us handle your kitchen's interior design.